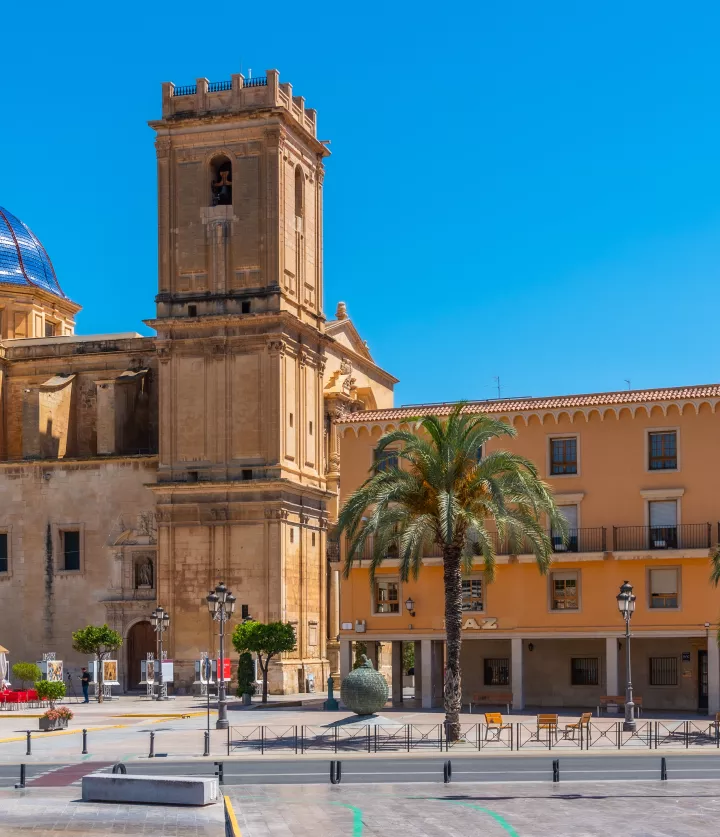 Hotels in Elche
Search your hotel or destination
Hotels
Sorry, no results found
Try another search and filters
Elche is palm trees, its "Lady" and much more
It is almost certain that when you hear the name Elche, there are two things that immediately come to mind: the palm trees and the sculpture of the Lady of Elche. It's normal, we are talking about the two main icons of this town in Alicante which, like you, is visited by tens of thousands of people every year.  
Elche has enough attractions for you to spend well over 24 hours there. It is a very lively city, with a great economic and business importance, so our hotel in Elche, equipped with event rooms and Business Centre, is a great accommodation option. 
Elche is perfect for you to spend a few days shopping, to go out and taste the magnificent Mediterranean gastronomy in its many restaurants, to enjoy the beaches and to admire a heritage legacy unknown to many. You can't beat it! 
Also, if you visit the city in mid-August, you can witness the Misteri de Elx, a religious theatrical performance that has been held in the splendid Basilica of Santa Maria since the 15th century. In it, the death, burial and ascension of the Virgin Mary to heaven is staged, with a massive participation of the local people in an unforgettable spectacle. 
Would you like to get lost in the largest palm grove in Europe? Adventure is just a stone's throw away from our charming hotel in Elche
Fancy the experience of exploring a UNESCO World Heritage Site? Well, that's something you can do in Elche.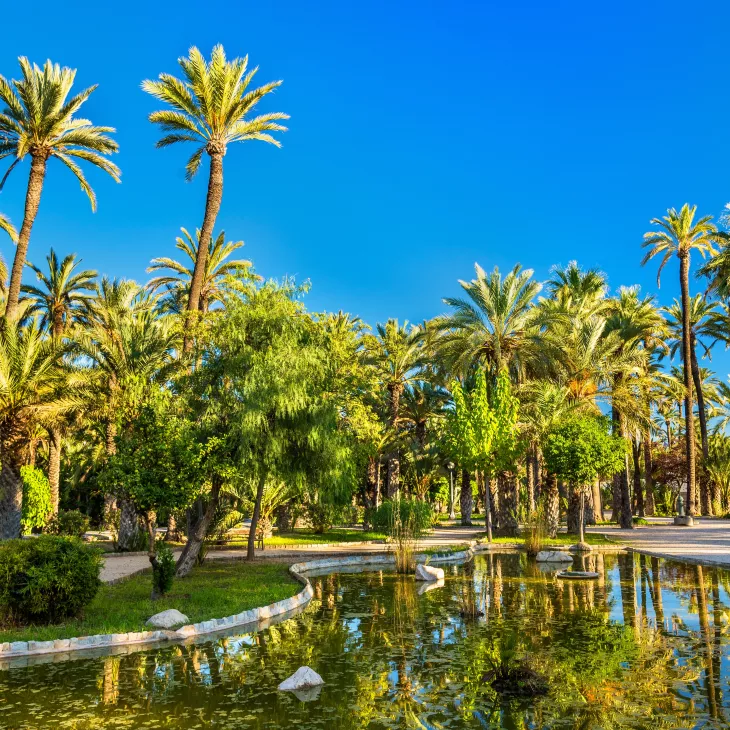 Heritage combined with leisure and beaches. We encourage you to discover it in our hotels in Elche
Although, in reality, the Palmeral de Elche is not concentrated in a single place, but rather it is the name given to the group of almost 200,000 palm trees of different species that are scattered throughout different orchards and parts of the city. 
Most of these gardens are free to visit, but to see the most spectacular of them all, the Huerto del Cura Garden, you will have to pay an entrance fee which includes an audio guide. 
The price will be fully amortised when you find yourself in the middle of this magnificent palm grove in which the Imperial Palm stands out, splendid and proud, already 180 years old. 
It is accompanied by nearly a thousand other specimens, as well as pomegranate trees, orange trees, lemon trees, fig trees, azofaifos and a curious collection of cacti. A real green lung nestled in one of the most industrially powerful cities in south-eastern Spain. 
Feel like buying shoes that will make you the envy of everyone? Well, in Elche you will have the opportunity, because it is one of the main shoemaking cities in Europe. 
With your new purchase you can leave our hotel in Elche and explore the centre of a city that offers pearls such as the Basilica of Santa Maria, a magnificent centenary temple whose tower offers spectacular views; and the Palace of Altamira, which has its origins in a medieval fortification and today is part of the Archaeological and History Museum of Elche. 
Would you like to slide down a zip line surrounded by palm trees? Well, you can do it in one of the favourite places for the youngest members of the family and lovers of adrenaline sports: Multiaventura Elche. Archery, boat trips and climbing walls are just some of the activities available here. 
More relaxed plans await you on the beaches of the municipality of Elche, such as Santa Pola, El Carabassí or Arenales del Sol. Getting one with sun, sand and waves?