Madrid, Spain
Sercotel Togumar
Search your hotel or destination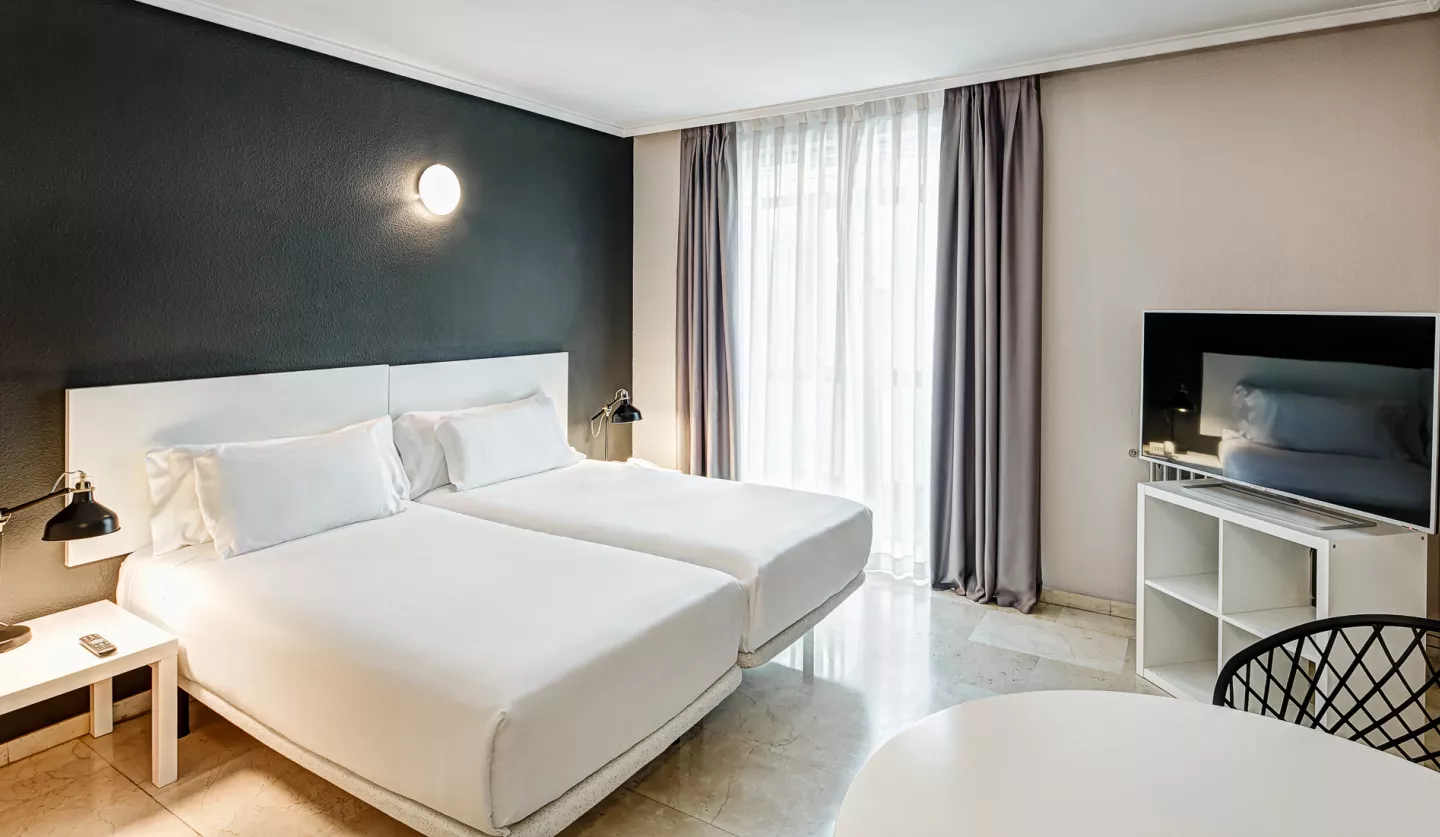 Chic essence for the whole family
Madrid, how beautiful you are. How hyperactive and sizzling. But what about at night, when you need a temple of silence and care? Come with us, because the Sercotel Togumar awaits you in Prosperidad, a quarter of an hour from Chamartín-Clara Campoamor station and ten minutes by car from the airport. In other words, a stone's throw away from your trips. 
All around you will be a quiet neighbourhood for families and, a little further away, the Natural Science Museum, the Santiago Bernabéu Stadium, the Retiro Park and a large part of the city's financial centre. You'll find the perfect combination between enjoying Madrid and getting away from its hyperactivity with the whole family at the Sercotel Togumar Hotel. 
The above is due to its 71 comprehensive and spacious apartments, perfectly equipped and ready to welcome you, your tribe and your pet. Did you think we were going to forget about your dog? Or your cat? Impossible. They'll be more than welcome here. 
This is why the Sercotel Togumar Madrid Hotel will become the place you have to stay at when you travel to the capital with your loved ones. As well as the numerous other services that will make you feel... at home. No, much better than that. Such as the self-service laundry to enable you to do as many washes as you like. And the parking facilities; goodbye to the laborious art of finding a parking space in the capital!  
You can even ask us about our babysitting service and, with a simple call to reception, you can also make an appointment with a masseur. We told you so; The Sercotel Togumar in Madrid will prove to be your sanctuary. 
You'll find lots of space inside the flat that will become your home during your stay, as they're roomy lodgings that will give the whole family unlimited comfort, with the large windows and services such as heating, air conditioning, the kitchenette with a fridge and so on. 
Although all the apartments have their own kitchen corner, we warn you that you'll find it hard to resist the hearty buffet-style breakfast to recharge your batteries in the mornings. Follow the aroma of scrambled eggs and freshly-cooked bacon and indulge yourself, it will be well worth it! 
If you need to get up early, you can ask us for your Early Bird Coffee, in other words, you can start the morning with a strong cup of coffee between 4.00 am and 7.00 am. 
What's that? Have you noticed? You'll have free Wi-Fi throughout the complex and, if you need some privacy and concentration, you can go online in the Internet Corner. However, if your body wants to switch off, head for the hotel's terrace and enjoy the privileged setting.  
Would you like to know the hotel's secret? Ask at reception about the Olvidoteca, the place where the books left behind by other travellers become a comprehensive library that all guests can visit. Not only will you read a book you didn't expect to find, you'll giving a second life to the books that got lost on a trip to Madrid...
Find your room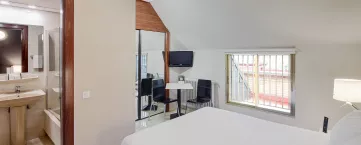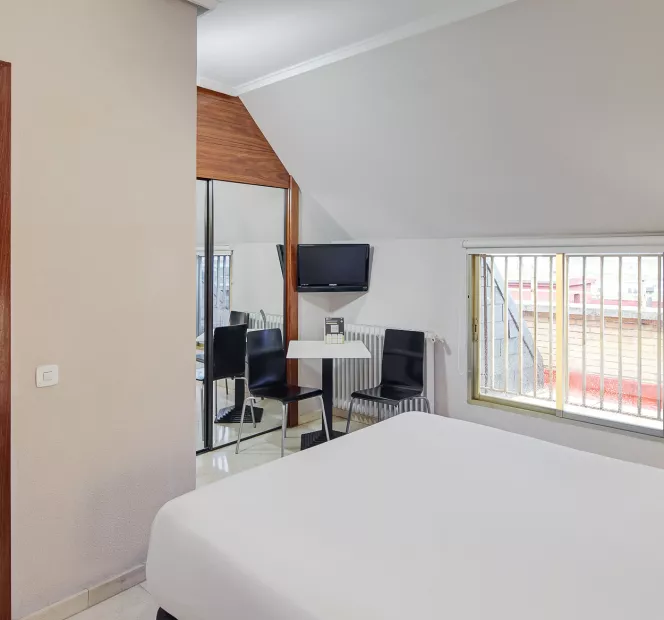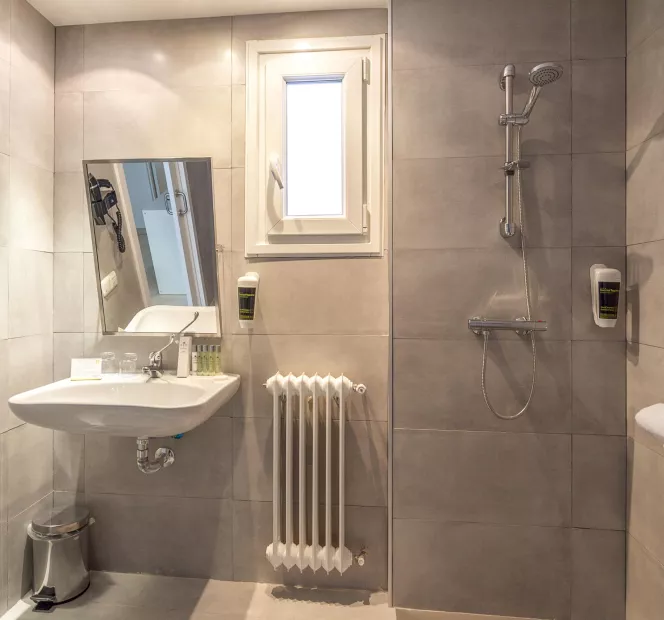 Classic Apartment
A large and modern space with fittings to make your rest a state of mind. These apartments will bring you the calm you need to make up for the hustle and bustle of your days in Madrid. Silence, amenities and aesthetics... you'll come back to Togumar, we assure you. They don't have a kitchen and they are small but very cozy rooms.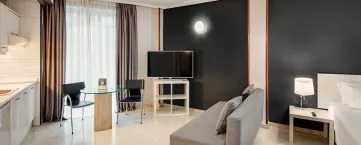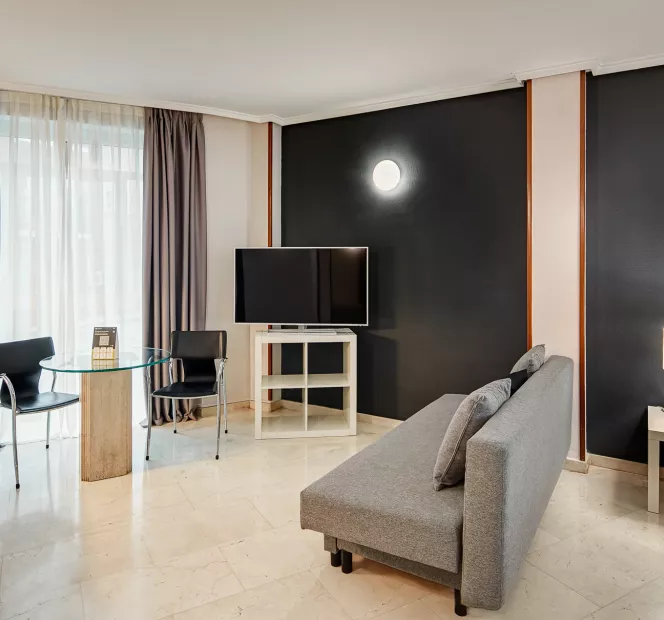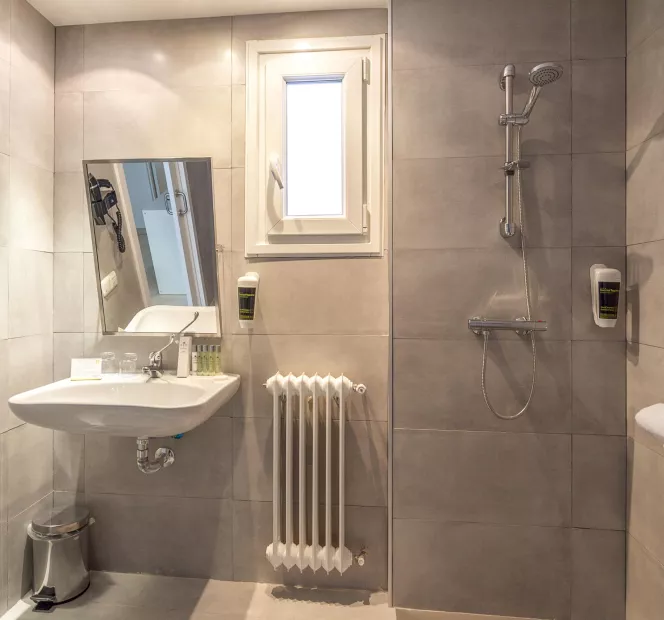 Classic Triple Apartment
Three's not a crowd in a place like the Togumar, a hotel spread over 71 apartments designed to allow everything to flow. You'll have more than 35 m2 at your disposal in our Classic Triple Apartments.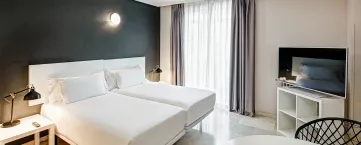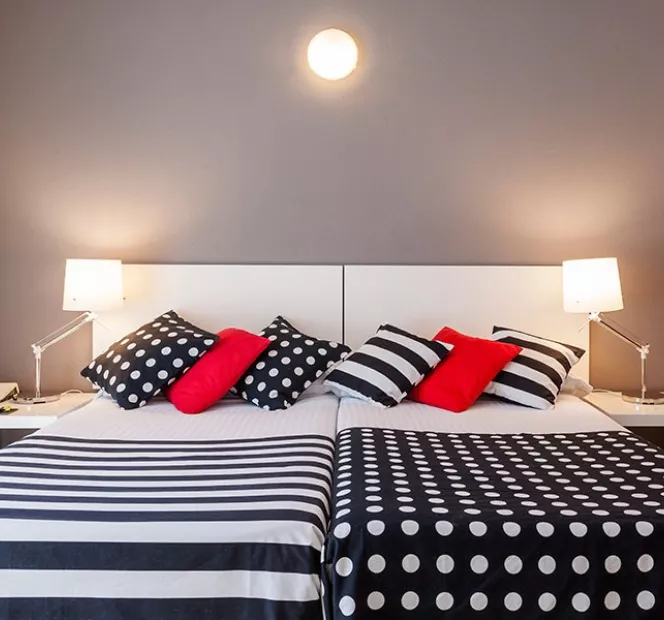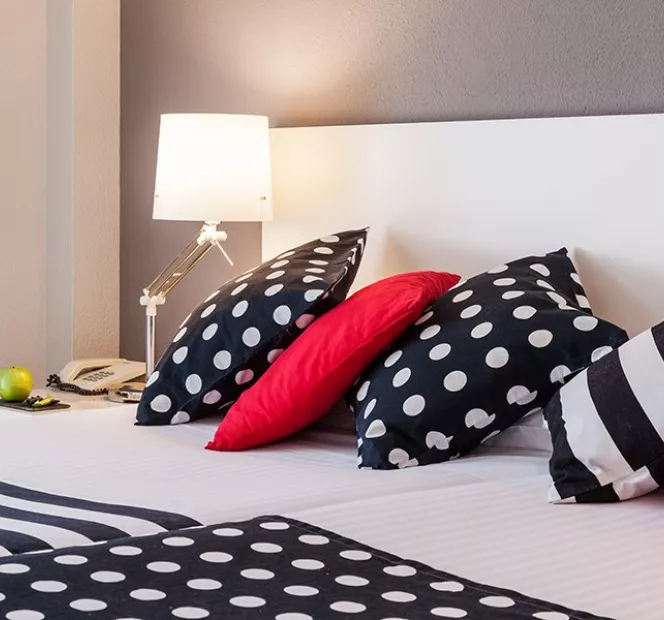 Classic Twin Apartment
The Togumar Hotel is a privileged setting in the capital. Why? You only have to take a look at the Classic Twin Apartment, the ideal category for families and groups of friends, to make you realise that the key lies in the details. 

Complies with Local/State/Federal fire laws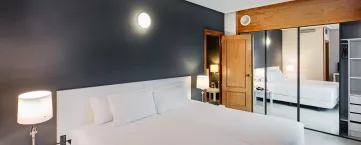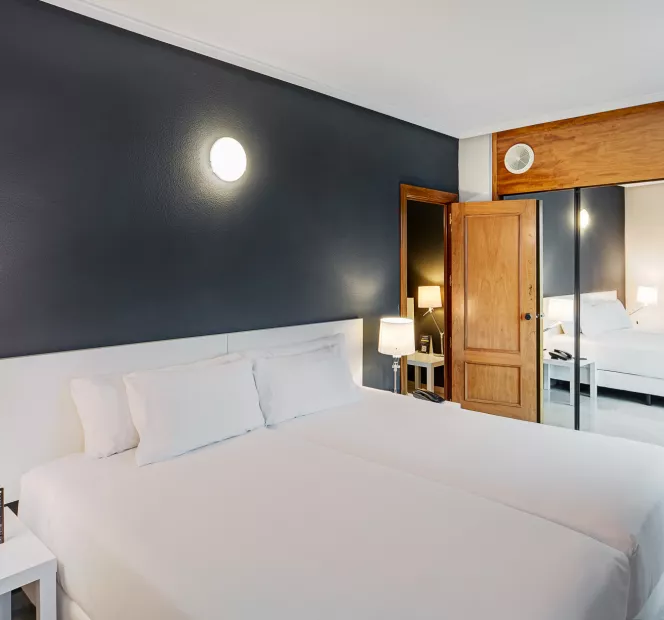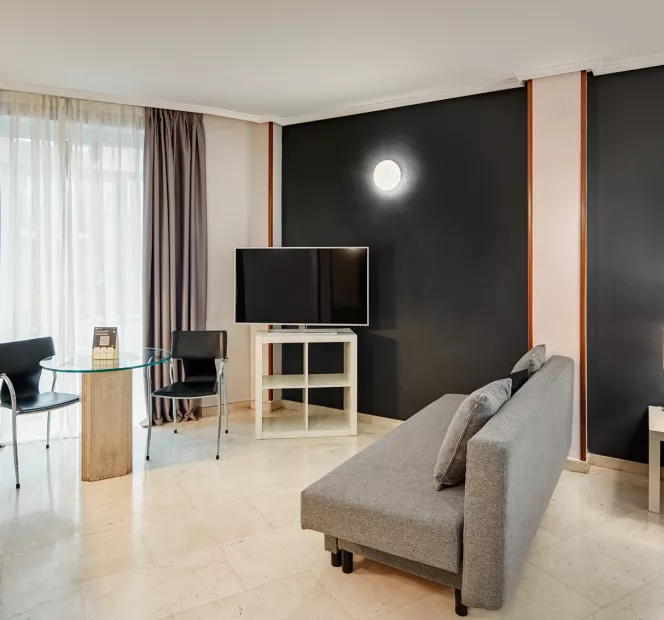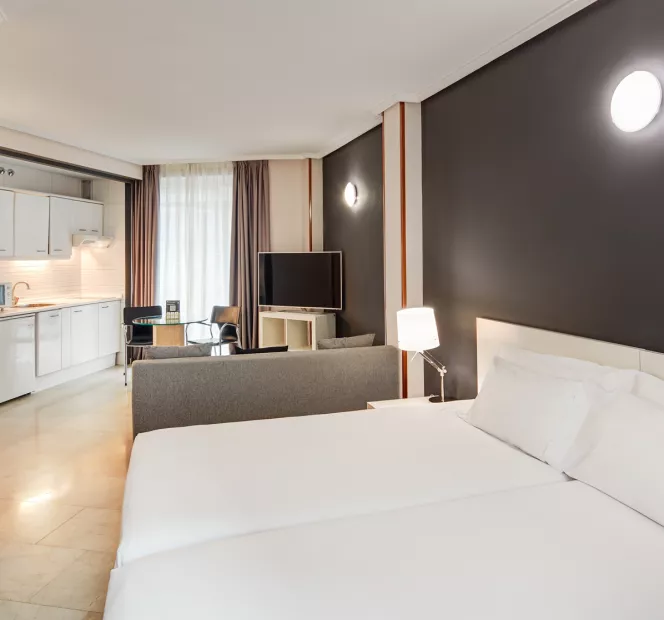 Family Apartment
Thinking of a family trip? Stressed out by not being able to find the space you need? The Esentia Togumar is the ideal choice with apartments like this one, which can accommodate up to four people with all the space they need... and more. 

Complies with Local/State/Federal fire laws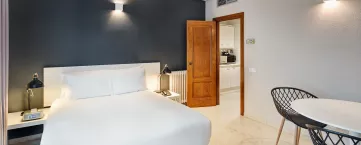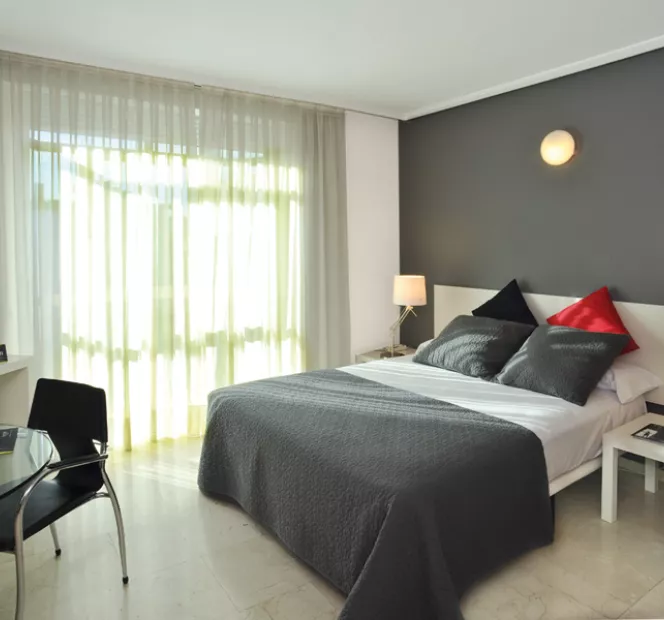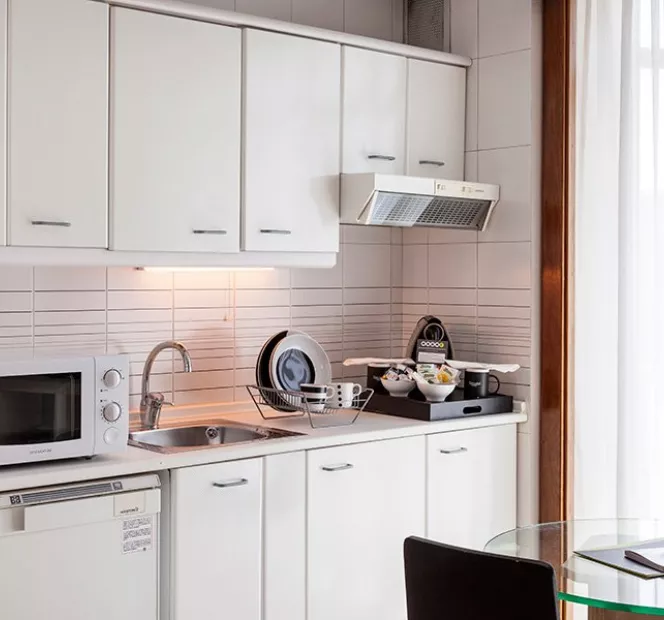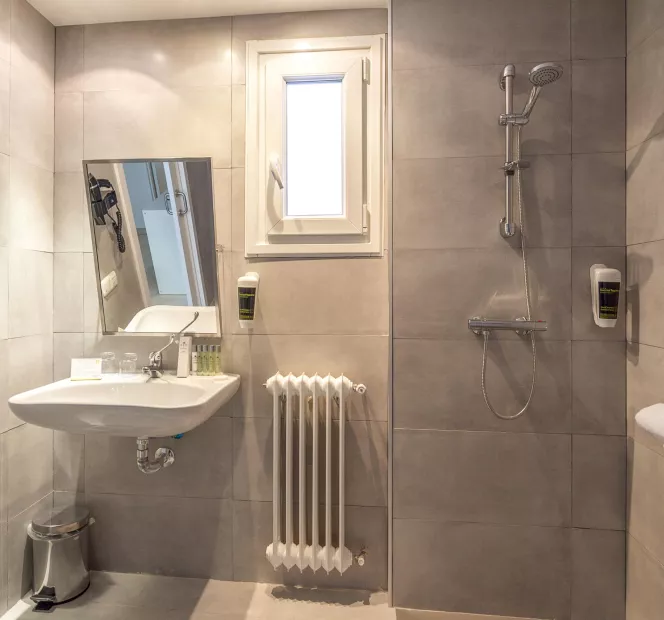 Superior Apartment
Are you travelling for a romantic getaway? This apartment is the ideal love nest: natural light through the large windows, plenty of space and a kitchen so you don't have to leave it. Just like home, but much better. 

Complies with Local/State/Federal fire laws
Show more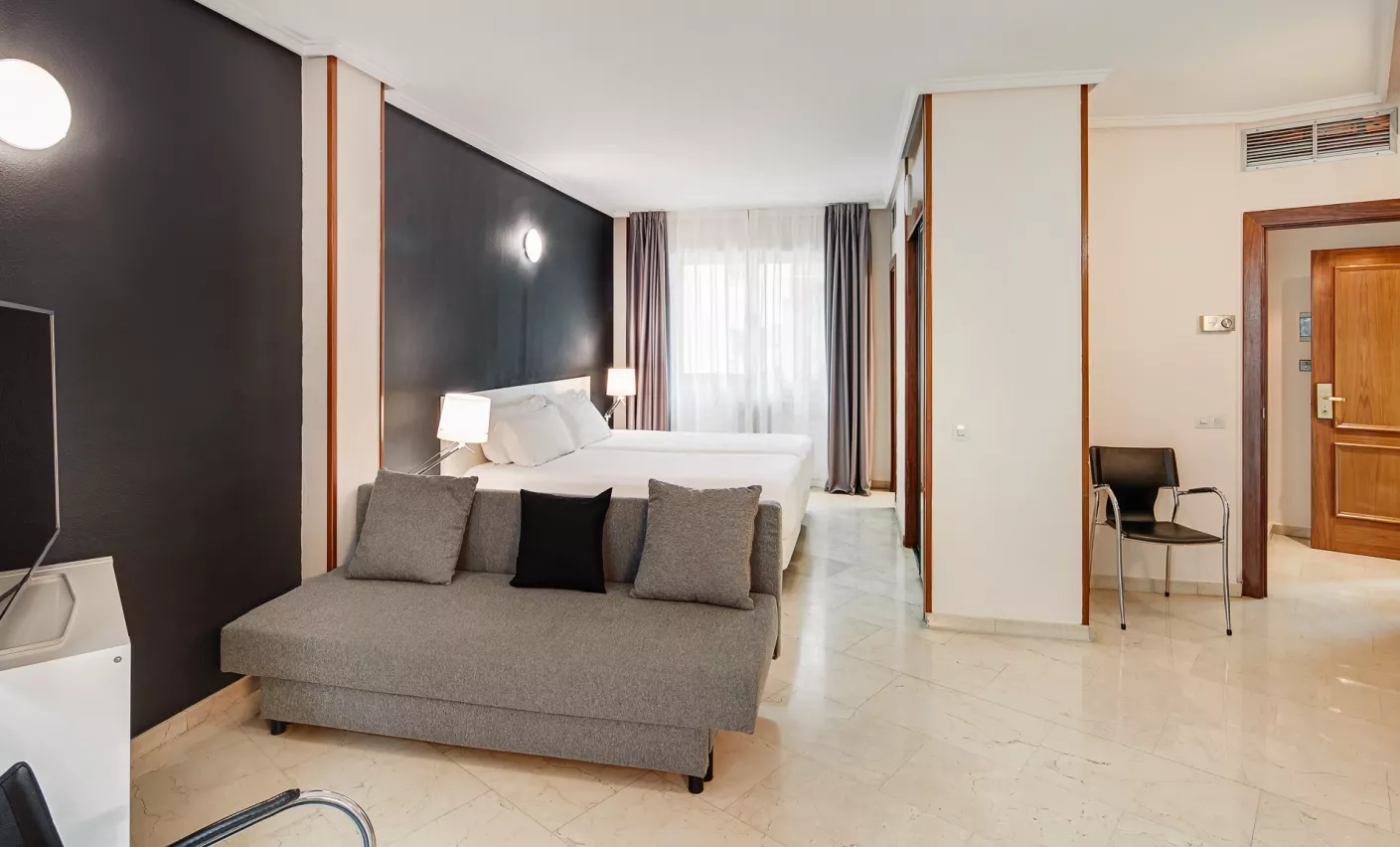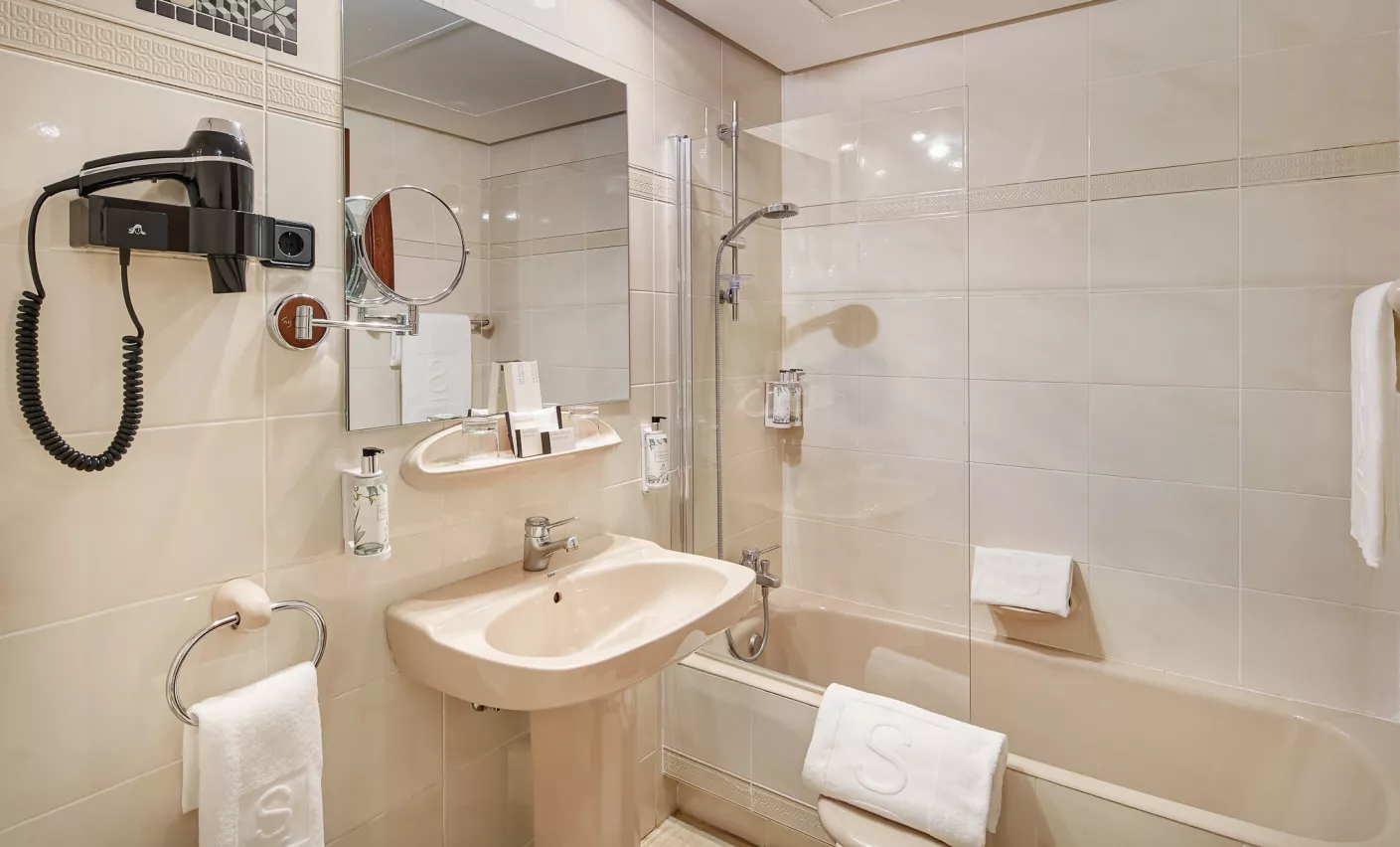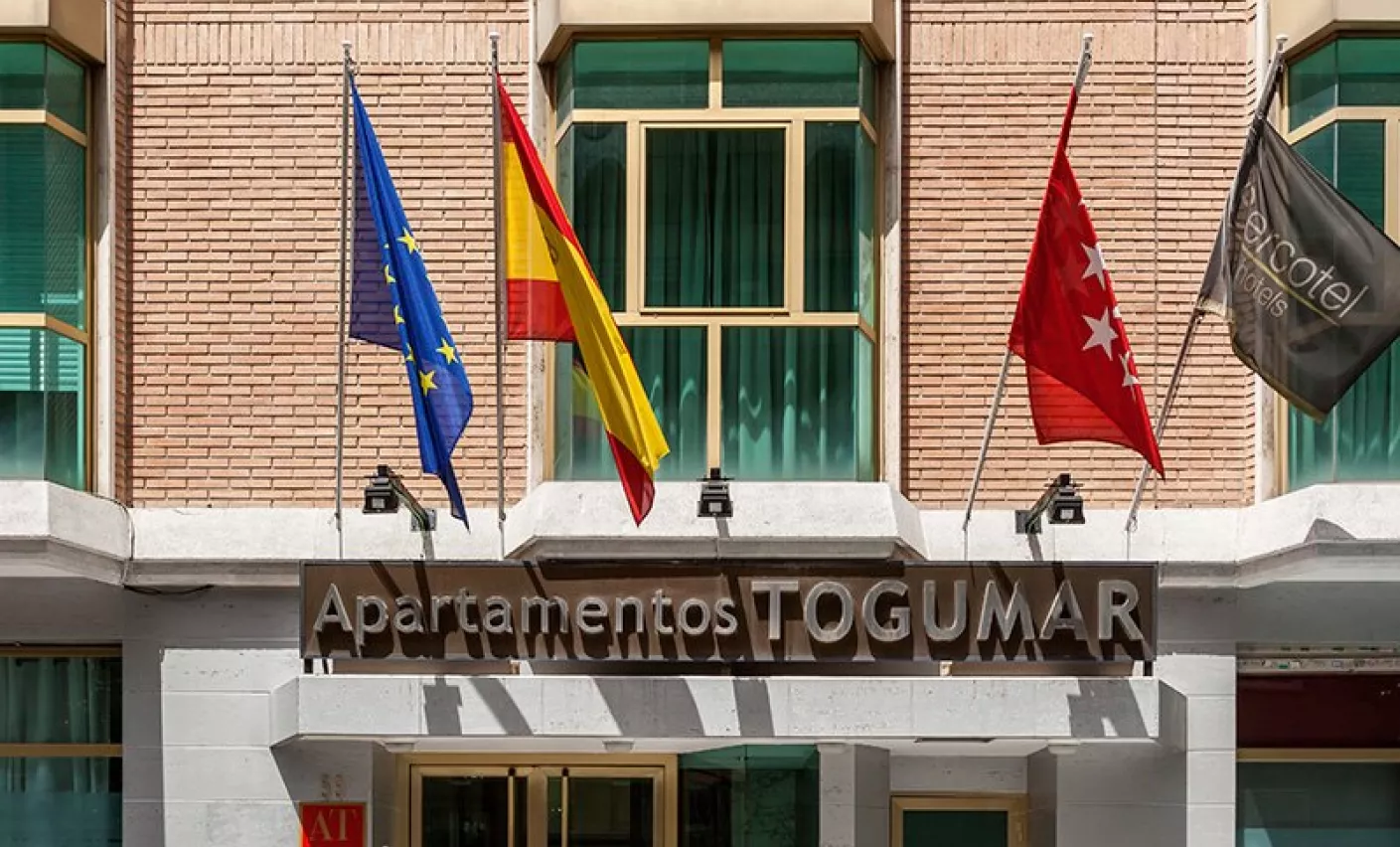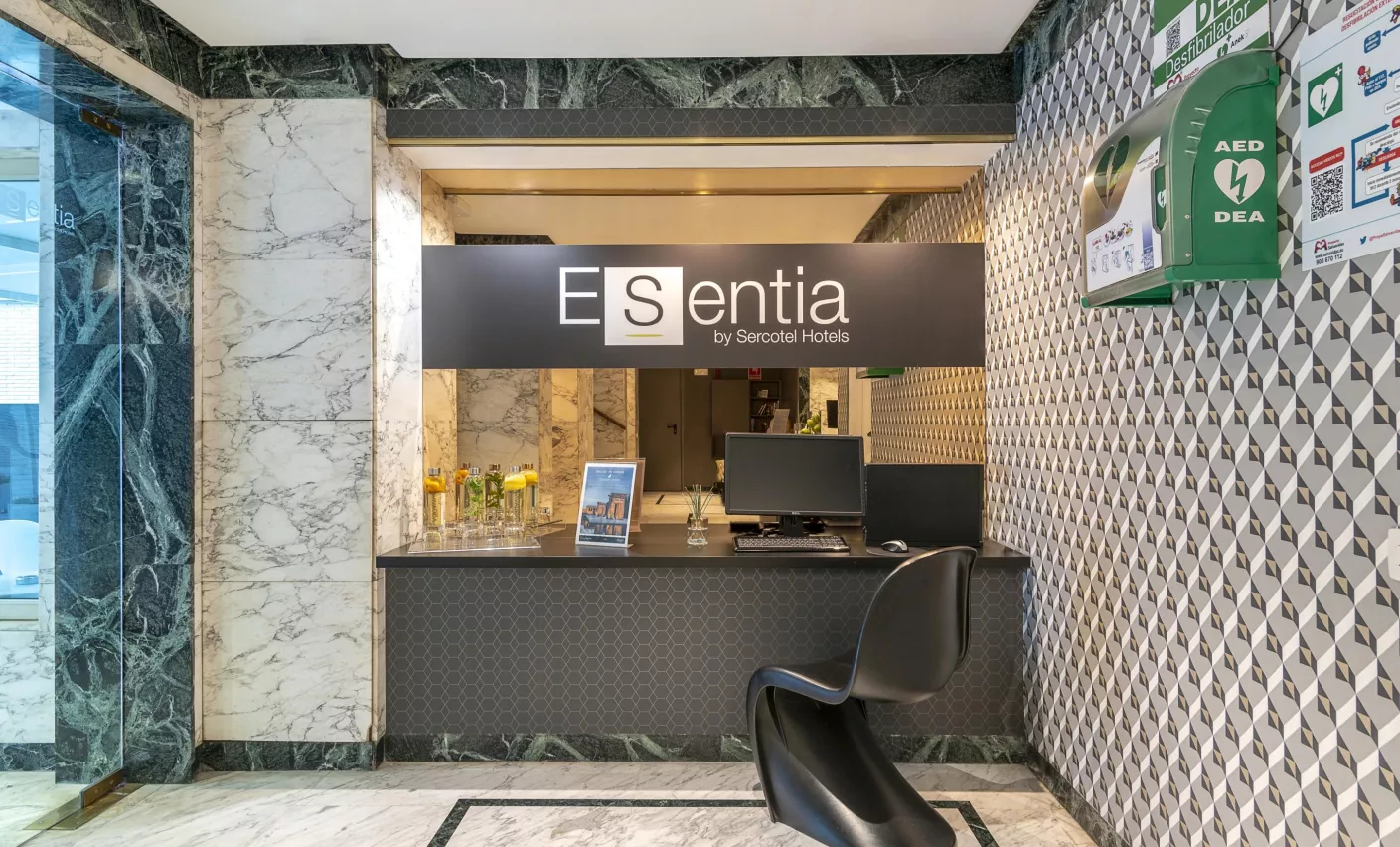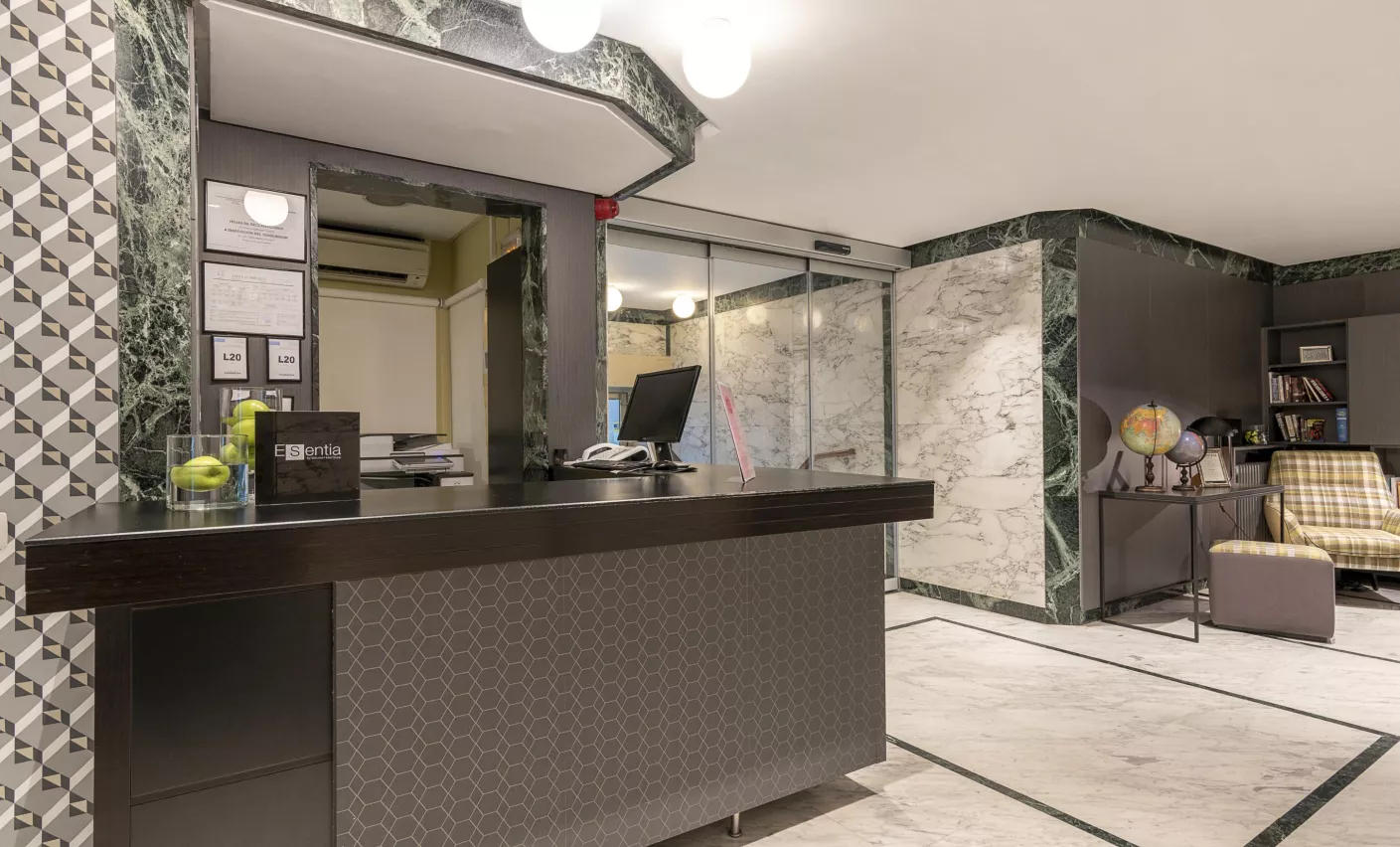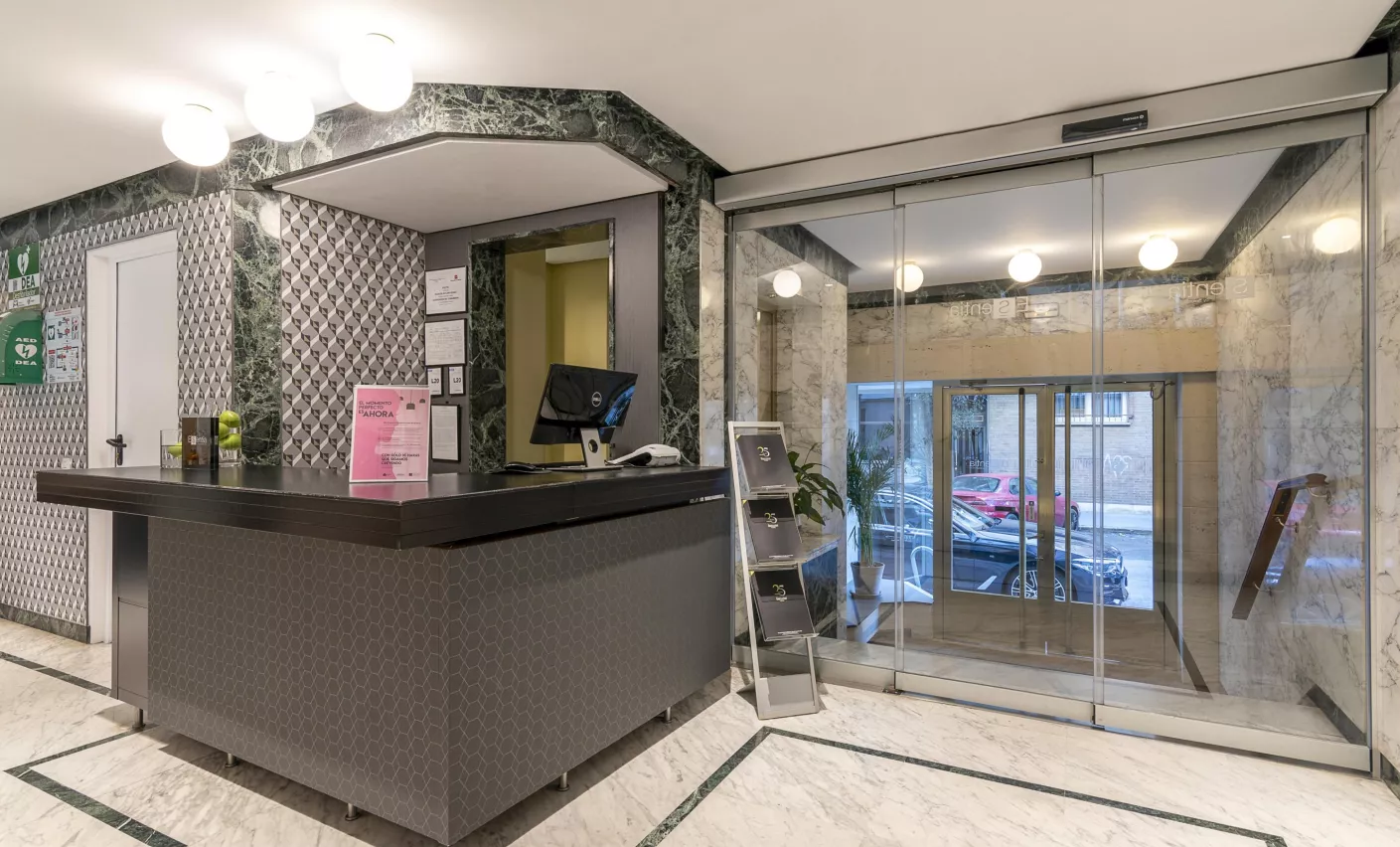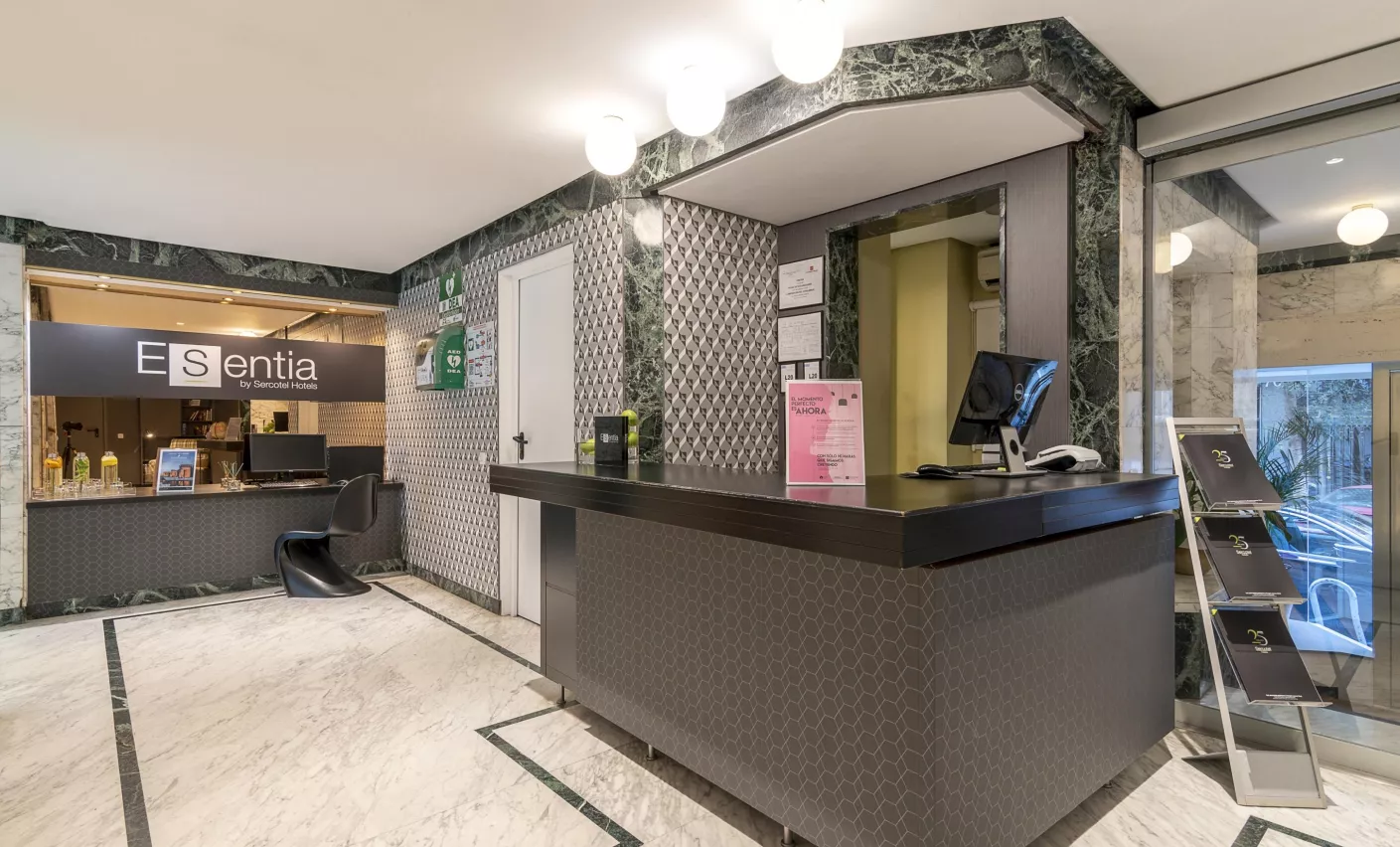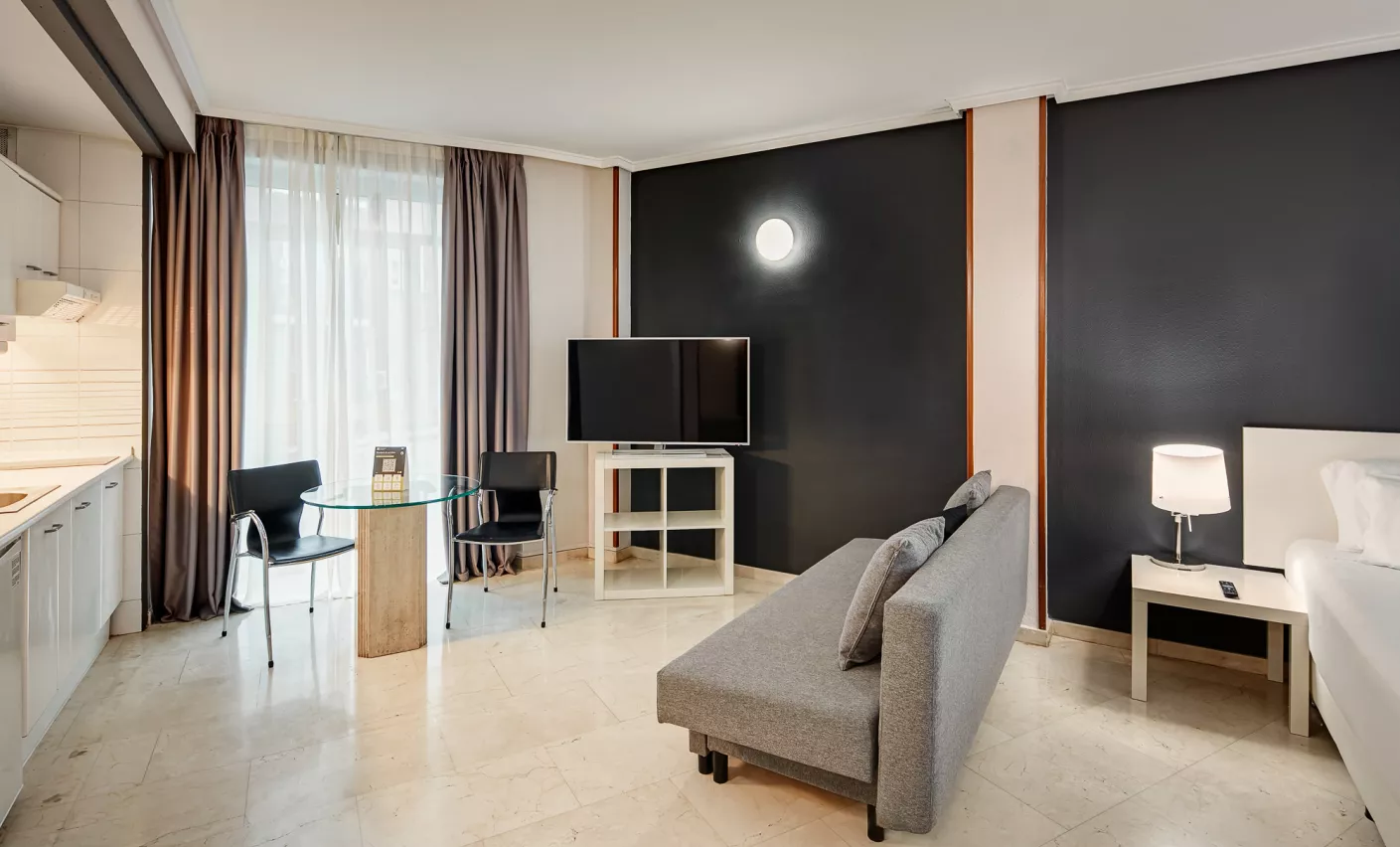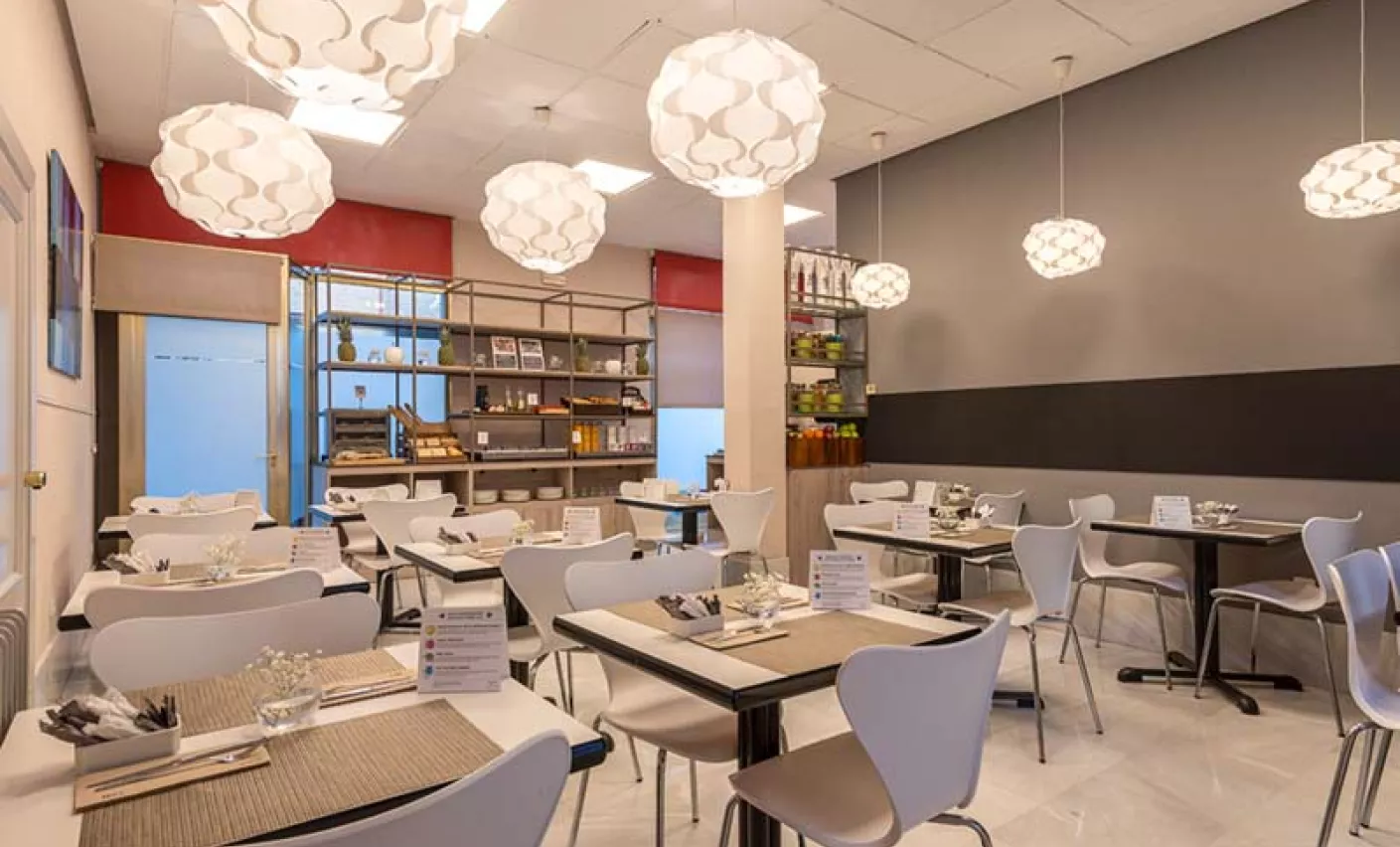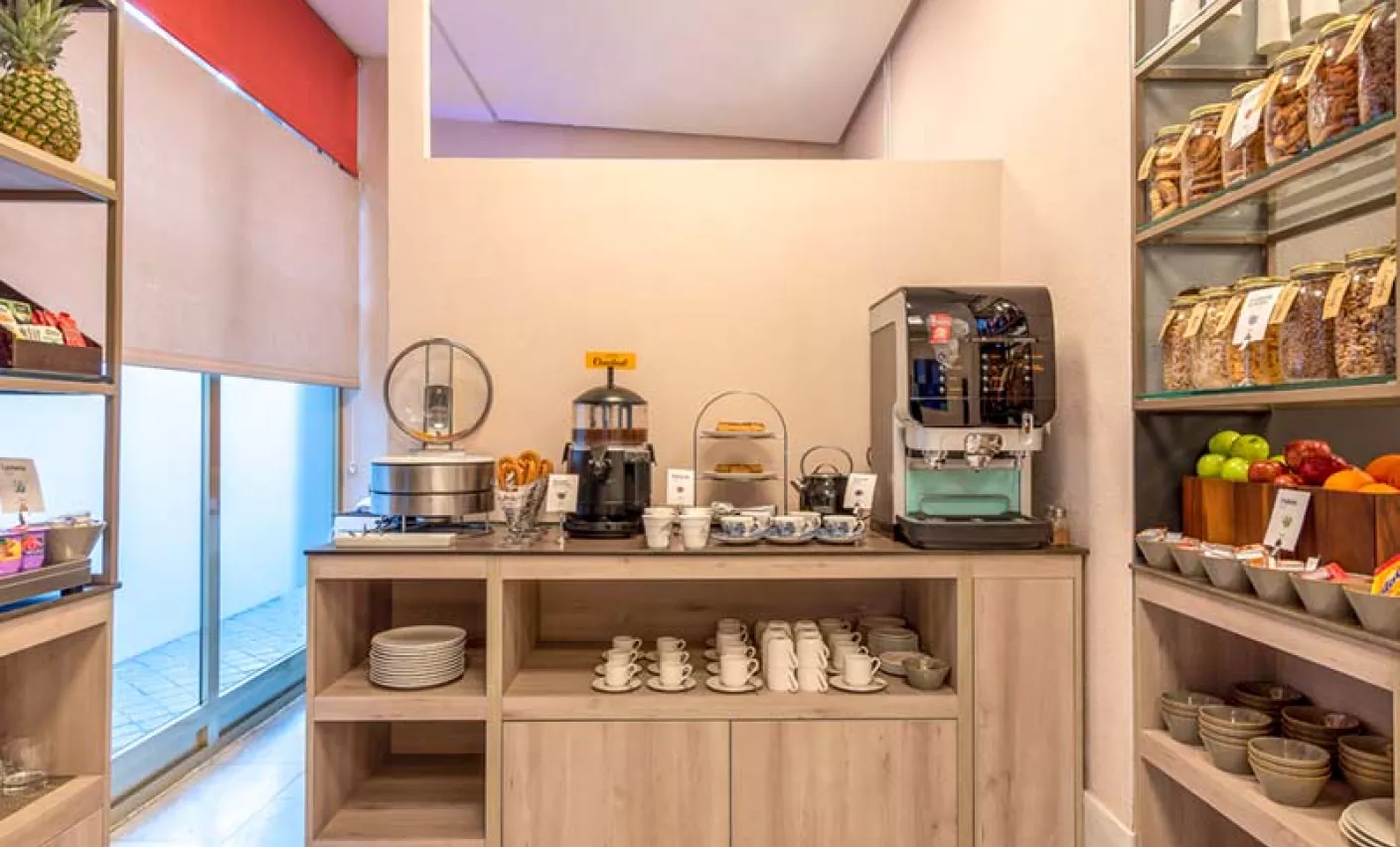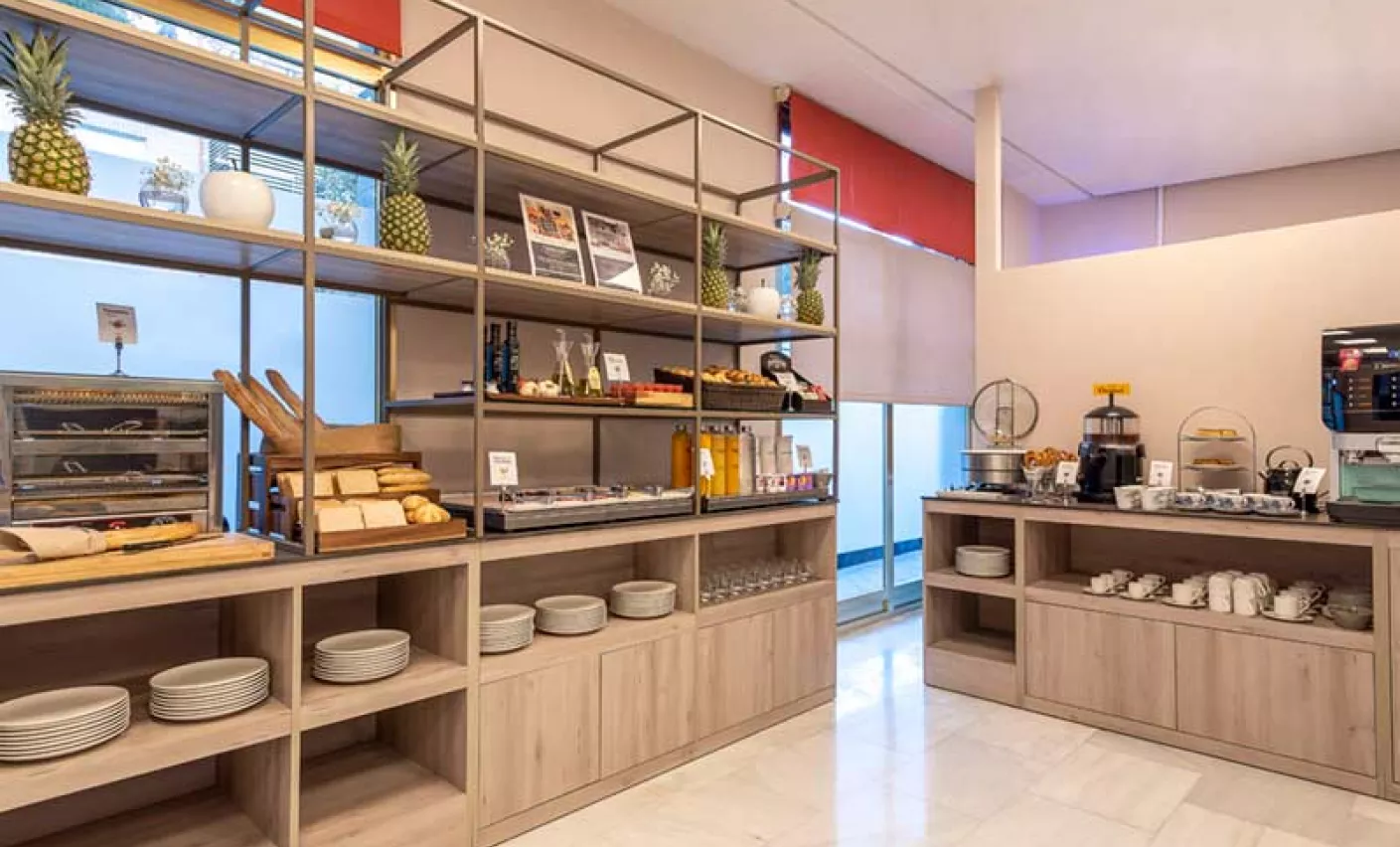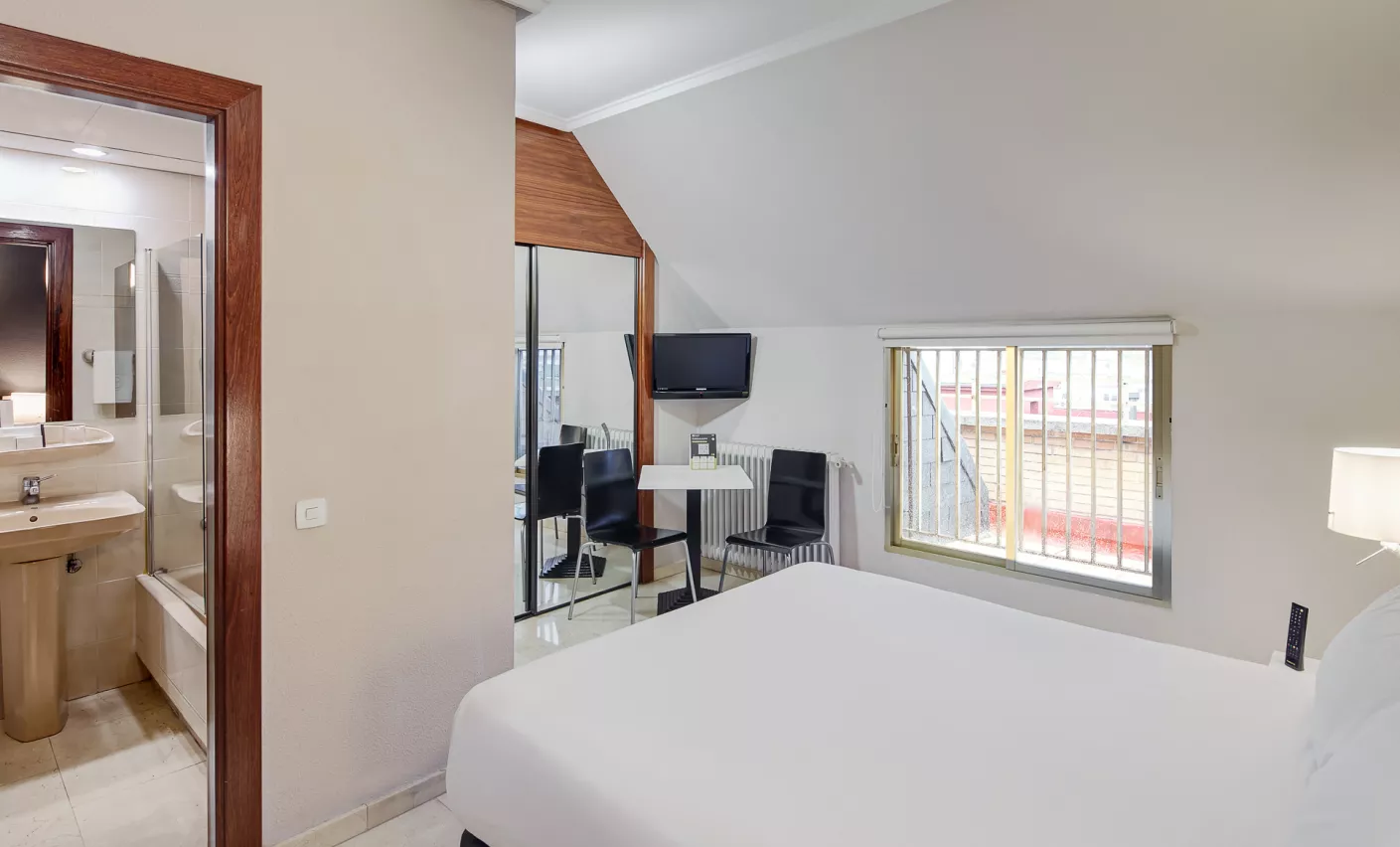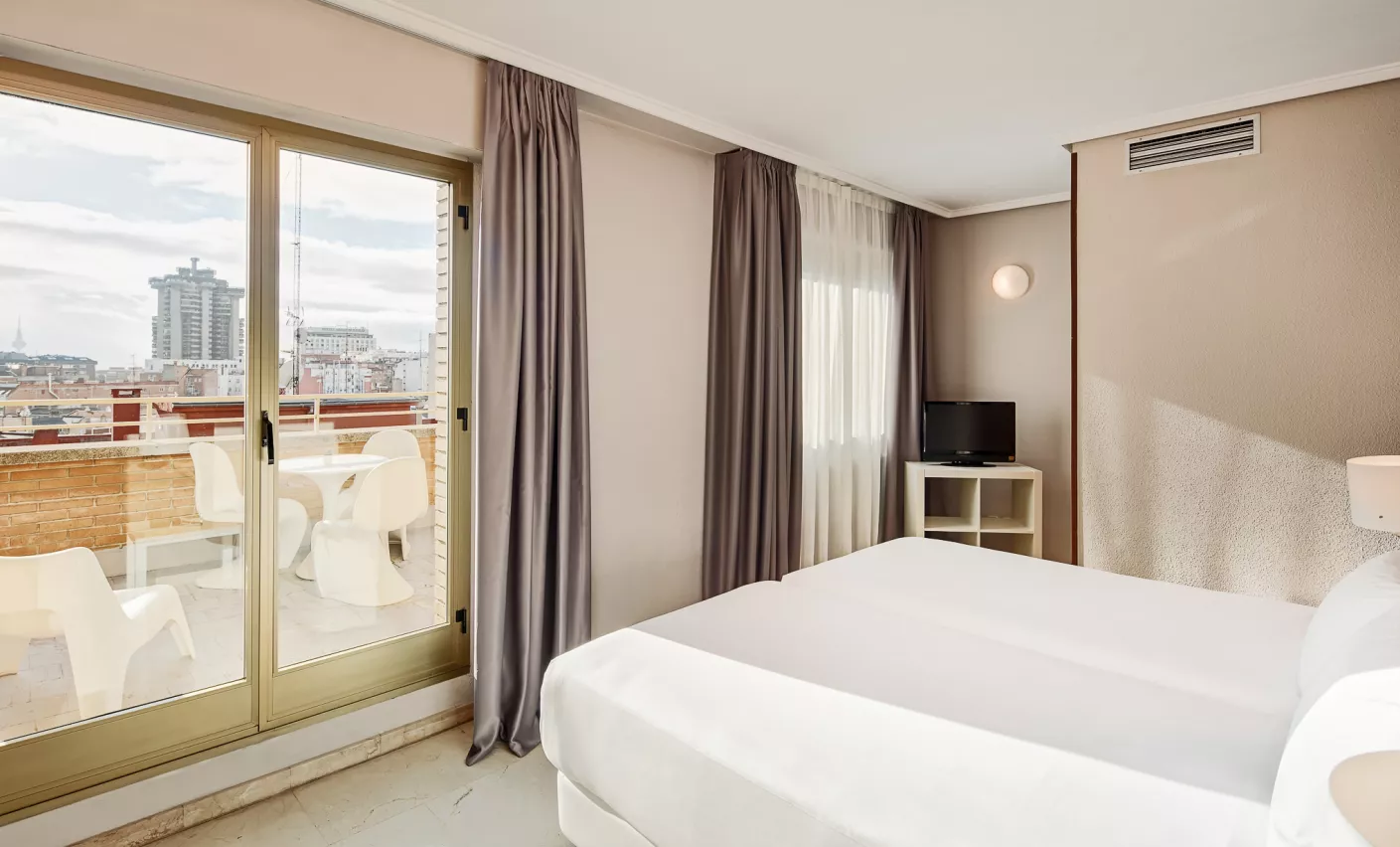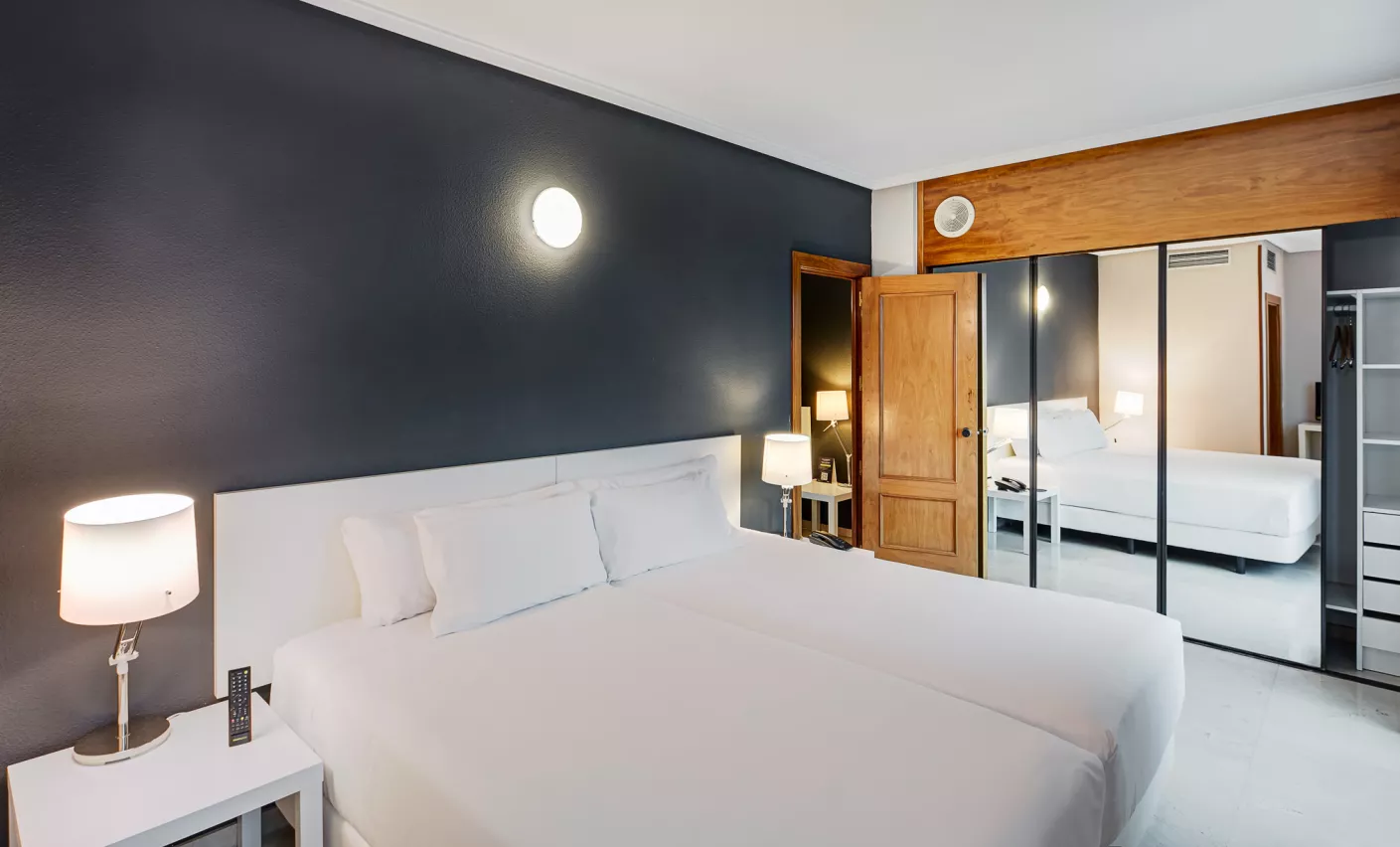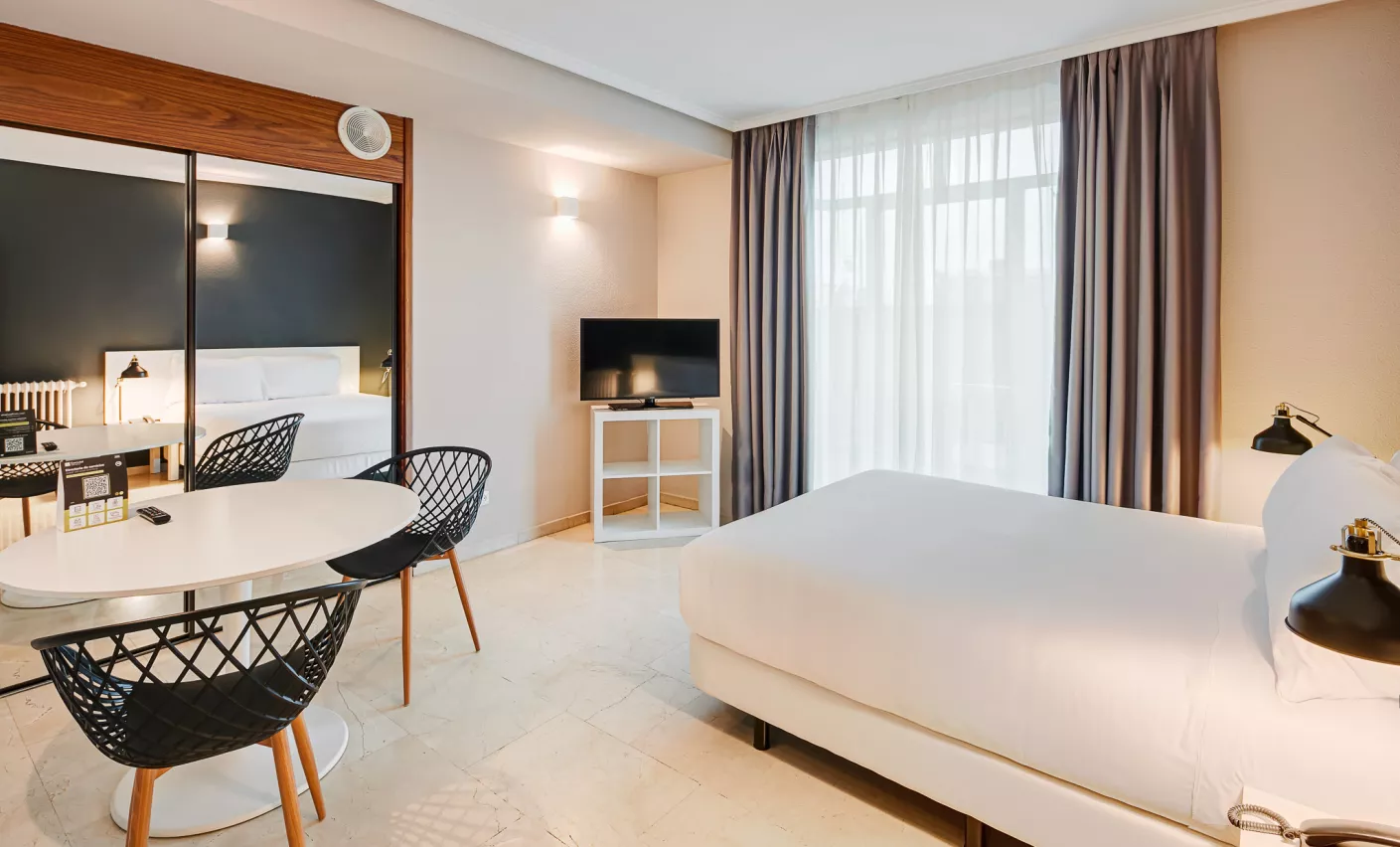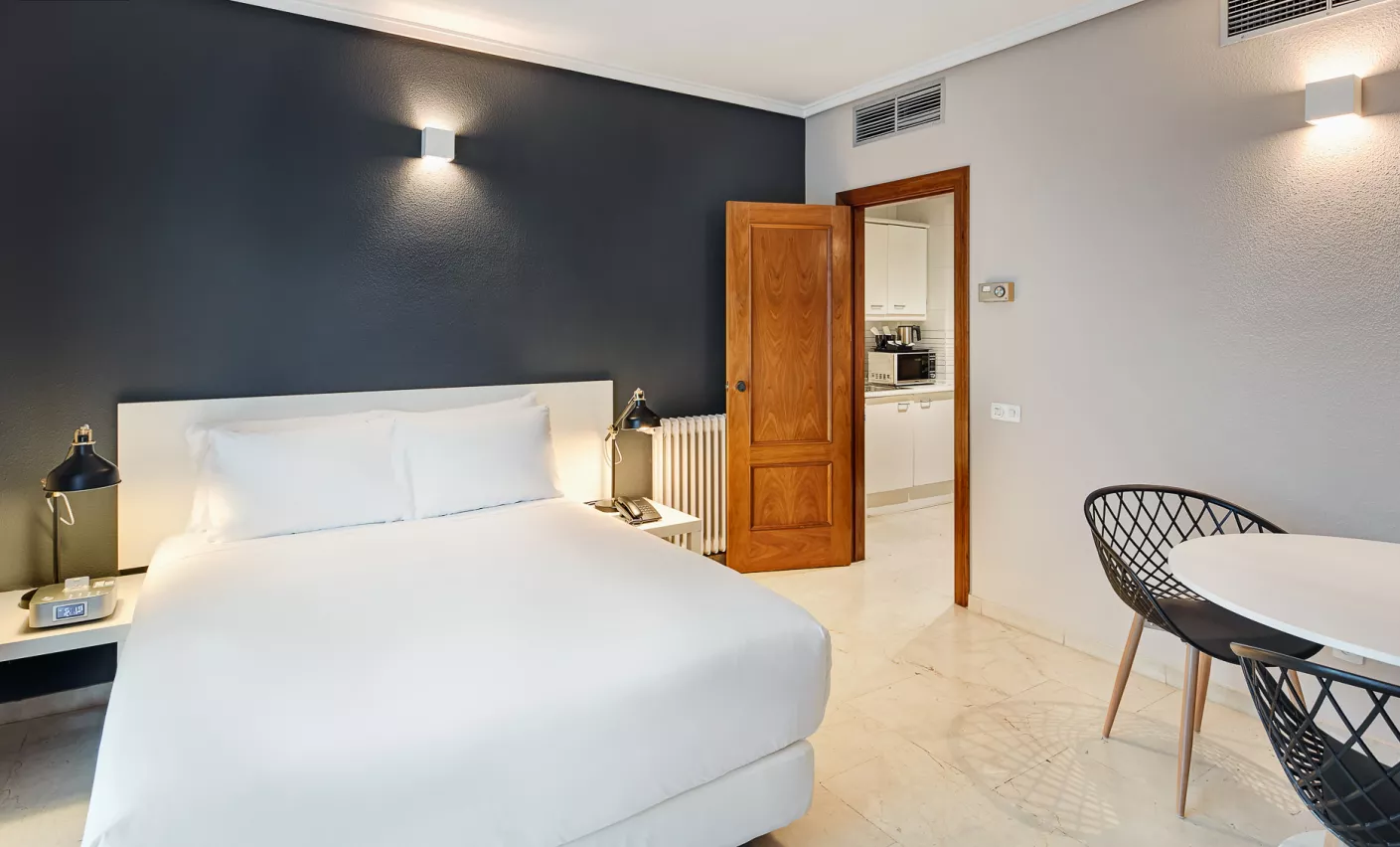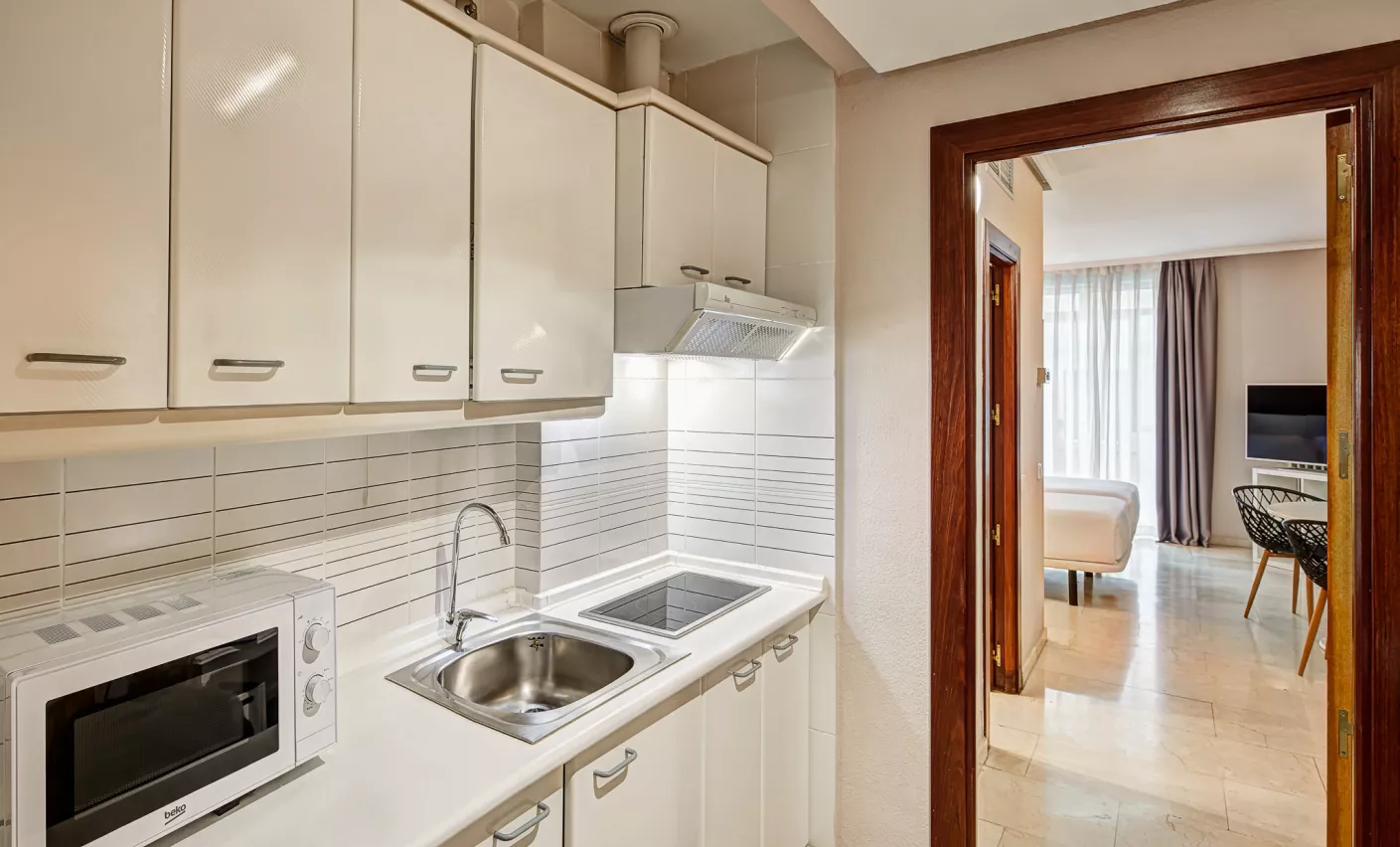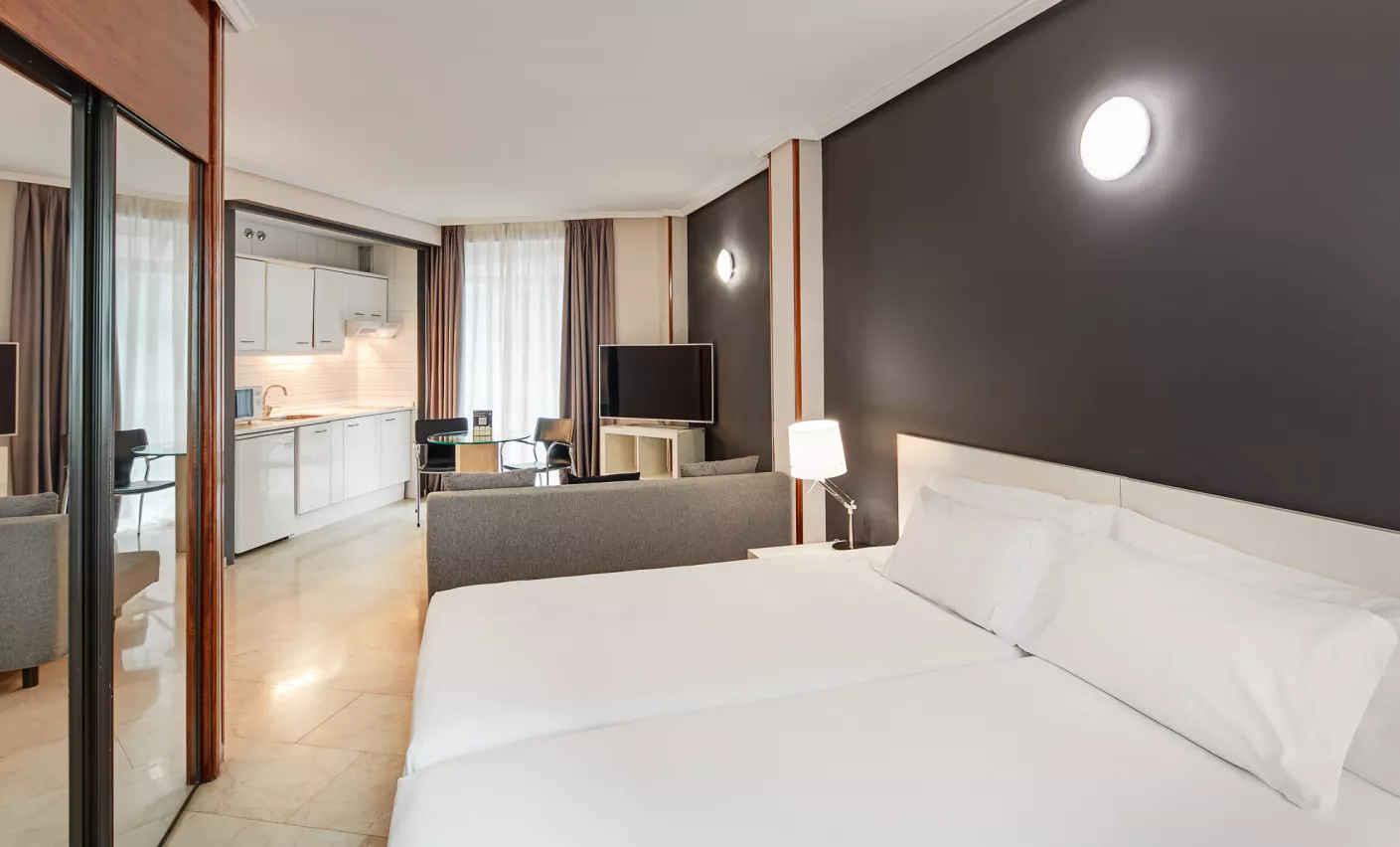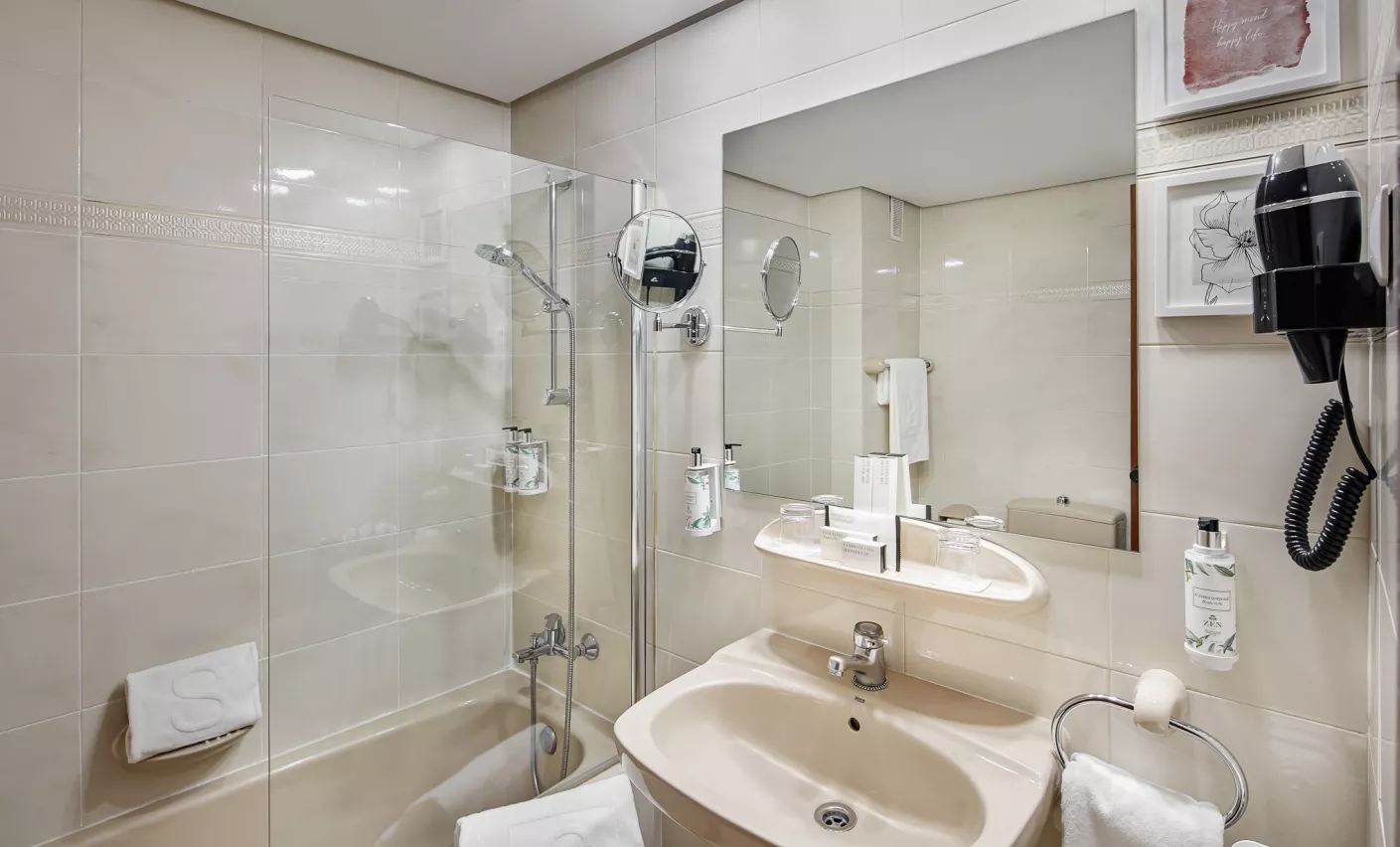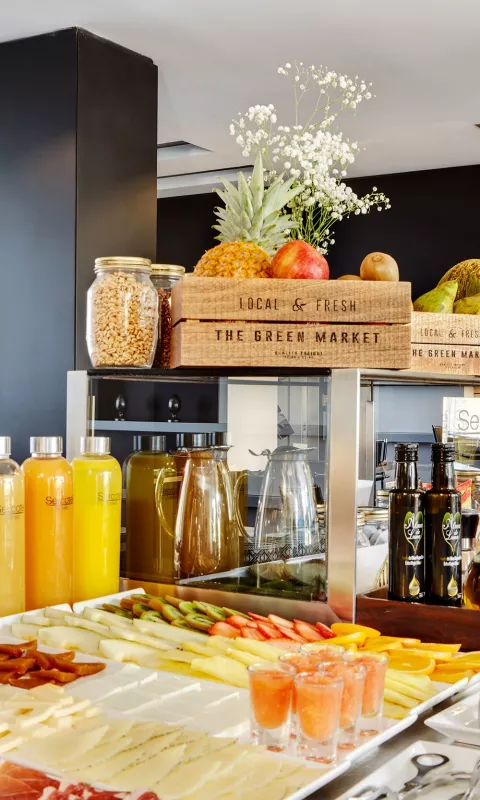 Breakfast
Do not leave the hotel without trying our breakfast.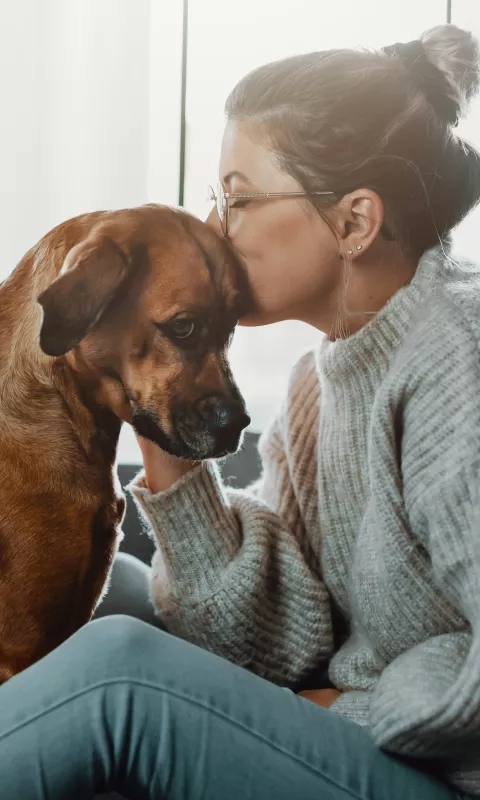 Key features
Esentia Togumar stand out because of their spacious rooms. Our apartments in Madrid are equipped with free wifi internet, combined lounge and kitchen areas, air-conditioning, heating and TV. There is a business centre with computers available.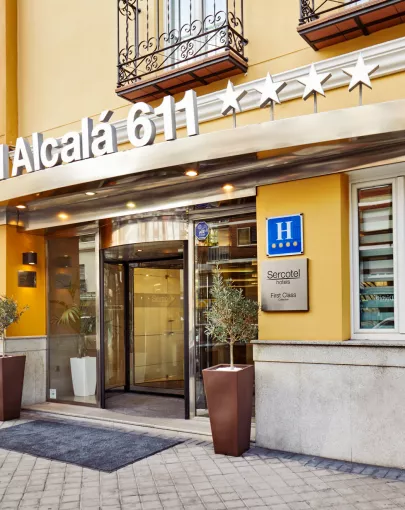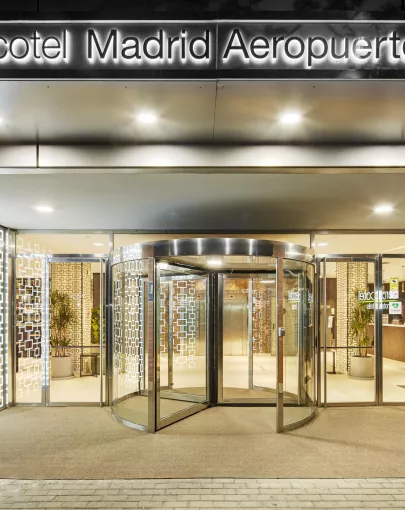 What are the check-in and check-out times at Sercotel Togumar?
You can check in from 14:00 and you must check out by 12:00.
Is it possible to check in early or check out late at Sercotel Togumar?
Early check-in and late check-out services are available to enable you to get the most out of your stay. Both services are subject to availability and may entail an additional cost. The Early Check-in price is €20. In the case of the Late Check-out service, the cost is €10 until 13:00, €15 until 14:00 and €22 until 16:00.
Does Sercotel Togumar provide parking facilities?
Yes, the hotel has a car park that costs €20 per day. You can only book a parking space from the reception team when you arrive at the hotel.   
Does Sercotel Togumar provide Wi-Fi? Is it free of charge?
Yes, there's free Wi-Fi access throughout the hotel. Log on and browse. 
Does Sercotel Togumar provide cots for babies?
Of course. If you need a cot, just ask for one when you make your booking or ask the reception team. The cots entail no additional cost. 
Can I stay at Sercotel Togumar with my pet?
Yes, we allow pets with a weight limit of 7Kg. A supplement of €20 per night will be charged. Remember that the service is subject to availability and you must book in advance.
What kind of breakfast is served at Sercotel Togumar?
We offer buffet breakfast at a cost of €11.9 per adult and €6 per child. 
Are you aware of the Early Bird breakfast service at Sercotel Togumar?
We offer the Early Bird Breakfast service from 5:00  to 7:00 every day.
Does Sercotel Togumar provide a laundry service?
Yes, we provide a laundry service.