Barcelona, Spain
Sercotel Caspe
Search your hotel or destination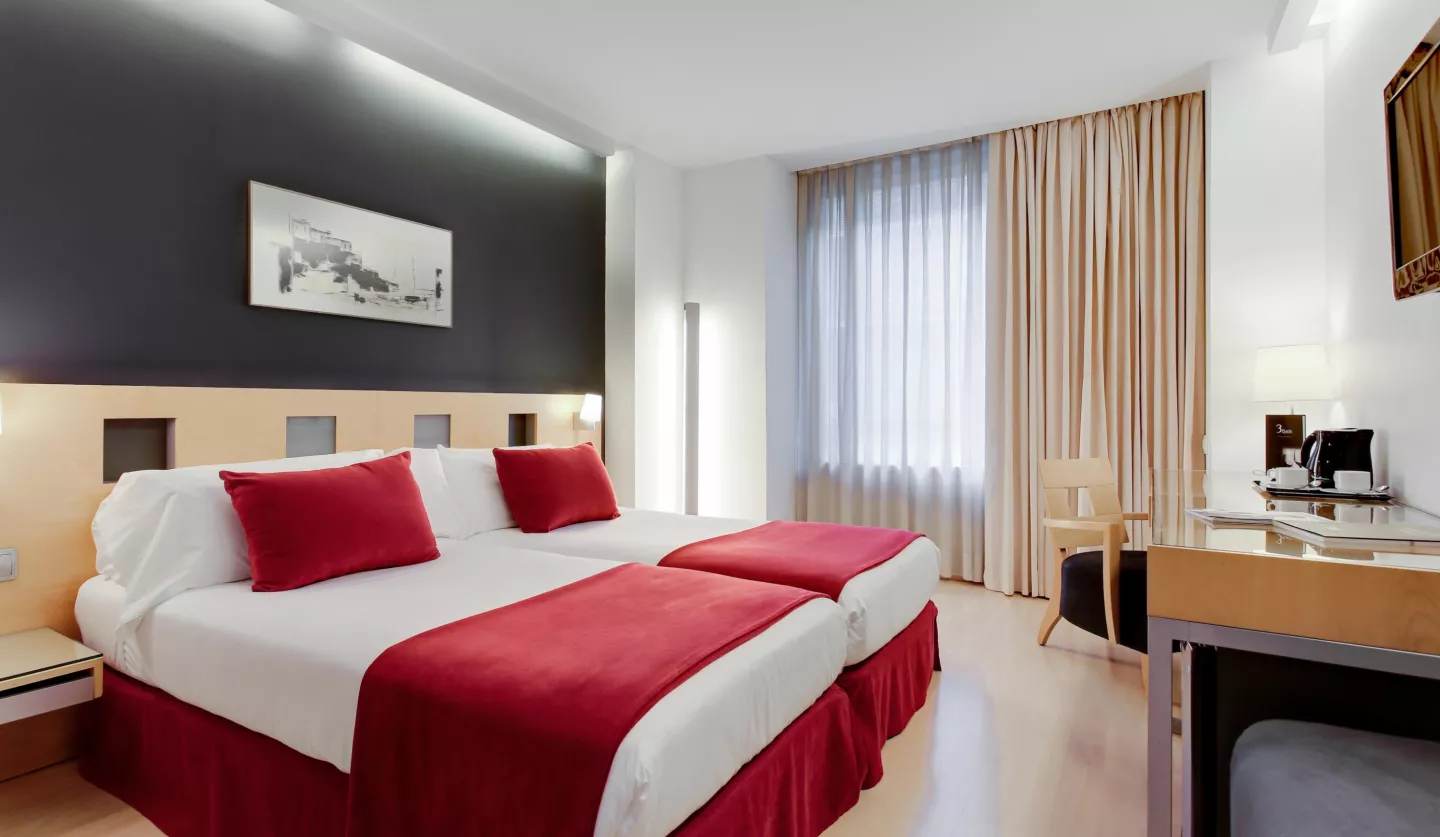 Your state-of-the-art home in the heart of Barcelona
An avant-garde hotel for an area buzzing with life. This is the Sercotel Caspe, located in the Eixample neighbourhood. Very well-communicated and close to some of Barcelona's most emblematic tourist sites. Can you imagine waking up a few minutes' walk from the Casa Batlló or the Sagrada Familia? 
Our location will draw your attention, of course, but we'll win ultimately you over with our savoir faire, the love we put into everything we do, the insider tips that we'll give you to get the most out of the city and the services worthy of a four-star hotel.  
We know that you're coming to see Barcelona, not us, but once you get to know us you'll be in a hurry to try out our comprehensive fitness room. Its doors are always open to enable you to keep up your sporting routine during your travels.  
You can regain your strength with a visit to our bar, where you can try the dishes typical of Catalan cuisine. And in the café on our terrace. Here is where we serve a full breakfast of fruit, pastries, dairy products, tasty local cold meats and much, much more every morning. 
Are you here for pleasure or business? This will be one of the questions we'll ask you at reception. Forget about your mobile phone for a moment and let the human touch create the magic. We'll act as your guide to enable you to explore the secrets of the city and our modern and state-of-the-art Sercotel Caspe. 
So we'll tell you that, before you settle in, you can leave your car at our parking facilities. When you've forgotten about it, we'll tell you about our magnificent rooms. They're spacious and comfortable, with a minimalist décor whose neutral shades will make it easier for you to rest and switch off after a long day of excursions or work meetings. Let's not kid ourselves; the fact that our beds are incredibly comfortable also helps. 
If it's work that's brought you to the Caspe Barcelona Hotel, we'll also show you our versatile event rooms. They're equipped with the latest technology and suitable for the organising of any kind of business event or personal celebration.  
While we task ourselves with ensuring that everything's ready for your event, you can settle down in our Business Center to concentrate on the tasks you have pending. 
And, to end the day or to start it, as you prefer, we know that there's nothing better than a restorative massage. We'll tell you more about it at the reception desk. Ask us and we'll explain how to book yours. Afterwards, all you have to do is close your eyes, relax and simply enjoy yourself.
Find your room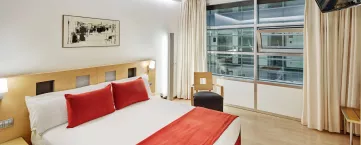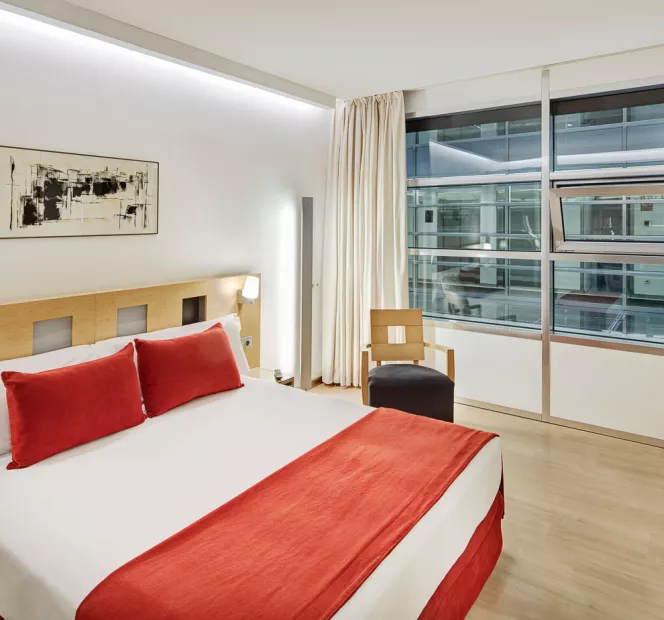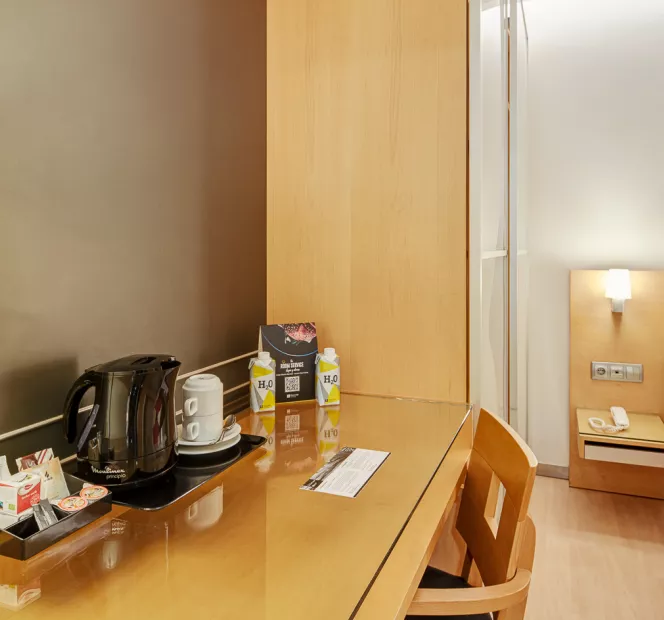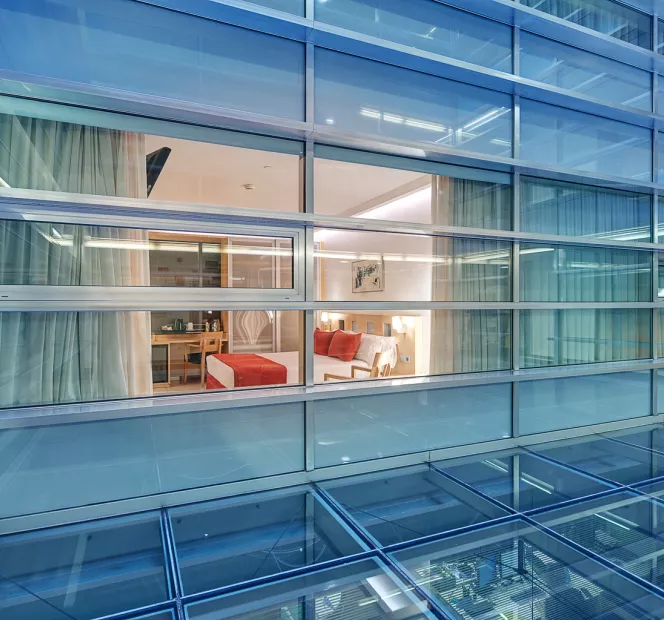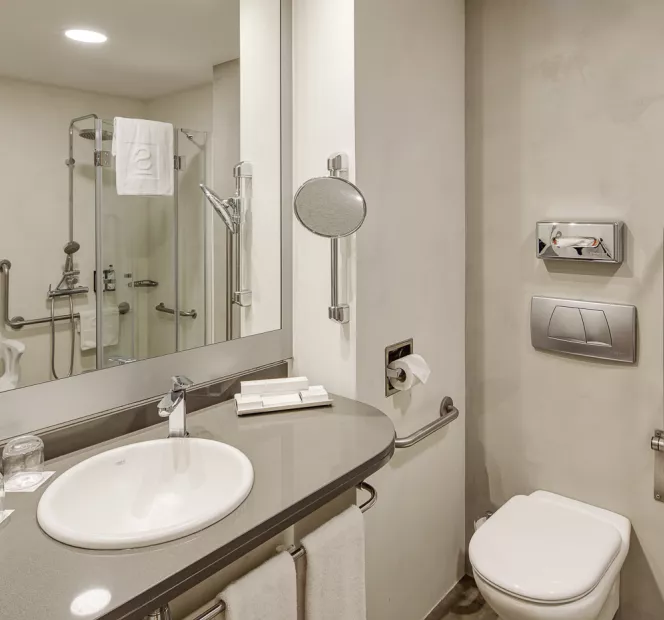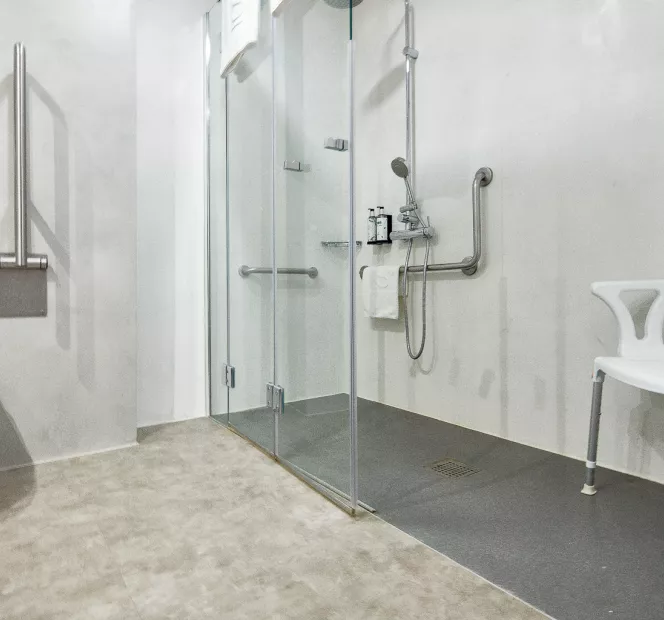 Basic Room
In our Basic Double room you'll have much more than the basics to enjoy your stay in Barcelona. The combination of avant-garde, spaciousness, design, a comfortable double bed and the huge flat-screen TV will mean you'll never want to leave.

Complies with Local/State/Federal fire laws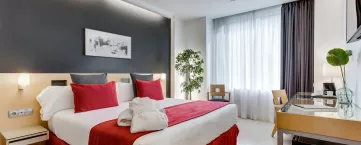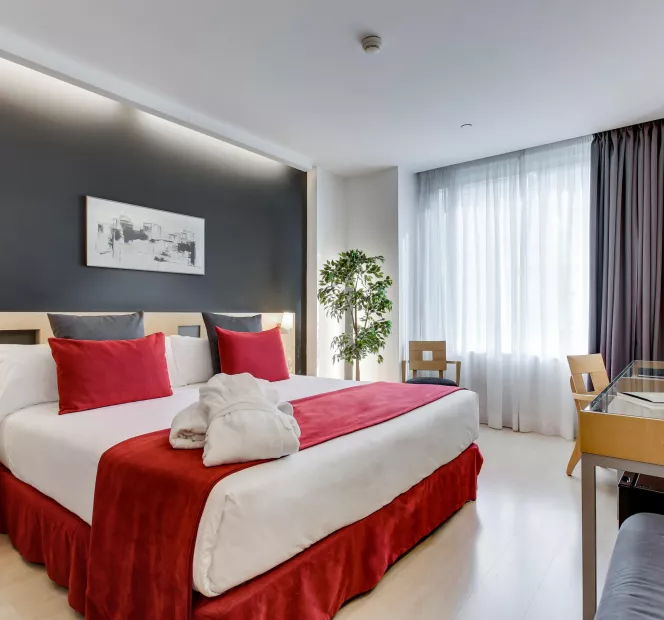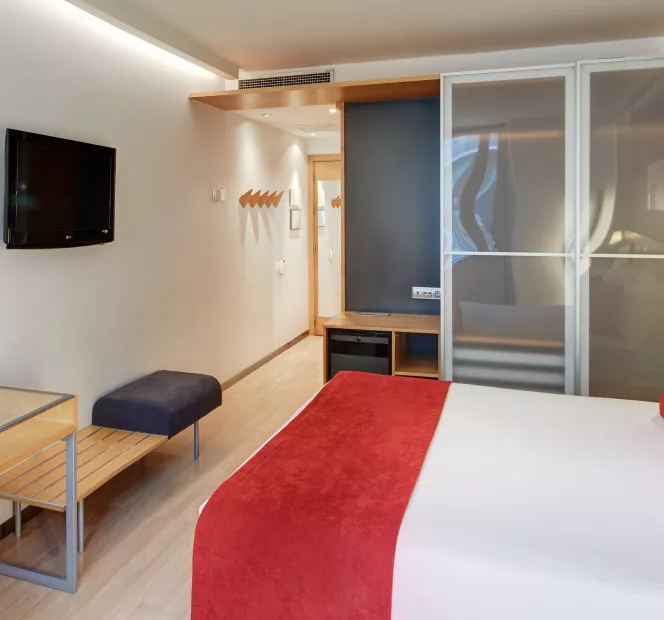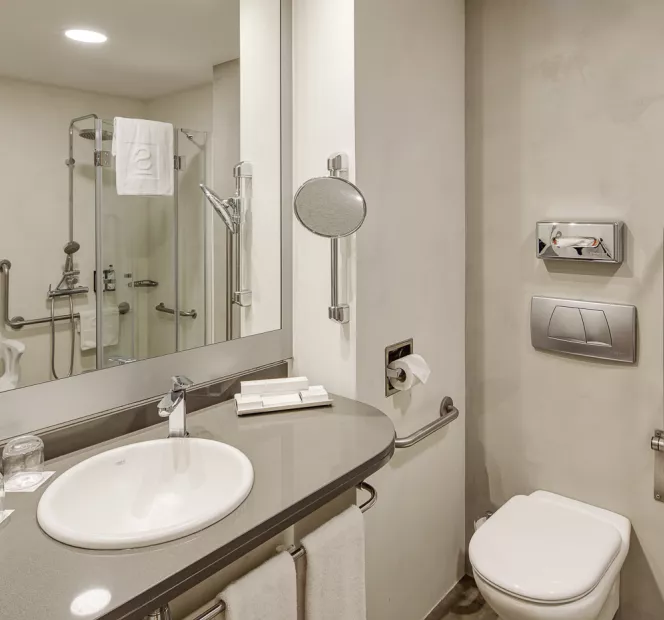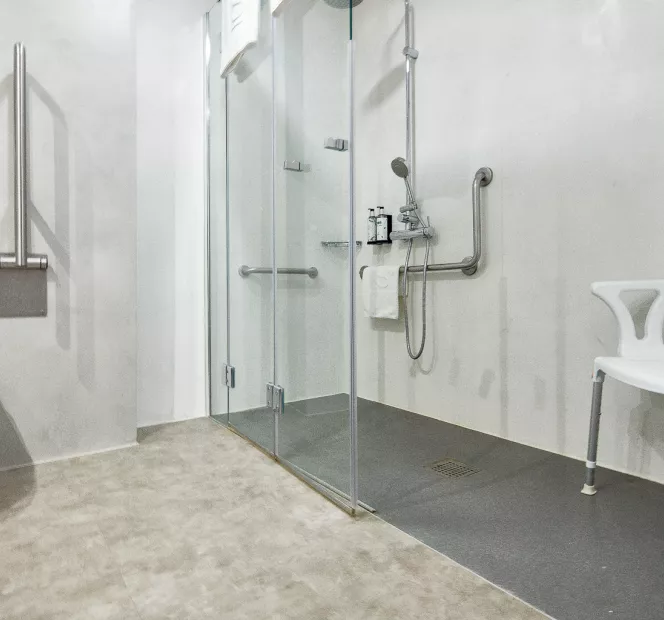 Classic Room
You know what is like not having to leave the room? This is true of our Classic Double rooms. It's not just because they're spacious or because their bed will entrap you, but also because they offer room service all day long so that you want for nothing.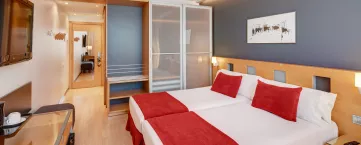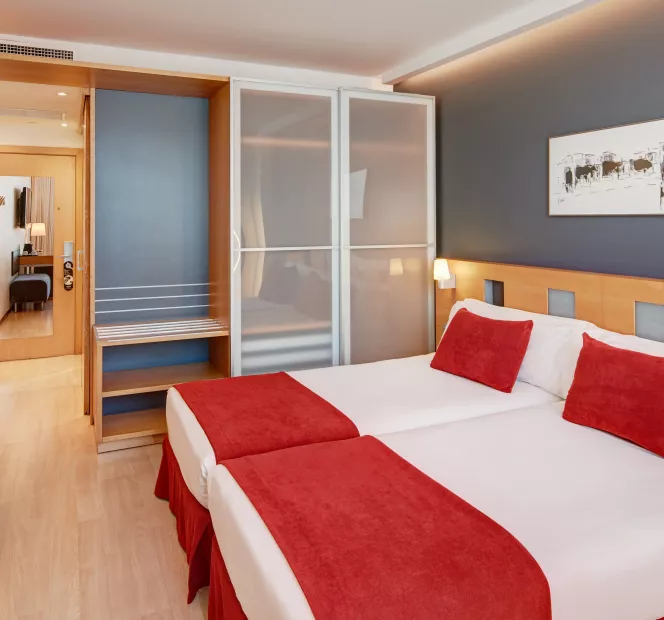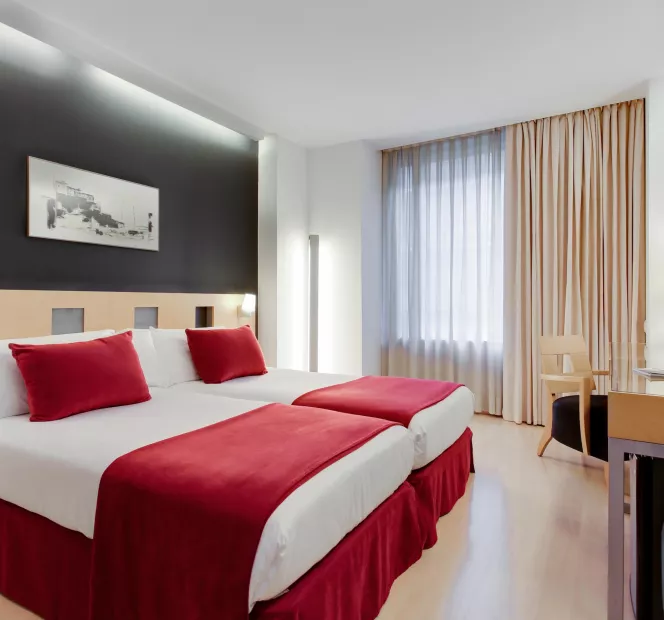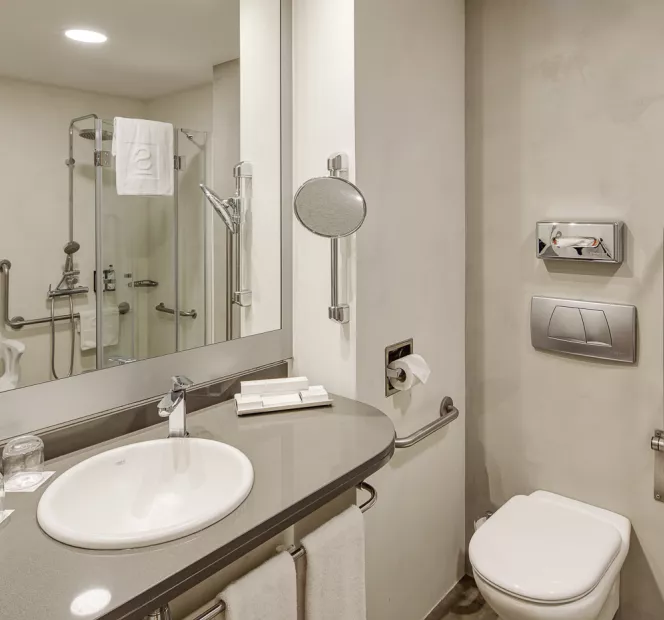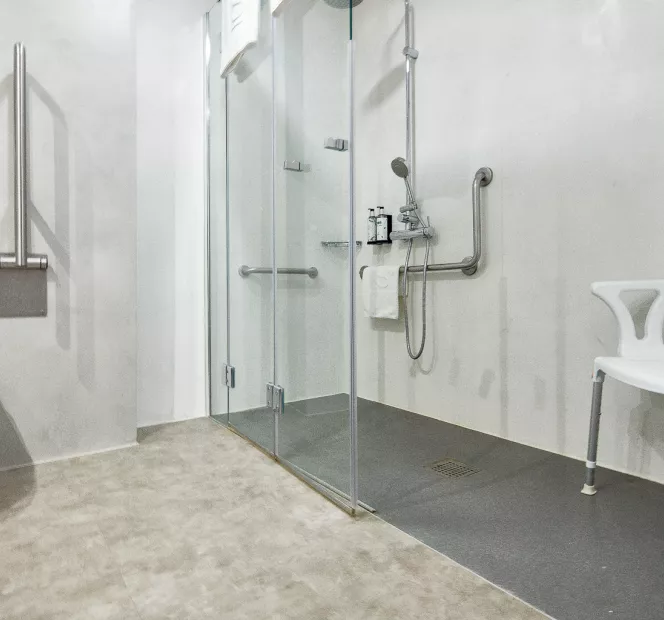 Classic Room
You want to be side by side but not eye to eye on your trip to Barcelona? Then you'll be pleased to know that we have fantastic Classic Twin rooms. They're modern, bright and equipped with single beds that are ideal for resting in after an exhausting day in Barcelona.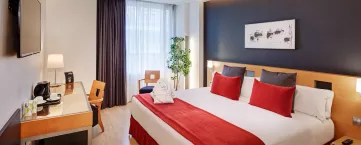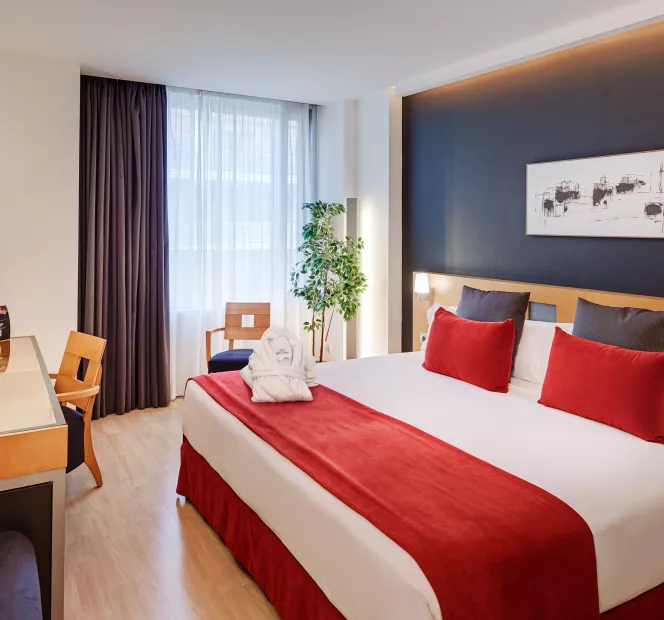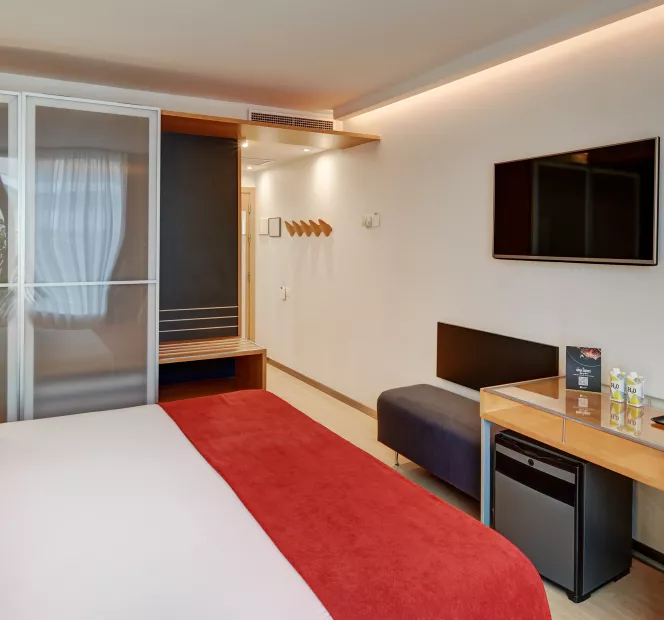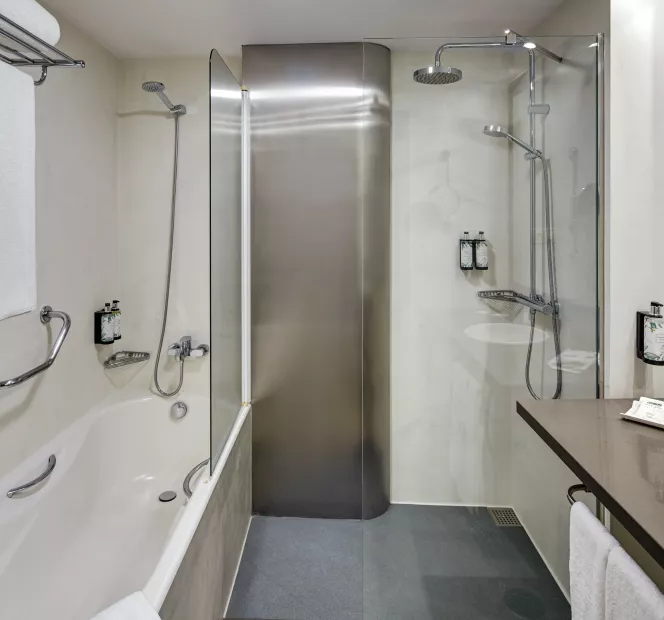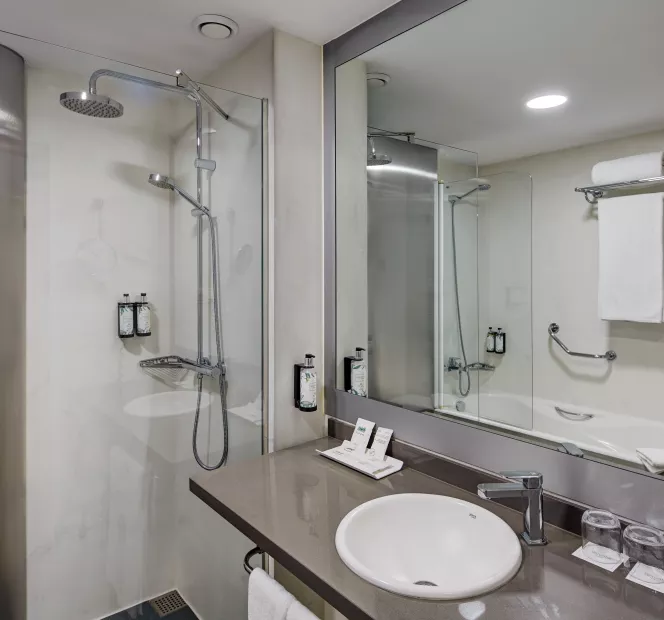 Superior Room
Preparing a special getaway to Barcelona? The Superior Double at the Sercotel Caspe provides you with the option of creating unforgettable memories. This spacious room is soundproofed and it features a large king-size bed. Perfect rest is guaranteed. 

Complies with Local/State/Federal fire laws
Show more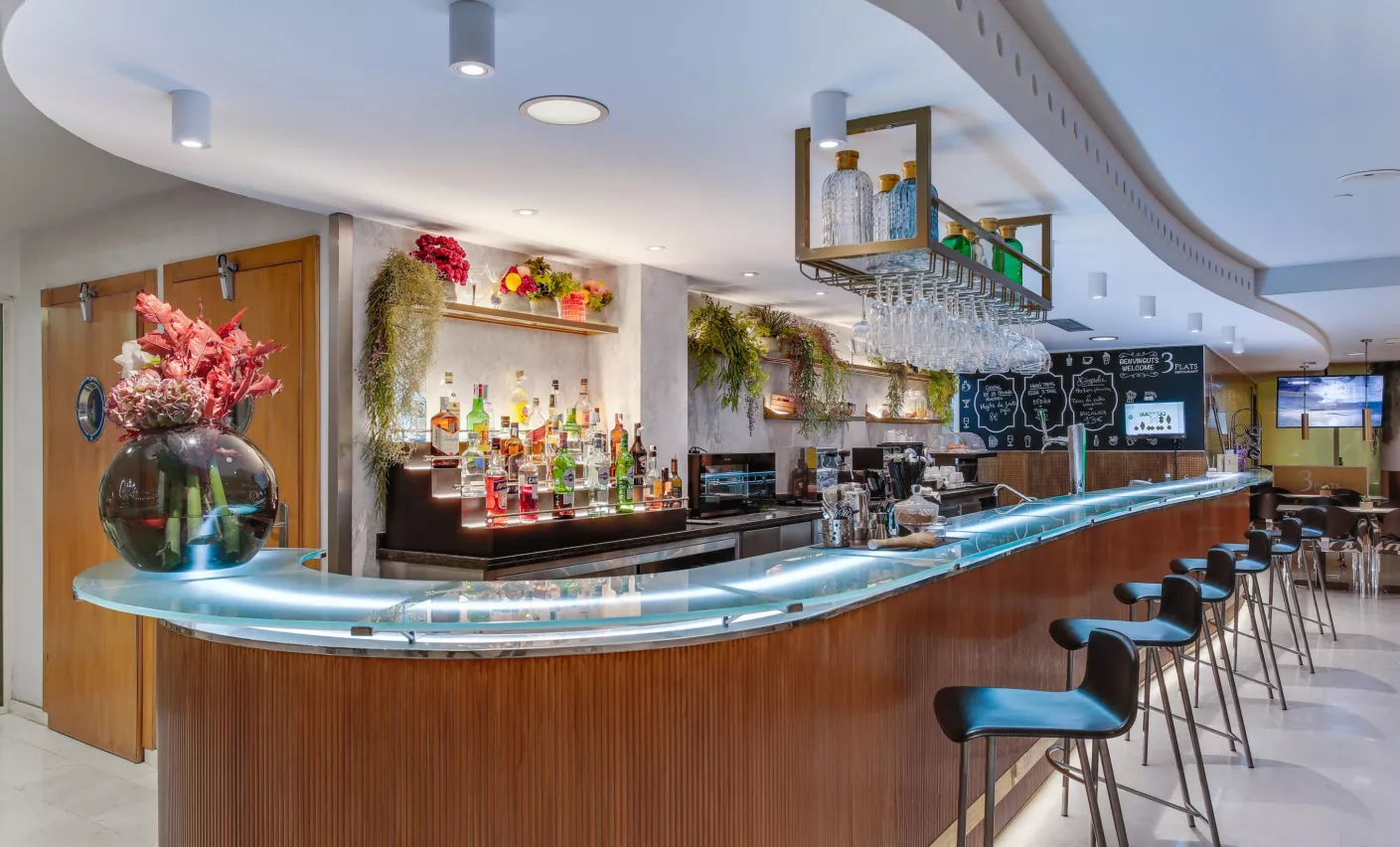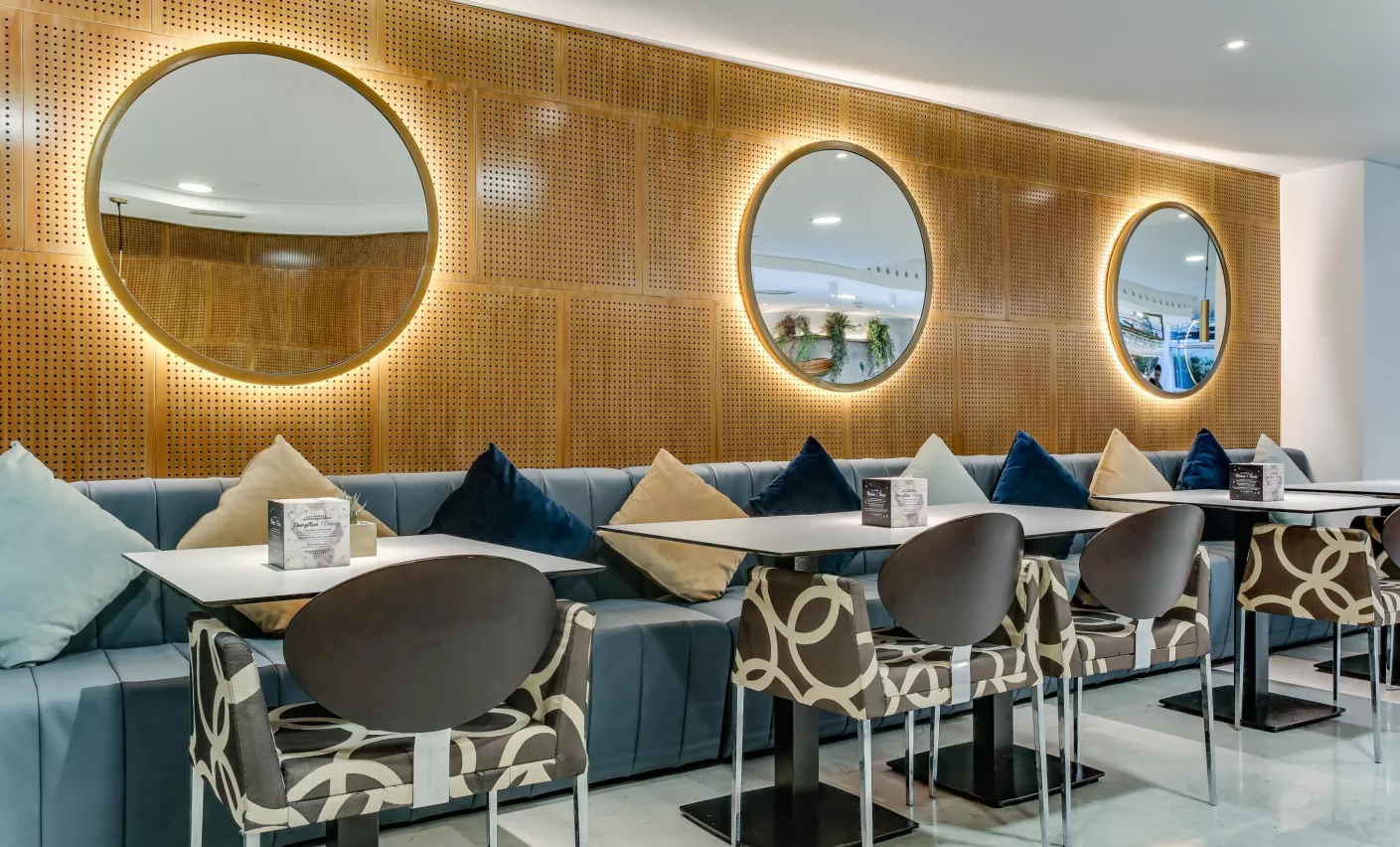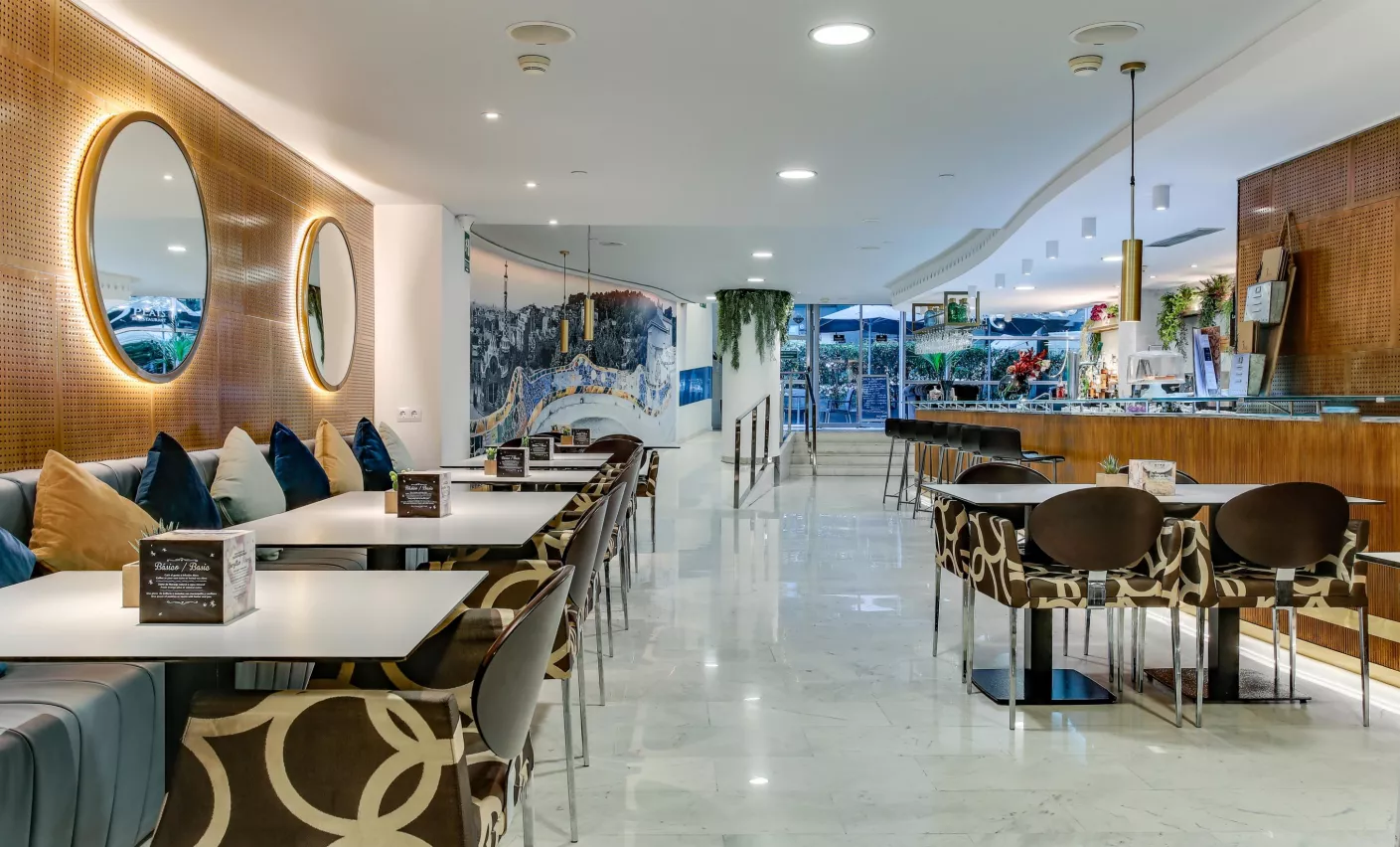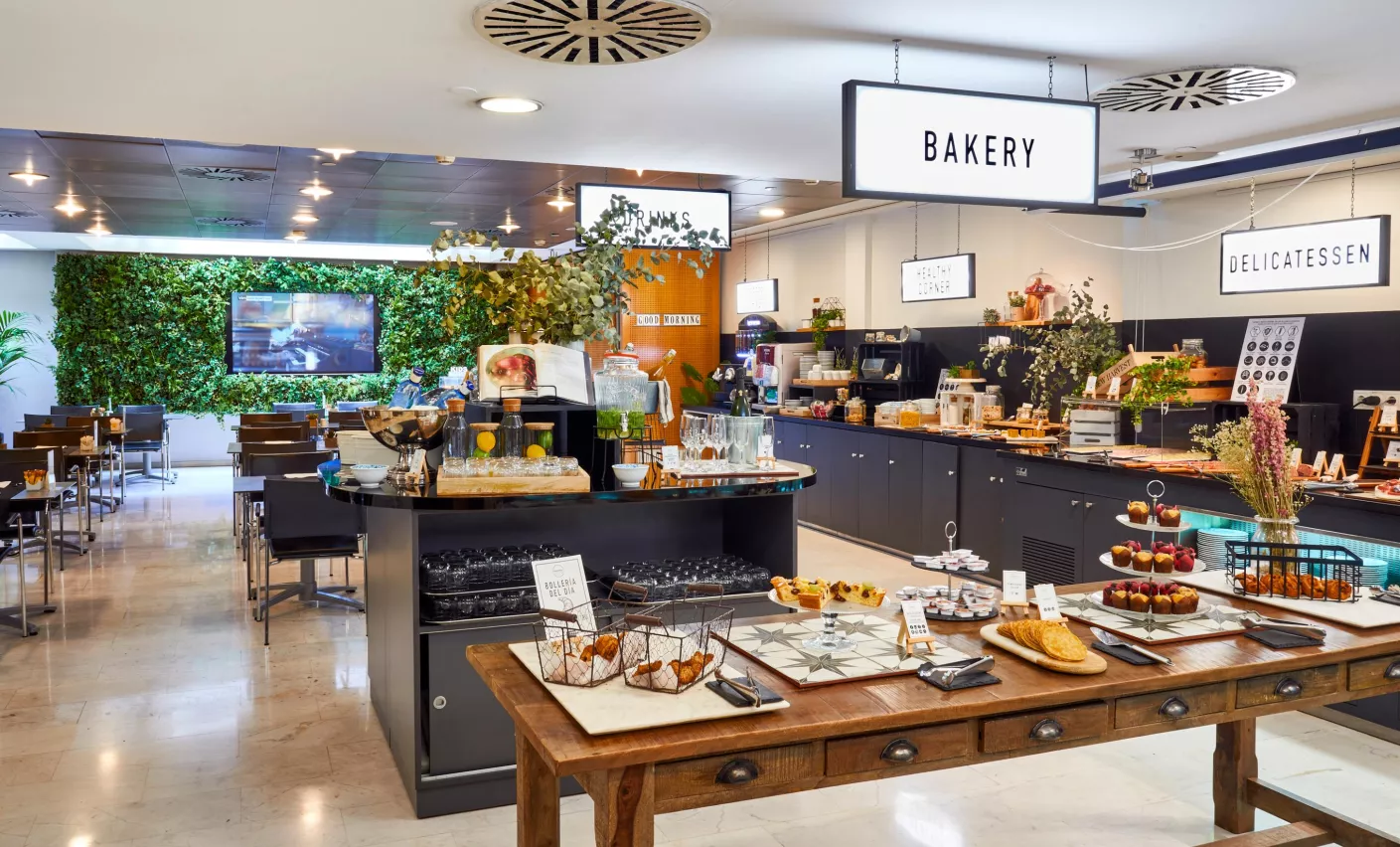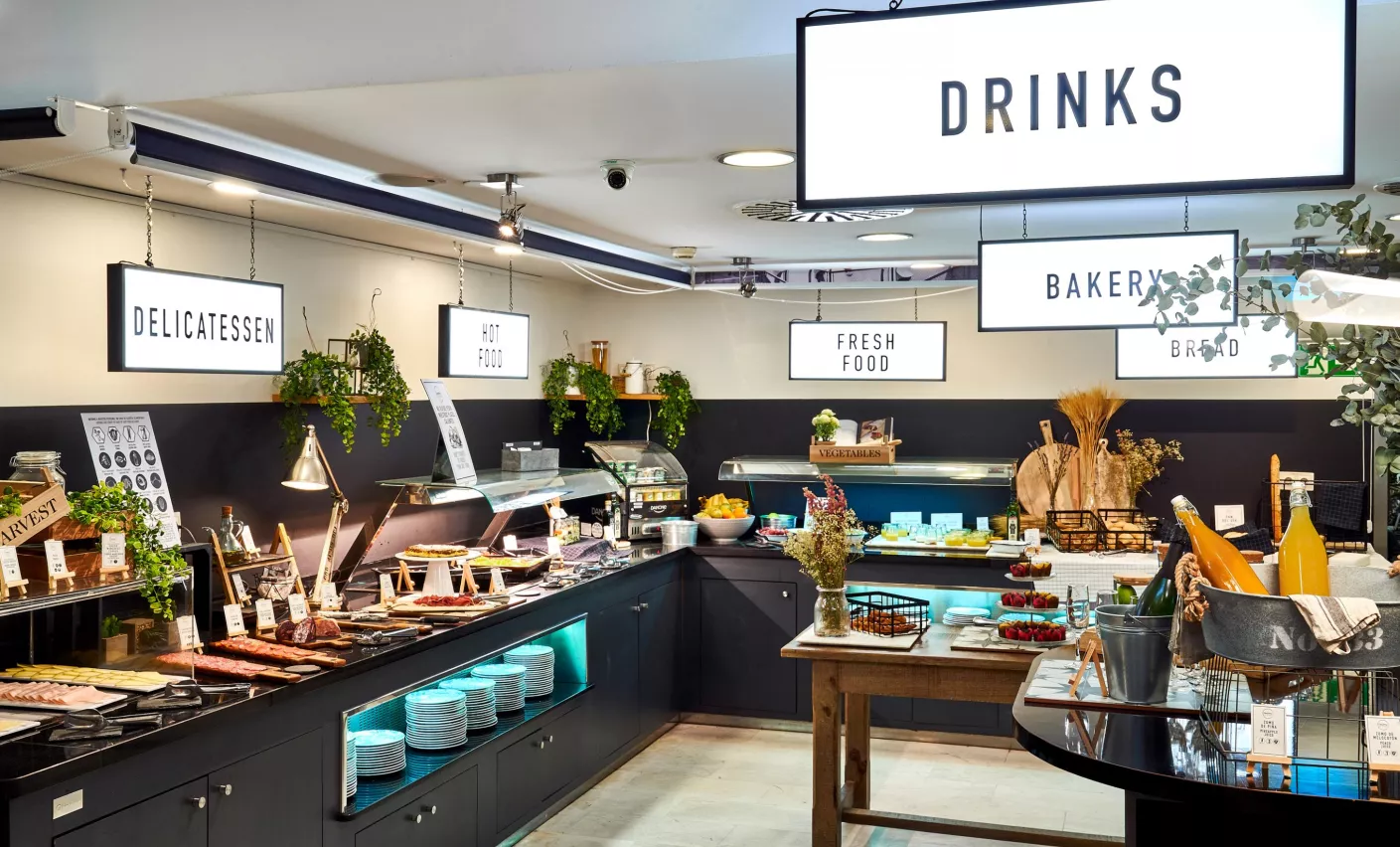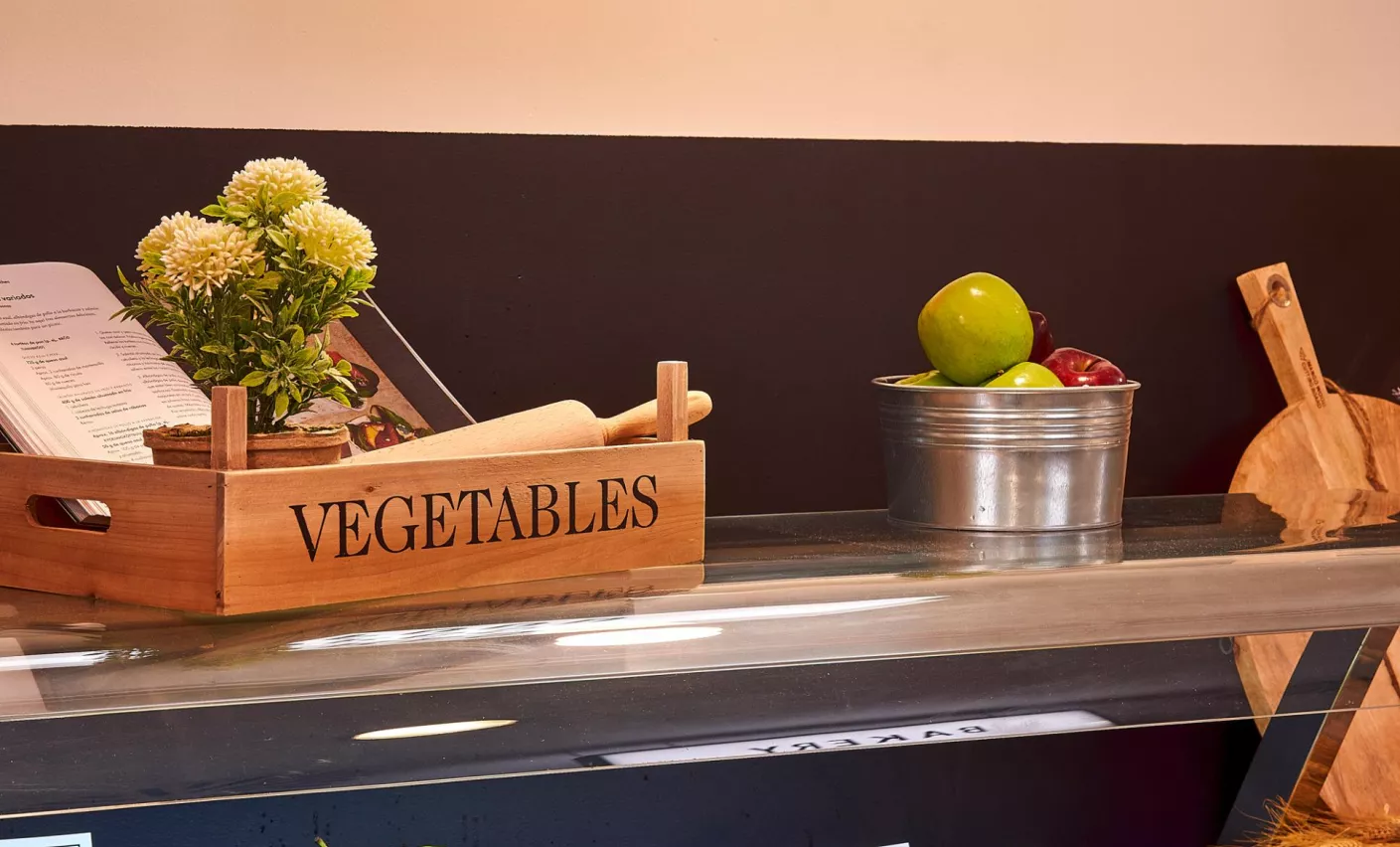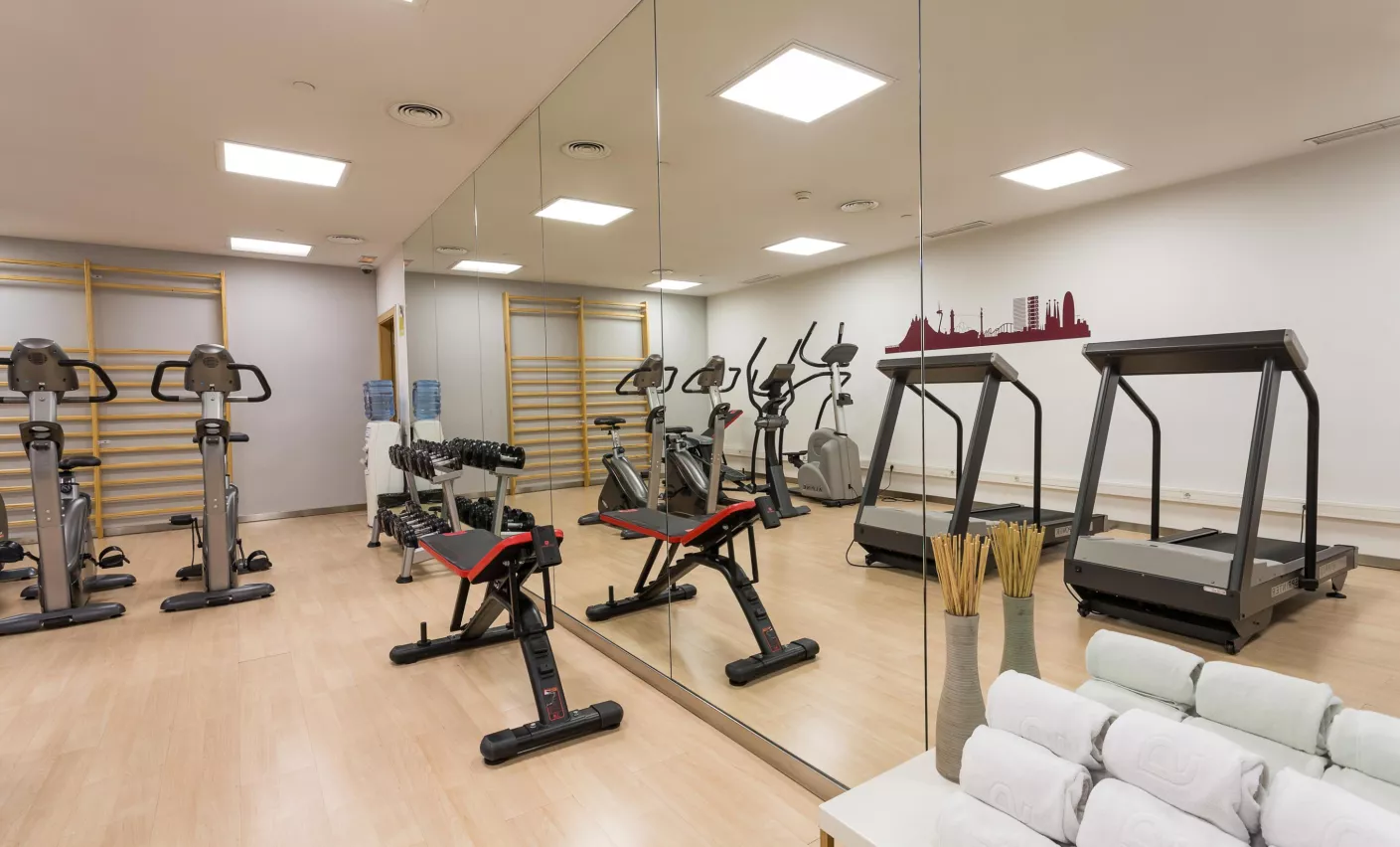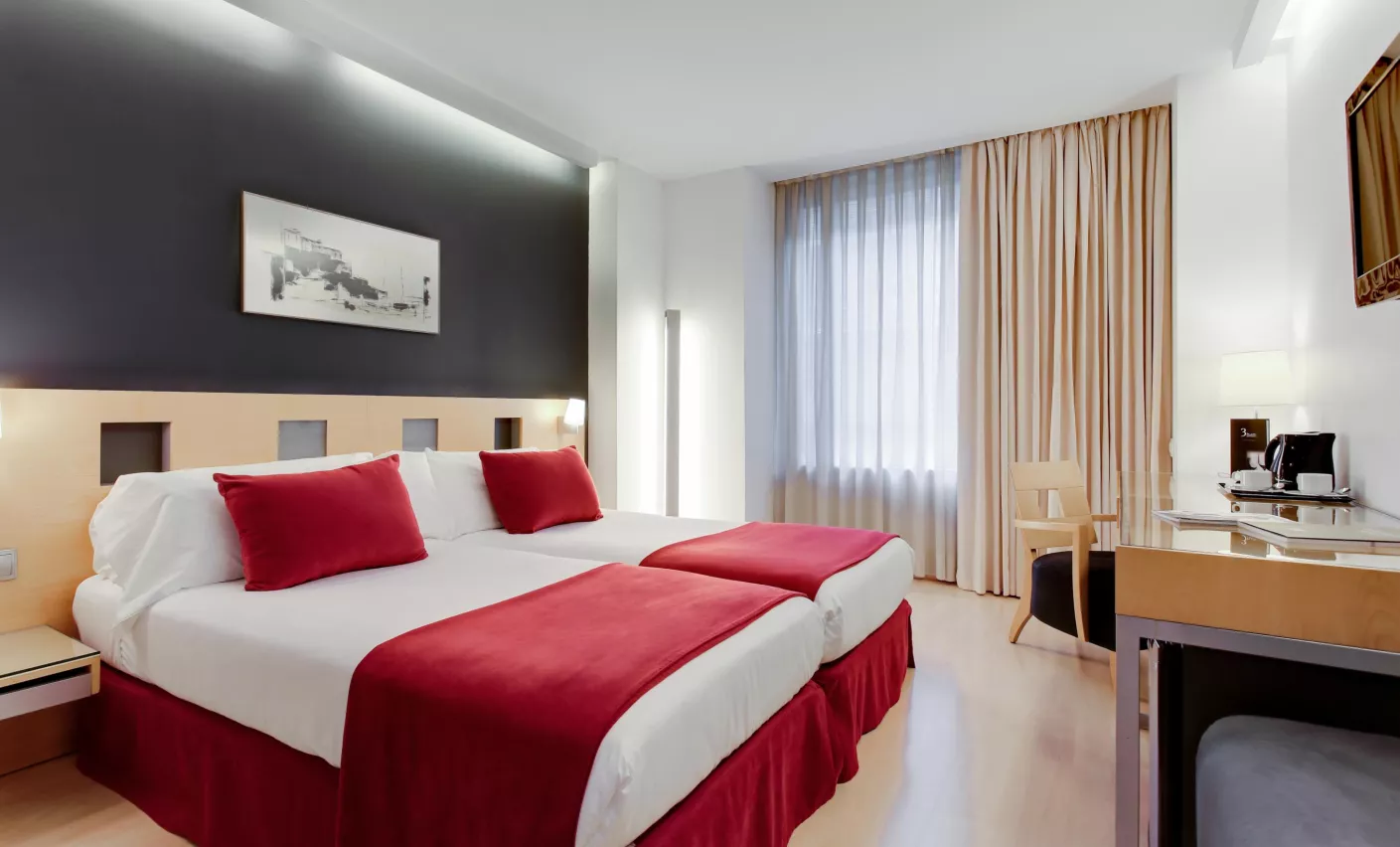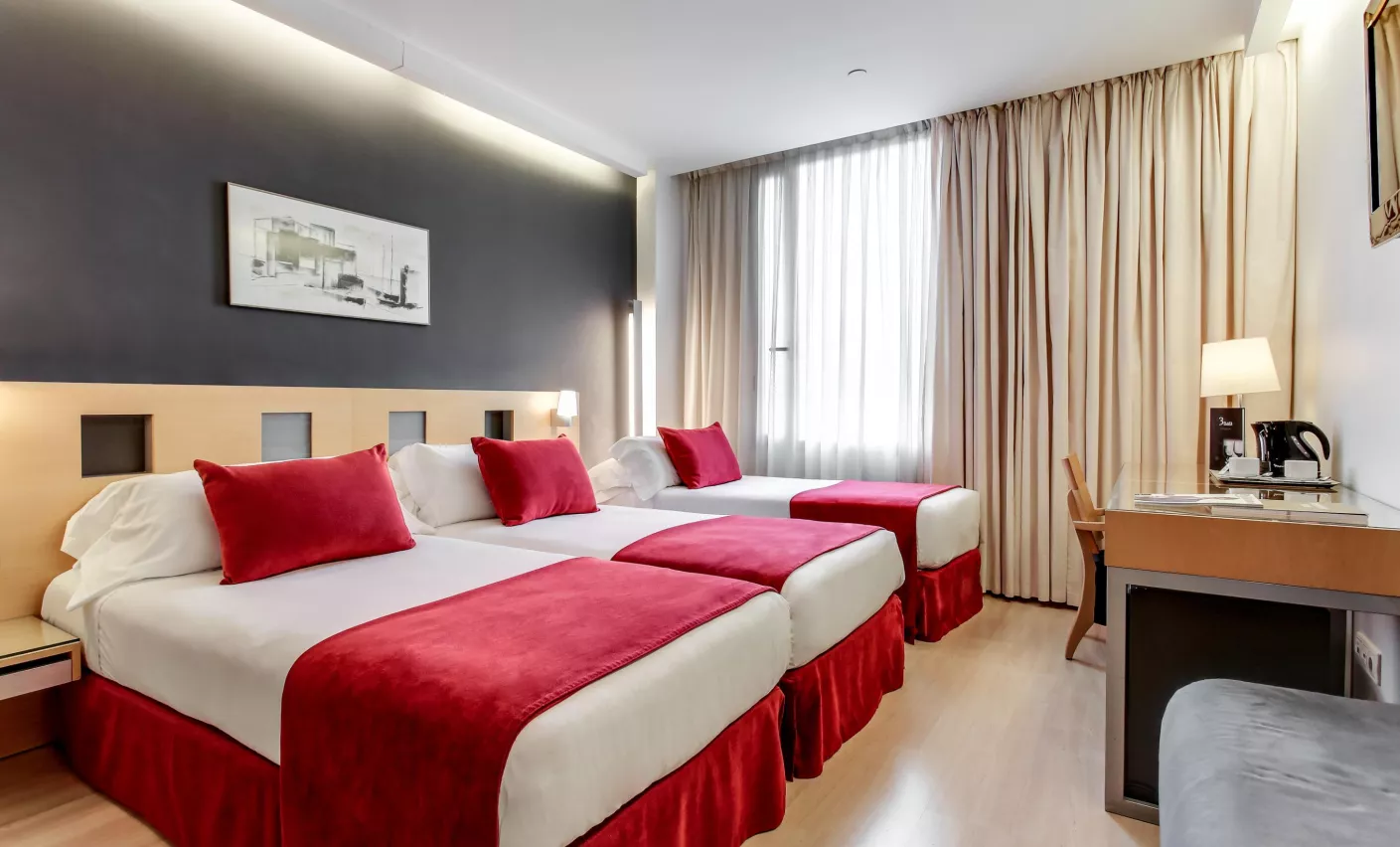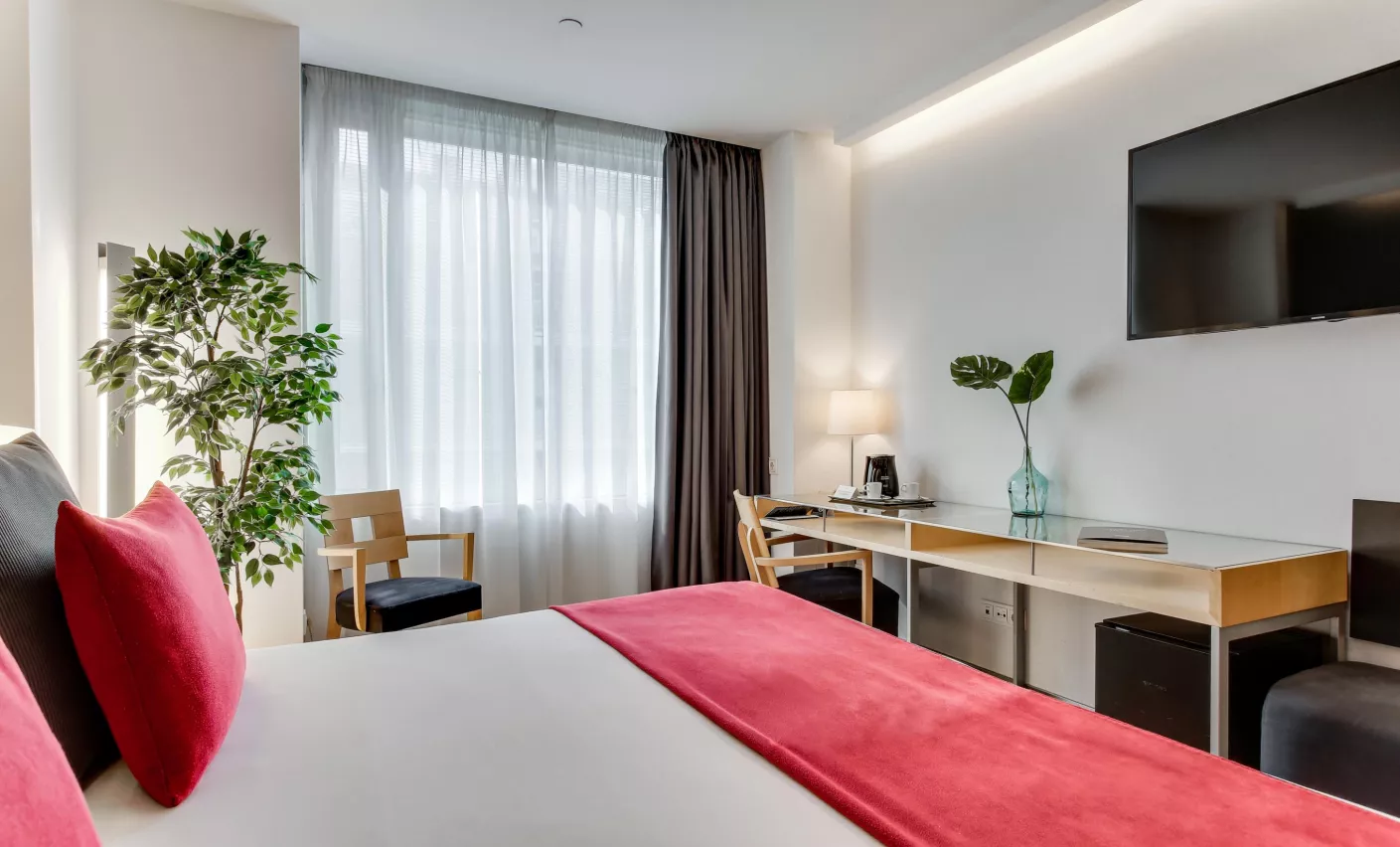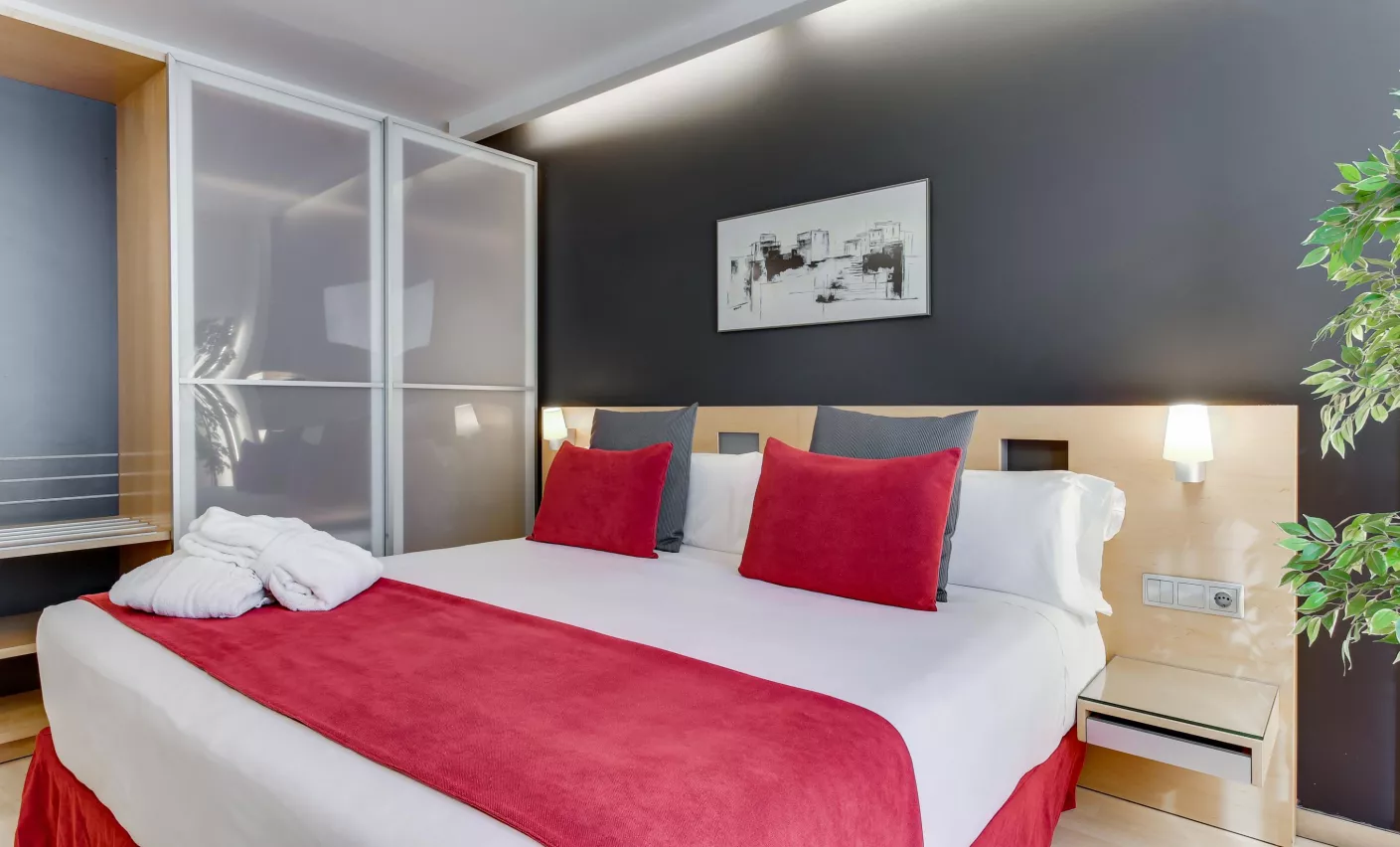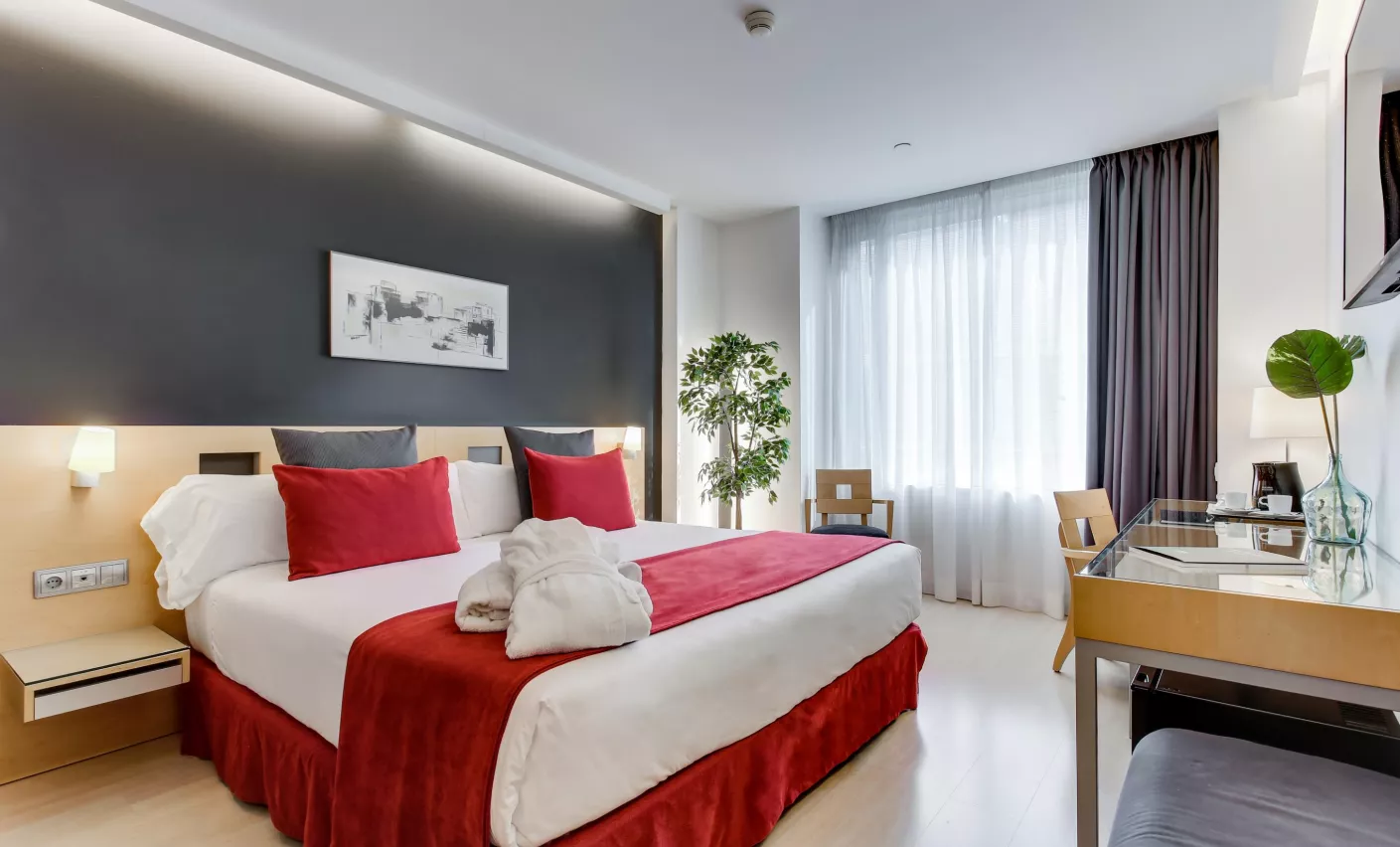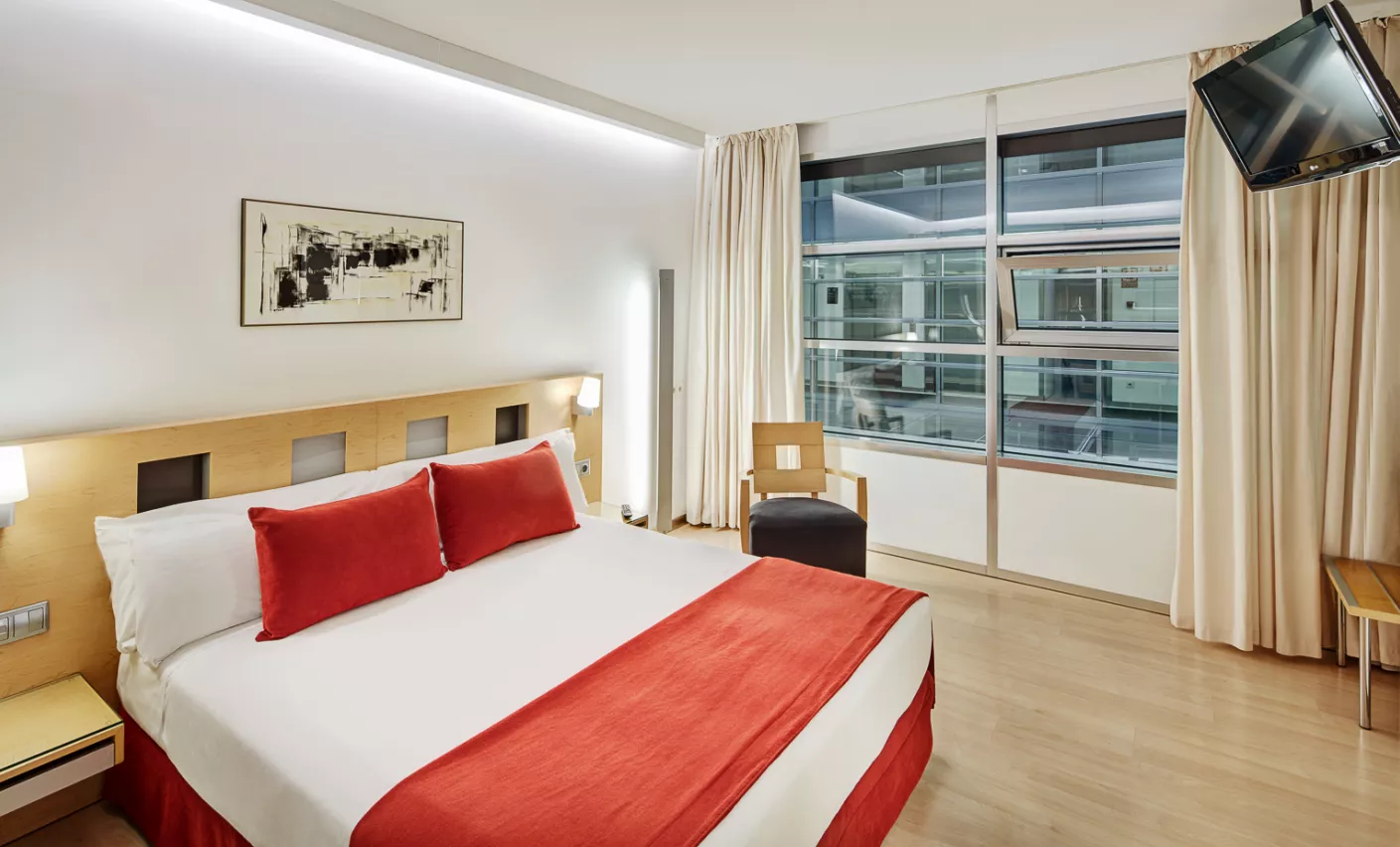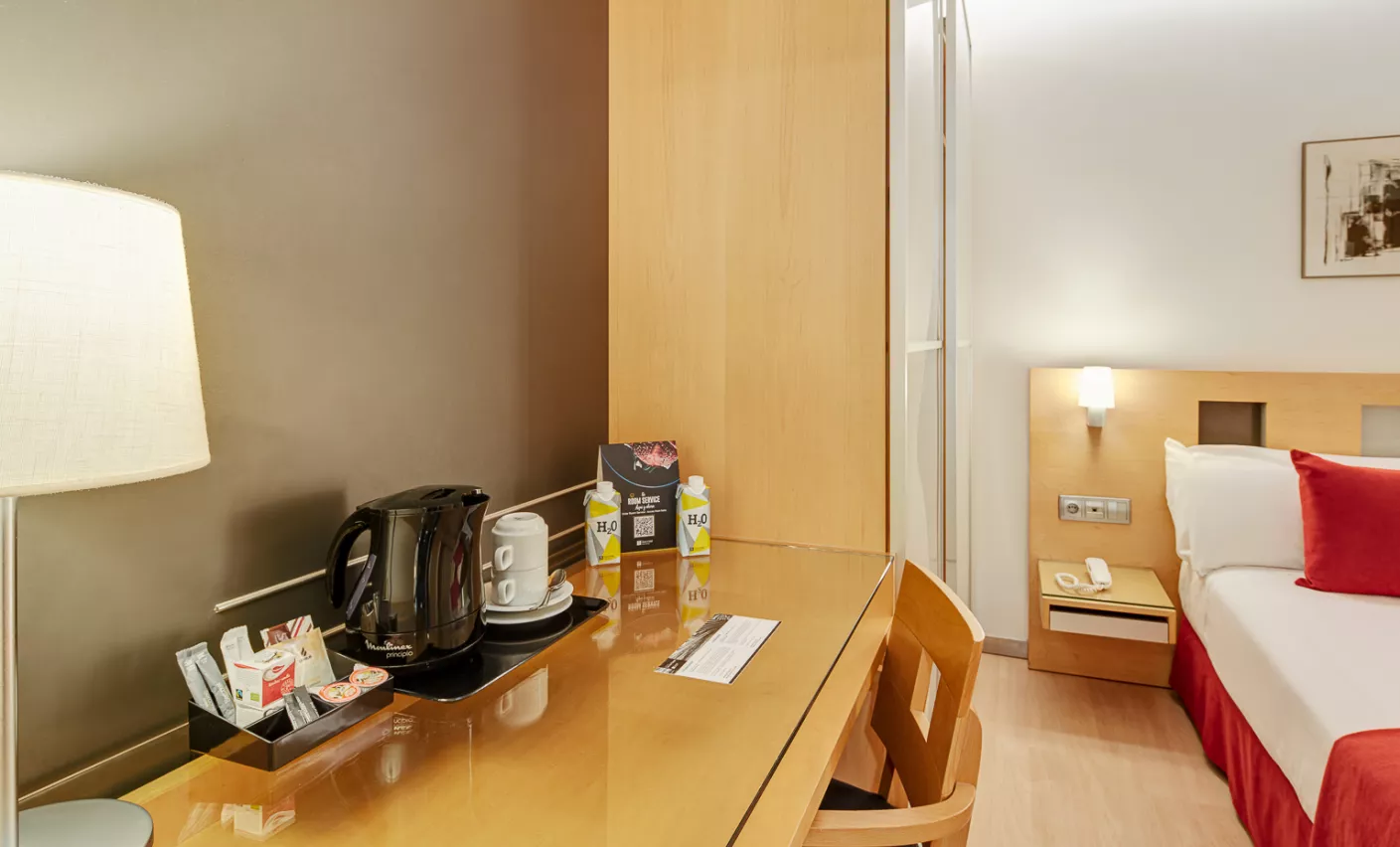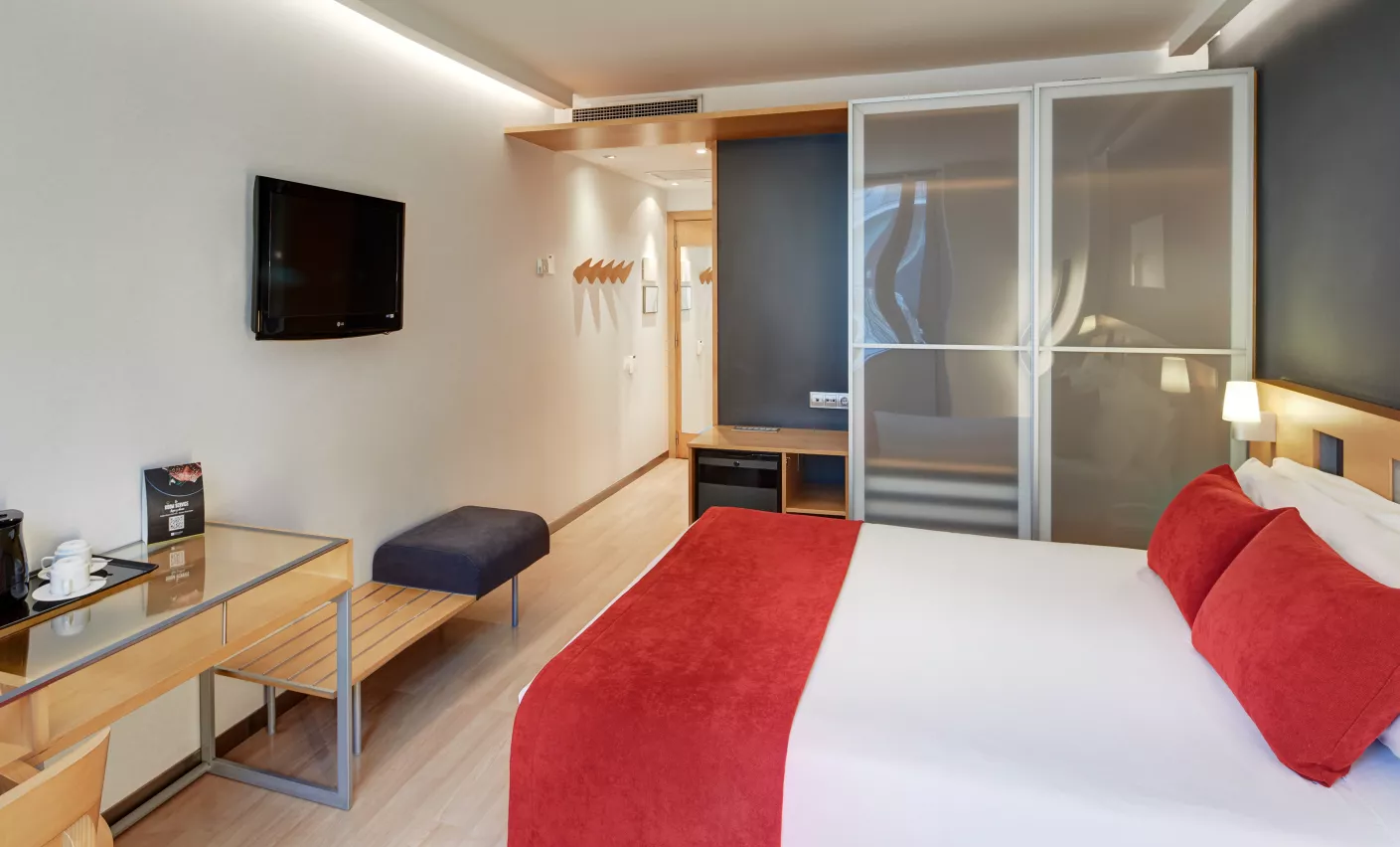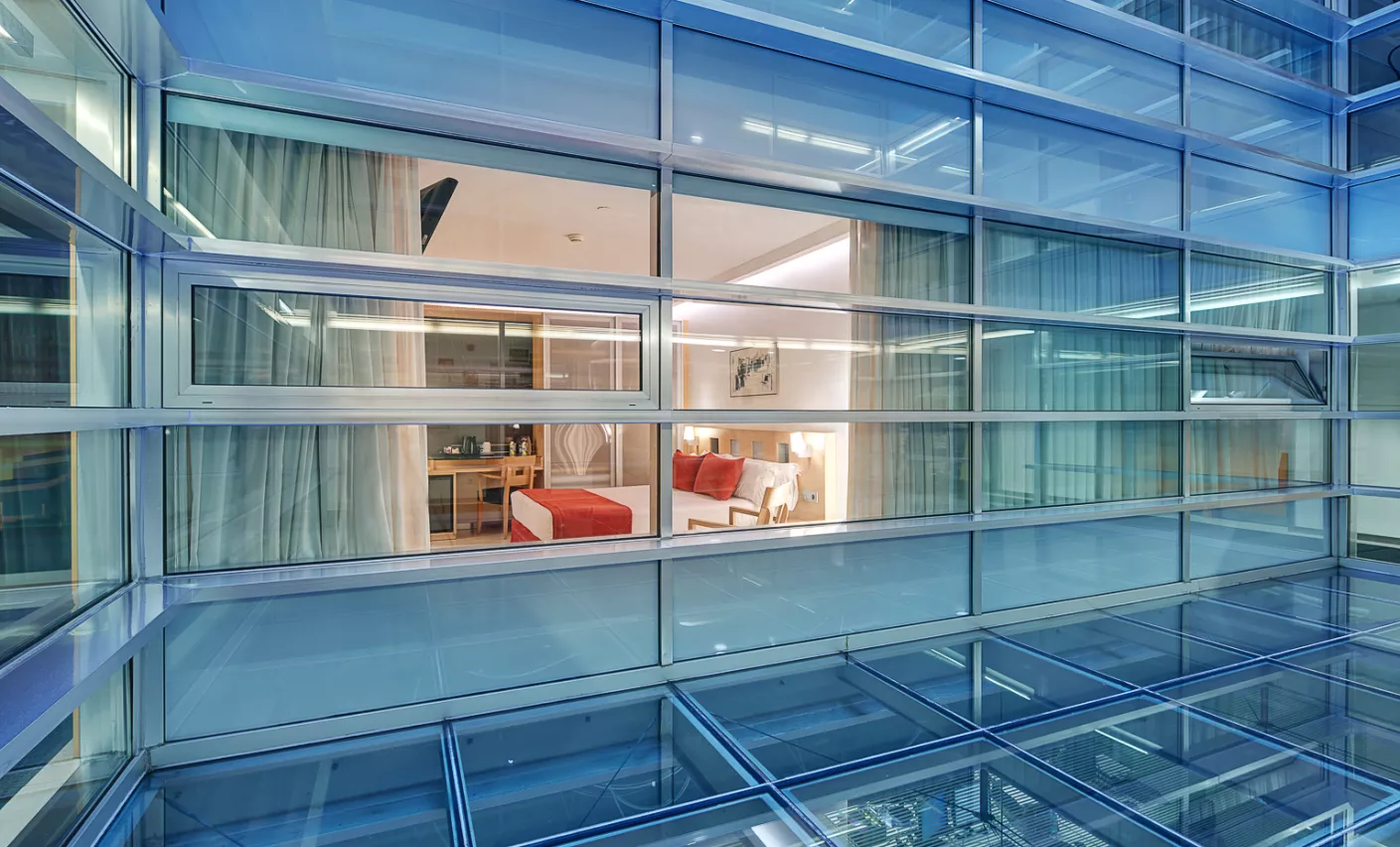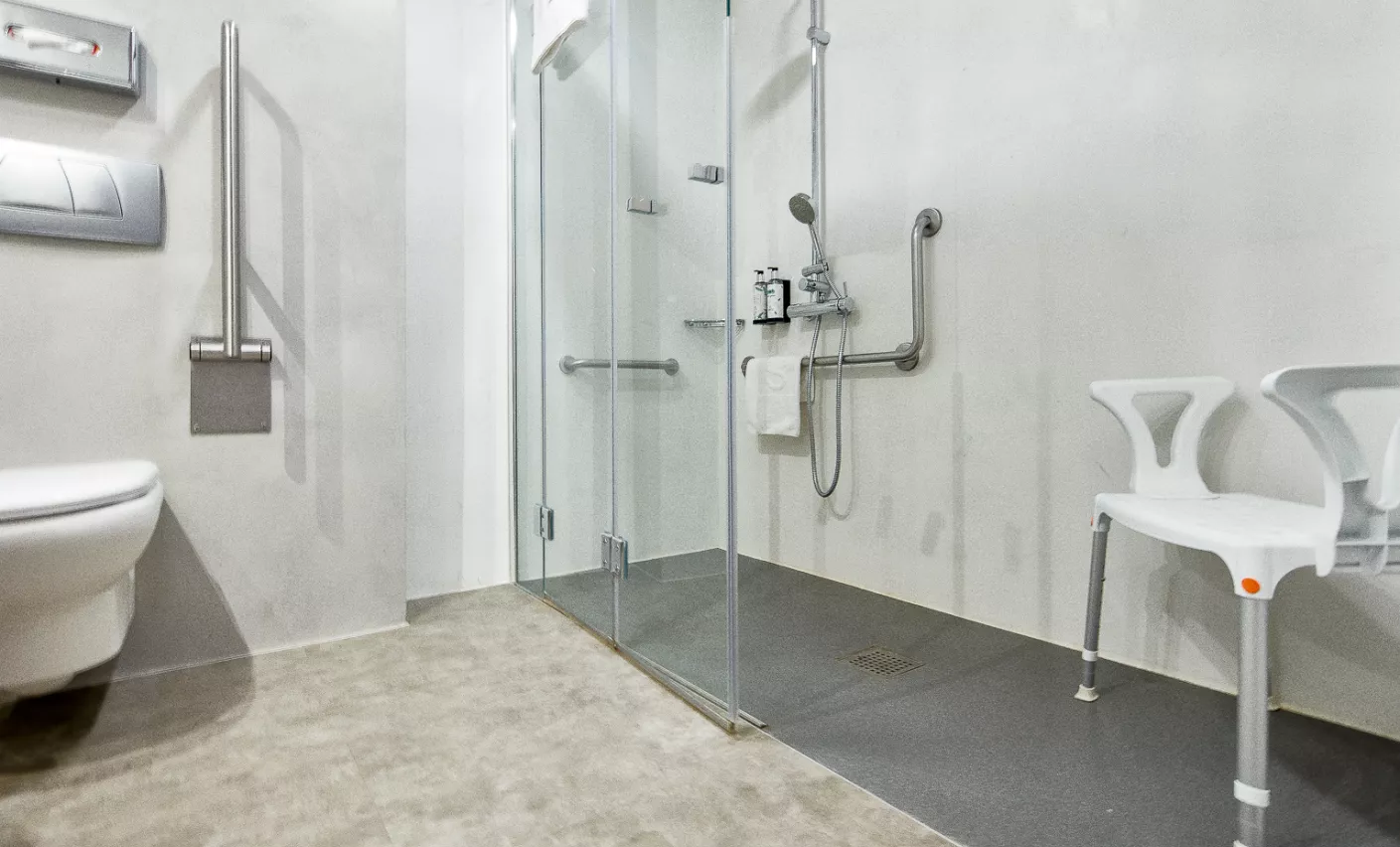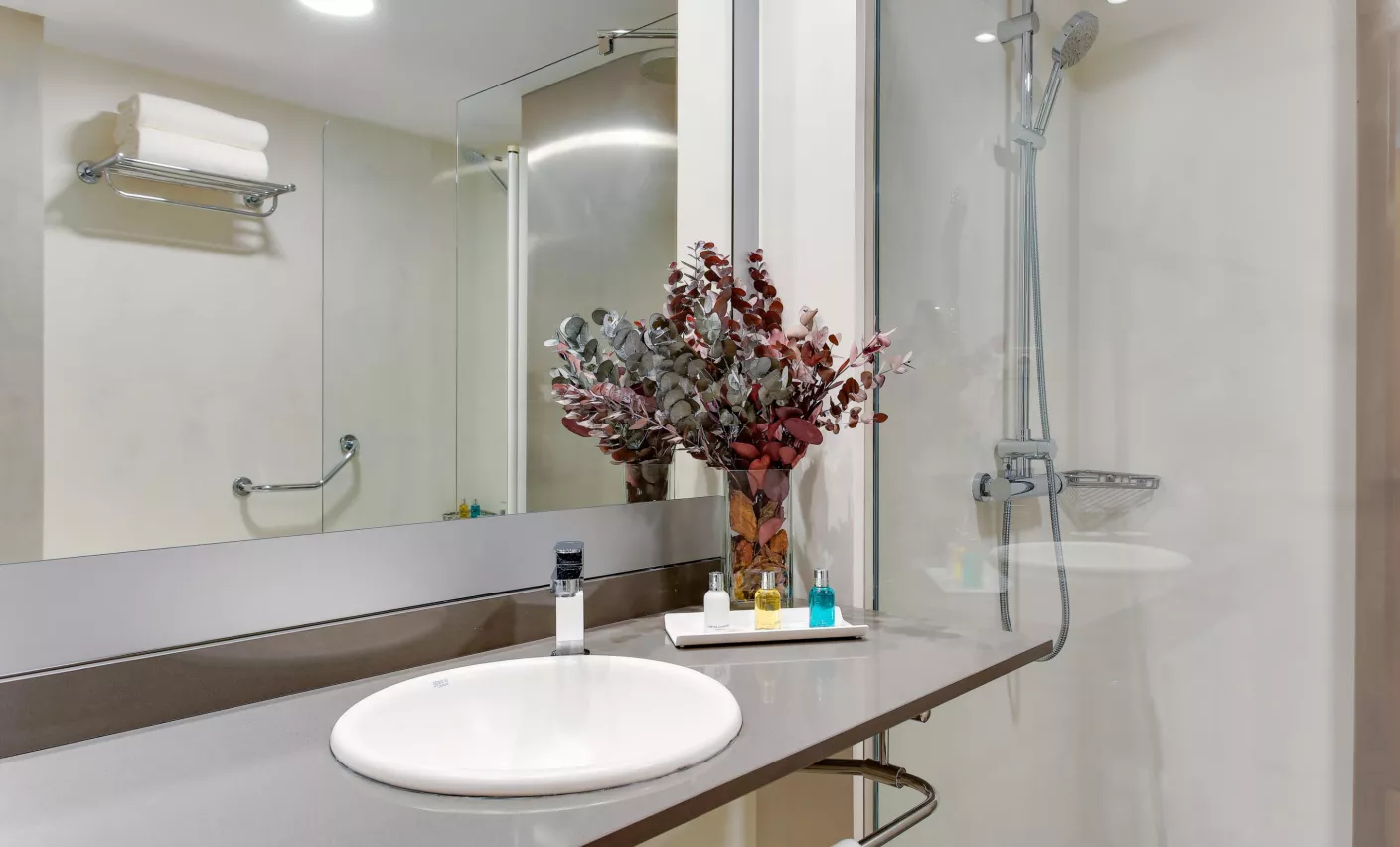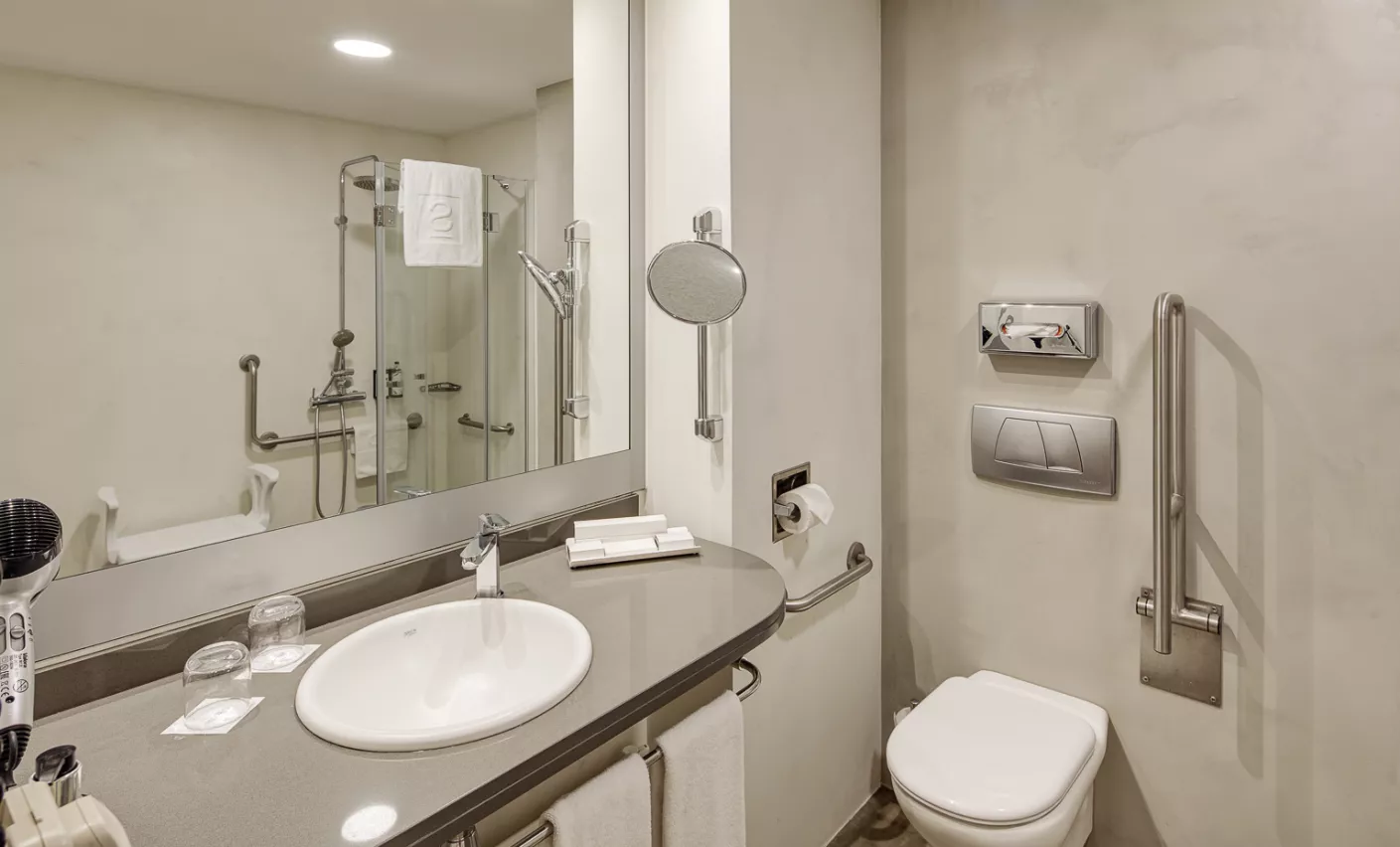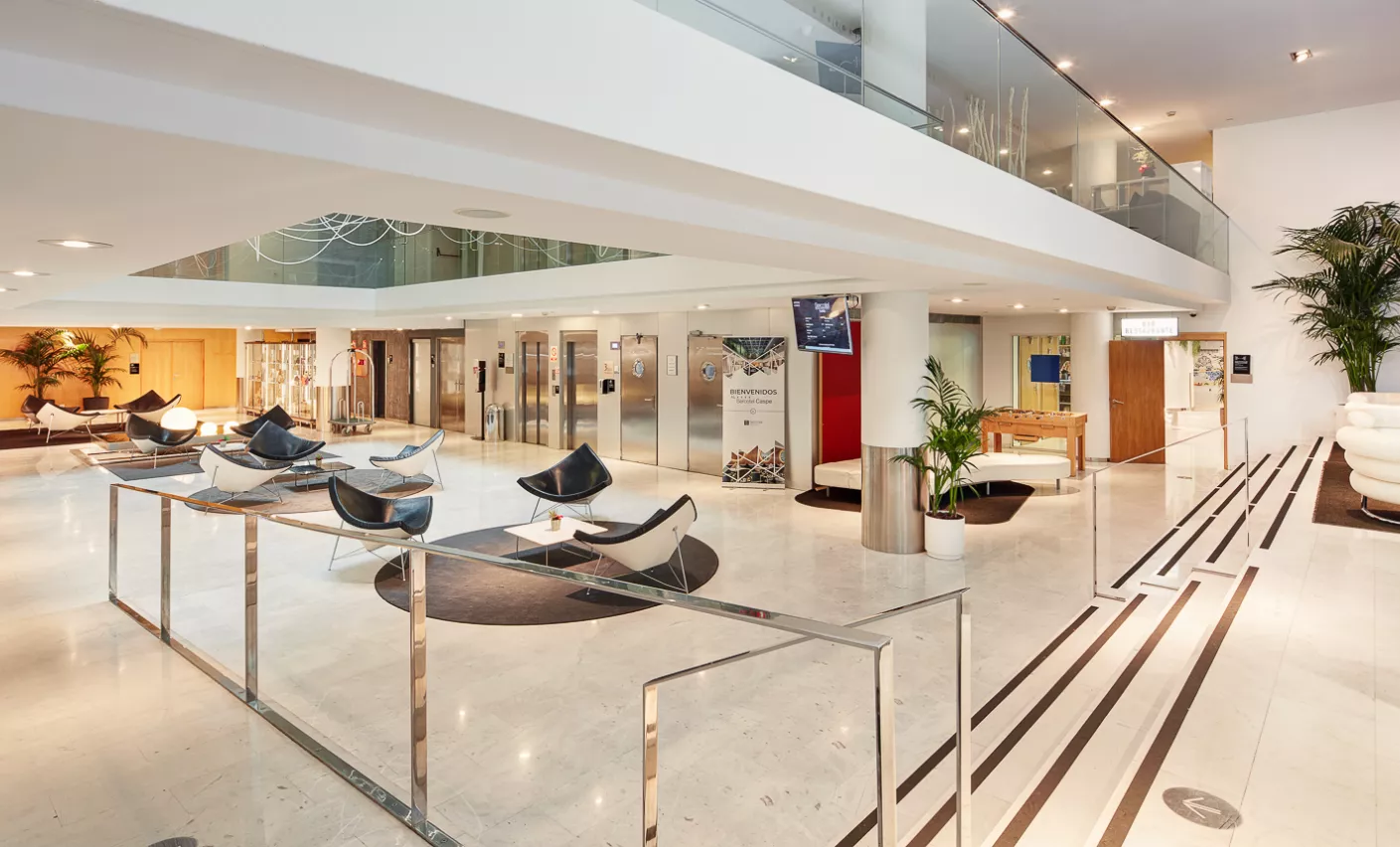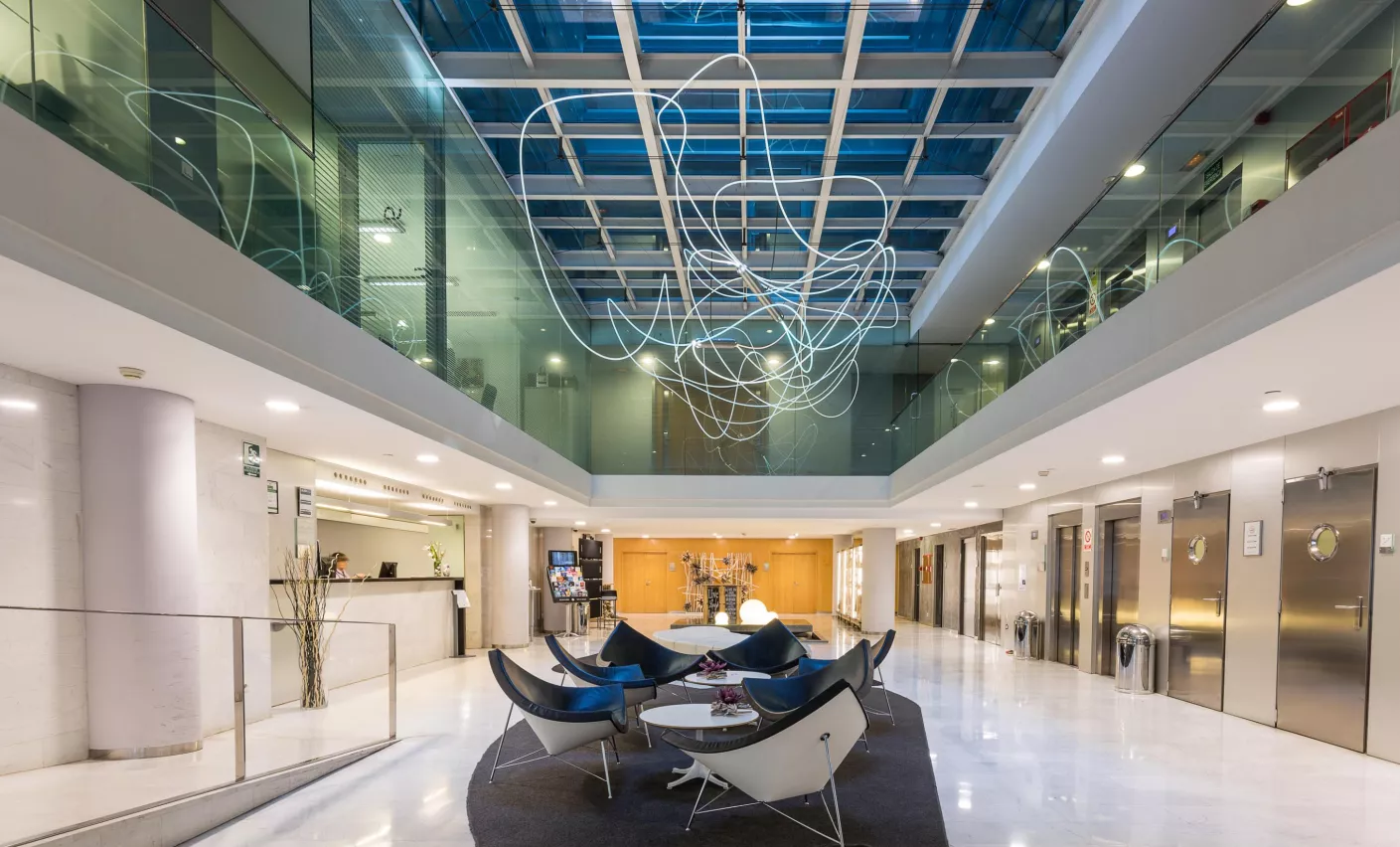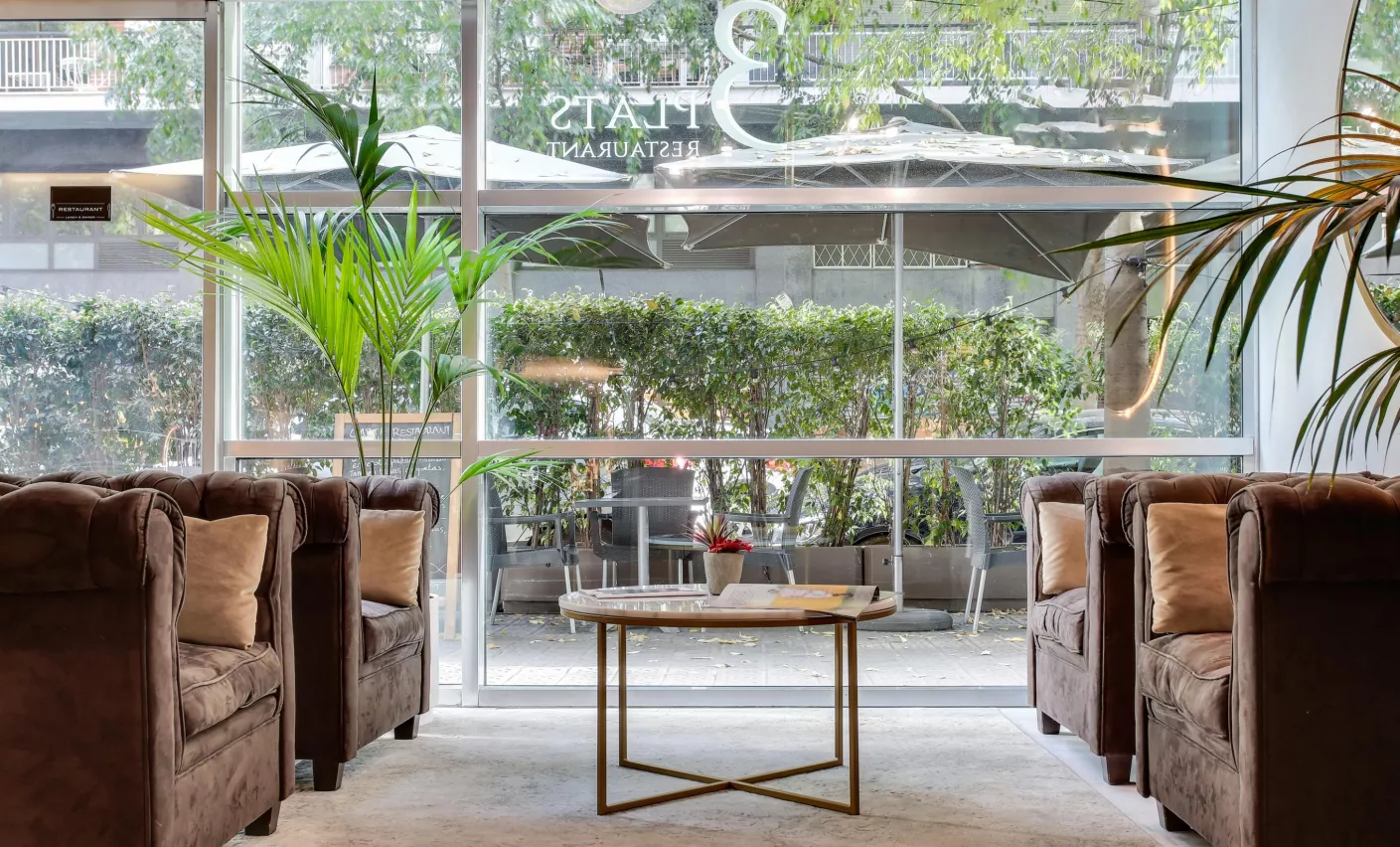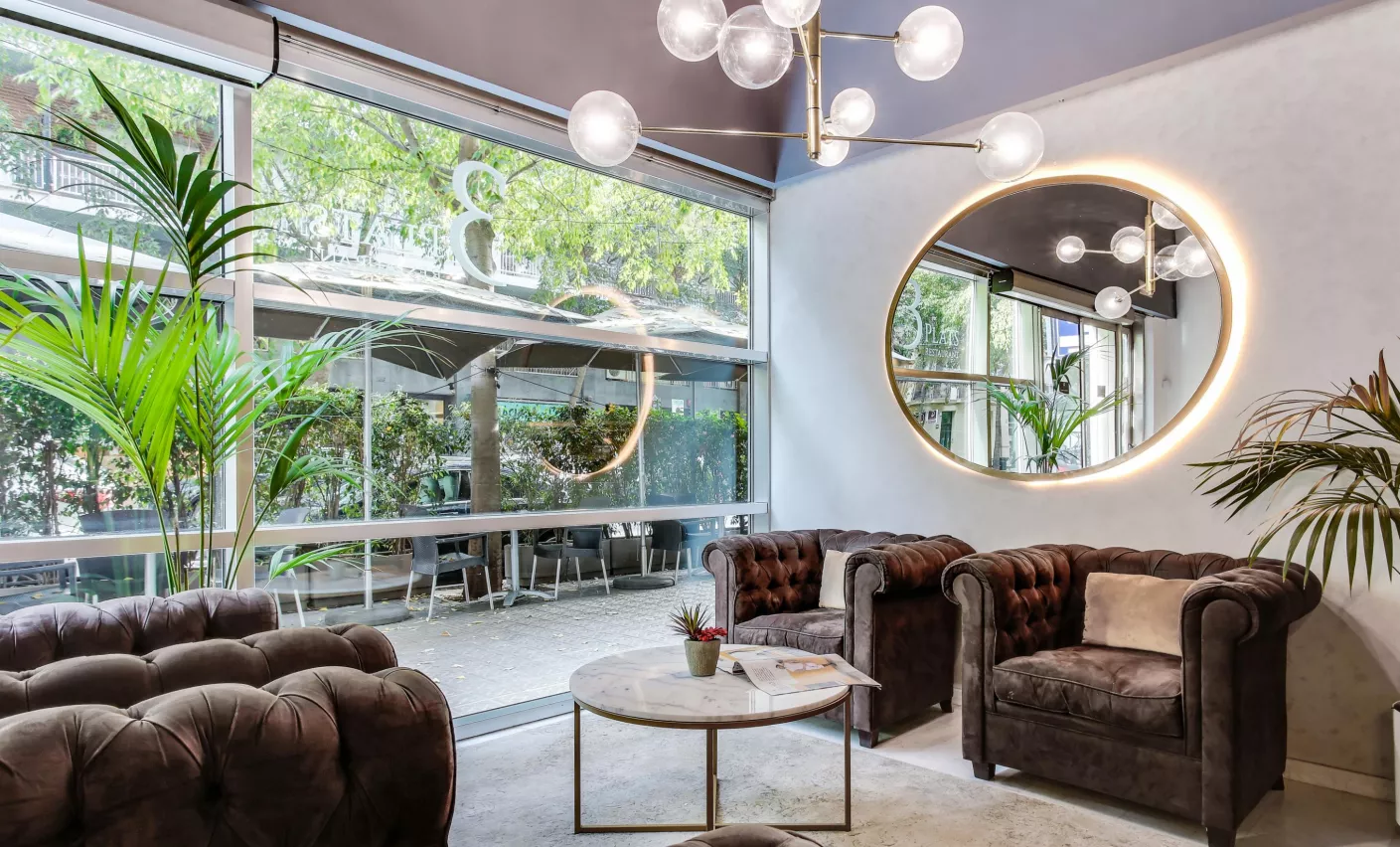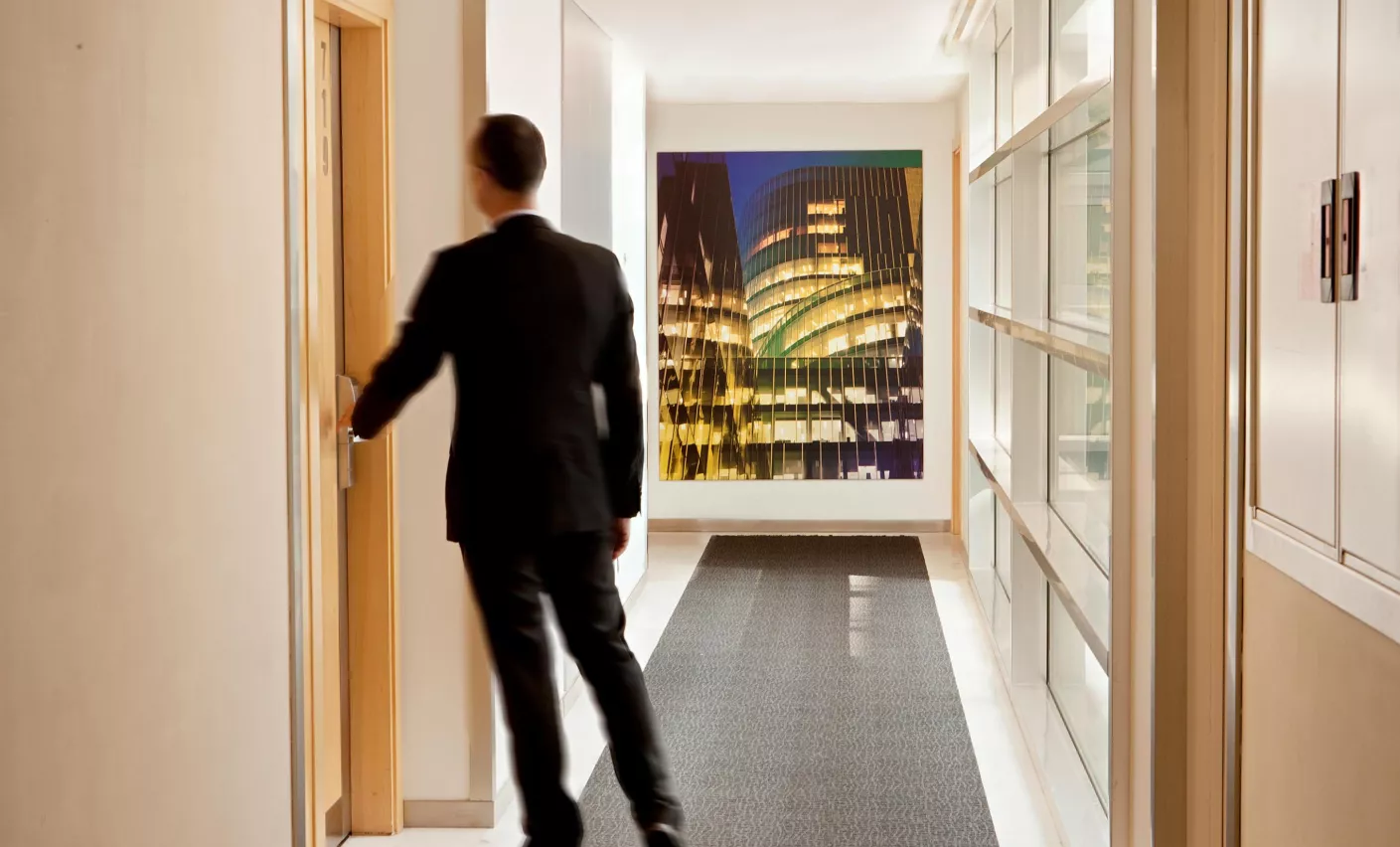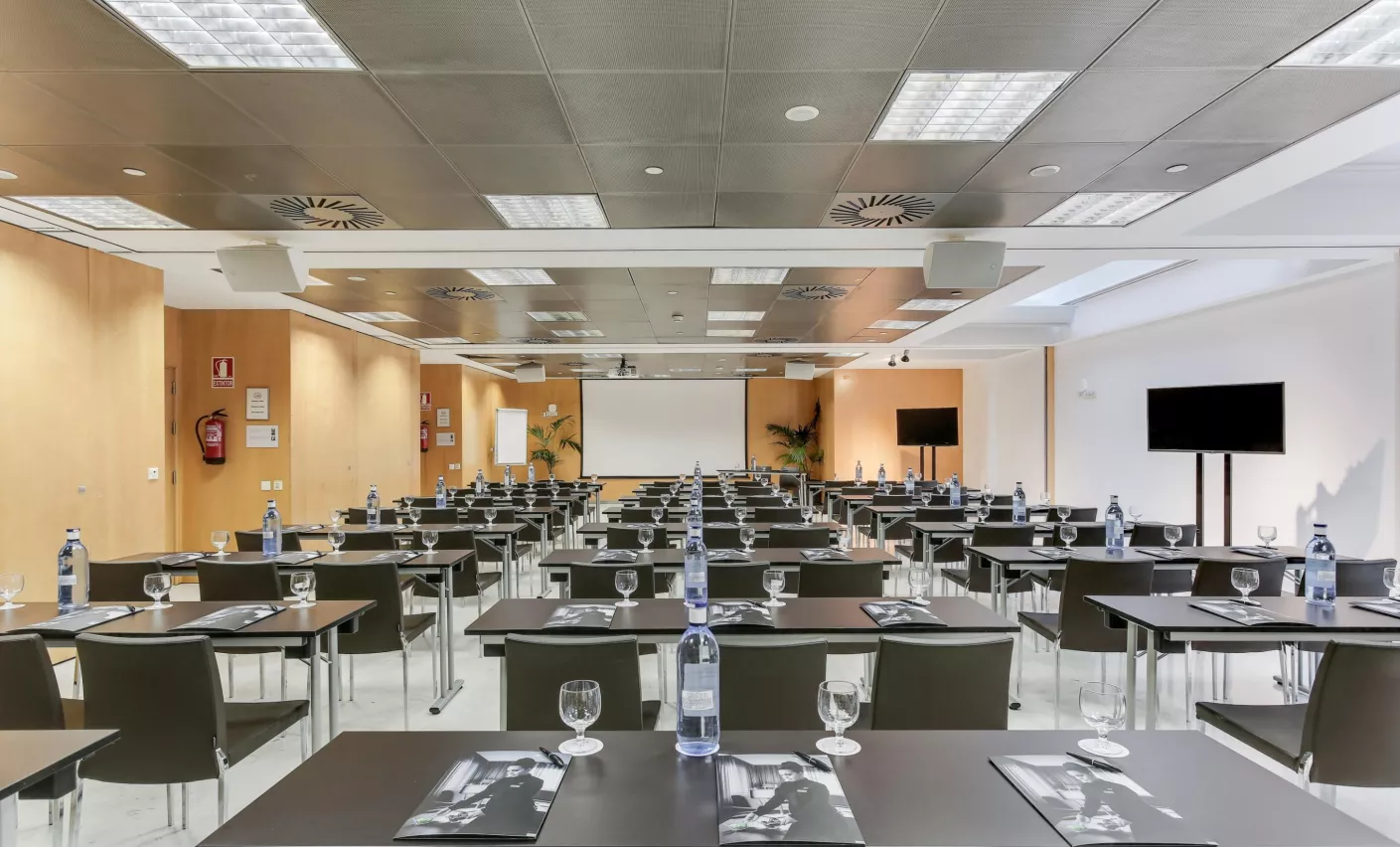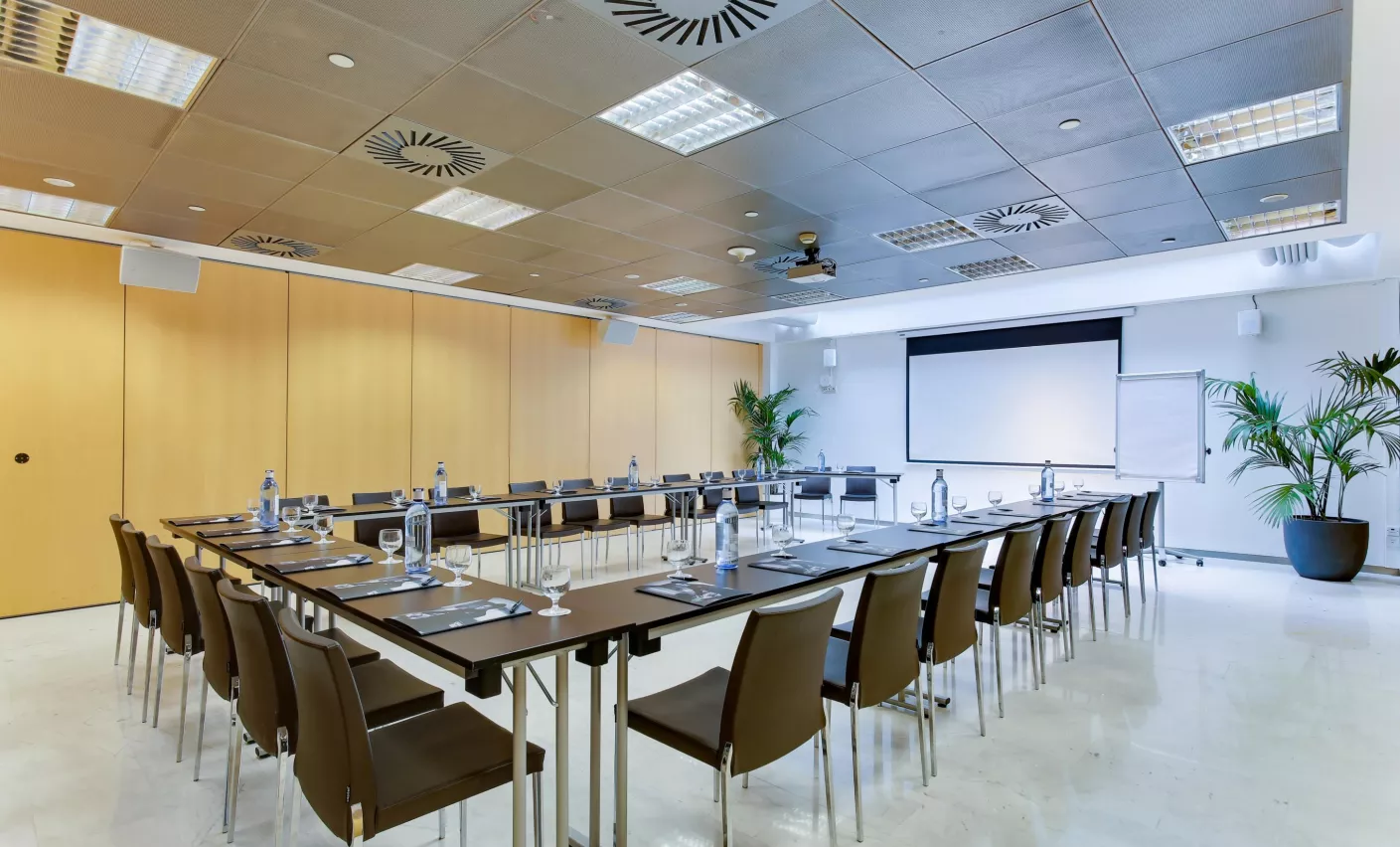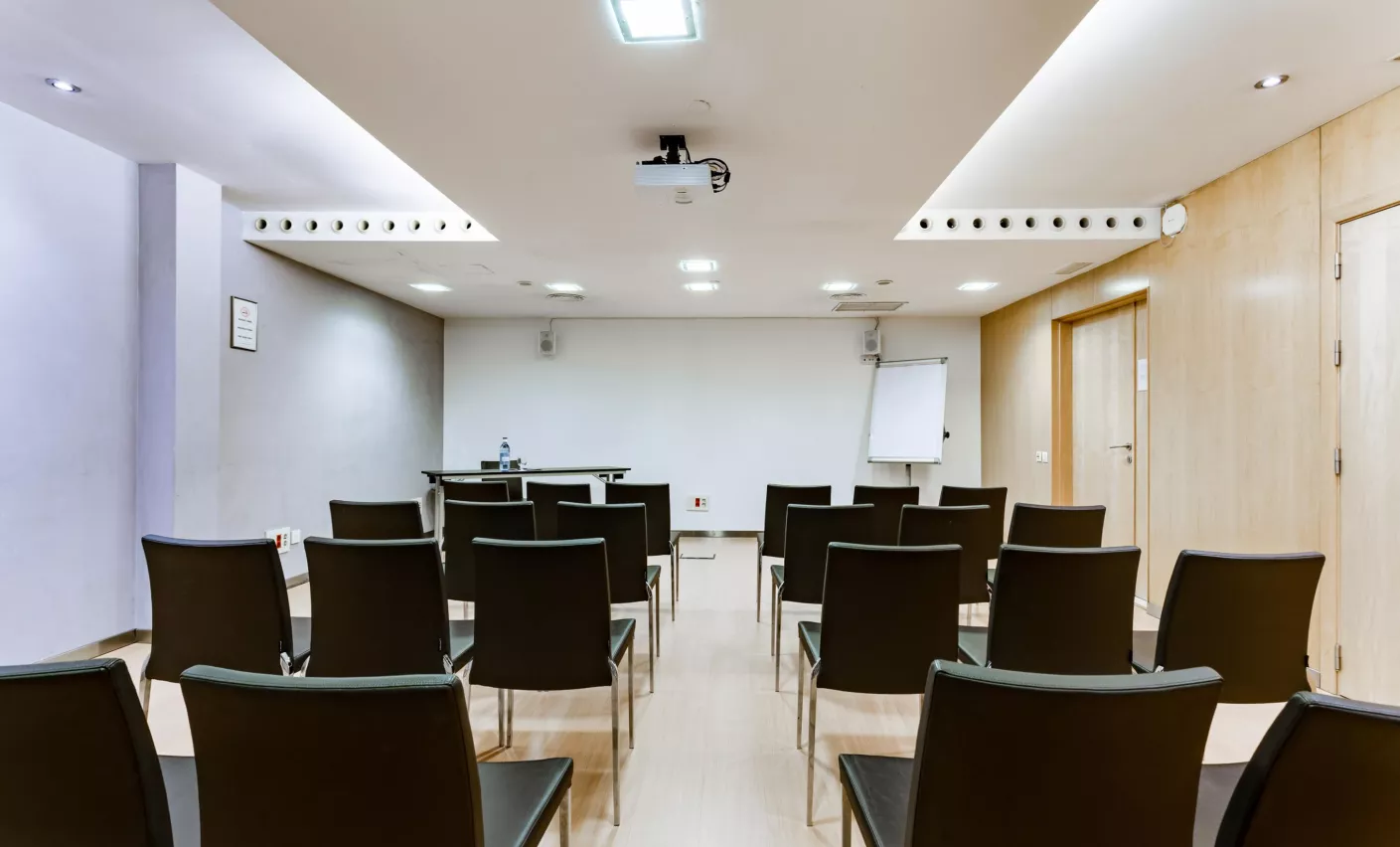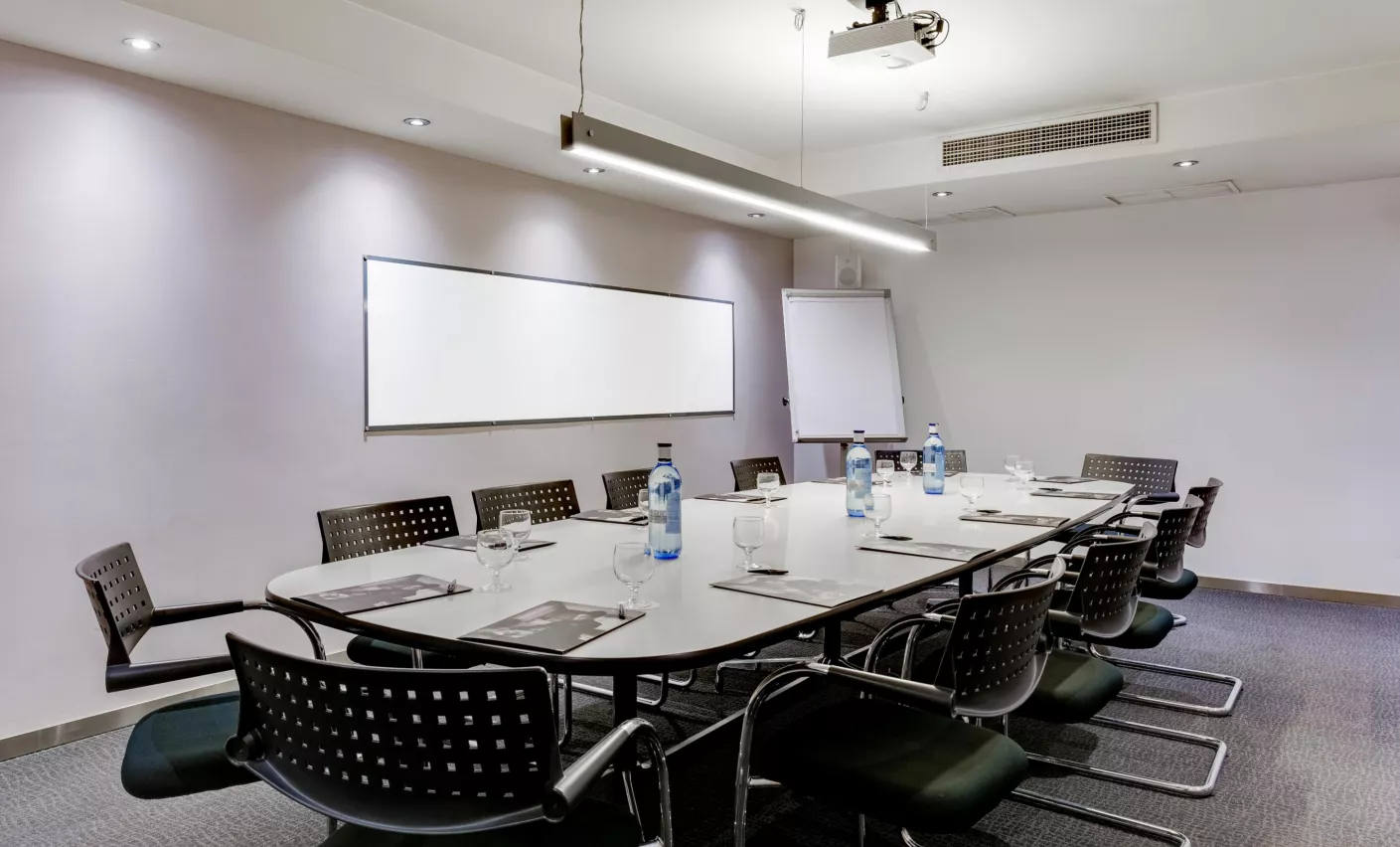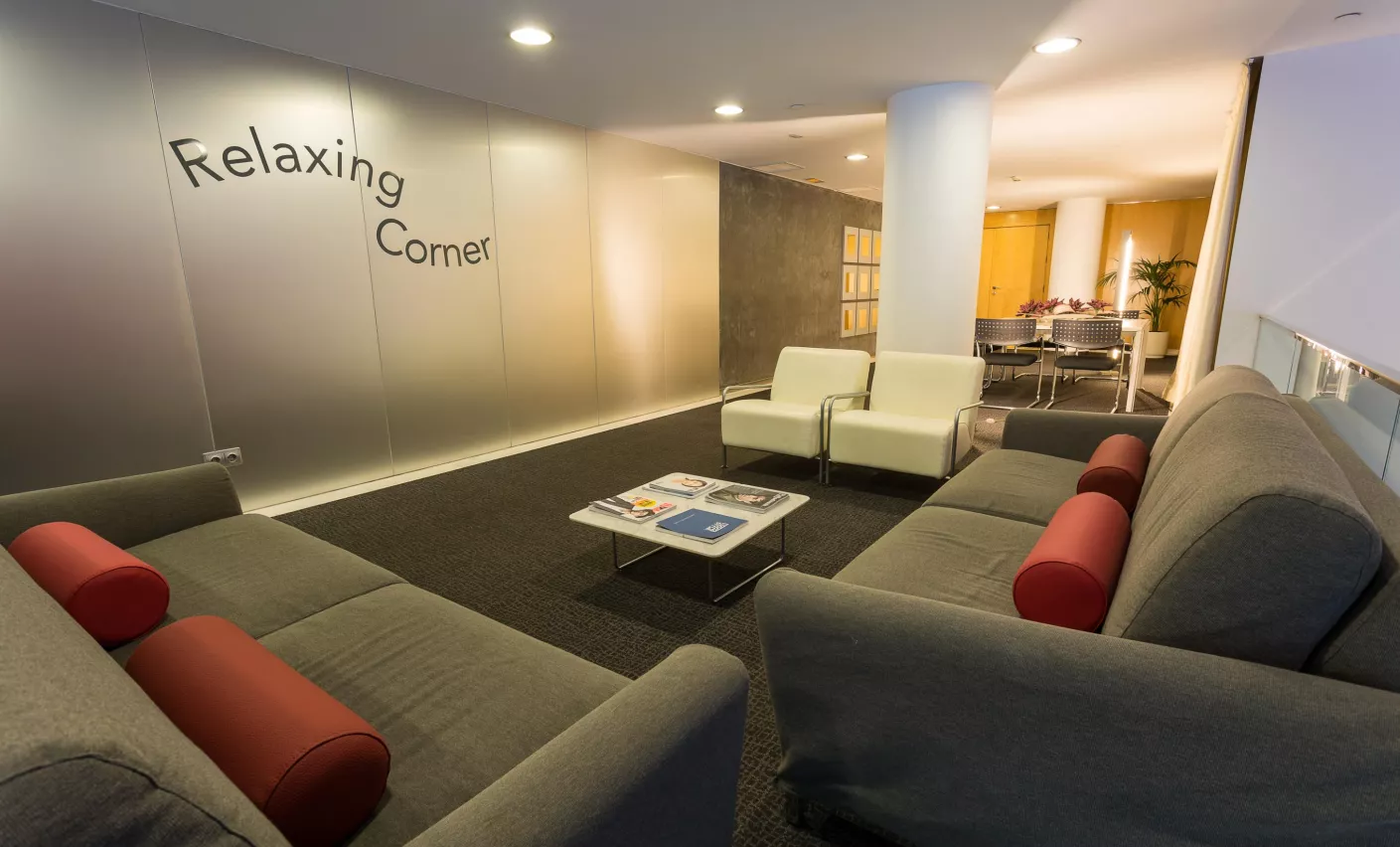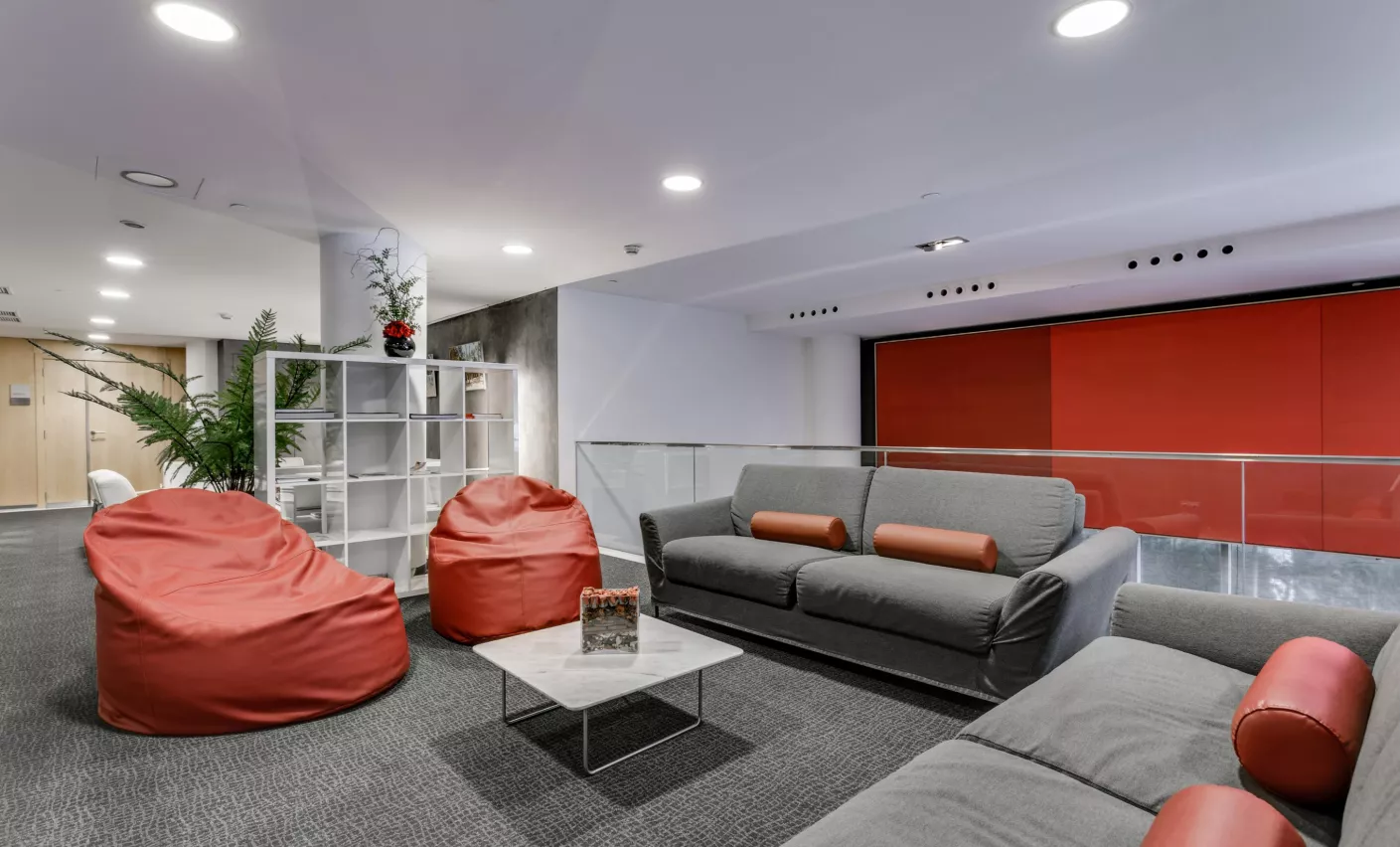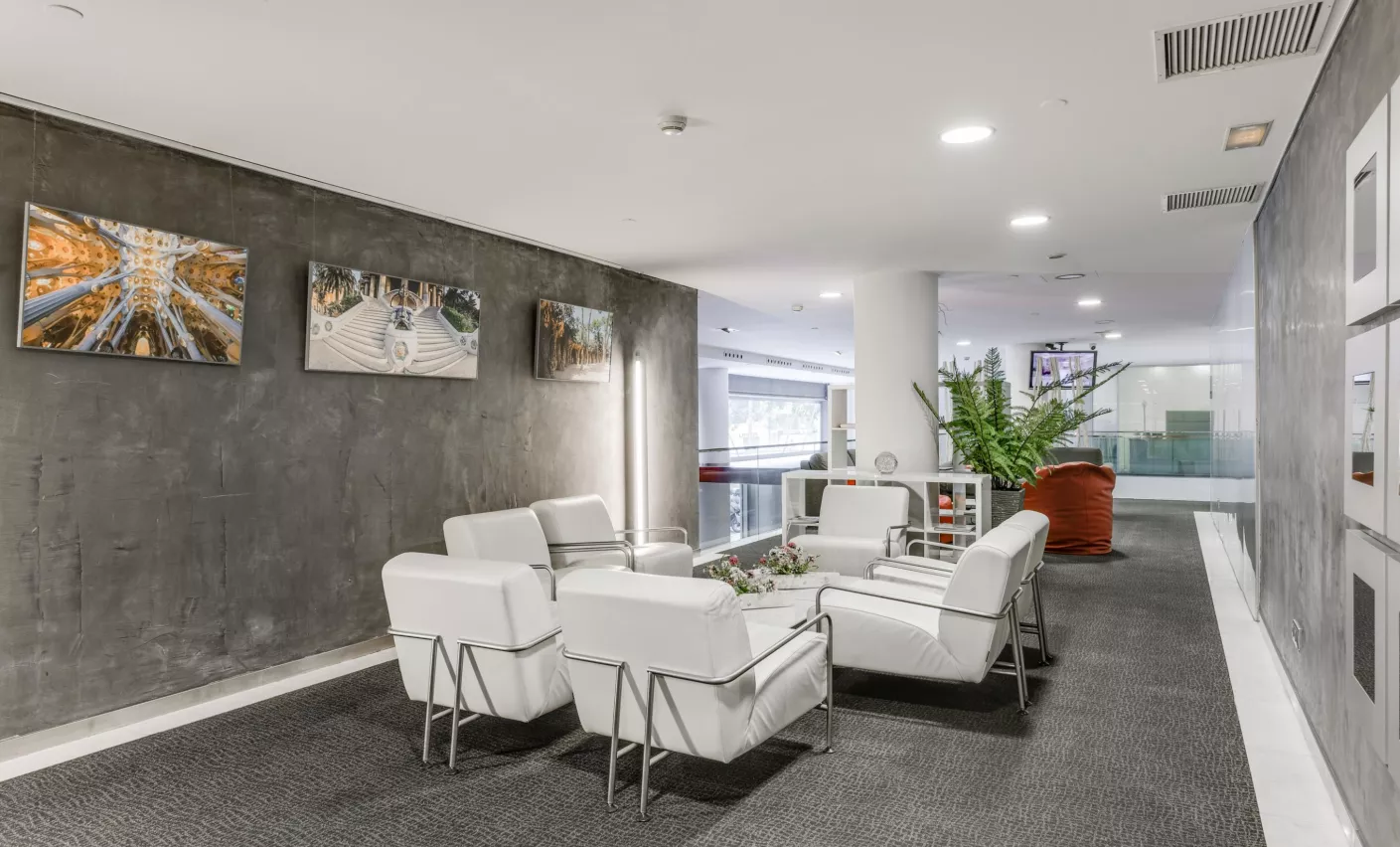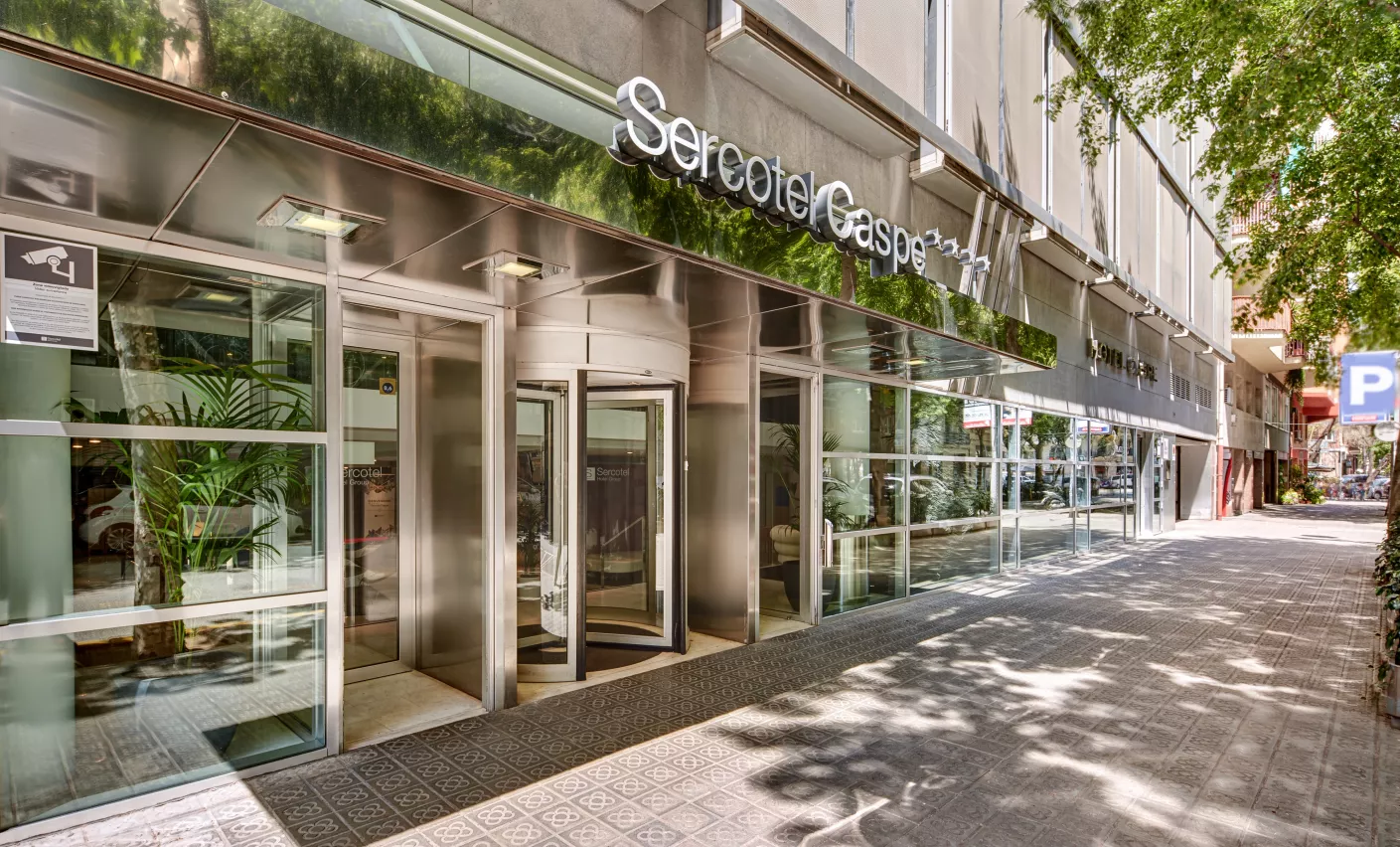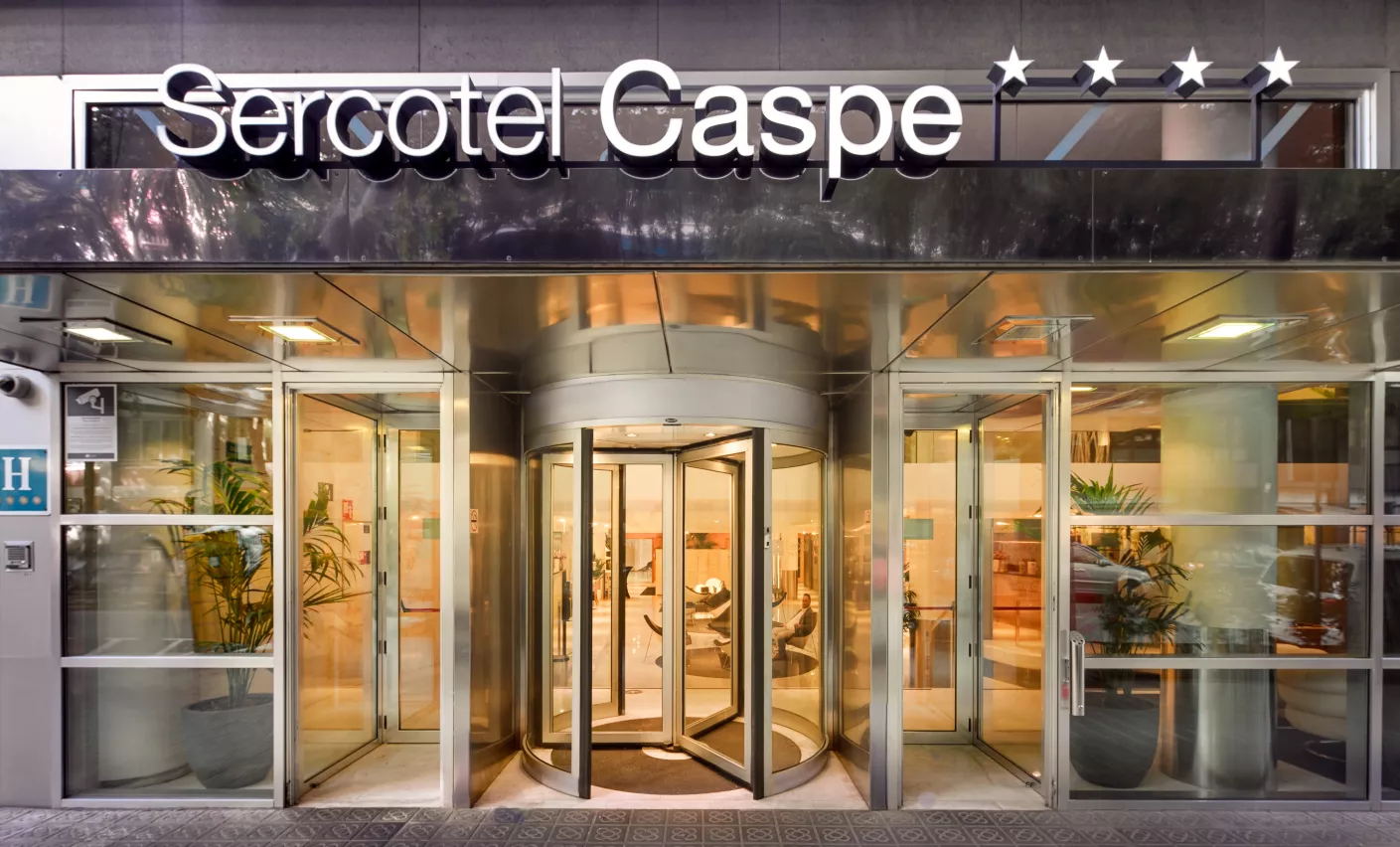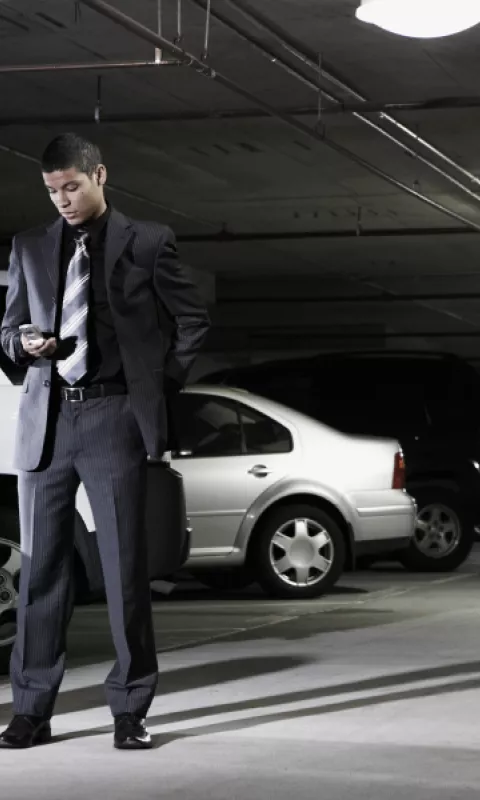 Parking
Do not worry about your car. For a small supplement you can park in a car park that we have arranged a few meters from the hotel.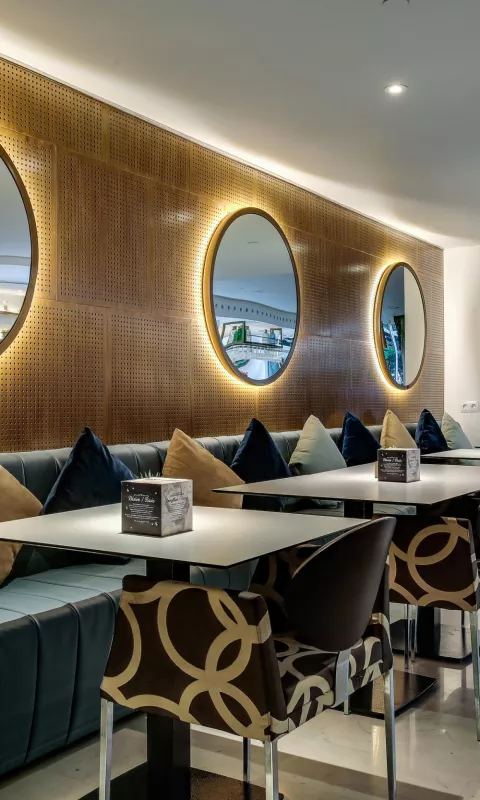 Cafeteria
Enjoy a good coffee while reading the daily press
Key features
In addition to enjoying an excellent rest, we want you to make the most of our facilities and to leave your worries at the door. We provide multiple services so that all your needs are met during your stay in Barcelona and you can focus on relaxing and enjoying your holiday.
Meeting rooms
FACILITIES
Flexible spaces in the best locations.
PEOPLE
Tailor each space to the needs of your event.
SQUARE METRES
Rooms for holding your social event, convention or meeting in.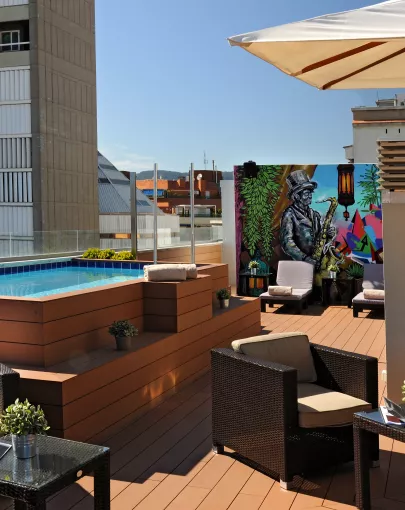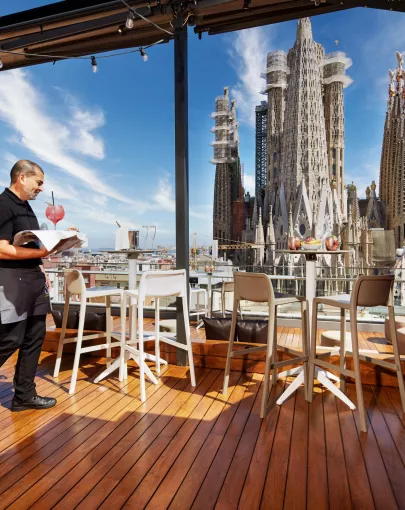 Frequently Asked Questions
What are the check-in and check-out times at Sercotel Caspe?
You can check in from 14:00 and you must check out by 12:00.
Is it possible to check in early or check out late at Sercotel Caspe?
Early check-in and late check-out services are available to enable you to get the most out of your stay. Both services are subject to availability and may entail an additional cost. The Early Check-in price is €30. In the case of the Late Check-out service, the cost is €10 until 13:00, €20 until 14:00 and €30 until 15:00.
Does Sercotel Caspe provide parking facilities?
Yes, the hotel has a car park that costs €18 per day. You can only book a parking space from the reception team when you arrive at the hotel.   
Does Sercotel Caspe provide Wi-Fi? Is it free of charge?
Yes, there's free Wi-Fi access throughout the hotel. Log on and browse. 
Does Sercotel Caspe provide cots for babies?
Of course. If you need a cot, just ask for one when you make your booking or ask the reception team. The cots entail no additional cost. 
Is there a restaurant at Sercotel Caspe?
Yes, there's a restaurant at the hotel. It's open from 13:00 to 23:00.
What kind of breakfast is served at Sercotel Caspe?
We offer buffet breakfast at a cost of 16 € per person. It is served Monday through Friday from 7:00 to 10:30 and Saturdays and Sundays from 7:00 to 11:00.
Are you aware of the Early Bird breakfast service at Sercotel Caspe?
We offer the Early Bird Breakfast service from 5:00 to 7:00.
Does Sercotel Caspe provide Room Service?
Yes, Room Service is available from 8:00 to 23:00.
Are there fridges and/or minibars in the rooms at Sercotel Caspe?
Yes, all the rooms have a minibar.
Is there a fitness room at Sercotel Caspe?
Yes, there's a fitness room with sports equipment. It's open from 8:00 to 22:00.
Does Sercotel Caspe provide a laundry service?
Yes, we provide a laundry service.
Does Sercotel Caspe provide a pillow menu?
You can look through the pillow menu and choose the one best suited to your needs to enable you to rest as if you were at home. 
What accessibility measures does Sercotel Caspe take to assist people with reduced mobility?
We have rooms adapted to people with reduced mobility. The hotel's communal areas can also be accessed by people with reduced mobility.