Madrid, Spain
Sercotel Madrid Aeropuerto
Search your hotel or destination
Your gateway to Madrid
The good thing about a hotel located near the airport is that many travellers pass through its facilities. And, as you can well imagine, each one of them brings in their suitcase the idea of what a perfect stay is. Meeting your expectations has made us at the Sercotel Madrid Airport reach an expert level when it comes to taking care of our guests.  
We appreciate tranquillity and we know you do too. So don't let our location fool you: just because our hotel is close to Madrid airport and next to the M-14, the road that leads to it, doesn't mean that silence is conspicuous by its absence. On the contrary.  
Our Madrid Airport hotel is located in a residential area, one of those that dot the outskirts of the capital and whose peace and quiet contrasts with the hustle and bustle of the city centre. Here you will find the rest you are looking for.  
We ask you, however, not to make the mistake of thinking that, due to our location, we are one of those hotels that are just for passing through. Not at all, come and stay for a few days. How else could you enjoy a refreshing swim in our outdoor pool? We also have a solarium. Together they form the perfect combo to forget about the heat of Madrid's asphalt.  
If you're thinking that you're more of a dry land person and you don't get caught in a swimming pool. No problem. That relaxation after a day of sightseeing or work can be achieved in our gym. It is complete, well equipped with cardio and strength machines. 
If you prefer to disconnect and rest in the privacy of your room, at our Sercotel Madrid Airport we always have everything ready. Our rooms are cosy, with the warmth of the natural light that comes in through the large windows, carefully decorated and with beds that will make you feel insomniac. Some rooms can accommodate up to four people.  
Our 4-star hotel can cater for every kind of traveller. Whether you come on holiday; alone, with friends or family; for one night or several days; and even with your pet, our Sercotel Madrid Airport will be your perfect refuge in the city.  
If you come for work, too. Not only does our hotel have a free Wi-Fi connection, but you can also find the peace of mind you need in our Business Centre. Also in our events room, perfect for company meetings, courses or presentations. If we also tell you that we are close to the IFEMA Conference Centre, we score points for making your life easier.   
At our reception we have a master's degree in looking after you. Ask us about our buffet breakfast, although here we call it "the best way to start the day off right"; about the opening hours of our bar, the place where the best cocktails in the area are prepared; or about how the Olvidoteca works, the corner where we have been treasuring the books that other travellers have left behind.  
And when it's time to leave, you can always book our free airport transfer service. If you have come by car, it will be waiting for you in our car park, which also has spaces with chargers for electric vehicles. What we were telling you: we are close to the expert level in taking care of our guests.
Find your room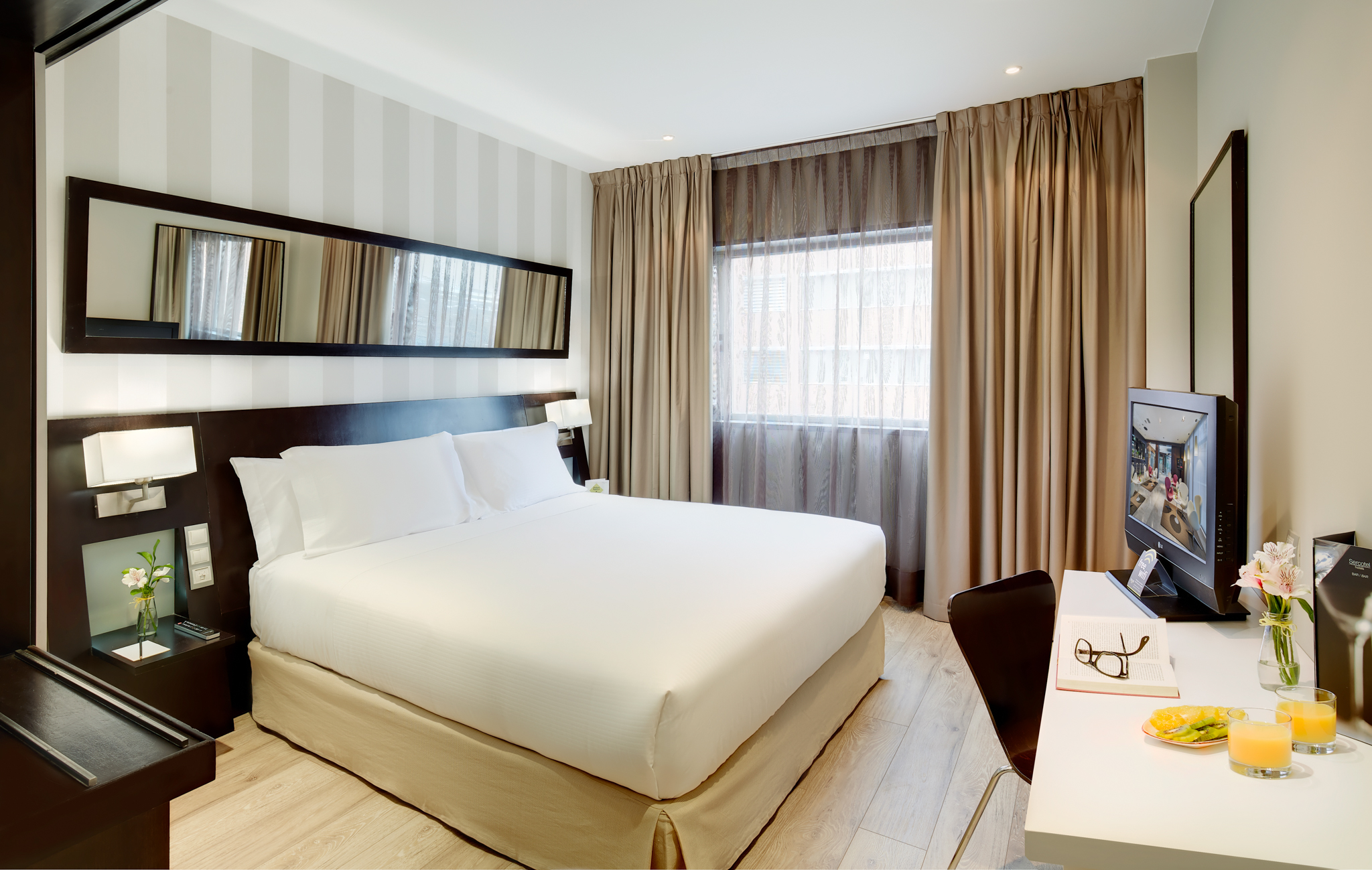 Classic Room
The Classic rooms of the Sercotel Madrid Airport are warm rooms, with details designed for your comfort, and with enough space to accommodate one or two travellers. You won't want to leave its magnificent double bed.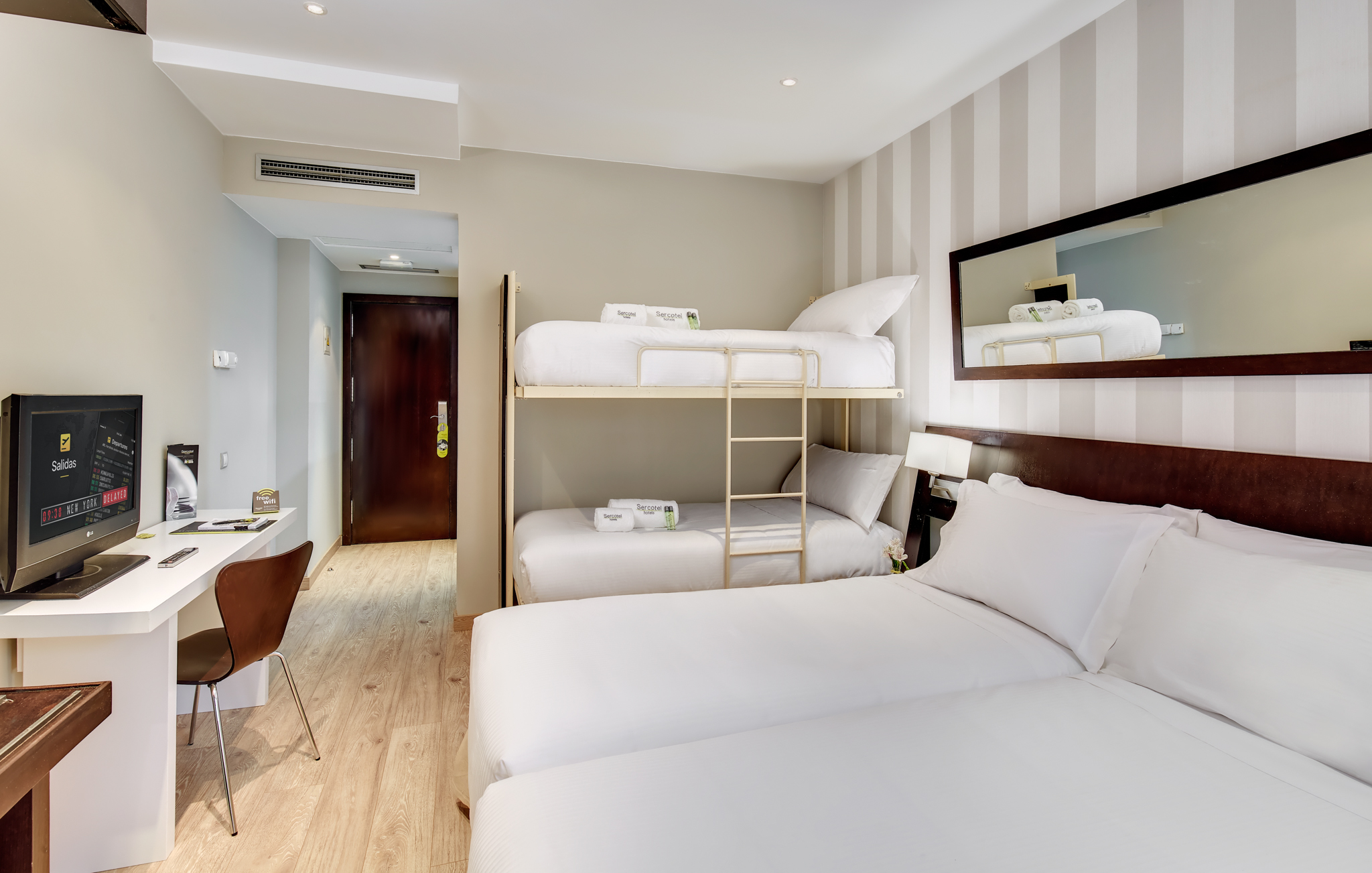 Family Room
If you are travelling with family or friends, don't hesitate: the Family room of Sercotel Madrid Airport is the room you've been looking for. It's spacious, with room for up to four single beds and the natural light gives it a warm and cosy feel.
Complies with Local/State/Federal fire laws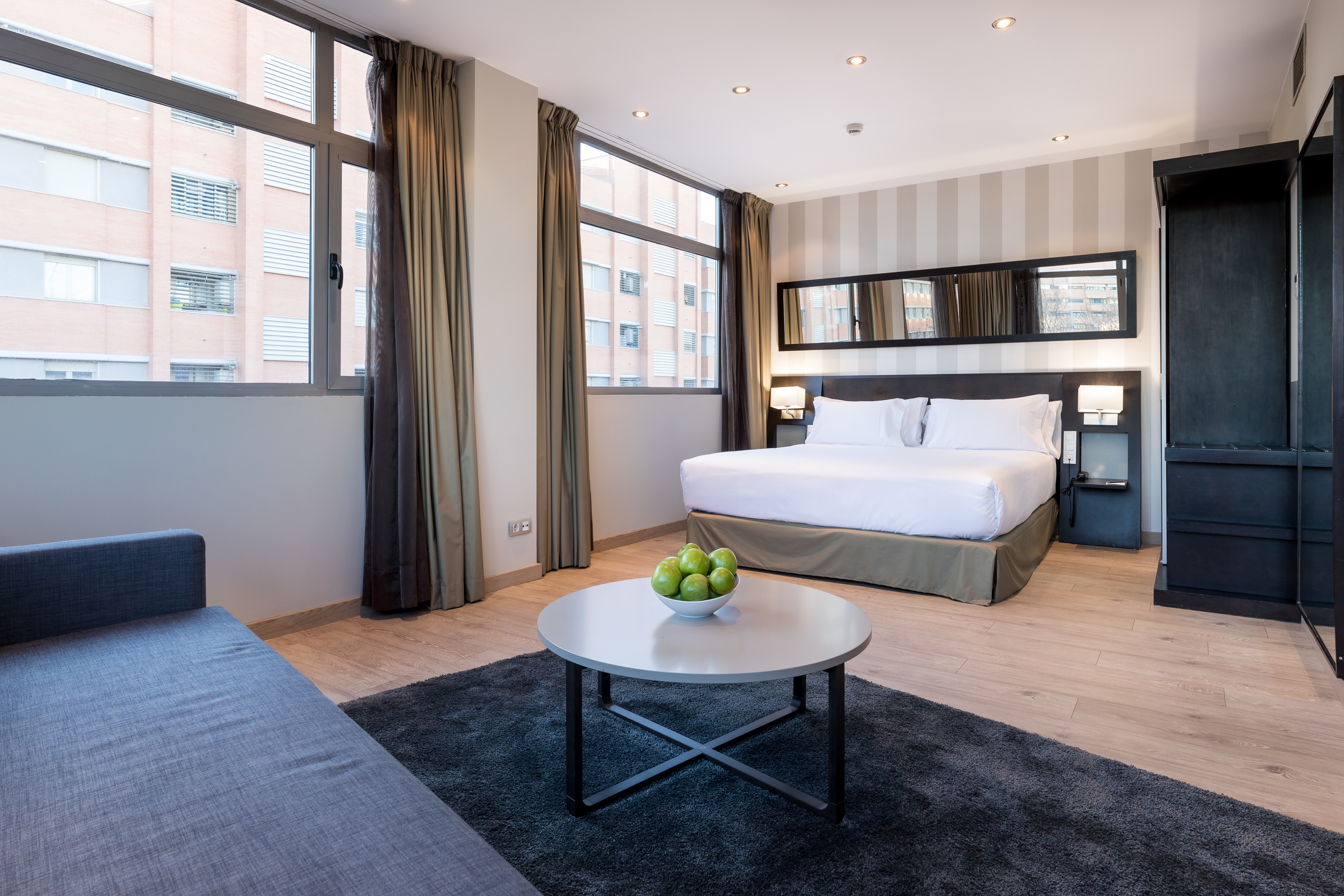 Junior Suite Double
Large windows to let in natural light, a room that is so large that it has a huge and comfortable double bed and a living room with a sofa-bed. The rest is taken care of by those details that make you feel cared for.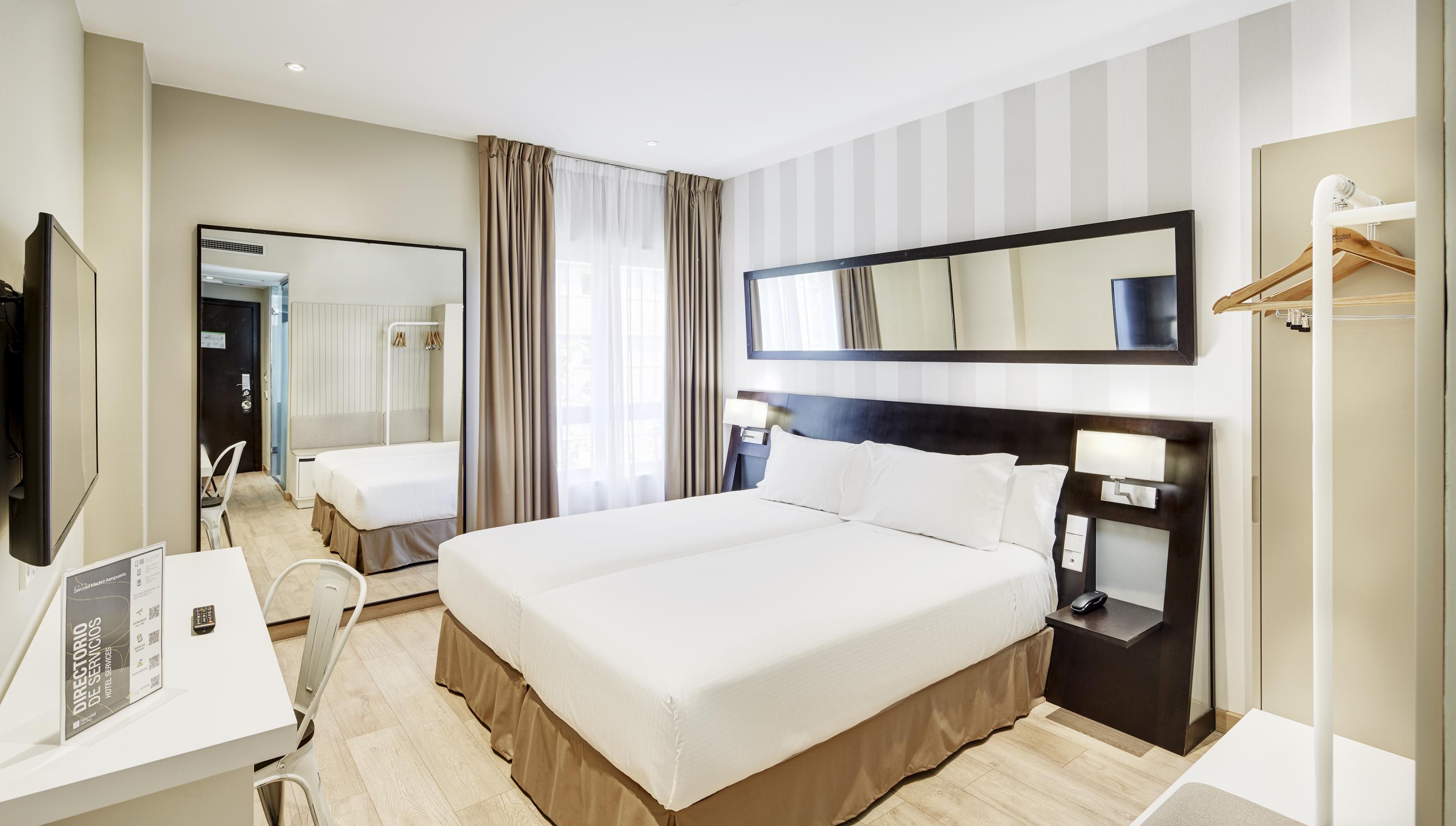 Superior Room
The perfect room for couples. This is Superior. The beds are huge and comfortable, the décor is warm and welcoming, and the exterior windows let in natural light. Take your shoes off and make yourself comfortable because you are already at home.
Show more
Gym
We put at your disposal the gym so you don't lose your daily routine
Sauna
Eliminate impurities in our sauna
Key features
Free Wi-Fi, accommodation for pets, outdoor pool (open seasonally) with sun terrace, meeting and event rooms, buffet breakfast, 24-hour reception... and many more. Sercotel Madrid Aeropuerto is a hotel with a shuttle service to Madrid Barajas Airport.
Meeting rooms
FACILITIES
Flexible spaces in the best locations.
PEOPLE
Tailor each space to the needs of your event.
SQUARE METRES
Rooms for holding your social event, convention or meeting in.