Salamanca, Spain
Sercotel Puerta De La Catedral
Search your hotel or destination
Probably the best views of Salamanca
If there's one thing better than visiting Salamanca, it's undoubtedly the possibility of feeling like a local throughout the days you spend here. Dawn in the centre, going out for a stroll, feeling how the city wakes up and bearing witness to how life, with its routines, takes over its streets.  
We know you're a traveller, not a tourist. Therefore, what we offer you at the Sercotel Puerta de la Catedral is the chance to enjoy the city from the inside. From deep inside. Our name has probably already given you a clue as to where we are.  
Yes, you're right. When you stay at our four-star hotel, you'll be just 20 steps from the doorway of the Romanesque cathedral. And you've nailed it again; from some of our 37 rooms you can start or end your day by watching how the sun's rays playfully embellish the skyline of this imposing building. 
Can you imagine having the privilege of opening the curtains and gazing at the Cathedral from your bed, almost as if you can touch it? As we were saying, at the Puerta de la Catedral Hotel we want you to enjoy the city from the inside.  
So much so that we go unnoticed. No state-of-the-art buildings or modern constructions that don't match the surroundings. You'll find us in an old manor house. If you need to ask how to find us, the locals call it the Casa de la Pizarra.  
However, don't be fooled by its outward beauty and austerity, its appearance from another age. The present and its comforts prevail inside. We've opted for modern and warm décor, the kind that makes you feel at home as soon as you enter. Particularly on Castilian winter days, when you'll be more grateful than ever to cross the threshold.  
We'll be waiting for you at the reception on the other side of the door. When you check in, we'll provide you with the Wi-Fi password so that you can go online at any time during your trip. Unless you don't want to. We'll also explain where our parking facilities are located. You won't need the car at all; Salamanca can be covered on foot.  
If you're coming on business, we'll tell you about our rooms for events and how we can help you to hold yours. Whatever the kind, we're experienced and there's no meeting, presentation or talk that we can't handle. You just have to leave it to us.  
When you wake up, when you manage to get out of the comfortable bed we've prepared for your rest, we'll tell you where our beautiful breakfast room can be found. Here we worship the first meal of the day, which is why we prepare it as a buffet. So that you can choose what you want to start your morning with.
Find your room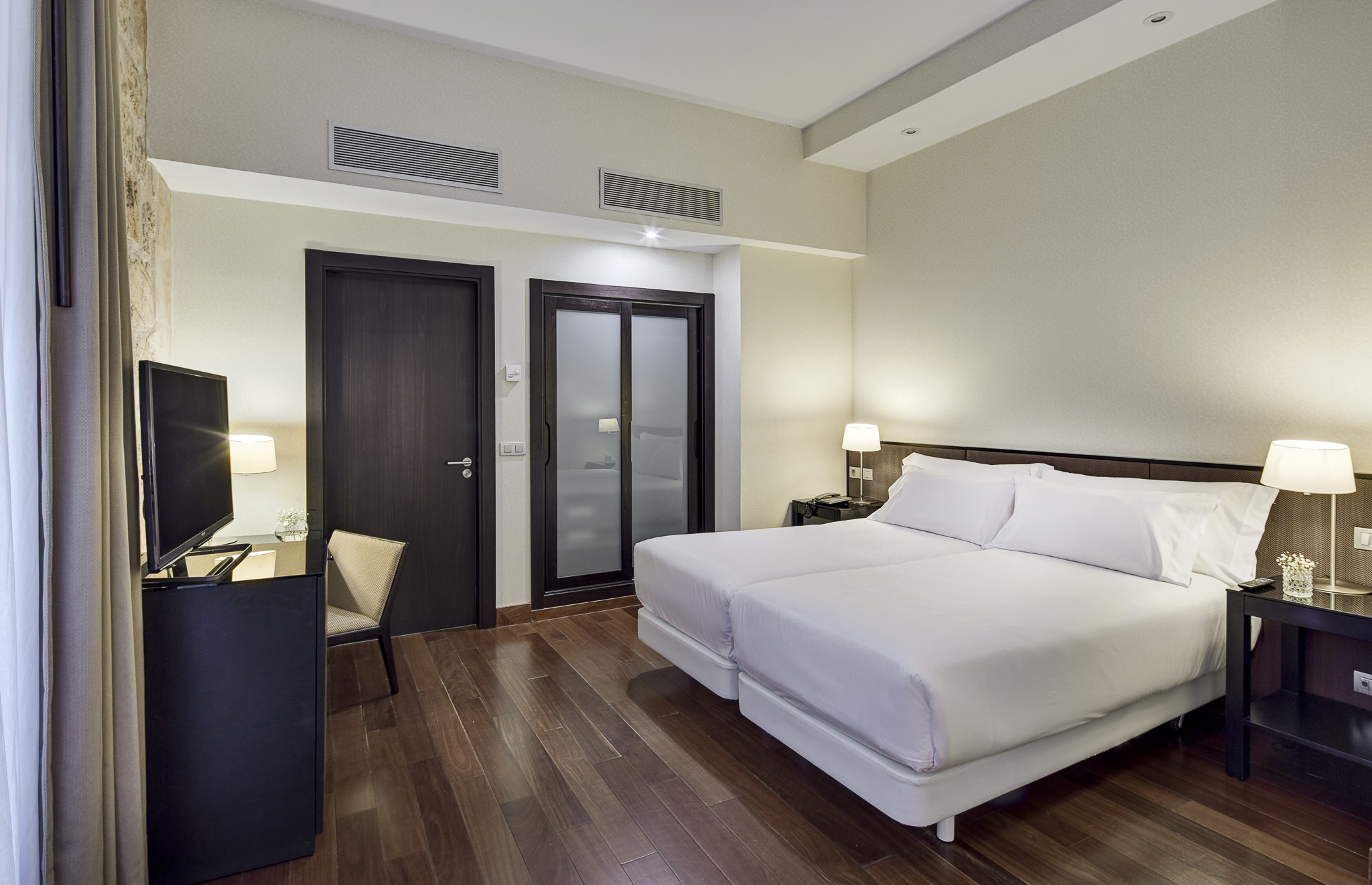 Classic Room
Warm and cosy. This is what the Classic Twin rooms at the Sercotel Puerta de la Catedral are like. Two spacious and comfortable single beds that are synonymous with rest, with all the details and fittings you'd expect at a four-star hotel.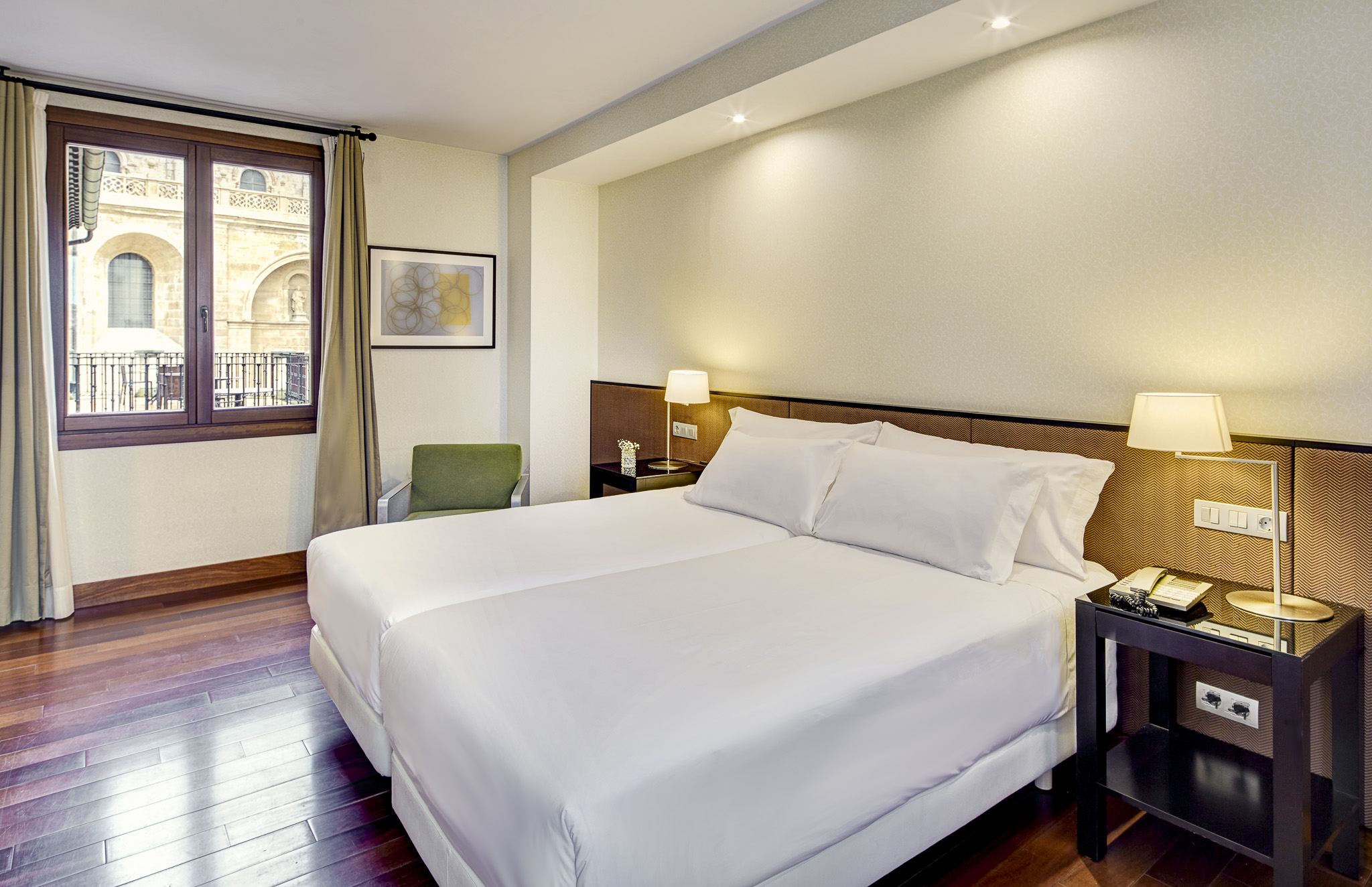 Classic Room Exterior View
Can you imagine watching how the cathedral changes colour as the day begins and ends? Open the window of one of our Classic Twin View rooms, you're sure to be able to admire the spectacle. We'll make it easy for you to fall in love with Salamanca.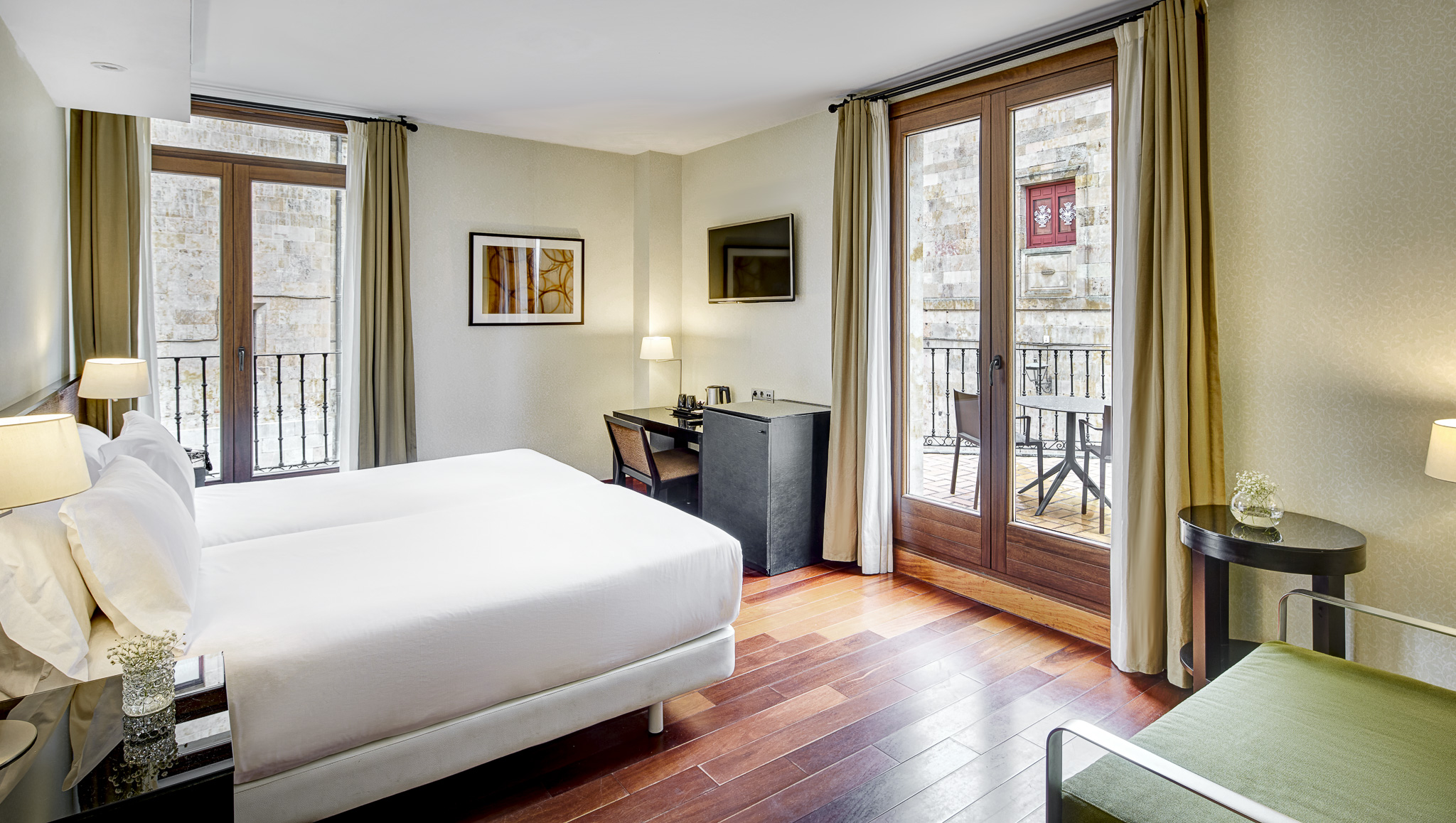 Superior Room
One of those rooms you won't want to leave. Why? Because of the terrace, the views of the cathedral, the two single beds you can lie in without having to get up and the comfort that's the hallmark of this house.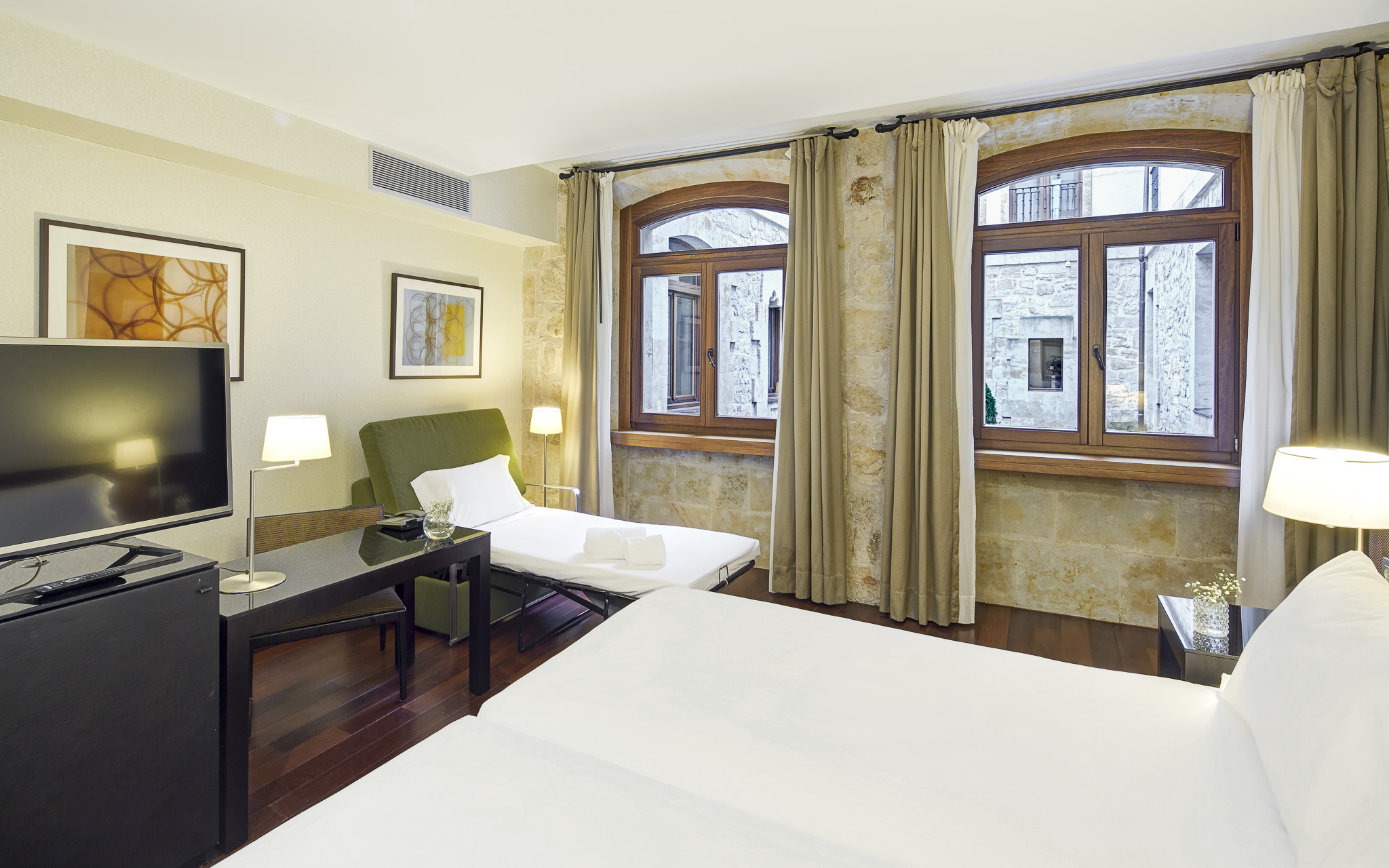 Triple Room
Large and spacious as they are, the Classic Triple Twin rooms offer you the option of adding a comfortable sofa bed when you travel to the Sercotel Puerta de la Catedral with your family or friends. 
Café
Enjoy a good coffee while you enjoy the beautiful views of the Salamanca Cathedral. A feast for the eyes.
Parking
Do not worry about your car. For a small supplement you can park in a car park that we have arranged a few meters from the hotel.
Key features
The Sercotel Puerta de la Catedral offers clients the most complete services of a 4-star hotel in Salamanca, so that your stay in the city is comfortable and carefree. For this, we have a buffet breakfast and garage (extra charge).
Meeting rooms
FACILITIES
Flexible spaces in the best locations.
PEOPLE
Tailor each space to the needs of your event.
SQUARE METRES
Rooms for holding your social event, convention or meeting in.