Barcelona, Spain
Sercotel Sant Boi
Search your hotel or destination
The ideal place to switch off in, just a stone's throw from Barcelona
Sometimes, being in the centre of a destination doesn't mean you enjoy it more. No one can argue that Barcelona isn't a beautiful, vibrant, intense and monumental city. Yes, the Ciudad Condal deserves to be enjoyed to the full. However, depending on the trip, it can feel better if you do so from a distance.  
Neither with you nor without you. This is what the Sercotel Sant Boi, our three-star hotel located in this Catalan city just 20 minutes by car from the centre, has to offer. It's also ideally connected to Barcelona by public transport.   
Sant Boi is a historical town that's become part of the metropolitan area of Barcelona over time. As we were saying; enjoy the city but escape from the hustle and bustle whenever your body asks you to. Perhaps the perfection of a journey can be found in this freedom. 
We've made sure that your trip will lack nothing at our hotel in Sant Boi. Whether you come on business or for leisure and with your friends, family or partner, everything will be ready to make your experience a wonderful one.  
If you want to meet the "culprits" of so much well-being, we advise you to chat to the staff at the Sercotel Sant Boi Hotel. There'll always be someone ready to resolve your queries and offer you some tips at reception.  
For example, they'll explain that the team at our restaurant are so skilled in the kitchen that they prepare dishes that live long on the memory. They use local produce and masses of affection to do so. They'll also tell you about the breakfasts in our cafeteria, which are so complete that they'll ensure you start the day full of energy. 
If it suddenly occurs to you that you don't know what to do with so much energy, you can visit our fitness centre. You can complete the experience with a sauna session, ideal for bringing the day of intense work you may have had in our meeting rooms to an end.  
If you prefer to wind down outdoors and you're staying at the Sercotel Sant Boi with your dog, ask us what the best parks and gardens in the area are. We'll tell you which are the most popular ones.  
We've made modernity and simplicity our insignia at the Sant Boi Hotel. Proof of the above are its spacious and bright rooms in which, when you close your eyes, you'll feel a smile appearing on your face. Hang the "do not disturb" sign on the door, get into bed and get ready to dream.
Find your room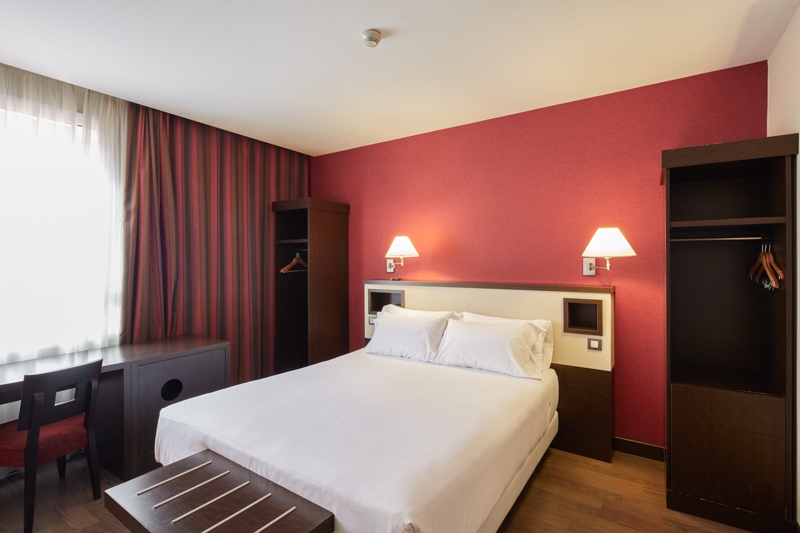 Classic Room
A Classic  room is an ideal place to rest in after an activity-packed day and to recharge your batteries for the next one. What's responsible for this? The comfortable bed. Look out, you'll sink into it. Complete the experience by choosing the pillow that best suits you.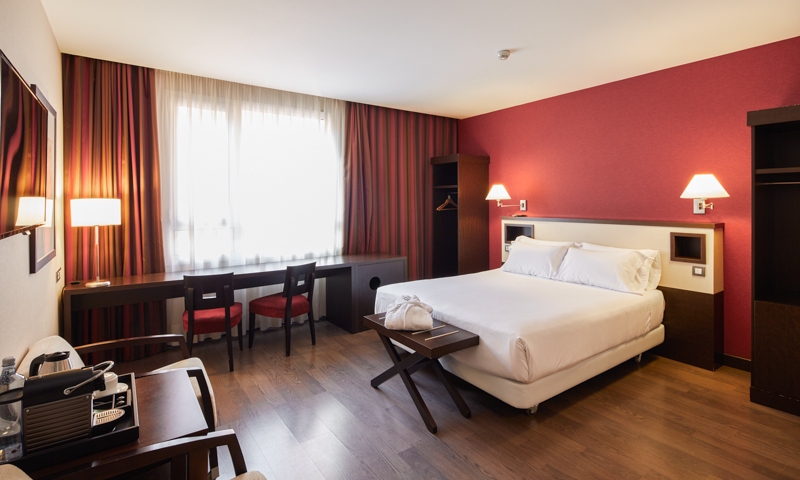 Superior Room
The spacious and bright Superior rooms at the Sercotel Sant Boi are ideal for a trip to the area with your partner or on business. Complete comfort and total peace and quiet, just a stone's throw from Barcelona. 
Show more
Gym
Stay in shape outside the home and use our private gym.
Restaurant
Stay in shape outside the home and use our private gym.
Key features
Sercotel Sant Boi has been designed to offer special vacations from day one, taking care of each and every detail.
Meeting rooms
FACILITIES
Flexible spaces in the best locations.
PEOPLE
Tailor each space to the needs of your event.
SQUARE METRES
Rooms for holding your social event, convention or meeting in.