Alicante, Spain
Sercotel Ciutat D'Alcoi
Search your hotel or destination
Sercotel Ciutat d'Alcoi, a chameleonic destination
From the moment you walk through the door of the Sercotel Alcoi Hotel you'll enter a world of comfort that merges history and modernity to perfection.  
This is noticeable in the three buildings on which the Sercotel Ciutat de Alcoi has been built. We should tell you that one of them forms part of the European Modernism Route, which teaches us about the city's industrial past. The other two were built in the 20th century and in 2004. 
You'll observe something similar at Lahidro, our restaurant and an excellent culinary temple where you can have lunch and dinner. Our menu is so tempting that the locals often visit us on a regular basis. And no wonder; the Sercotel Ciudad de Alcoi Hotel is just a five-minute walk from the city's old town area. 
When you sit at one of the tables you'll be doing so in what was once a hydroelectric power station. You'll observe this in the décor, which mixes industrial and contemporary styles. Everything is lit up by the striking natural light that filters through the large windows. 
This light will allow you to appreciate the magnificent dishes on the menu at Lahidro, made with high-quality local produce, to the full. These range from Iberian products to the fruits of the orchards of Alicante and Valencia, as well as wines from all parts of Spain. 
Rest after the reception or, if you feel like moving around a bit, visit our fitness centre. At the Sercotel Ciudad de Alcoi we've made sure that it's as comprehensive as possible. There's no shortage of machines and weights and there's even a Turkish bath. 
If you prefer the open air, you can hire one of our bicycles to explore the spectacular natural landscapes hidden in the area surrounding Alcoi with your family, partner or friends. If you bring your own bike, you can leave it in our specific garage, which also contains all kinds of tools. 
If you're travelling on business, you should also stay with us at the Sercotel Ciutat de Alcoi. It has several multi-functional rooms for organising meetings and events. It's also only 45 minutes from Alicante by car. After a day of meetings you'll appreciate being able to relax in our jacuzzi or receive a massage from one of our specialists.  
And when the night comes and you fall into the arms of Morpheus, you'll discover that comfort is the middle name of our beds. They're the jewel in the crown of the 84 modern, spacious and bright rooms at our hotel. We care so much about your rest that we've even prepared a pillow menu. Which one will you choose? 
We know that often you won't be travelling alone, that you'll want your cat or dog to come with you. It will be more than welcome. Let us know when you book and everything will be ready to welcome it.
Find your room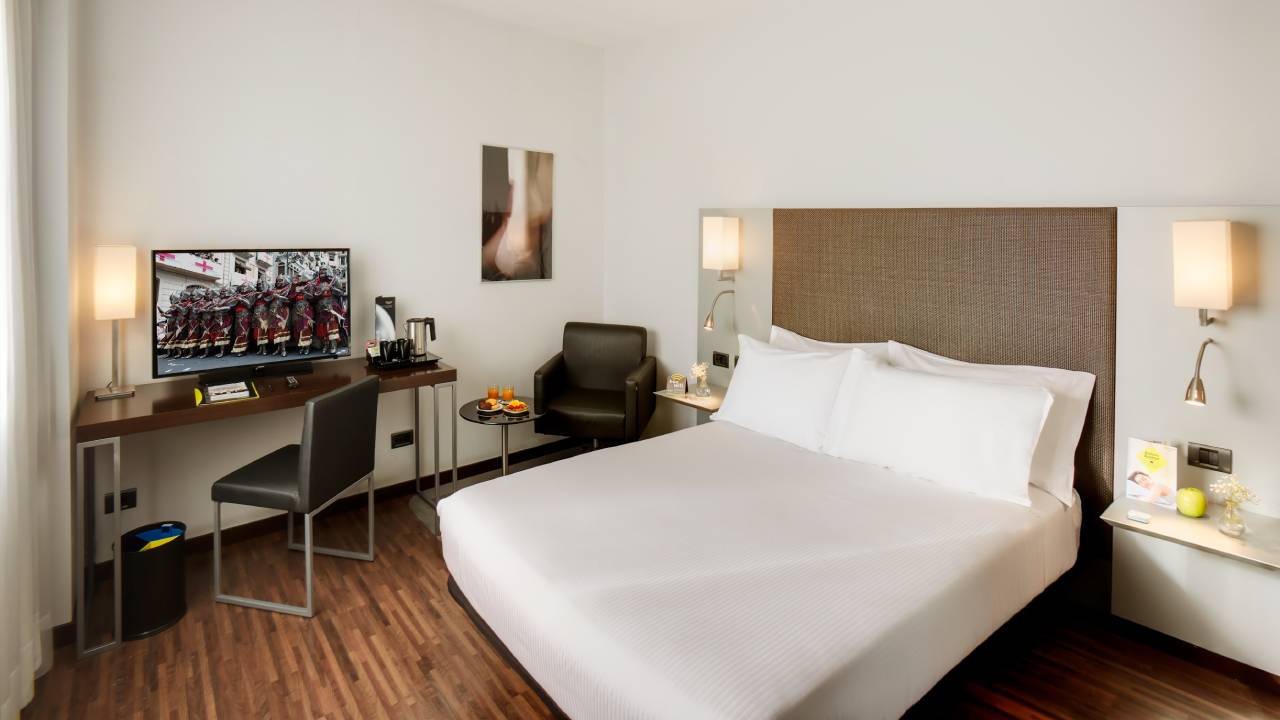 Classic Double
Do you want to feel at home when you reach your room after a long day of work or sightseeing? That's what you'll experience in our Classic Double room. It's large, bright and cosy.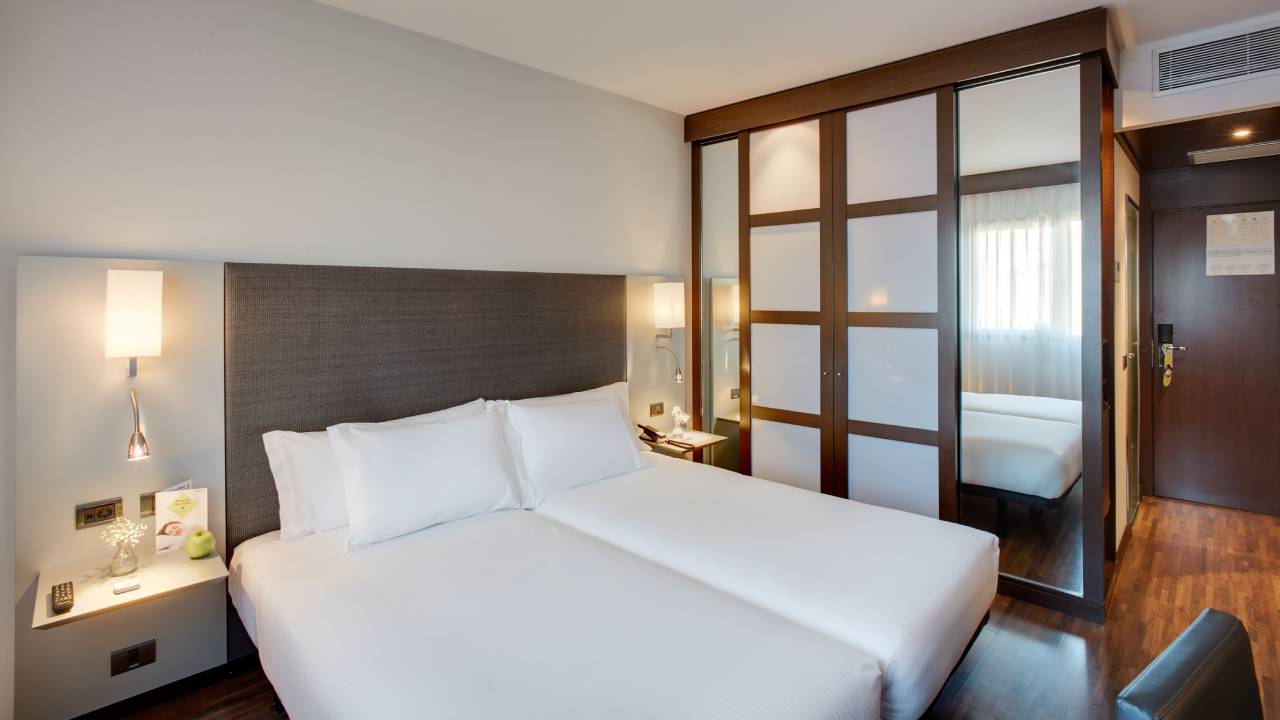 Classic Twin
With the warmth of their natural light and their modern design, the Classic Twin rooms at the Sercotel Ciudad de Alcoi are ideal for feeling as if you were at home.
Complies with Local/State/Federal fire laws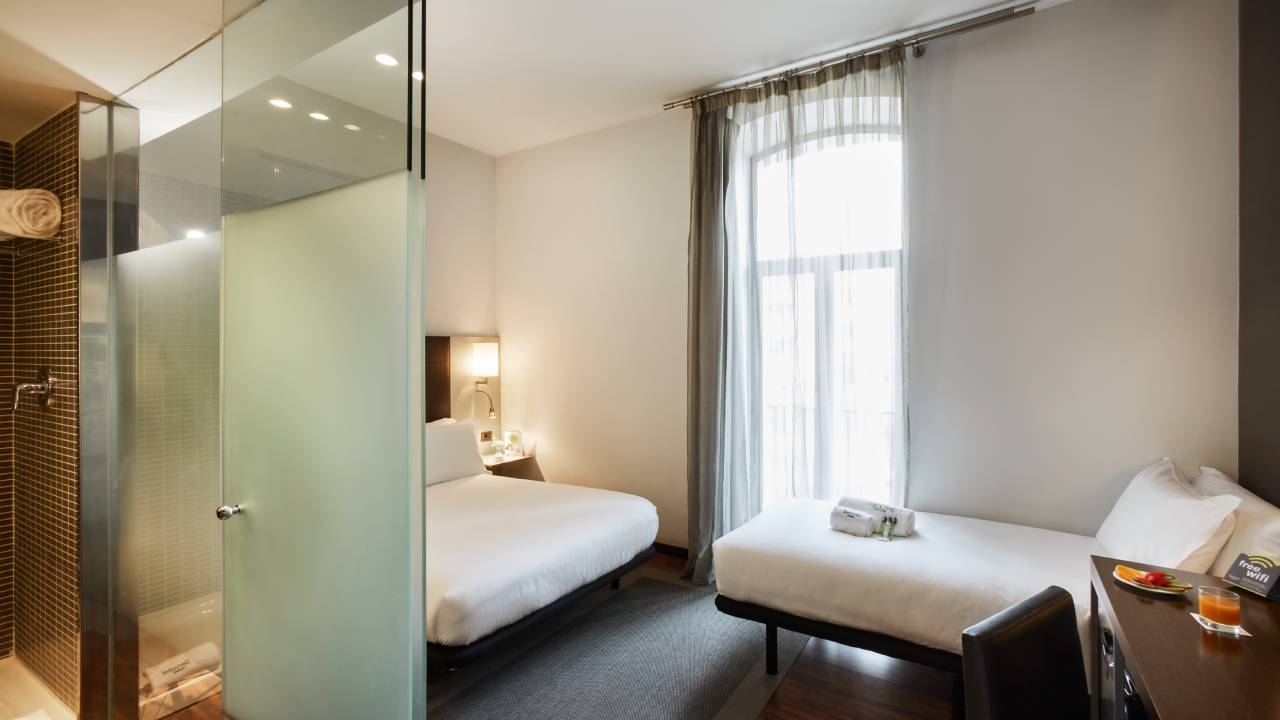 Family Room
You know the saying; a united family will never be defeated. This is why we offer you a wonderful family room with a soft extra bed at the Sercotel Ciutat de Alcoi. And remember, we welcome pets! A room for everyone. 
Complies with Local/State/Federal fire laws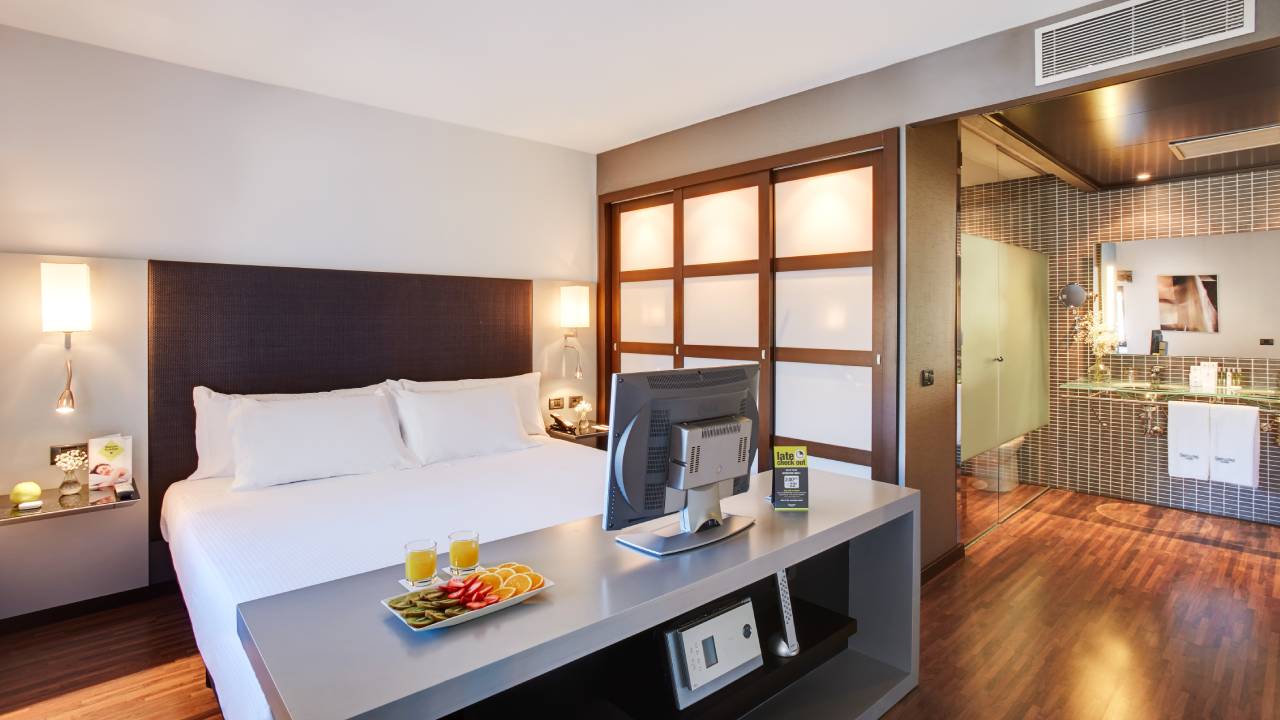 Junior Suite
James I the Conqueror himself would have wanted to stay in our Junior Suite room. This is modern accommodation with a lounge, a design bedroom and a full bathroom and additional bathroom. 
Complies with Local/State/Federal fire laws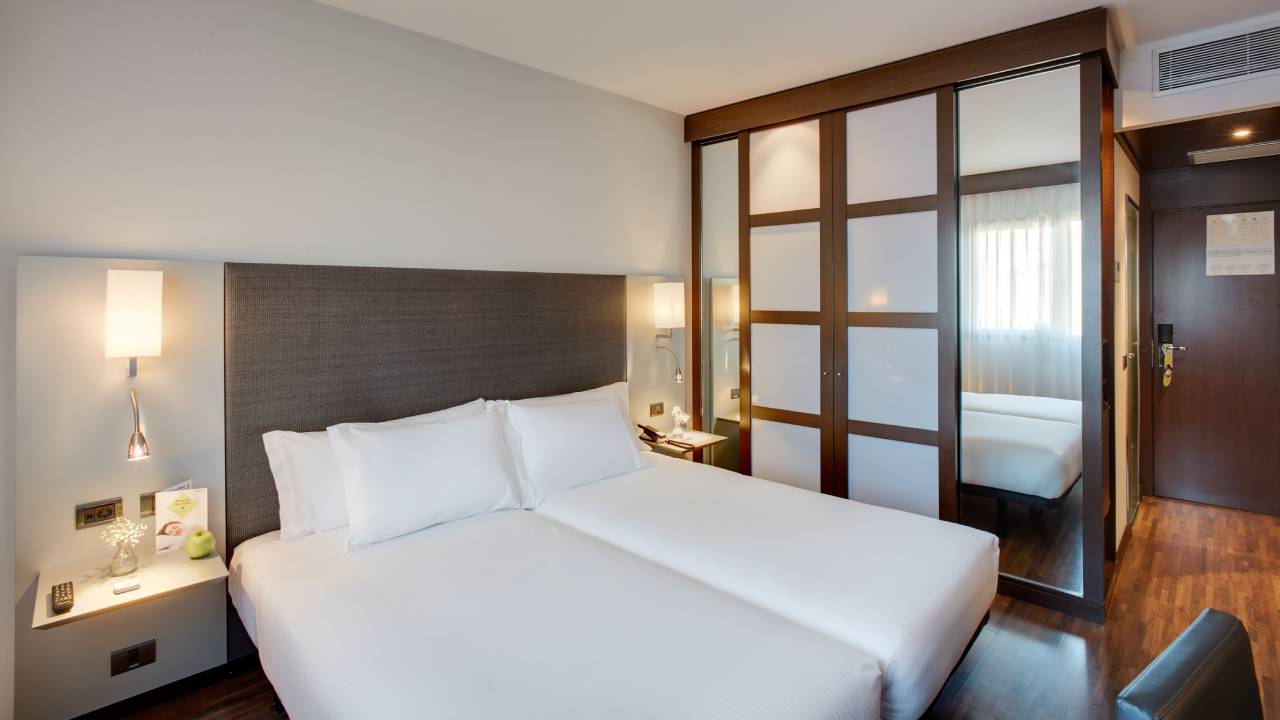 Superior Twin Room
As night falls, you'll drift off into a deep and restful sleep in our Superior Twin rooms. On the other hand, natural light will bathe the integrated lounge during the day. Make yourself comfortable, open a book and wind down. Nobody will bother you. 
Show more
Lahidro restaurant
Lahidro restaurant is located in our facilities. Come and enjoy an avant-garde cuisine in a unique atmosphere.
Key features
The Sercotel Ciutat D'alcoi with its contemporary and unique design, offers superb facilities and exclusive service for all our guests to have an unbeatable experience in Alcoi.
Meeting rooms
FACILITIES
Flexible spaces in the best locations.
PEOPLE
Tailor each space to the needs of your event.
SQUARE METRES
Rooms for holding your social event, convention or meeting in.
Milestones, achievements and projects
Tourism quality commitment
Tourist quality in destinations
Ivace Energy
TripAdvisor