Alcalá de Henares, Spain
Sercotel Encin Golf
Search your hotel or destination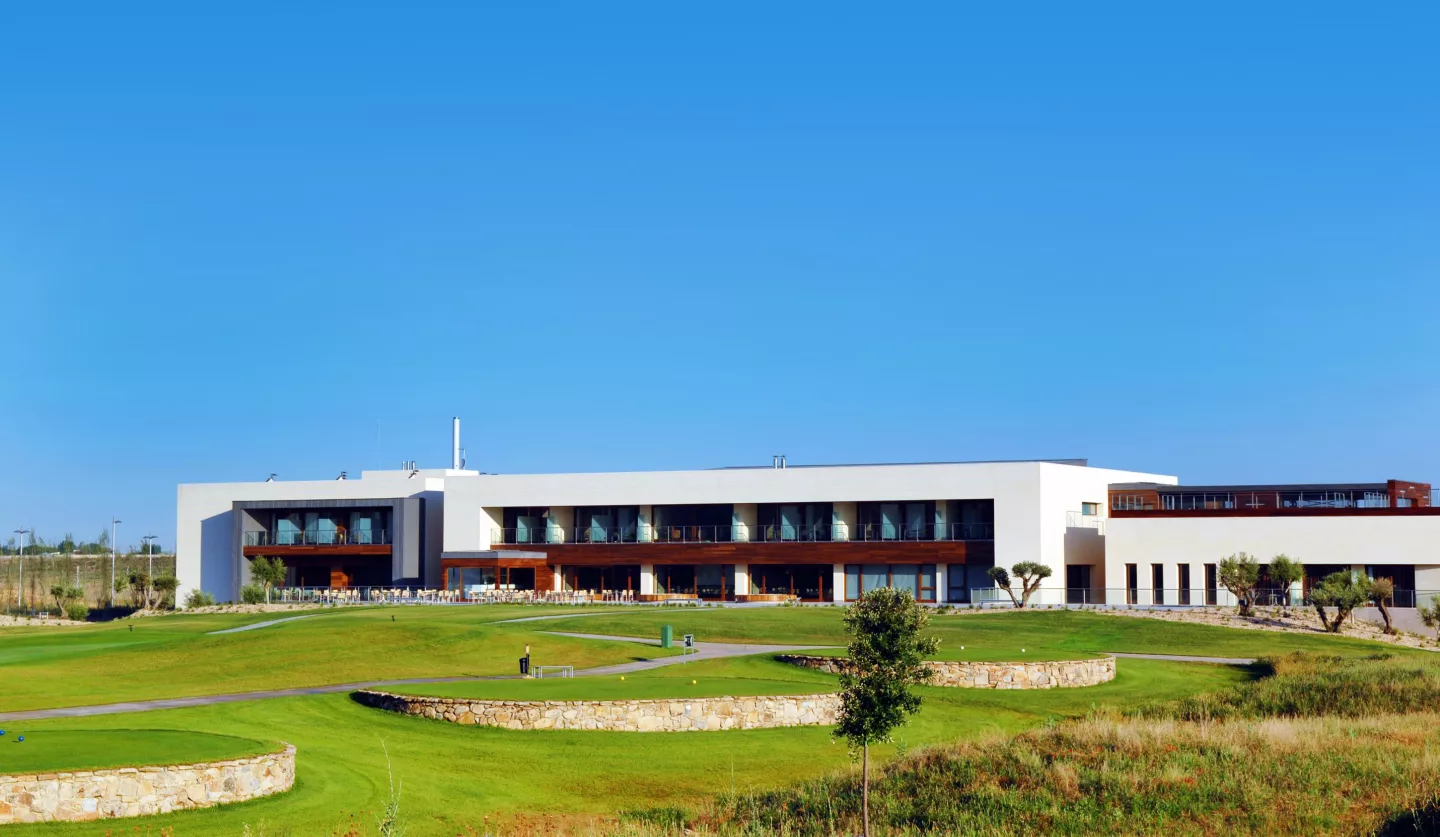 The hotel where golf rules
At the Sercotel Hotel Encin Golf we don't just like golf, it's our life. So much so that we have our own 18-hole course in a natural setting with privileged views, the kind that you wouldn't expect to find so close to Madrid. Will you come? 
The Encin Golf is located beside the mountains of Los Santos de la Humosa, just five minutes from Alcalá de Henares. As soon as you meet us, you'll understand what they say about "everything being designed here for relaxation".  
You're having no trouble picturing yourself here, are you? Visualise yourself tackling the obstacles on our huge course built with the hallmark of Mr. Von Hagge Smelek & Baril. Its quality is such that we even host amateur and professional competitions.  
However, travellers don't live by golf alone and at the Encin Golf we're well aware of this. We've therefore deployed a comprehensive catalogue of services worthy of our status as a four-star hotel at our modern facilities. They're designed to care for you throughout your stay with us and you'll notice them as soon as you enter your room. 
The Sercotel Hotel Encin Golf has 39 rooms. They're spacious, with natural light, comfortable beds and those little details that turn what might be ordinary accommodation into something that you'll remember forever. Drop your cases, have a shower, put on your bathrobe and switch off. 
Turn your back on what's happening on the other side of your door. If you're here for an event too. We have a team of professionals that ensure that everything runs smoothly, as well as different event rooms designed to host all kinds of celebrations and meetings. They're spacious, versatile and equipped with audiovisual equipment and free Wi-Fi.  
In fact, you'll have free internet access throughout the Encin Golf Hotel, although we're guessing you won't want to use it when you're devoting your time to the sunshine and the water of our pool and solarium. Or if you've decided to play paddle tennis for a while on one of our courts or if you've opted for a visit to the sauna.  
All this activity is likely to work up your appetite. We also put good food on the table at the Encin Golf Hotel in Alcalá de Henares. More specifically in our restaurant, where we painstakingly prepare tasty cuisine with high-quality products, many of which come from our organic vegetable gardens.  
Don't worry if hunger strikes at any time of the day, because we also have a cafeteria in which you can snack on simpler meals. How about a potato salad with tuna belly with spring onions and EVOO or gyozas stuffed with pork cheek and kimchi with soy sauce? Ask to be served on the terrace and enjoy the views as well.  
You'll have realised by now that you won't need your car at all at the Encin Golf. That's why we insisted on your arrival that you calmly parked your car at our free parking facilities. It's still there, we're keeping an eye on it and it will be ready for you when you have to leave.
Find your room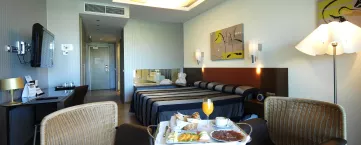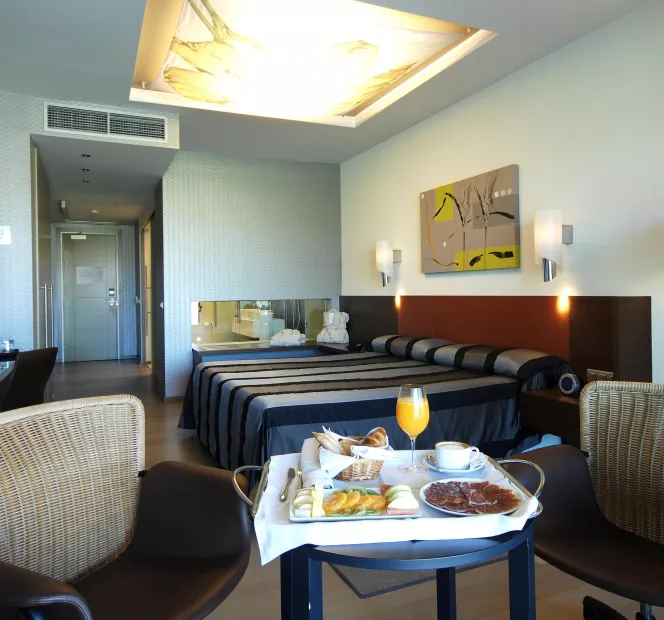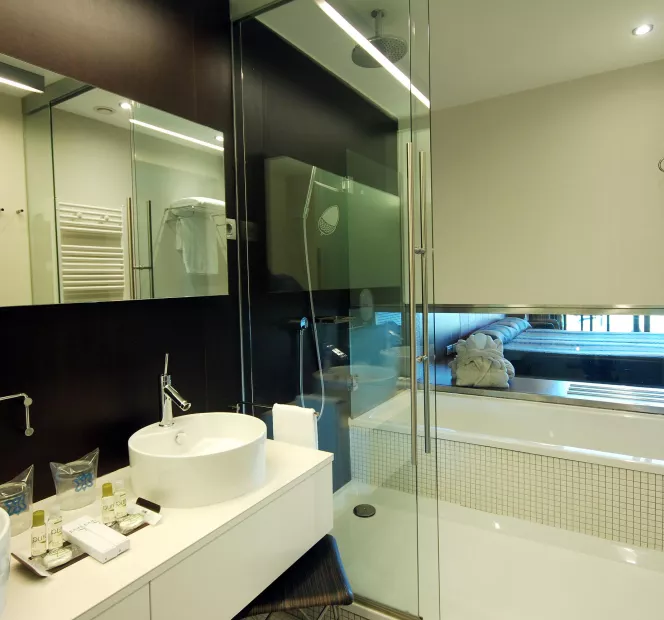 Classic Room
The 30 m2 of these rooms have a great deal to offer. To begin with, a double bed or two single beds in which you can rest for as long as you want. Next, all the services you'll require throughout your stay. As well as being spacious, they let in the natural light.

Complies with Local/State/Federal fire laws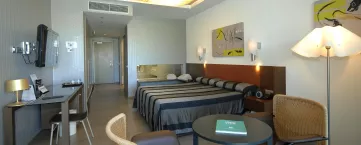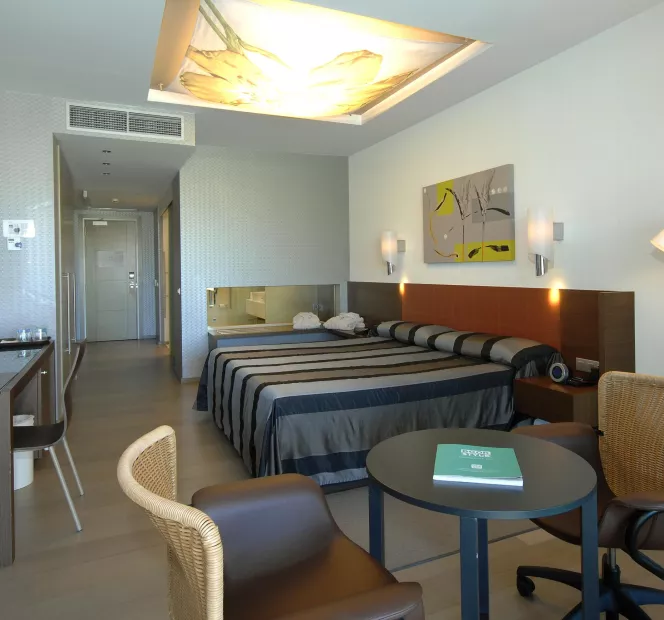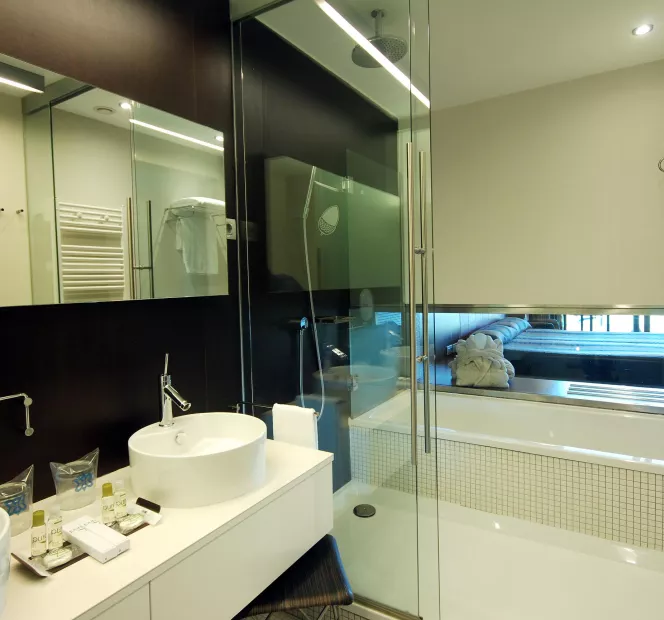 Double Room + Extra Bed
These rooms are so large that there's space for an extra bed, making them the ideal accommodation for guests travelling in groups of three. They also provide a wide range of services and features to enable you to enjoy a comfortable stay.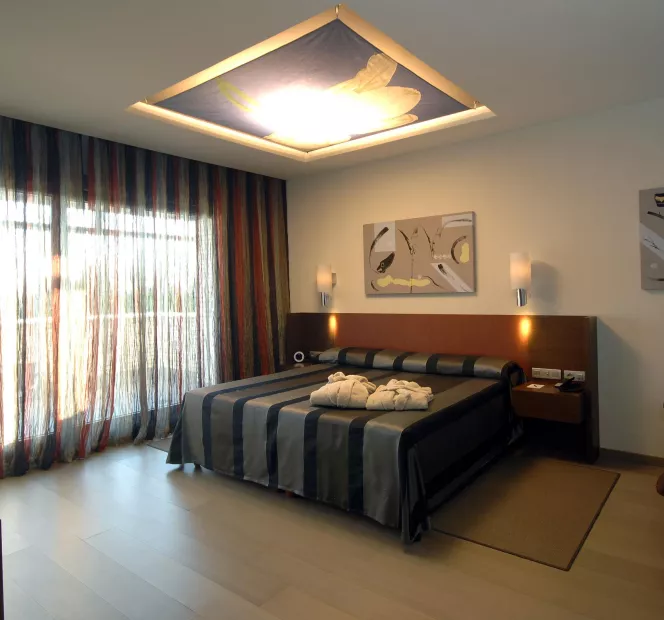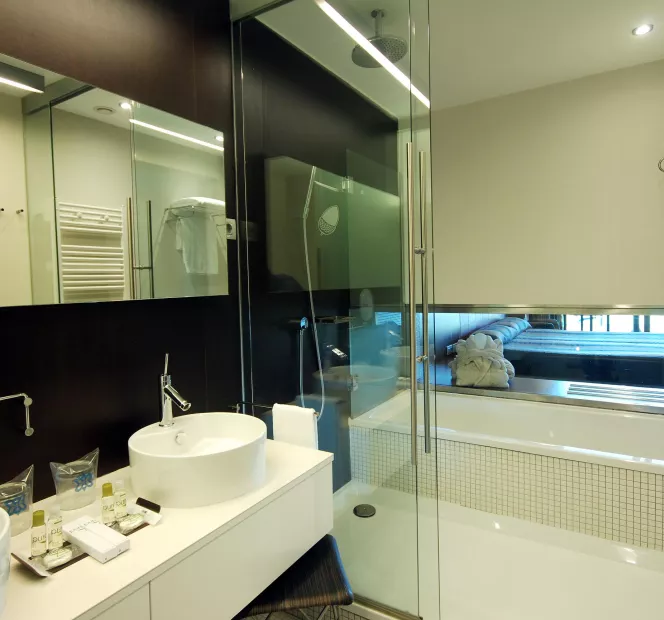 Junior Suite
The ideal accommodation for people looking for an exclusive stay is called the Junior Suite Executive. The 40 m2 are designed for your rest and comfort. The King Size bed will be your paradise on earth. It has natural light and a work area.

Complies with Local/State/Federal fire laws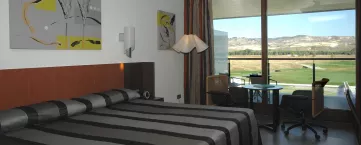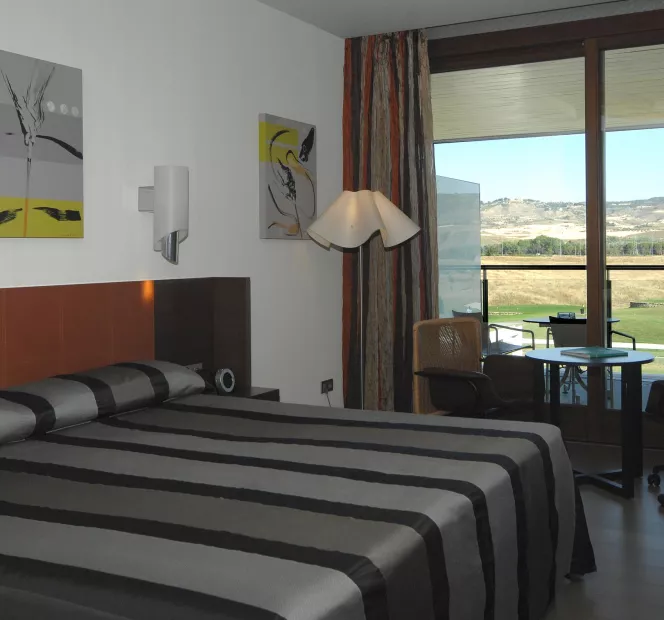 Superior Room
They're spacious (34 m2 in size), bright, thanks to the large windows through which you can gaze over the golf course, and they have a King Size bed in which you'll be able to sleep soundly. You'll also find a work space in the superior rooms.

Complies with Local/State/Federal fire laws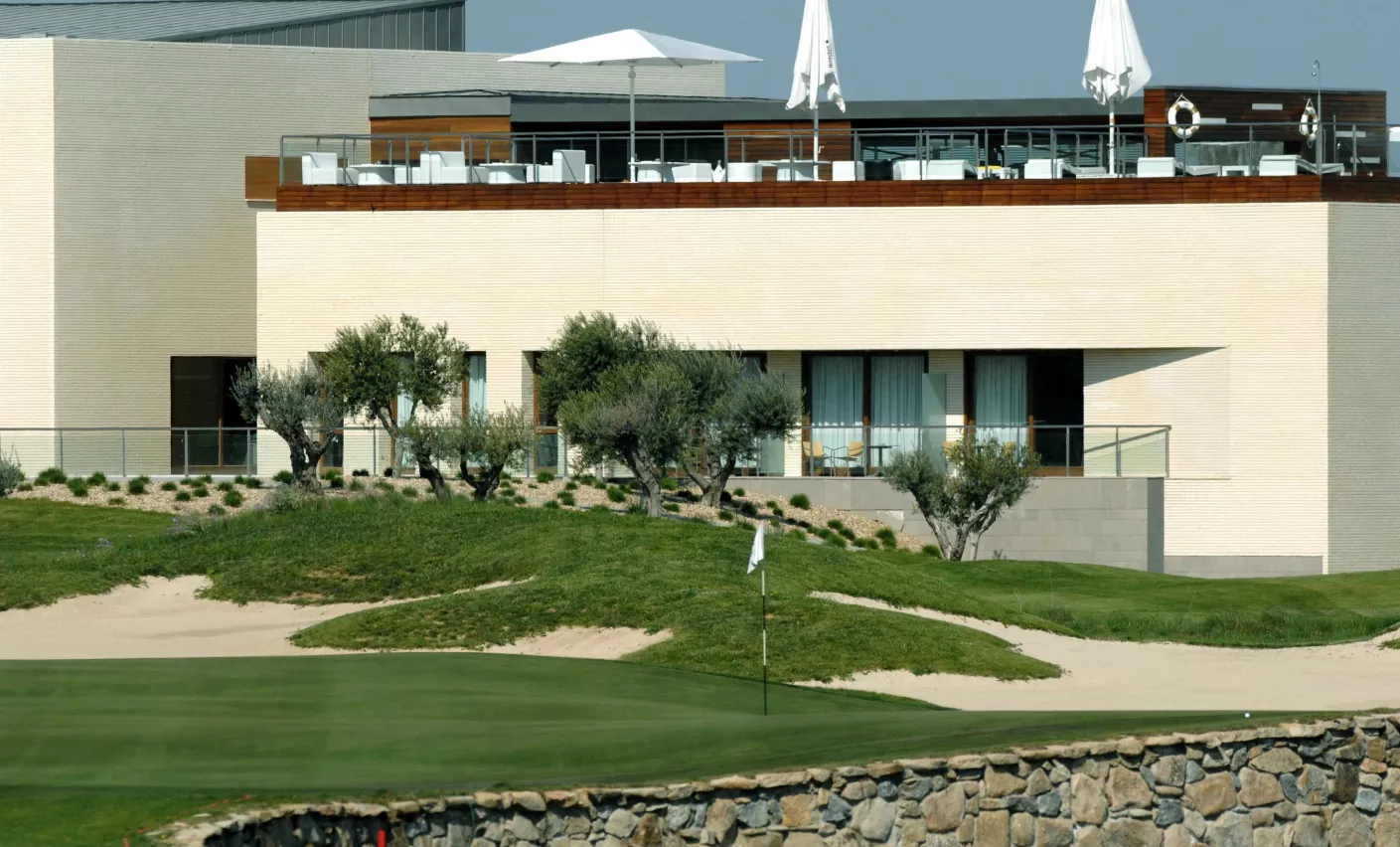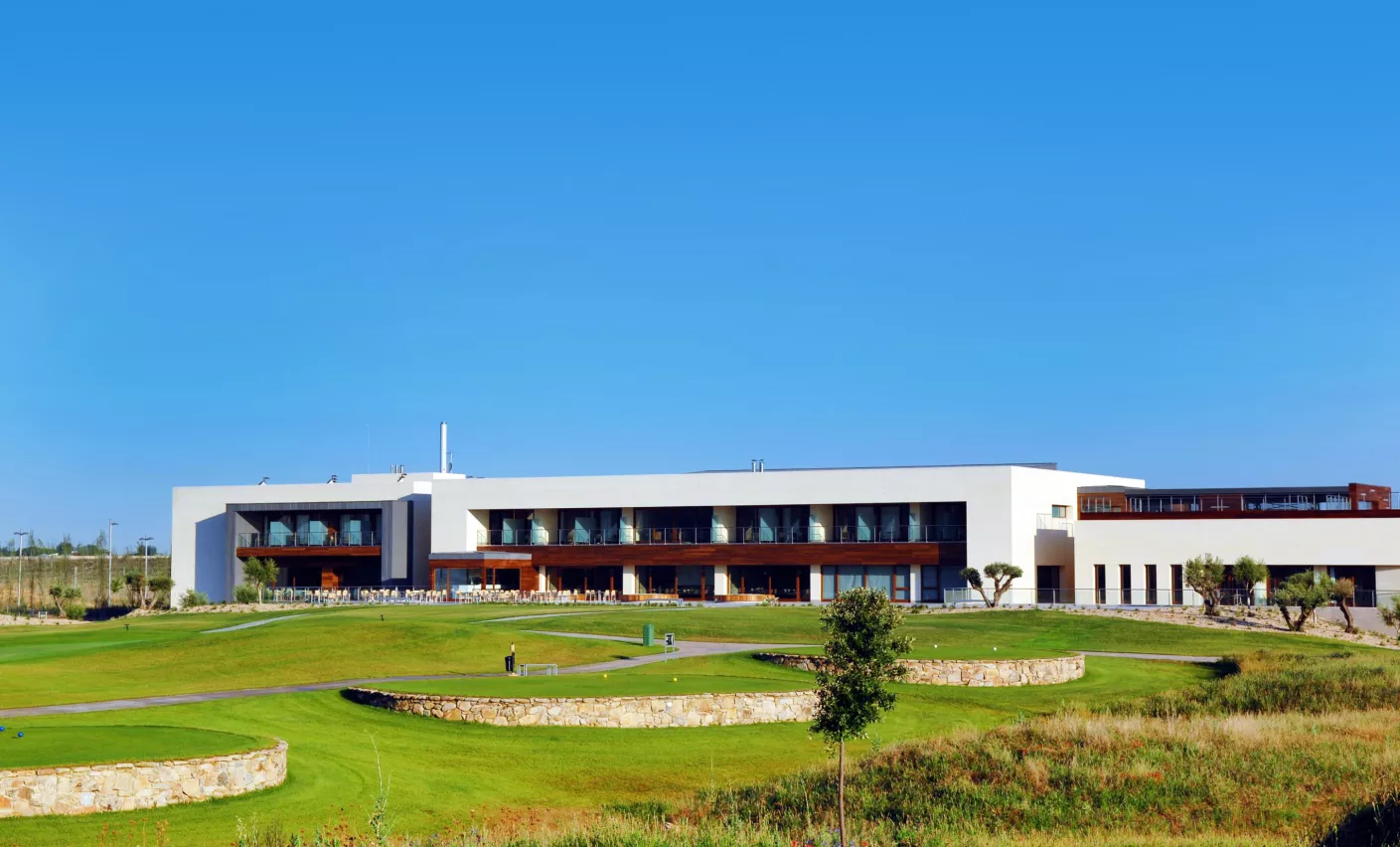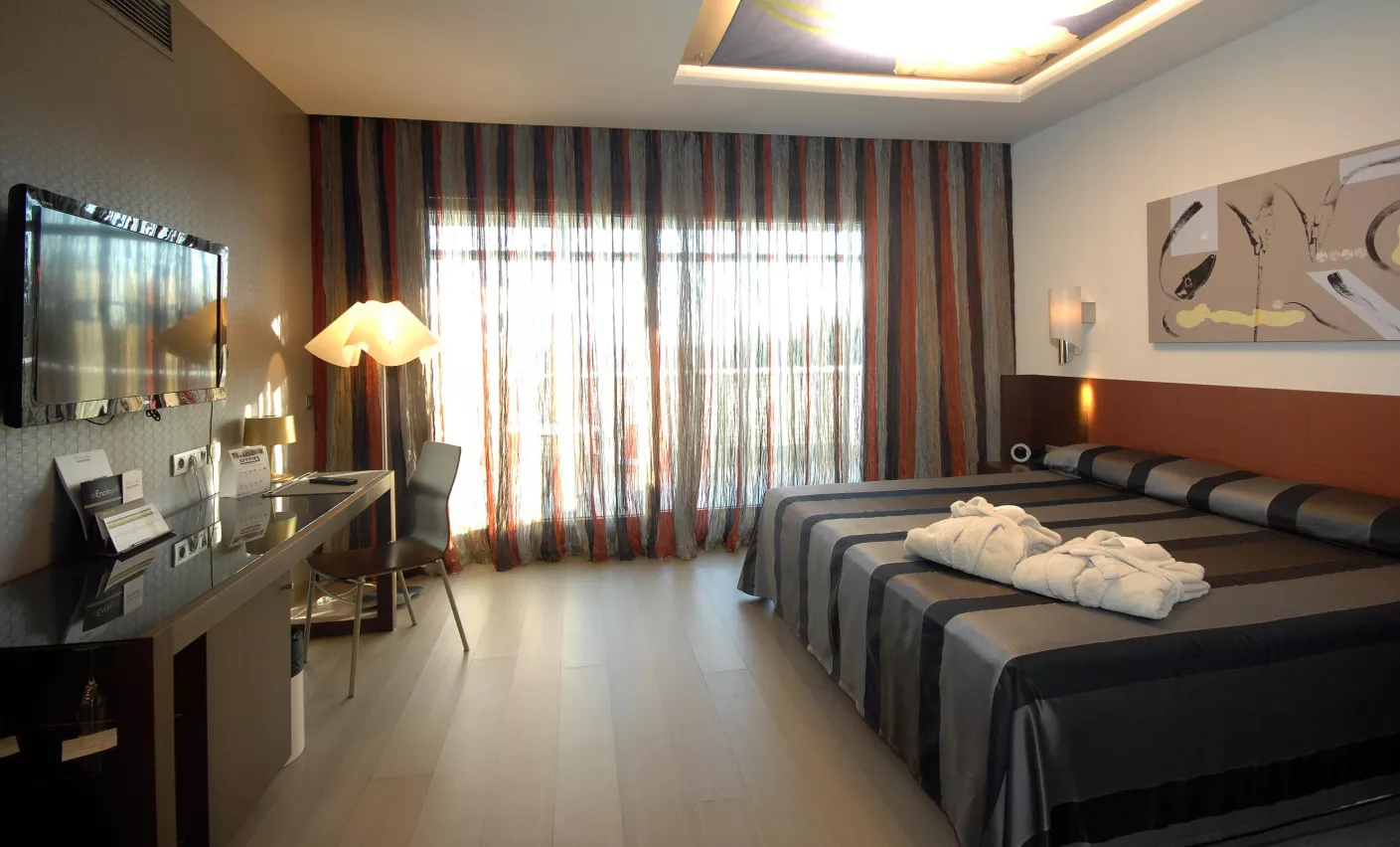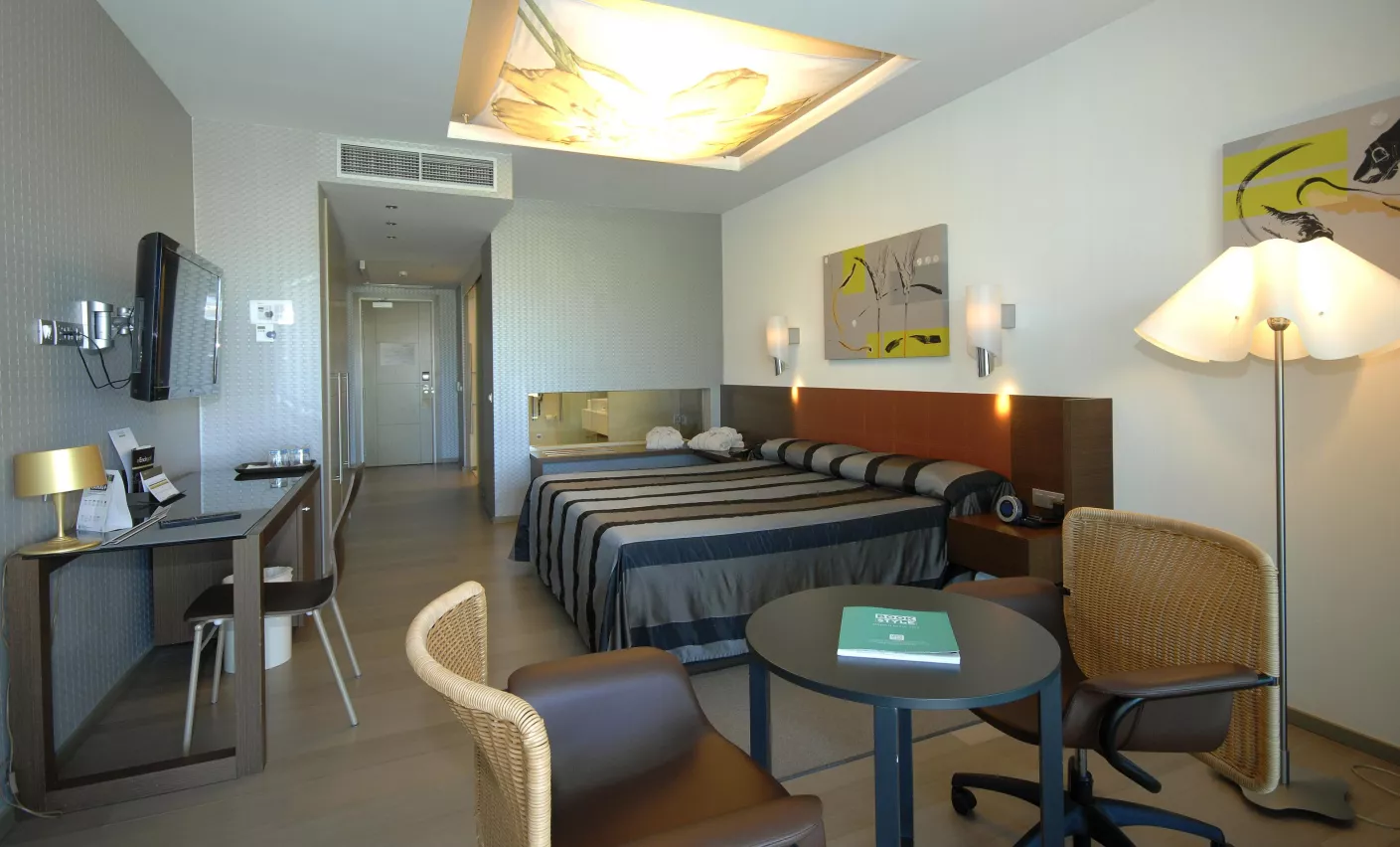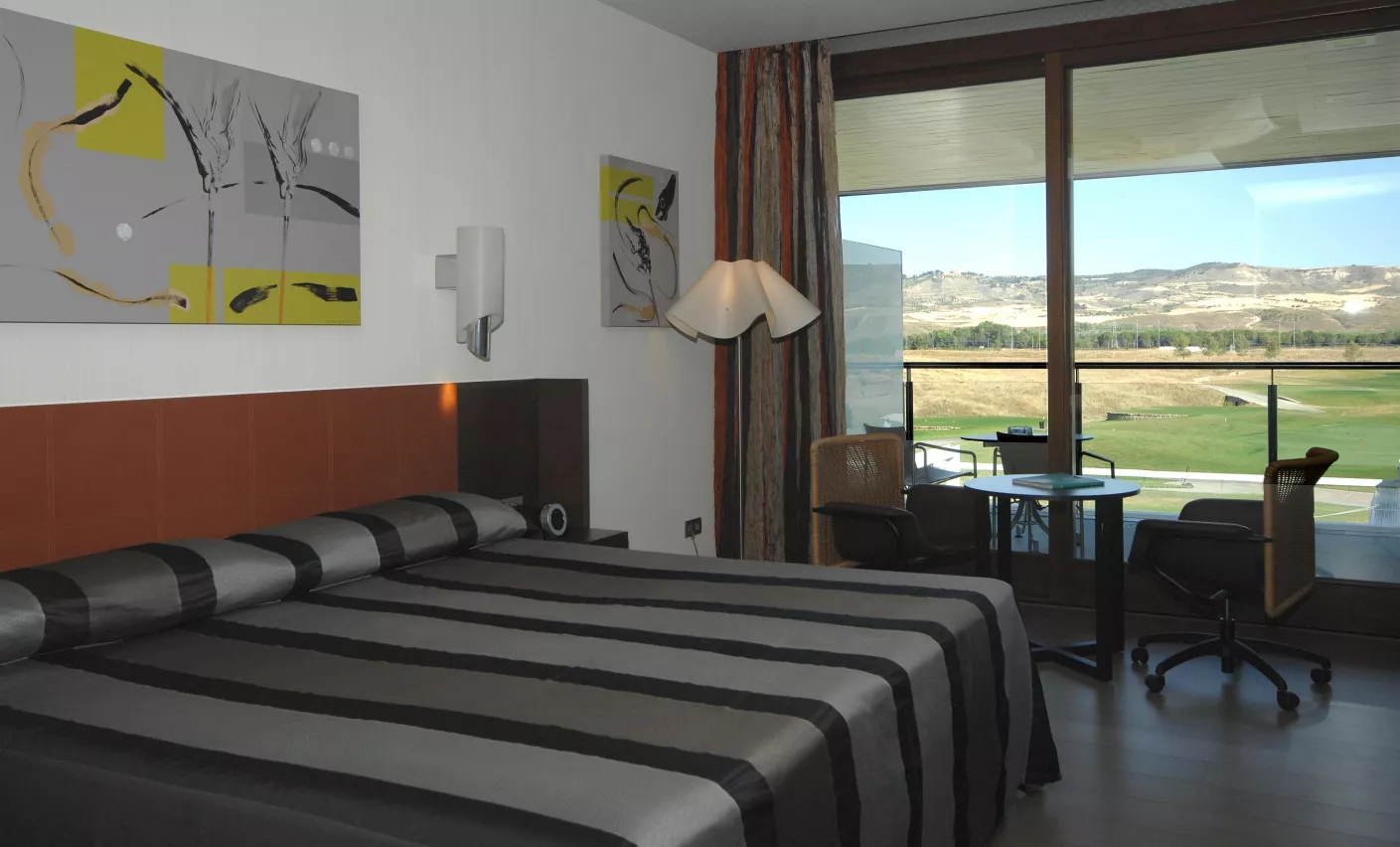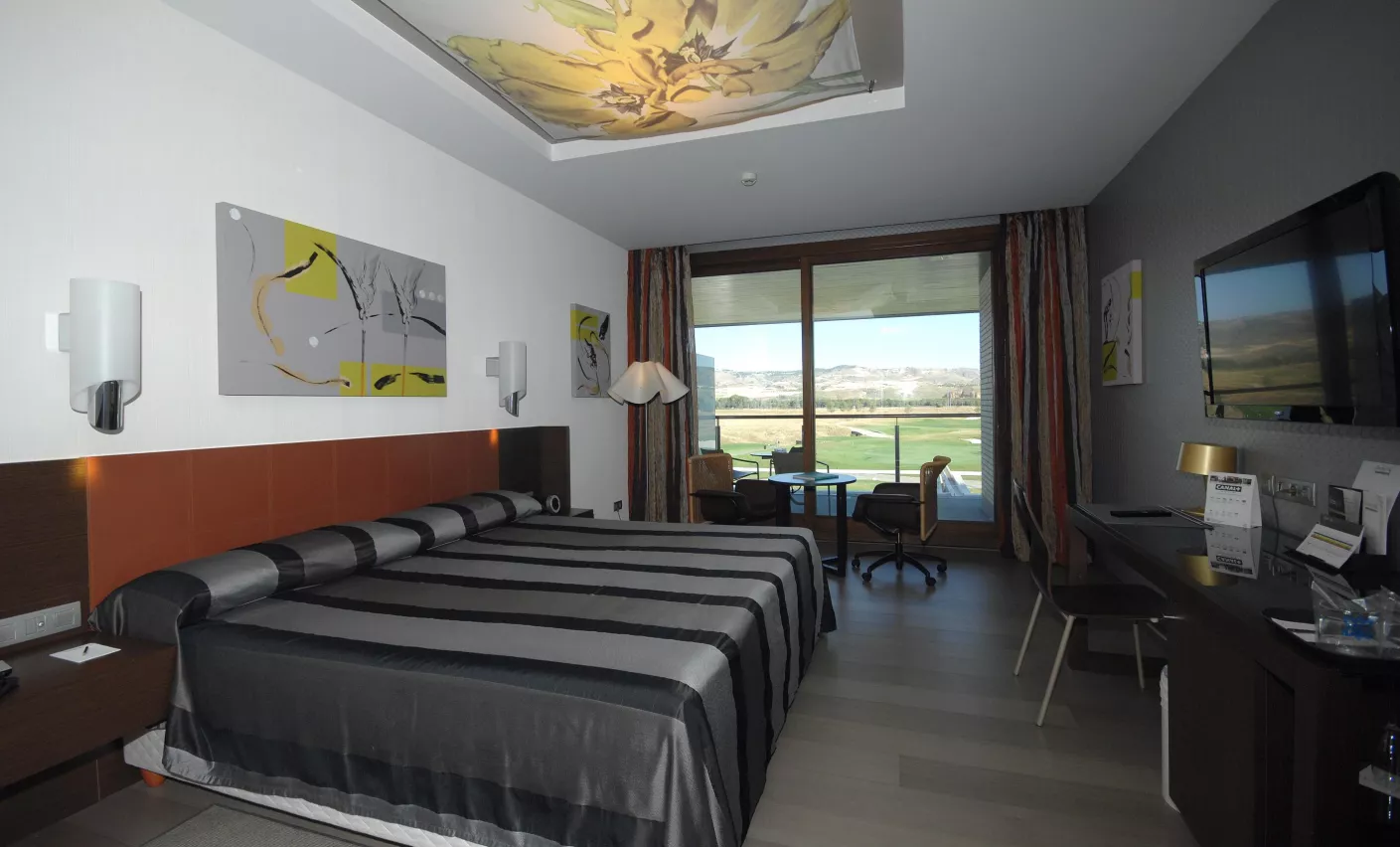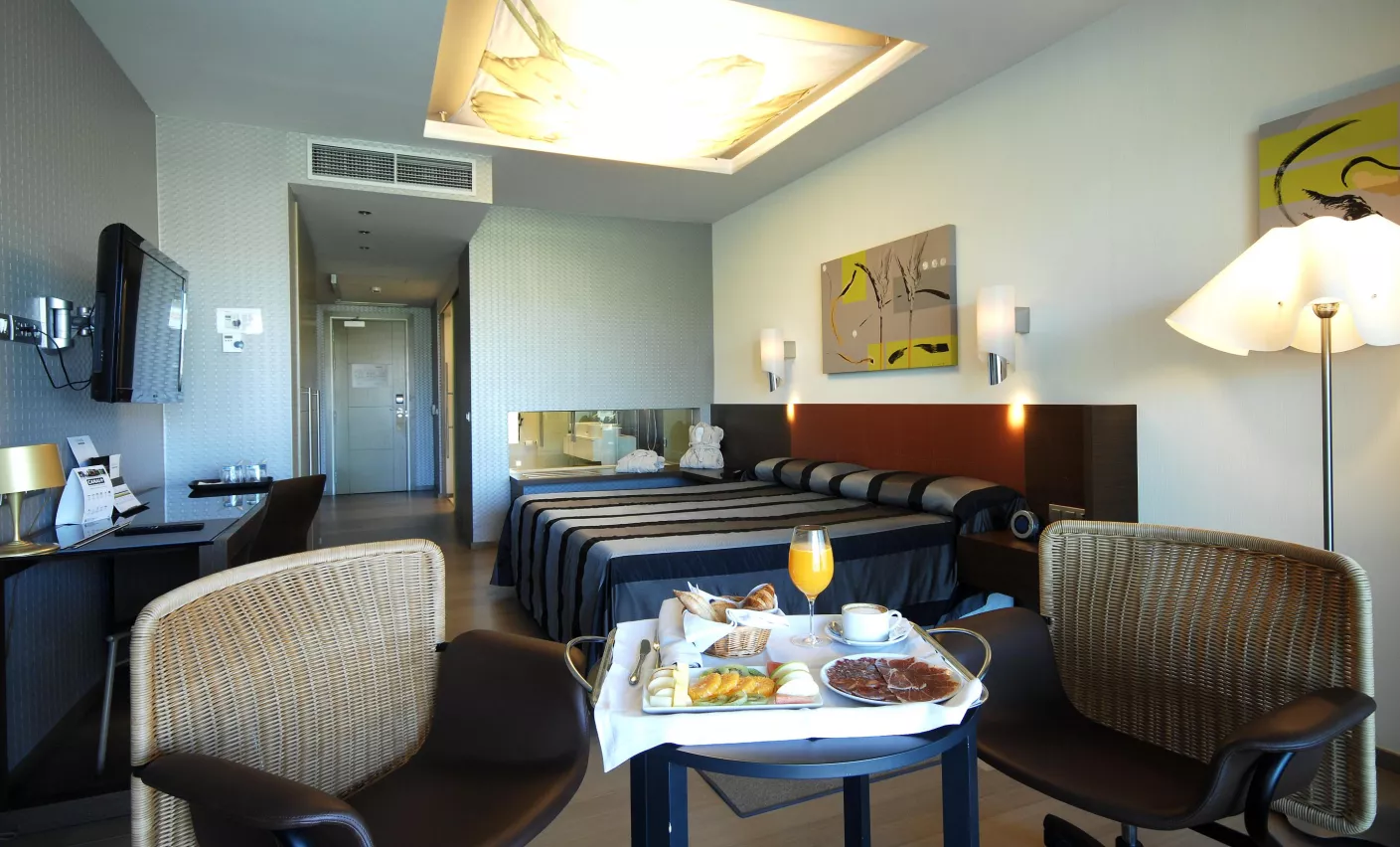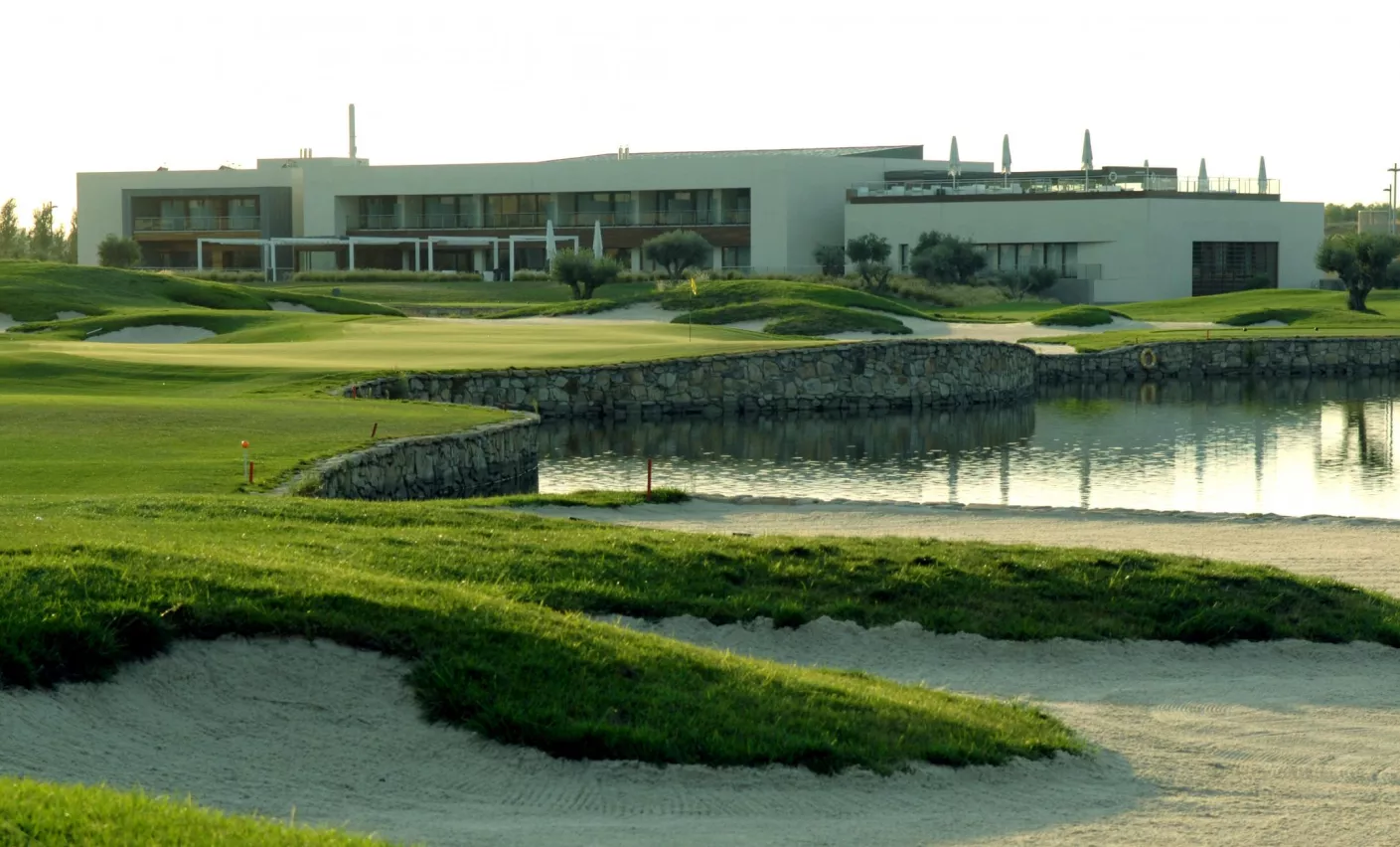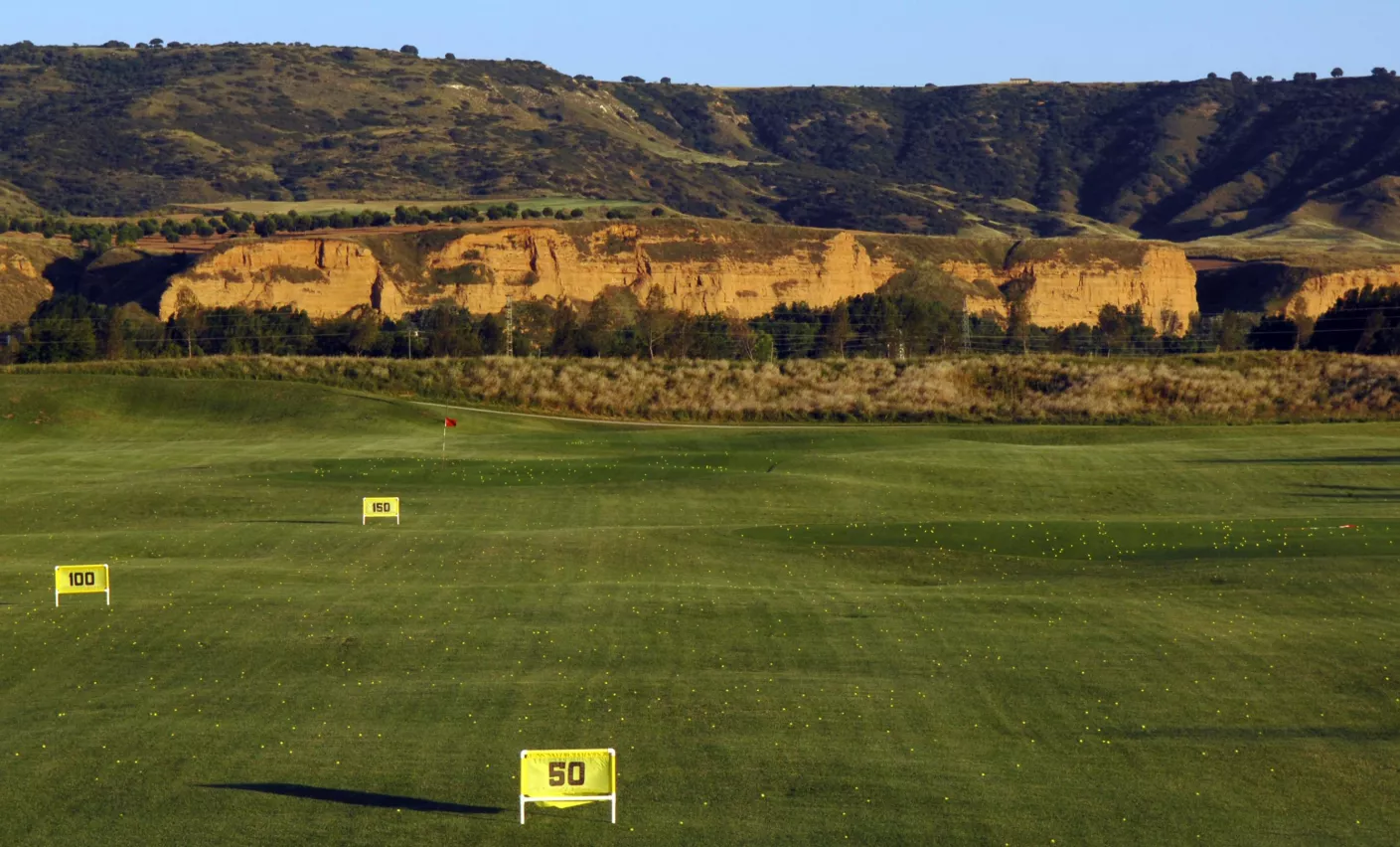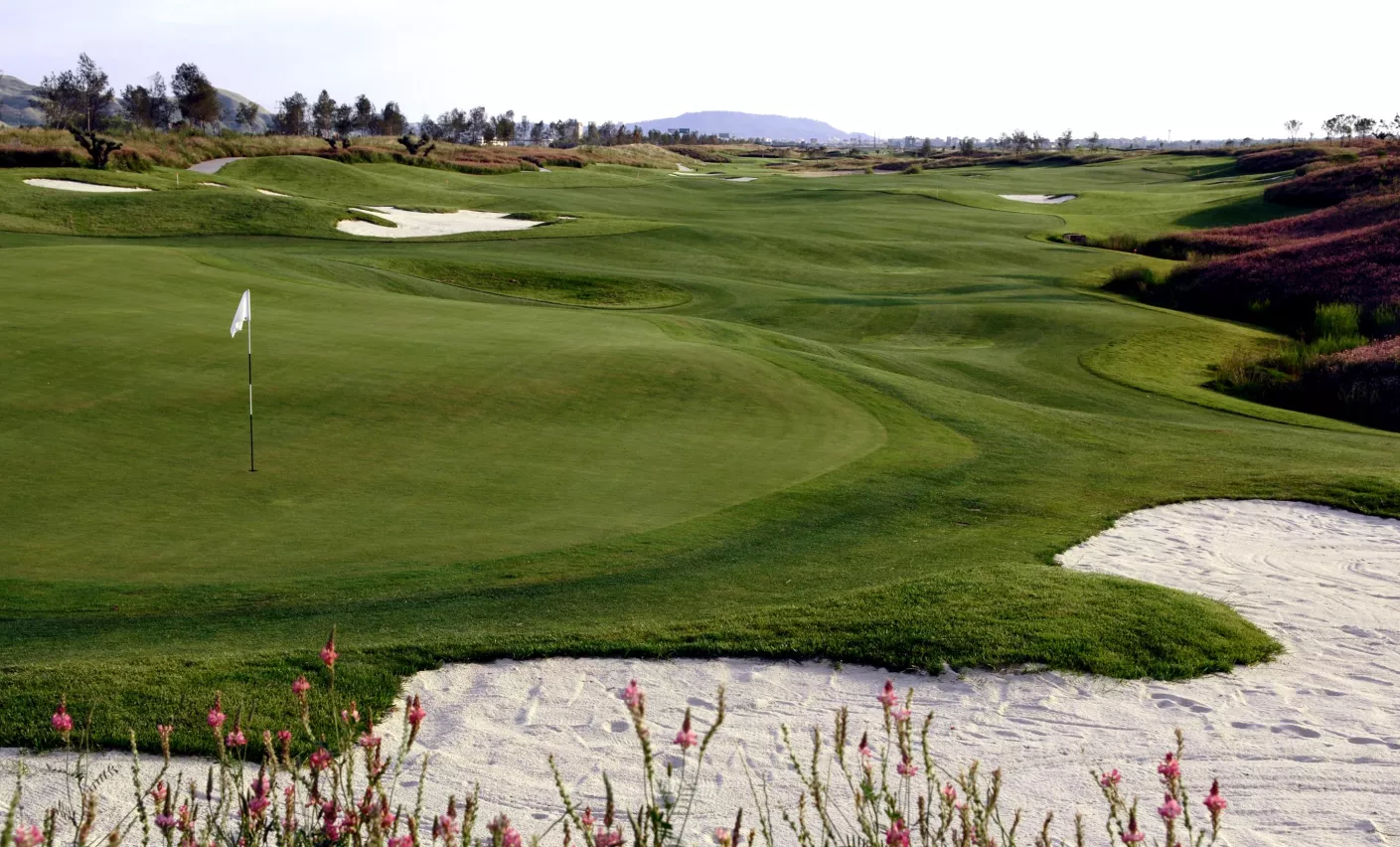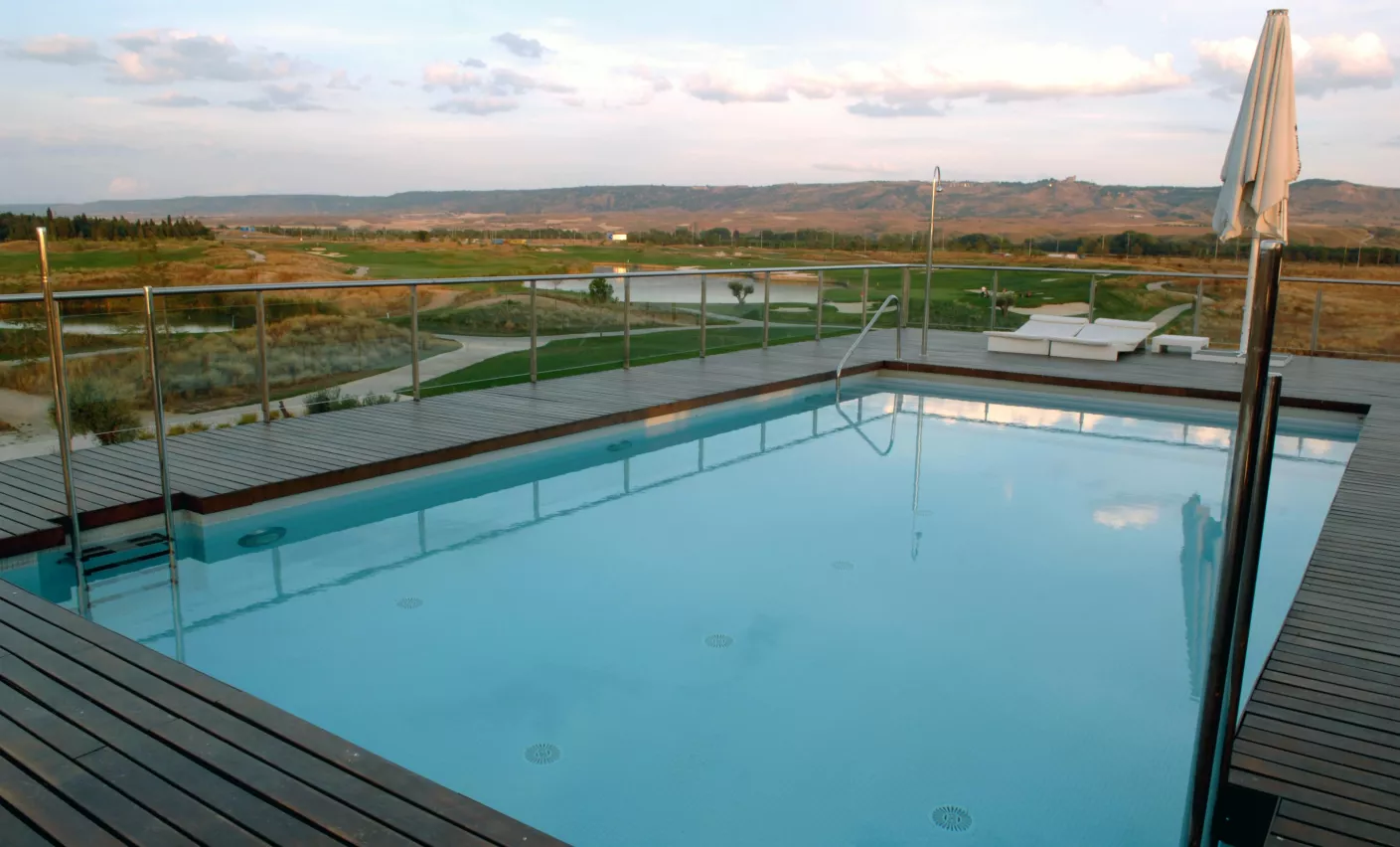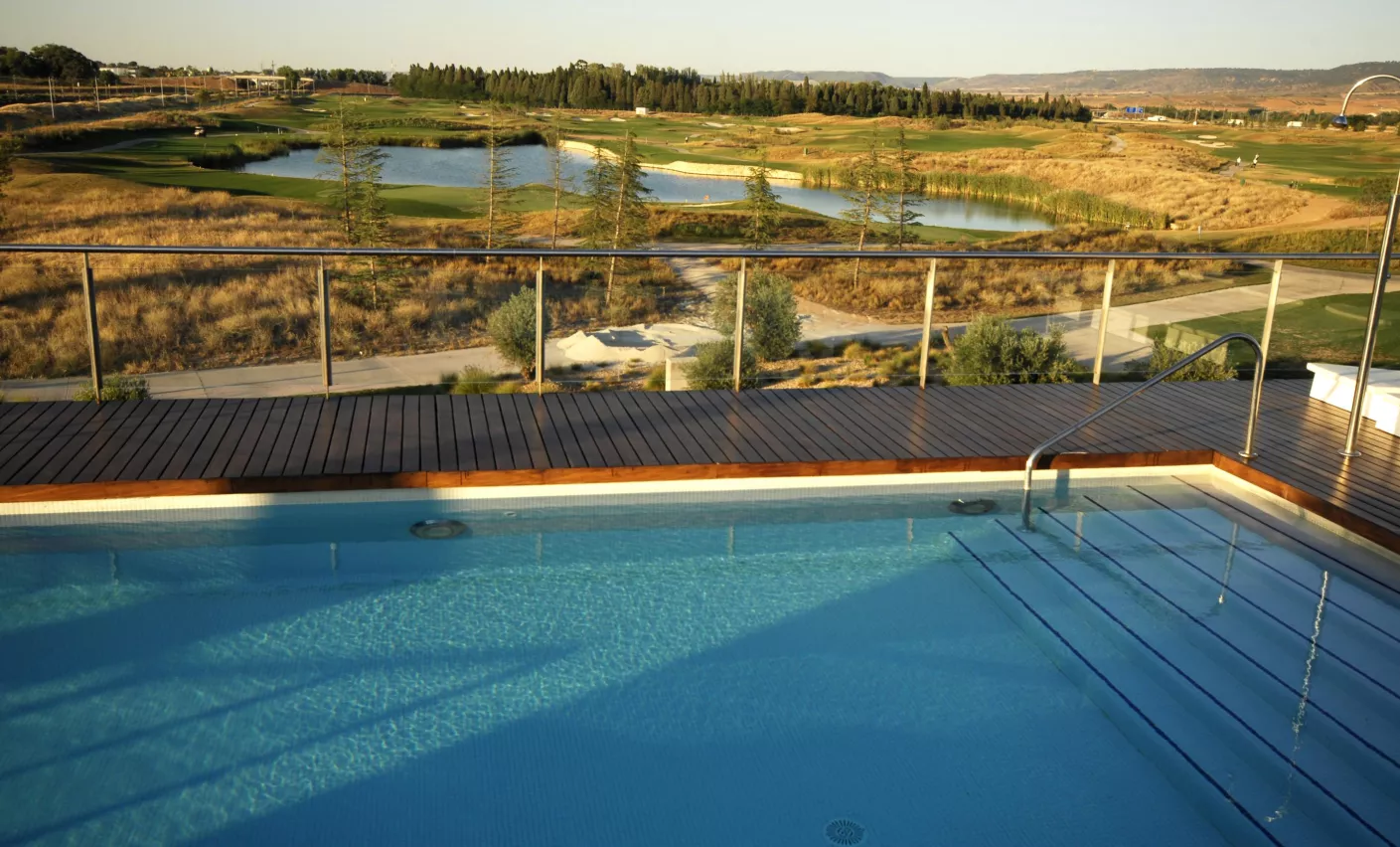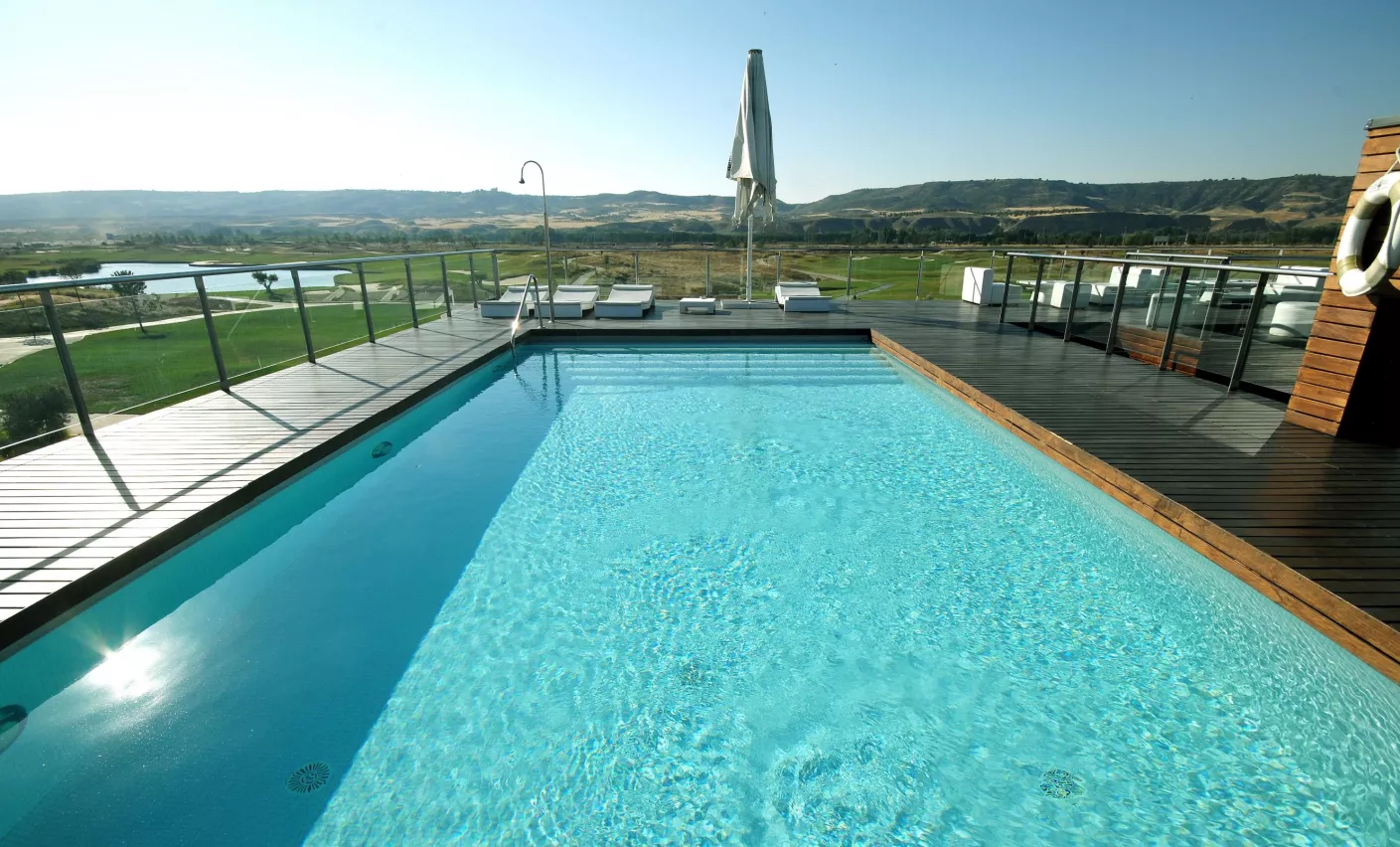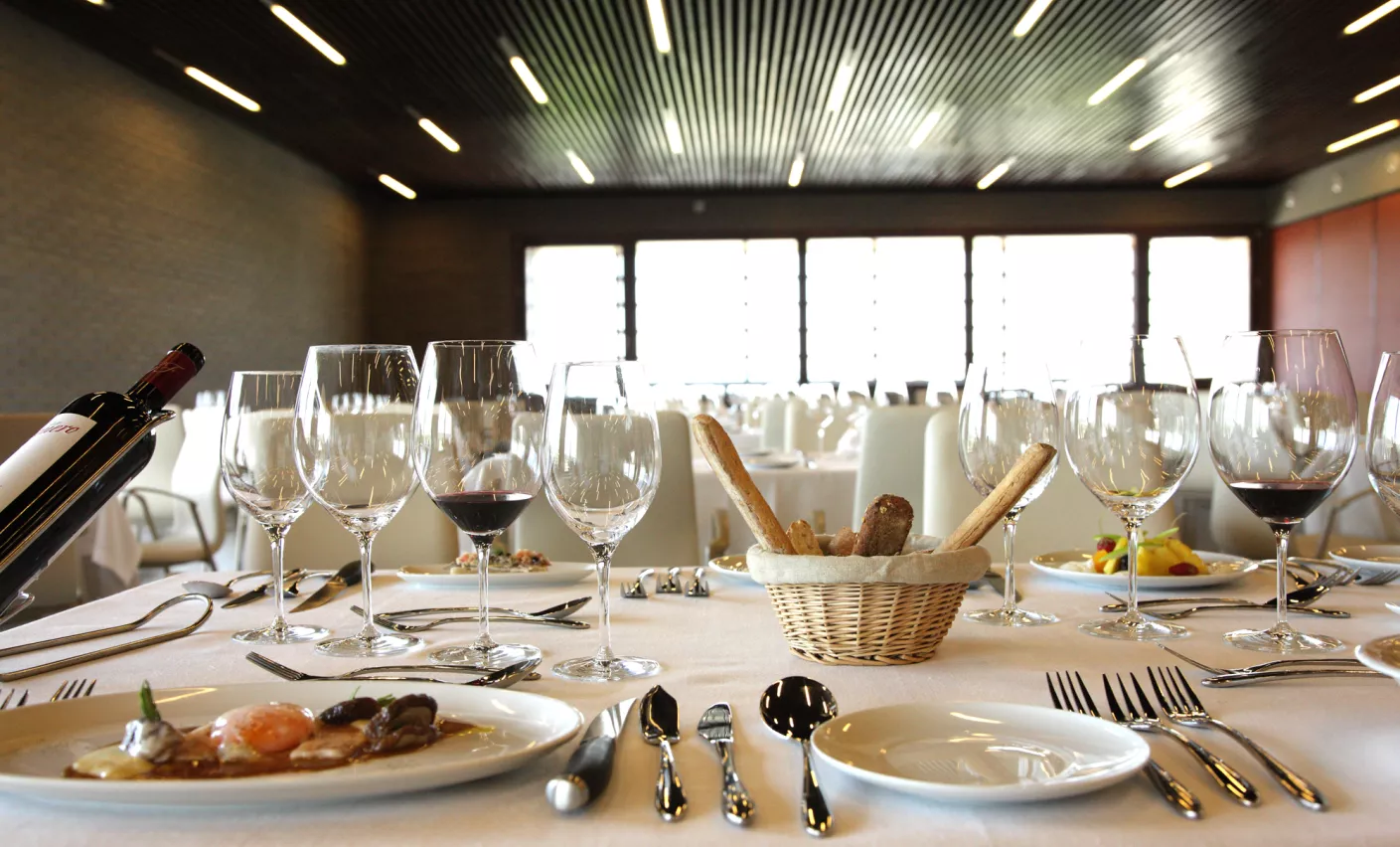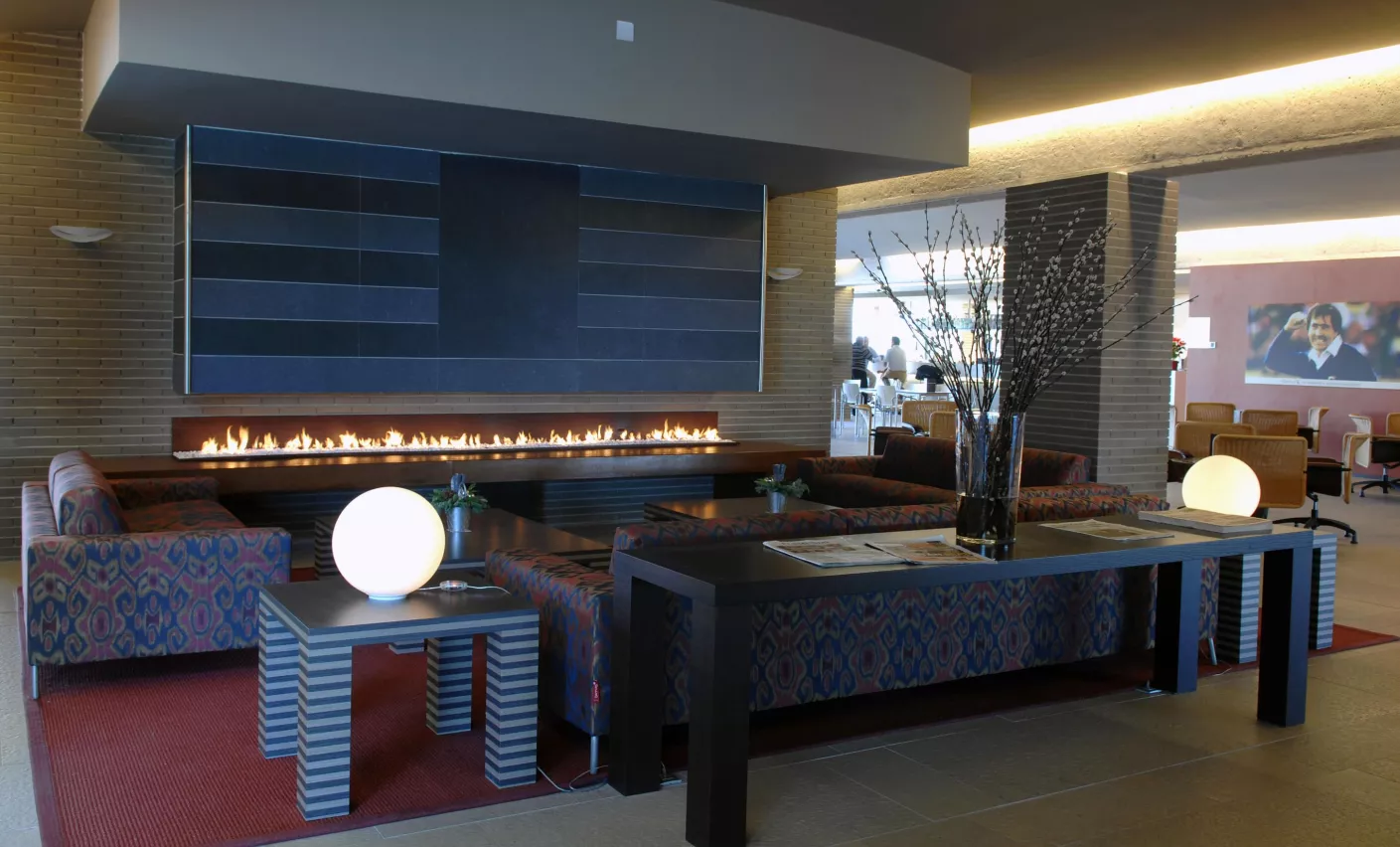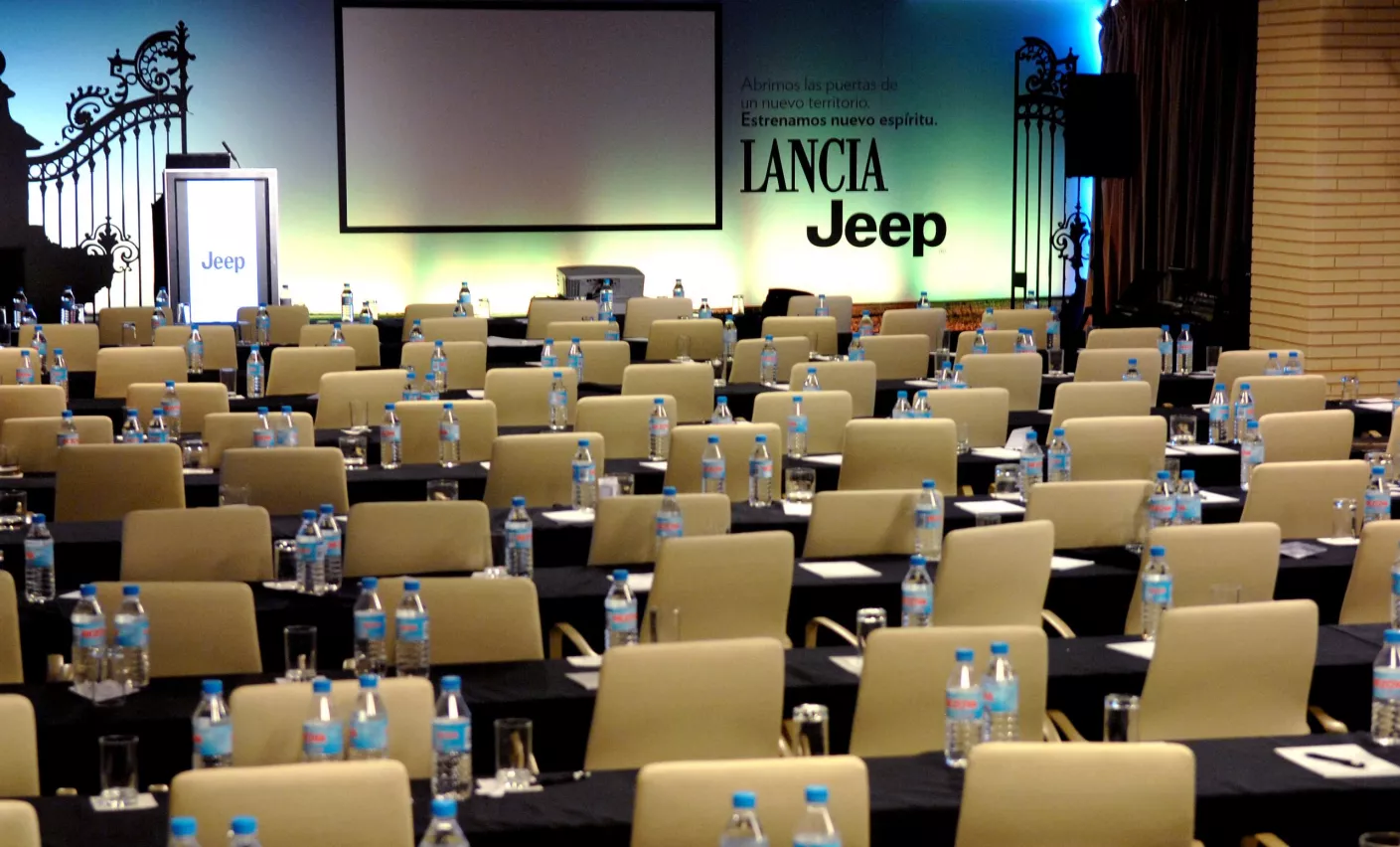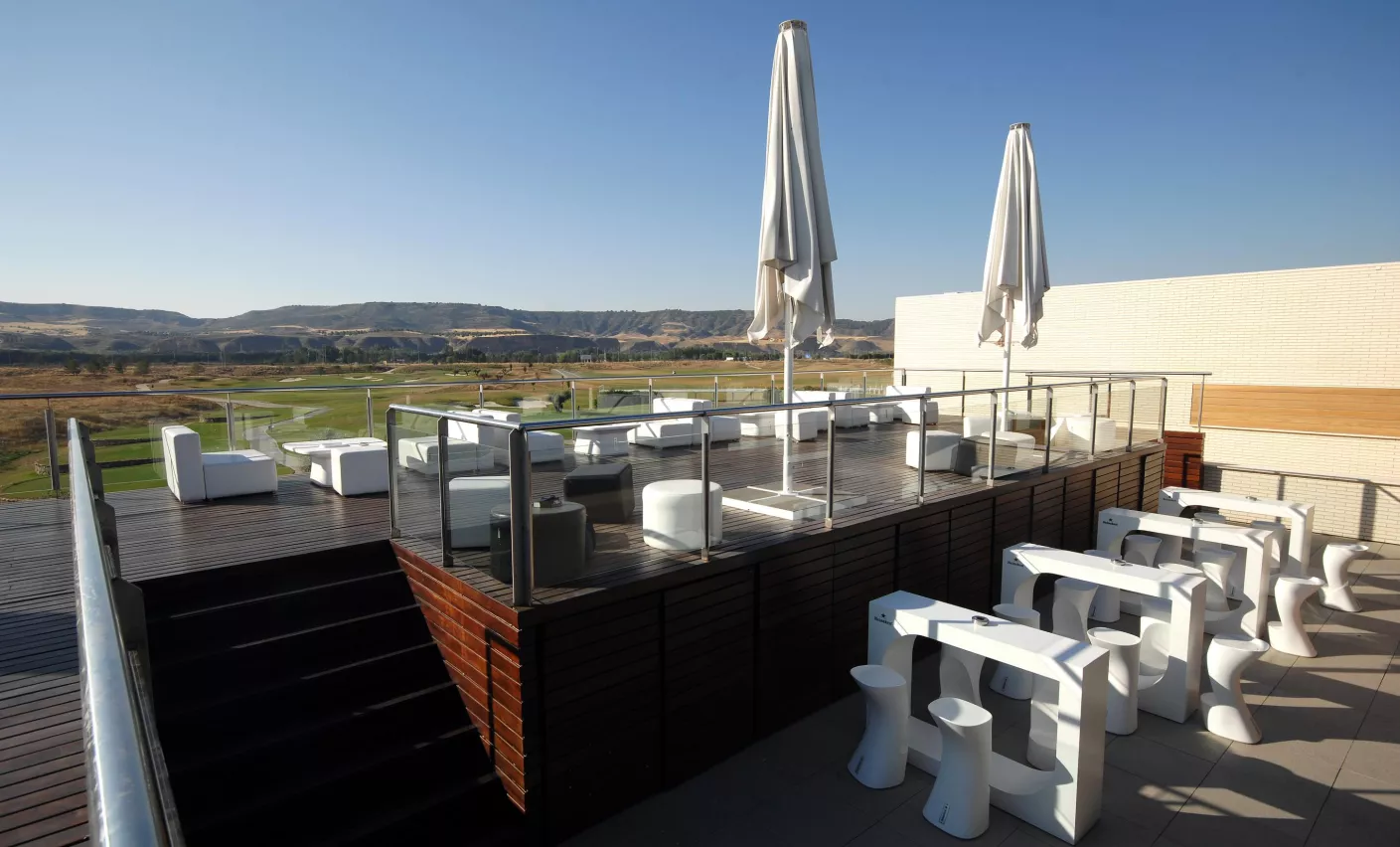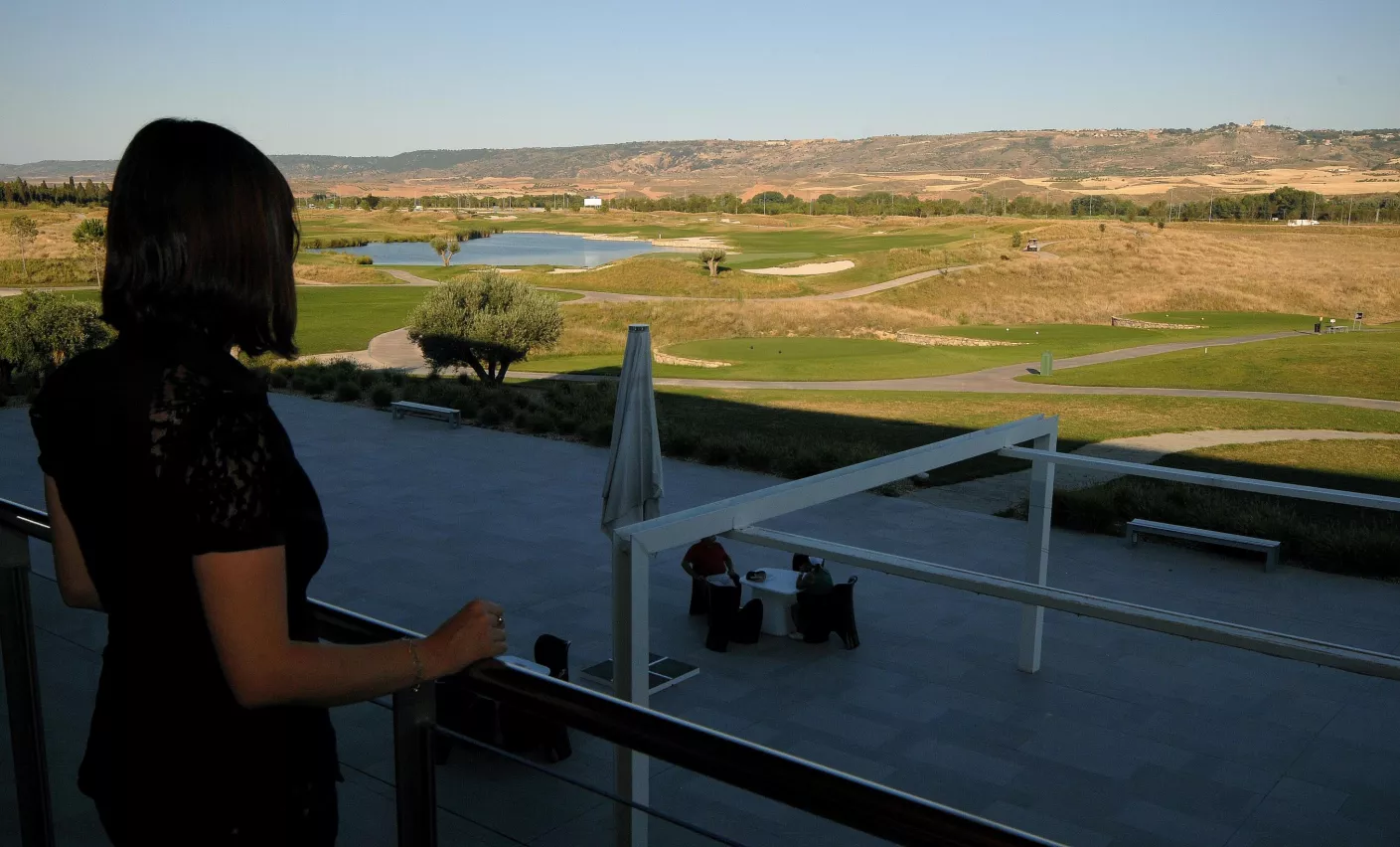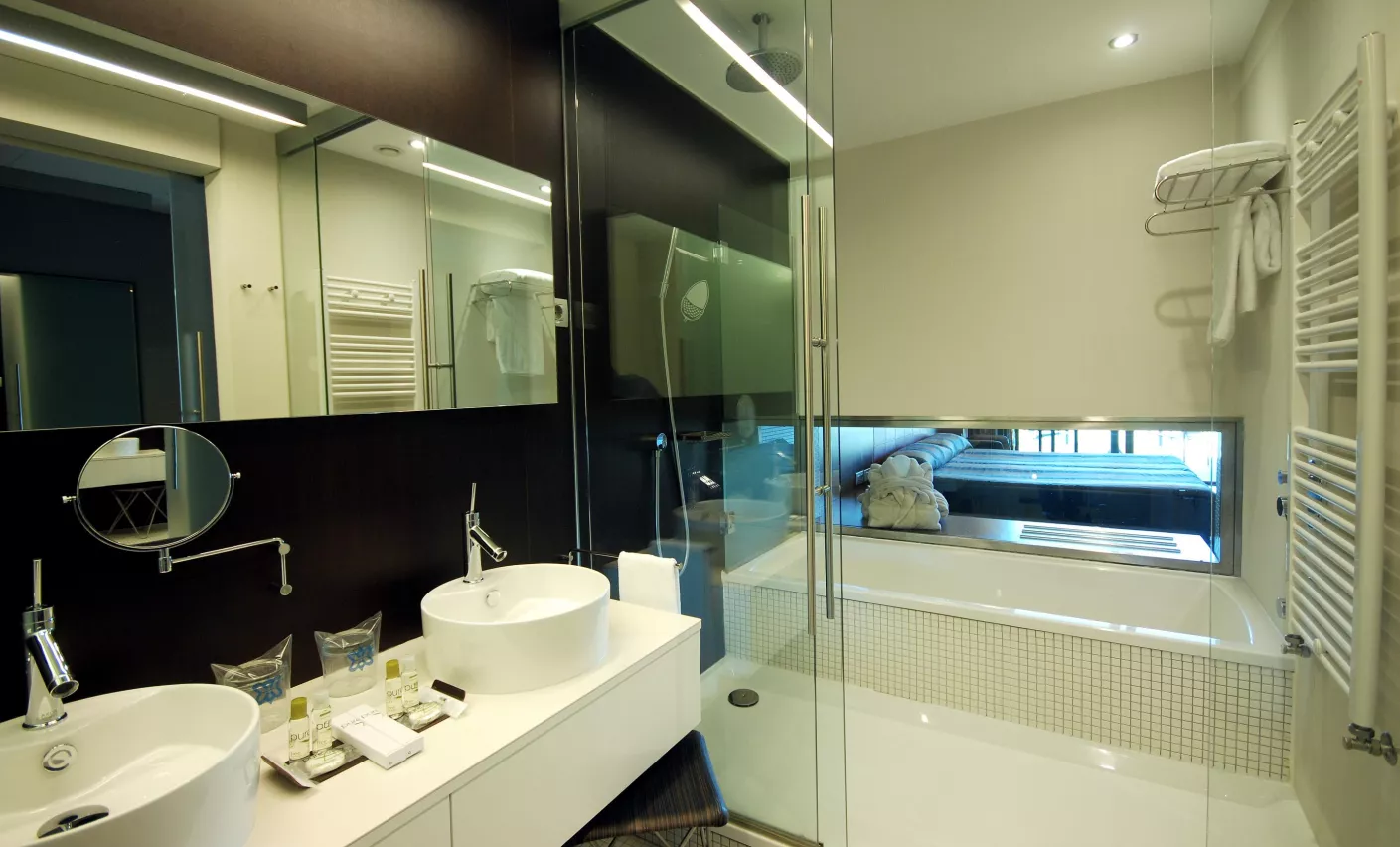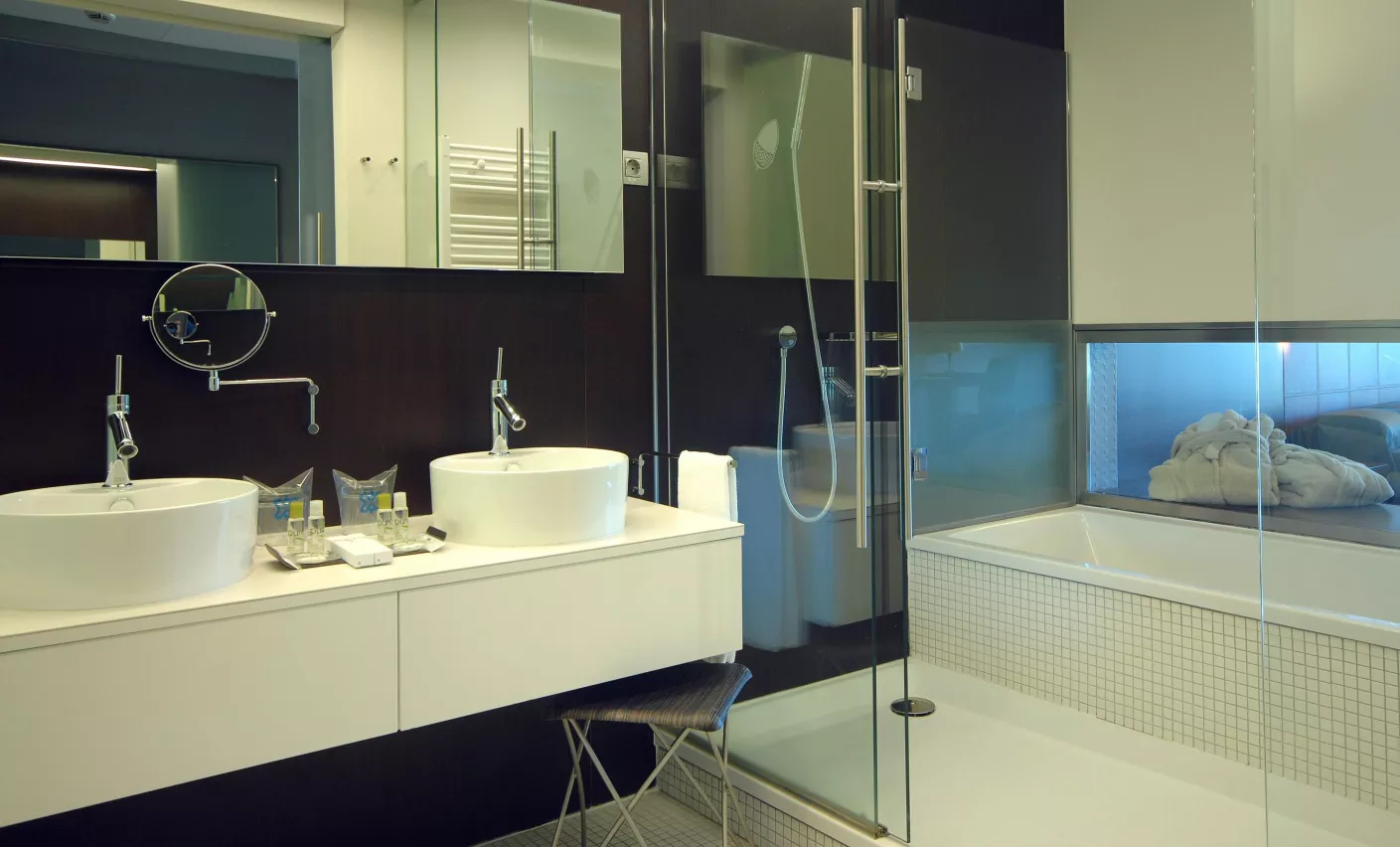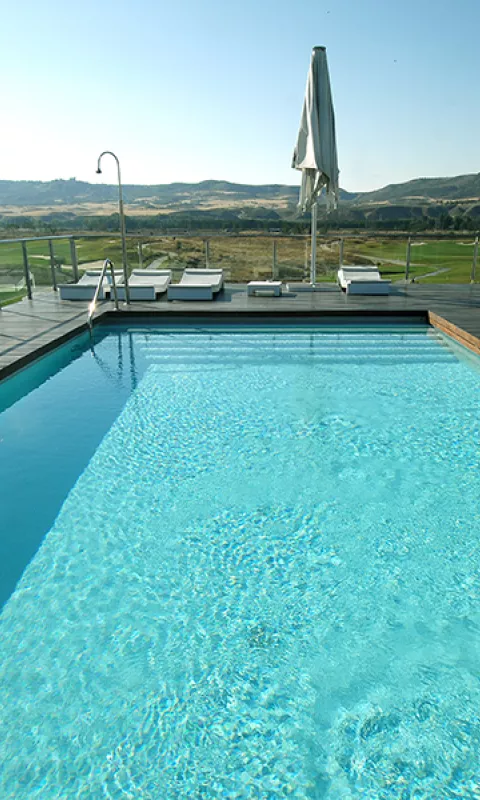 Outdoor pool
Enjoy our pool with solarium.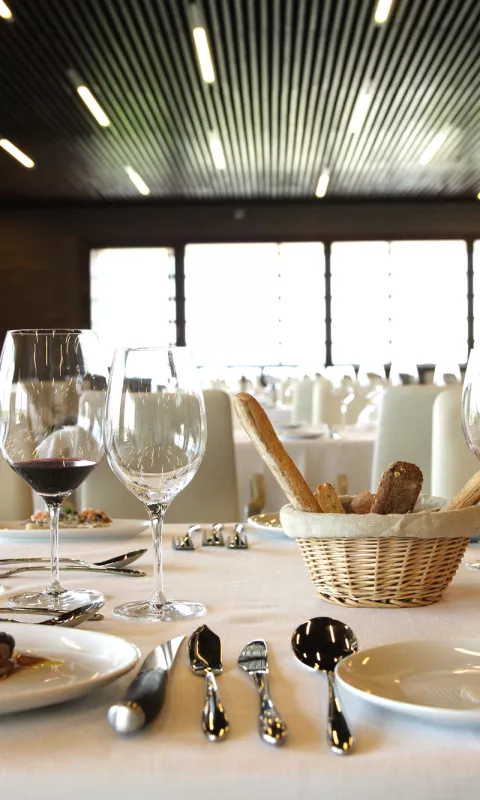 Restaurant
Enjoy our gastronomic offer at the Encin Golf Restaurant.
Key features
As well as enjoying the Sercotel Encin Golf golf courses, we offer you a wide range of services to make your stay unforgettable.
Meeting rooms
FACILITIES
Flexible spaces in the best locations.
PEOPLE
Tailor each space to the needs of your event.
SQUARE METRES
Rooms for holding your social event, convention or meeting in.
Frequently Asked Questions
What are the check-in and check-out times at Sercotel Encin Golf?
You can check-in from 14:00 and you must check-out by 12:00.
Does Sercotel Encin Golf provide parking facilities?
Yes, the hotel has outdoor parking at no extra cost. You can only reserve a parking space when you arrive at the hotel, with the reception team. We also have a covered garage that costs €12 per day.
Does Sercotel Encin Golf provide Wi-Fi? Is it free of charge?
Yes, there's free Wi-Fi access throughout the hotel. Log on and browse. 
Does Sercotel Encin Golf provide cots for babies?
Of course. If you need a cot, just ask for one when you make your booking or ask the reception team. The cots entail no additional cost. 
Is there a cafeteria at Sercotel Encin Golf?
Yes, Sercotel Encin Golf has a cafeteria. It's open from 7:30 to 22:30, the kitchen will close at 22:00.
Is there a restaurant at Sercotel Encin Golf?
Yes, there's a restaurant at the hotel. It's open from 13:30 to 16:00.
What kind of breakfast is served at Sercotel Encin Golf?
We offer you buffet breakfast from 7.15 to 10.00 from Monday to Friday. From 7.30 to 11.00 weekends and holidays.
Does Sercotel Encin Golf provide Room Service?
Yes, Room Service is available.
Are there fridges and/or minibars in the rooms at Sercotel Encin Golf?
Yes, all the rooms have a minibar.
Is there a swimming pool at Sercotel Encin Golf?
Yes, the hotel has a swimming pool. It's open from 12:00 to 20:00. The pool will be available from June 15 to September 14.
Is there a fitness room at Sercotel Encin Golf?
Yes, there's a fitness room with sports equipment.
Does Sercotel Encin Golf provide a laundry service?
Yes, we provide a laundry service.
What accessibility measures does Sercotel Encin Golf take to assist people with reduced mobility?
We have rooms adapted to people with reduced mobility. The hotel's communal areas can also be accessed by people with reduced mobility.