Albacete, Spain
Sercotel Los Llanos
Search your hotel or destination
More than half a century looking after you
We have the experience and know-how of more than 50 years of history. The Sercotel Los Llanos opened its doors for the first time on 14th March 1969. Very close to the centre of Albacete and opposite the city's green lung, the Abelardo Sánchez Park.  
Since then, we have lived a lot and many guests have passed through our facilities. We have learned something from all of them. We have also been looking our best and we have not stopped renovating our 79 rooms and common areas. Yes, we want to continue to be your favourite accommodation in Albacete. 
You will be particularly struck by the large horizontal terraces of our hotel Los Llanos and how the natural light floods in from all sides. In the rooms, yes, but also in our lounges designed to host personal celebrations and corporate events.  
Because we know that we are a perfect choice for any kind of trip. If you're here on business, you'll always be connected thanks to our free Wi-Fi and no meeting will be impossible if you prepare for it in our quiet Business Centre. Furthermore, we are only one kilometre away from the city's trade fair area and all the events that take place there. 
The location of our Sercotel Los Llanos hotel is also a plus if the reason for your trip is tourism. We are very centrally located, in one of the main arteries of the city, just a short walk from places like the Cathedral and the City Hall. Very well positioned if you are thinking of visiting us to experience our famous Albacete Fair.  
Whatever the reason for your trip, keep in mind that you can always spend some time pampering yourself and burning off some energy at our partner gym next to our four-star hotel. If you like to start your day with movement.  
If, on the other hand, you are one of those who needs a coffee to feel human, we have good news for you. Two words: breakfast buffet. We don't just take care of it, we take it to another level. That's why you'll find everything you need to be happy first thing in the morning. Oh, and we have also thought of those travellers who have to leave before the sun has even started to rise. Our "early bird coffee" will help you to face the road with a new body.  
At Los Llanos Hotel we are attentive to the gastronomic note. Just take a look at the menu of our restaurant Martina for proof. Here you will find dishes based on regional La Mancha cuisine with nods to international trends. You can try it in our indoor lounge, but also through room service or on our splendid outdoor terrace, in the heart of Avenida de España.  
On the other side, the Abelardo Sánchez Park awaits you. You'll be glad to know that you have all that green space to walk in, especially if your dog is accompanying you on your journey. Because yes, at the Sercotel Los Llanos we will be delighted to welcome him too. Let us know and we'll have it all ready.
Find your room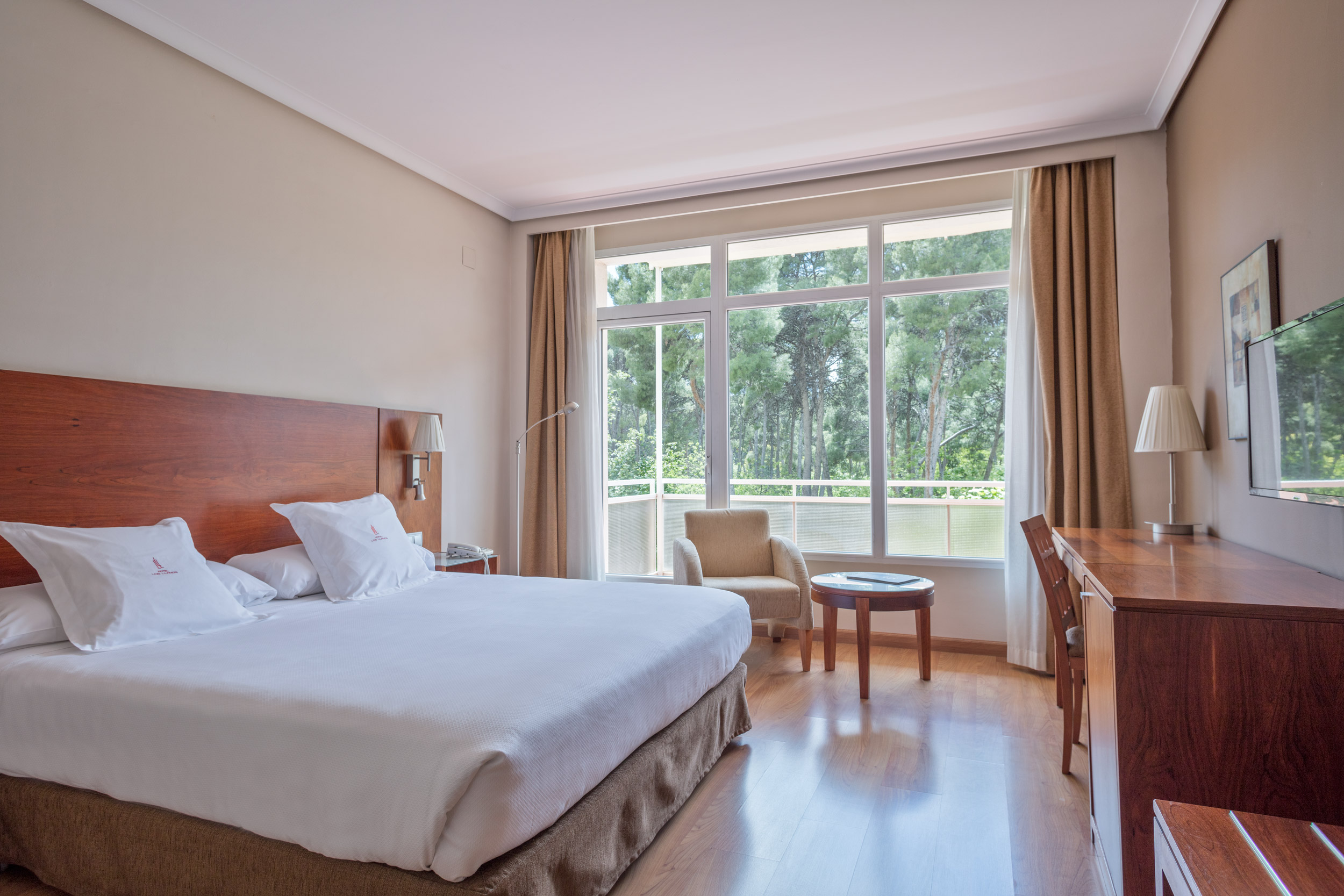 Classic Room
Can you imagine lying on a queen size bed and forgetting about the world until the next day? This is what happens when you stay in our Double Standard rooms, where mornings start on the outdoor terrace overlooking the leafy Abelardo Sánchez Park.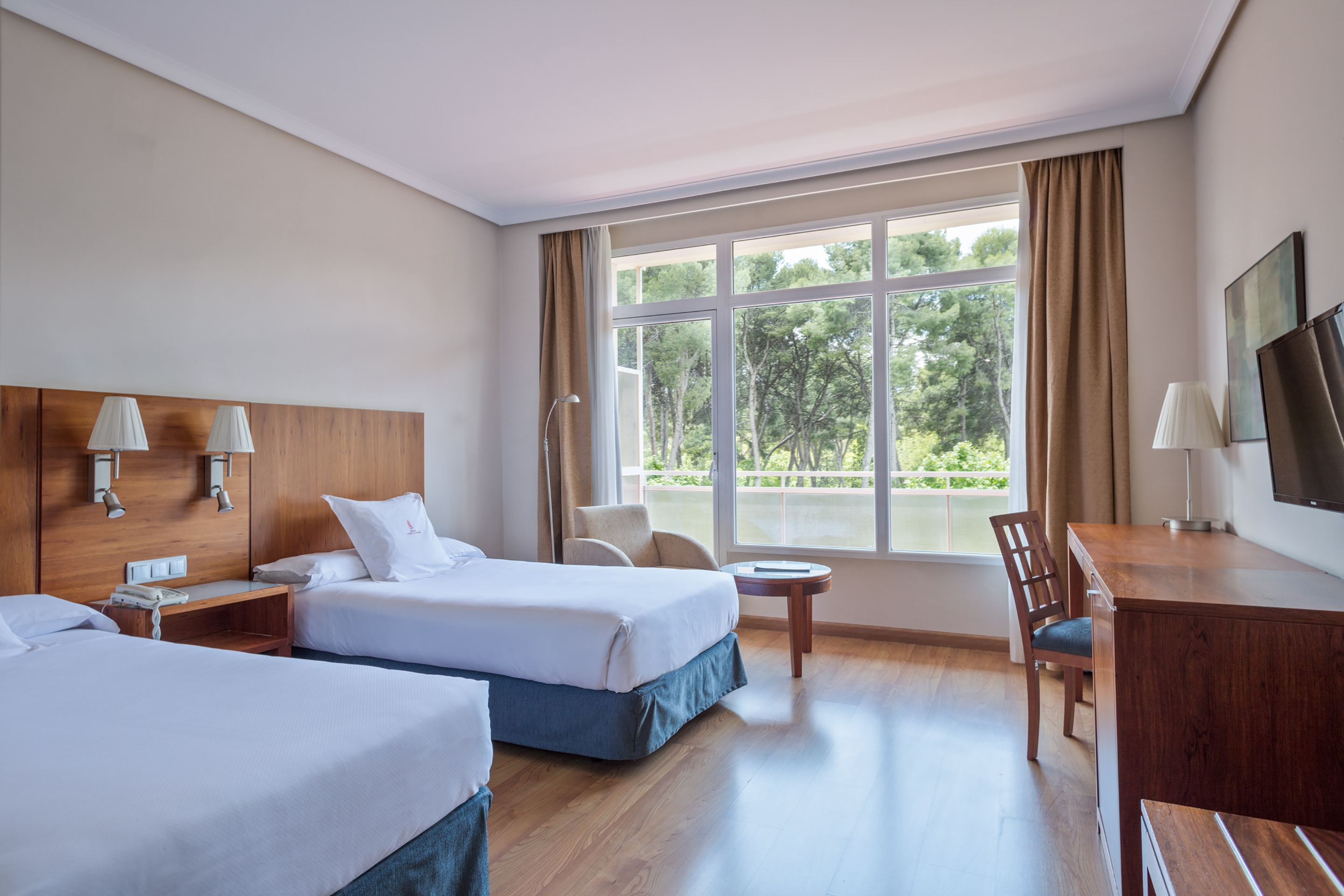 Classic Room
Moving at your leisure becomes a reality in the Twin Standard rooms of our Sercotel Los Llanos Albacete. They are spacious, with plenty of natural light and with two 1.05 m single beds designed for your rest.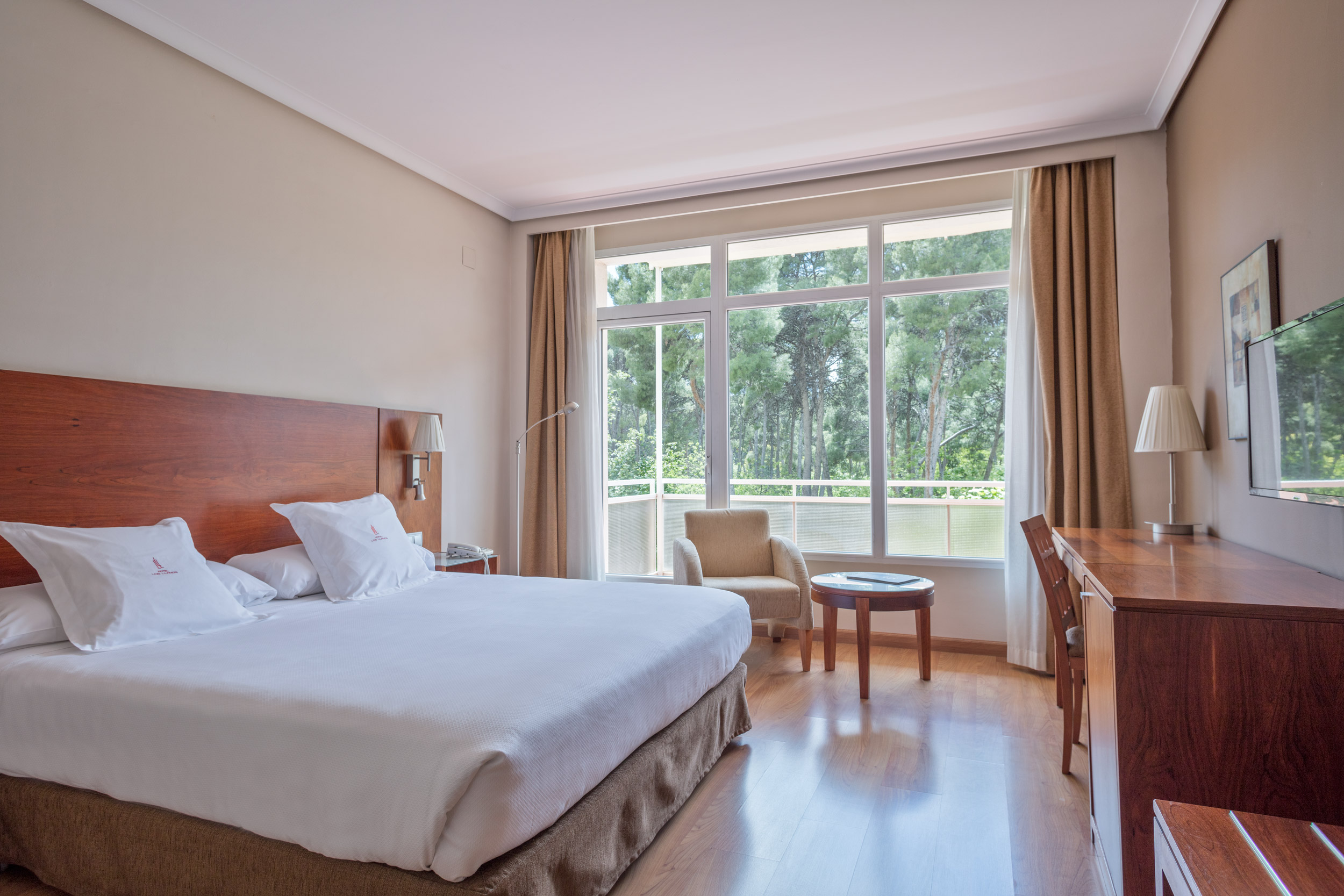 Classic Single Room
The comfort and spaciousness of our double rooms, but for individual use. For you alone, travelling for work or pleasure, you will find in this type of accommodation space, natural light and a large bed in which to rest peacefully.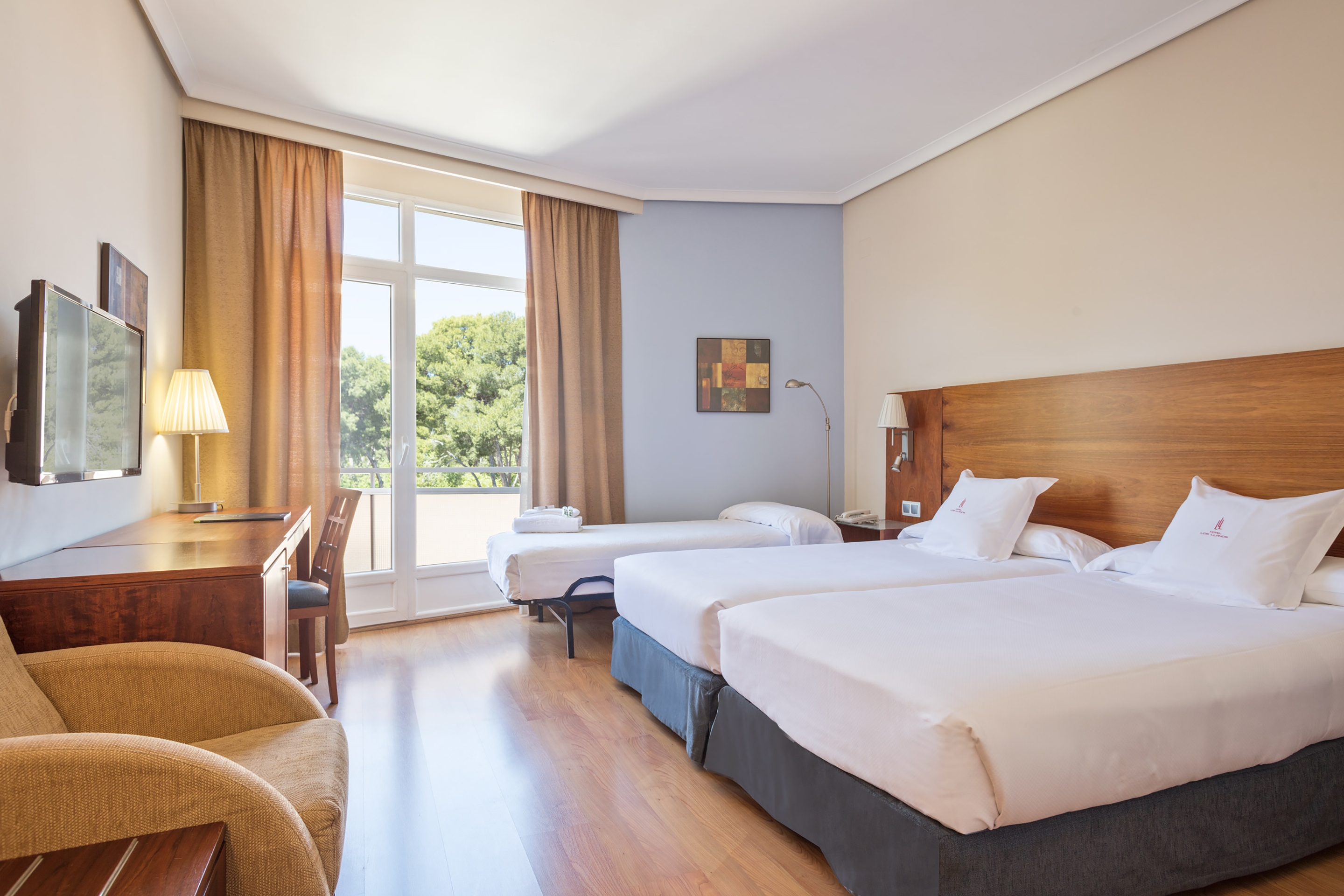 Family Room
These rooms are perfect for family trips or a group of three. Spacious, with two 1.05 metre single beds, a third extra bed can be added. The ideal refuge to look back on the day and prepare for tomorrow's adventures.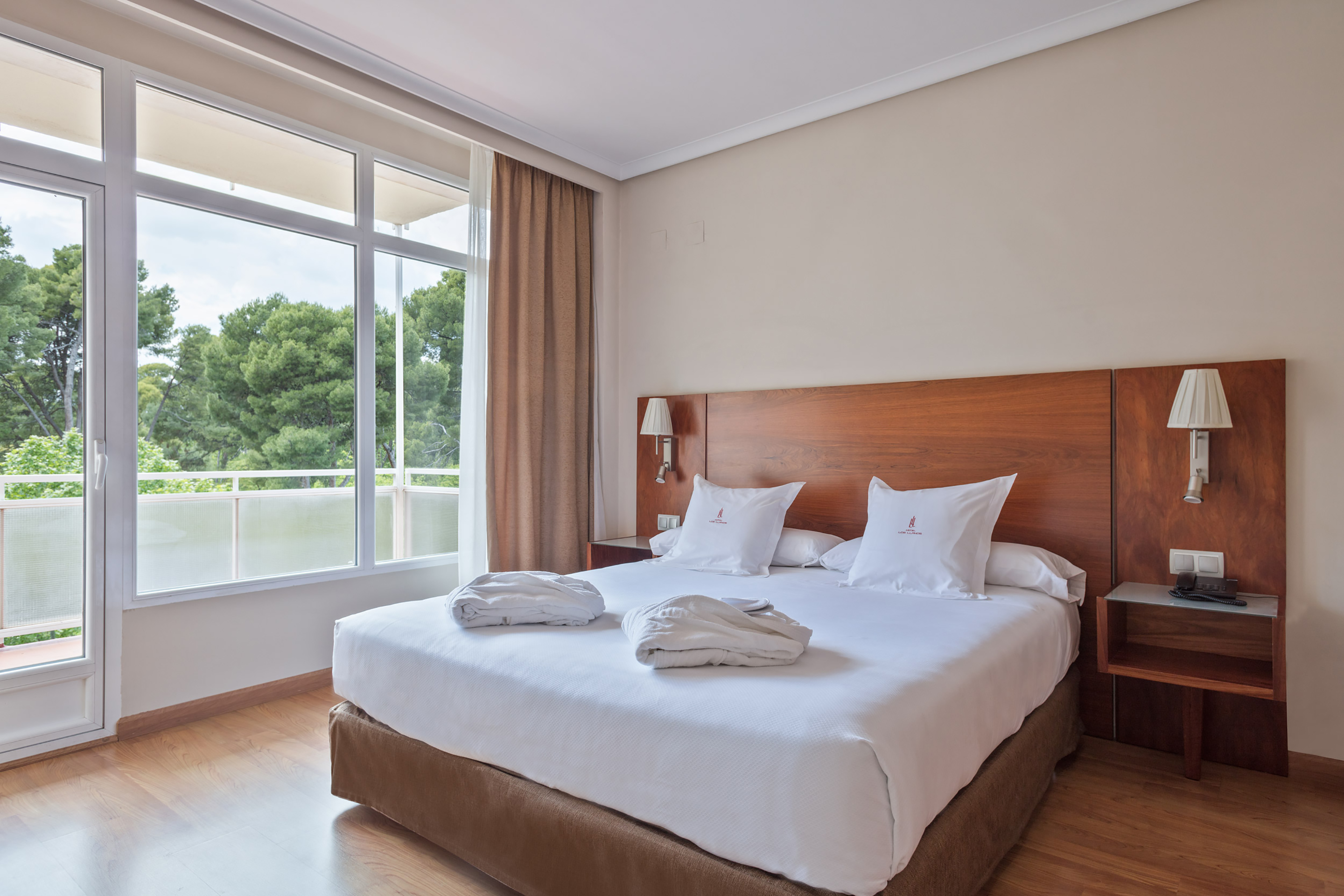 Junior Suite
The ideal room for those looking for extra exclusivity. Incredibly comfortable beds, a lounge and a huge terrace. Don't believe us? 37.7 m2 just for you. Come in, put on your slippers and bathrobe, and make yourself at home.
Martinas Restaurant
Succulent delicacies in our restaurant
Key features
The Sercotel Los Llanos has spacious lounges fully equipped with free Wi-Fi Internet, all of them exterior and with lots of light. It also has the Martina restaurant where you can enjoy La Mancha cuisine at our hotel in Albacete.
Meeting rooms
FACILITIES
Flexible spaces in the best locations.
PEOPLE
Tailor each space to the needs of your event.
SQUARE METRES
Rooms for holding your social event, convention or meeting in.
Milestones, achievements and projects
In a place in your life
Castile-La Mancha
Province of Castile-La Mancha
No smoking