Córdoba, Spain
Sercotel Córdoba Medina Azahara
Search your hotel or destination
Probably the best views of the city
You may think we're exaggerating, but we know that once you climb up to our swimming pool on the seventh floor and admire how the sun reflects on the rooftops stretching out before you, you'll agree with us and declare that the Sercotel Córdoba Medina Azahara offers the best views of the city.  
As well as the best pool that a hotel in Córdoba can provide. In summer, when the heat gets unbearable, you won't want to get out of the water. The only reason you'll find for doing so is the promise of a session turning over and over on one of our sun loungers. Without any hurry, in the knowledge that life goes on while you treat yourself to the noble art of dolce far niente.  
We like it that way, that you embrace not having to worry as a way of life as you walk through the doors of the Córdoba Medina Azahara Hotel. If you don't let yourself go in default mode, you'll easily start doing so in your daily life as soon as you see that we have everything under control. At any time. 
At the reception desk you'll always find someone to welcome you, take care of the check-in formalities, show you to your room and explain everything you want to know. Ah, and ask us for the Wi-Fi password. It's free of charge throughout the hotel. 
We're here to adapt to whatever you may need. On the fly. However, if you're planning to travel with your pet, let us know before you come to enable us to get everything ready.  
At the Sercotel Córdoba Medina Azahara we don't want anyone to stay at home, so your dog or cat can share your room with you. Don't worry, all the rooms are spacious, with natural light and comfortable beds, and some of them have private terraces.  
No, we don't want anyone to stay at home, but we do want you to feel at home when you stay with us. Which is why we deploy a wide range of services designed to take care of you.  
An example? The sweet and savoury delights that make up our varied and delicious breakfast buffet. It's copious and as plentiful as you'd like it to be. Start with some fresh fruit, continue with a piece of toast accompanied by our assortment of cold meats and cheeses and end with some pastries. Water it all down, of course, with our freshly-made coffee. 
Afterwards, or beforehand, you can visit our fitness room and do a bit of cardio accompanied by some strength training. We have machines for the two exercises.  
As we were saying, we take care of everything. If you're here for work, too. In fact, we have two conference rooms in which you can organise all kinds of events. From small meetings and interviews to press conferences, presentations and talks. You ask and we'll proceed.  
All in a magnificent location. Because the Hotel Córdoba Medina Azahara is only a 15-minute walk from the renowned Mosque and just 500 metres from the city's high-speed train and bus stations.
Find your room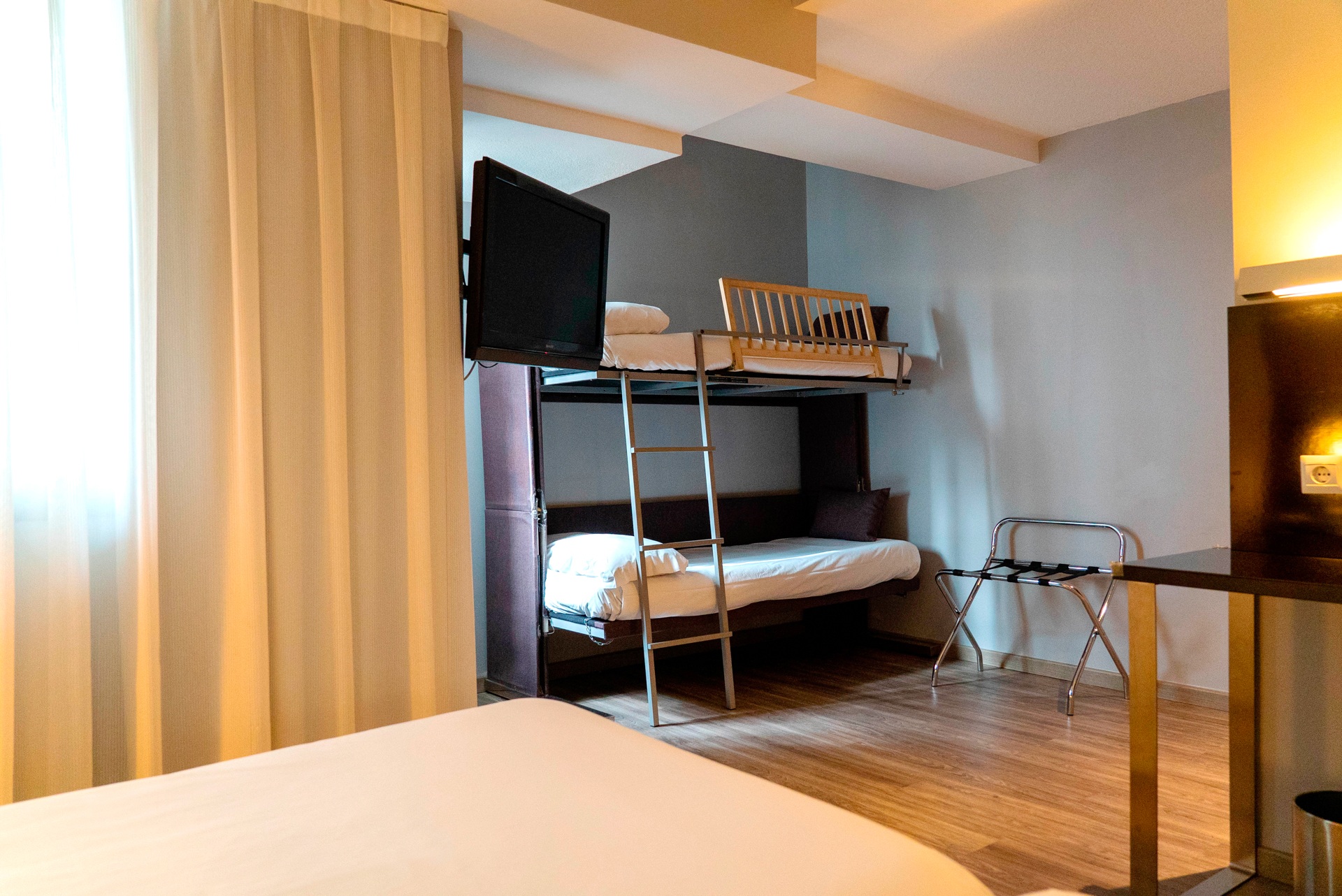 Family Room
At the Hotel Córdoba Medina Azahara we have the accommodation you need for your next trip with the whole family. In our family rooms you'll find three single beds, as well as ample space for you to move around in comfort in and plenty of natural light.
Complies with Local/State/Federal fire laws