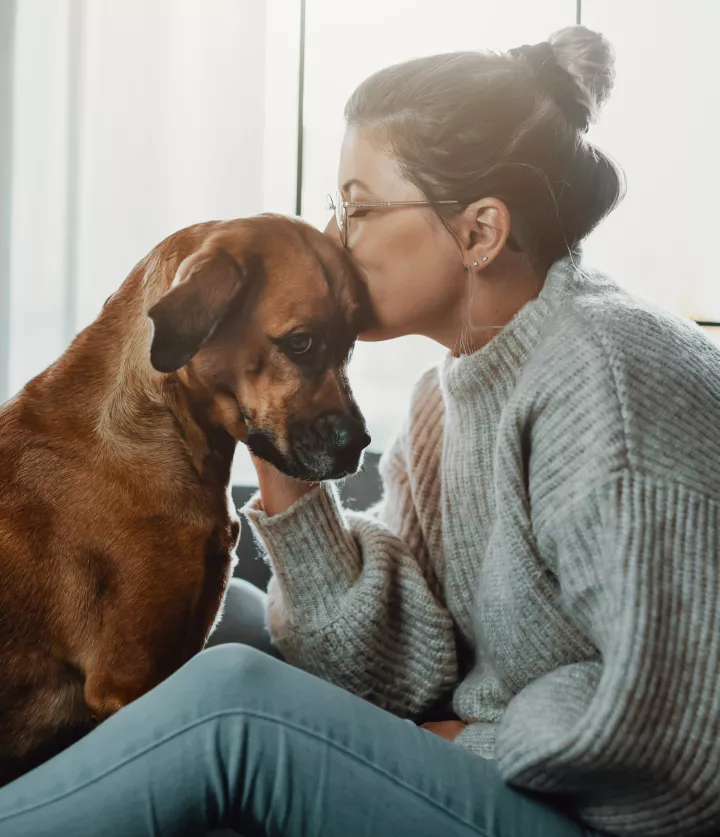 My pet
Search your hotel or destination
Pet-friendly hotels
We want you to travel (and get away from your routine) with your pet. At Sercotel we know that your furry friend forms part of the family, which is why we want you to enjoy your trips with it in comfort without having to worry. A large number of our hotels accept dogs and cats to make sure that your faithful friends don't miss you when you travel.
We've designed a pet-friendly experience from start to finish for you and your furry companion. As soon as you arrive at the hotel we'll welcome it with a gift in the form of a delicious snack. As it savours it, you'll begin to realise that you've chosen the best possible place to stay with it. But there's more. Your pet, whether it be a dog or a cat, will enjoy a comfortable bed and drinking and feeding bowls.
Sercotel pet kit
Discover the amazing pet kit available at all our pet-friendly hotels. Because your furry friend also deserves a good rest when it's away from home.  
The pack includes a bed designed with the very best pet-friendly materials. Certified by PETA VEGAN, it's made of wood from sustainable forests that's totally free of toxins and harmful substances. Its rectangular shape will allow your four-legged companion to stretch out at ease while it rests, providing it with the utmost comfort.  
You won't have to worry about cleanliness. The bed's fabric is water-repellent, washable and removable to guarantee that the bed will always be spotless and ready to welcome your pet. It also features antibacterial water-based finishes that make it fully resistant to bacteria and viruses, thus ensuring a hygienic and healthy environment for your four-legged companion. 
And that's not all. In the room, it will also be able to eat and drink from a removable stainless steel bowl.  
Include the pet kit when you make your booking. If you've already booked, you can add it by contacting the hotel or our customer service team before your arrival. Only a limited number of units are available. 
At Sercotel we know how important your pet is to you, which is why we've created this kit with its comfort and well-being in mind.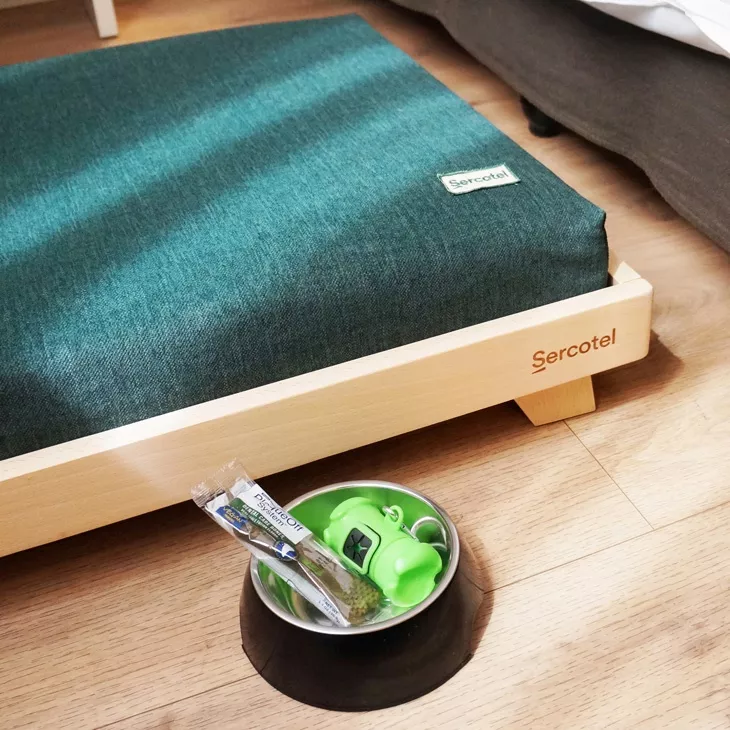 Let no-one be left at home!
At Sercotel we have made it easy for you to find pet-friendly hotels for your next trip. Use our filters to choose accommodation so that your only concern is to enjoy your getaway.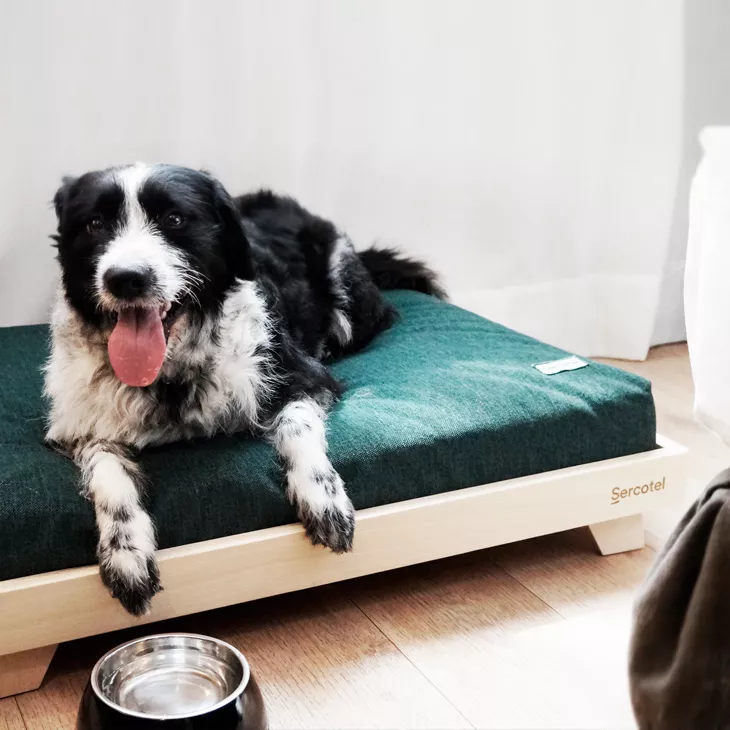 What you should bear in mind when you stay with your pet: pet friendly regulations
Pets are welcome
You can currently stay at some of our hotels accompanied only by your dog or cat. We don't accept any other kinds of pets. The Pet Friendly service has an additional cost per night that varies according to the Pet Friendly supplement of each hotel.
One pet
You can only have one pet in your room, and it isn't possible to book a room exclusively for your four-legged companion.
Weight
Each hotel can accommodate pets up to a maximum weight, in keeping with its options and capacity.
Pet kit
We'll provide you with a pet amenities kit (bed, snack and drinking bowl), which is subject to availability at the time of your arrival. Lack of availability does not entail the right to submit a claim.
Cleanliness of the room
Please inform reception that your pet isn't in the room so that the room cleaning service can be provided.
Look after it
We know you will, but we remind you that, as a pet owner, you are obliged to ensure that the conditions for it are duly maintained in terms of hygiene and sanitation.
Access is forbidden to
Communal areas set aside for additional services such as restaurants and the breakfast room, swimming pool, spa, fitness room, etc., with the exception of cafeterias that are located in a separate area.  Guide dogs are exempt from this condition, in accordance with RD 3250/1983.
Enjoy the fresh air
Your most loyal companion is welcome on our terraces and in the outdoor areas.
Hygiene
The bathrooms and showers in the rooms are for the exclusive use of people. If you need to, ask at reception where you can find a nearby canine hairdressing salon to wash your pet.
With its legs on the floor
Your pet must not climb on the beds or sofas or use the hotel towels.
Always accompanied
The pet must walk around the hotel's communal areas on a leash and, if necessary, with a muzzle, and you must always accompany it. Your pet shouldn't be left alone in the room at any time.  We'll thus prevent any potential inconvenience or nuisance for the other guests due to barking or whining, as well as damage to the furniture in the room. The pet may remain in the room unaccompanied only in the event that you've booked an additional service (breakfast, spa, etc.), and only for the time required to enjoy the service that you've hired. On these occasions hang the "Do not disturb" sign that you'll find in your room on the door.
It will feel comfortable, but ...
Bear in mind that your pet won't identify the hotel facilities as its home, so we ask you to make sure that it doesn't relieve itself inside the hotel or mark its territory. It will be allowed to walk around the hotel, but you'll have to pick up its droppings.
The hotel reserves the right:
- To ask for a deposit during the check-in process to cover any damage that the pet may cause.
- Not to admit dogs that may cause a nuisance to other customers or behave inappropriately. If necessary, the guest and pet may be asked to leave the premises.
- The guest is responsible at all times for its pet and its behaviour, as well as for any damage it may cause during its stay, either to third parties or to the hotel facilities. If such a situation occurs, the appropriate legal measures will be taken to repair the damage caused.
We thank you for complying with these rules and we'll do our best to ensure that you and your furry companion enjoy your experience at the hotel.  Enjoy your stay!
Your pet can travel with you
Our pet-friendly hotels provide comfort, not only for your furry friend but also, of course, for you. You'll enjoy a comfortable room with a wide array of services to make your stay as pleasant as possible. Your pet will feel at home and you'll be able to relax. Don't stop exploring new cities with your pet. In destinations such as Madrid, Barcelona, Toledo, Murcia and many others you'll find at least one Sercotel that accepts pets. Our dog and cat-friendly hotels are ideally located, close to some of the city's main tourist attractions and large open-air spaces. So, whether you feel like a walk with your dog or just a day outside with your cat, you'll be spoilt for choice.
Ask our team for useful tips on places to visit and where to find the best dog-friendly areas in the city. Whether you need a proposal for a stroll, a suggestion for a pet-friendly restaurant or just a little extra attention for your furry friend. They'll be glad to help you.
To ensure that you enjoy your stay with your pet at one of our hotels, it's important to bear in mind some simple obligations that will guarantee everyone's well-being. For example, the use of a lead will help to keep your pet constantly safe and under control. Besides, we don't want your furry friend to feel lonely in a room, so please don't leave it alone at the hotel. Finally, picking up your pet's droppings is essential if we're to keep our hotel clean and welcoming for everyone.
Pets are welcome at Sercotel hotels. Go and get your suitcase and carrier and come and see for yourself.