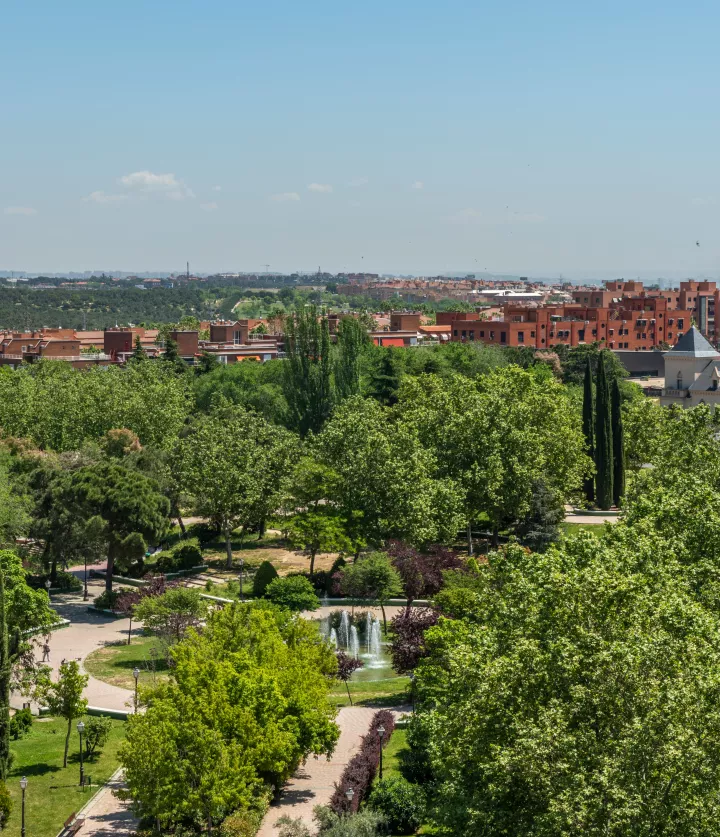 Hotels in Alcorcón
Search your hotel or destination
Alcorcón, the city of two castles
You'll come to Alcorcón about 15 kilometres from La Puerta del Sol. You can't miss it. Just leave the centre of Madrid behind you as you drive along the A-5 and you'll reach this city in the south of the region. Don't be fooled by its appearance, this is much more than a dormitory town. It has a life of its own. And what a life! 
Located beside the Autovía del Suroeste highway and the M-50 and just a few minutes from the M-40, its road connections will make it easy for you to get around. Public transport will help you too and, if you so wish, thanks to the different underground and commuter railway stations dotted around the city, you'll be able to forget about your car by parking it in the private facilities of our hotel in Alcorcón (Madrid).  
Just in case you're interested in going somewhere else, which we doubt you'll want to do once you start to get a feeling of what Alcorcón has to offer in its streets.  
To begin with, the main street of the old quarter that you can stroll leisurely along. A cornet of chestnuts in hand during the winter and including stops along the way to perform the noble art of the aperitif in its pavement cafés on days with fine weather.  
Make sure you visit the church of Santa María la Blanca. Staid, robust and stately, its walls have borne witness to the changes in Alcorcón since the 16th century, when its construction began.  
Something similar applies to the two castles of the Marquises of Valderas. Built in 1917, the larger of them is said to have been around for centuries and, if it were able to speak, it would tell you that the wonderful park you'll walk through when you visit them is a thing of recent times, as sheep used to graze there.  
Don't be taken in by the style of its neo-Gothic Saxon exterior, because in its interior it houses the creativity and genius of the Municipal Museum of Glass Art (MAVA).
Discover the MAVA by setting off from our hotel in Alcorcón
A ten-minute drive separates our hotel in Alcorcón from this original museum, where you can admire a collection made up of more than 100 works by 80 artists from all around the world. The guiding thread? Glass, of course.  
At the Municipal Museum of Glass Art everything focuses on this material and the amazing things that can be created with it. The sculptor Javier Gómez, the promoter of this institution that was opened in 1997, was fully aware of this.  
Since then it's organised exhibitions, guided tours, talks, workshops and congresses to ensure that, by the time you leave it, you'll have learnt a little bit more about the role that glass plays in contemporary art.
Recover your strength at our hotel in Alcorcón and enjoy a day surrounded by nature
s Alcorcón a city of parks? We can confirm that it is. Its size can be measured by the hectares of grassed areas and its services and typology can be defined in keeping with the kind of environment you'd like to visit and the activities you have in mind.  
There are some more stately ones, such as the Castles, around the perimeter of which, besides enjoying the architecture of these buildings, you'll be able to skate, play table tennis or boules or simply stroll around. The Ciudad de Mayari Park, for example, even has a pond with a viewing point, a bio-health circuit and a large area with meadows.  
However, if what you're looking for is nature, you may prefer to head towards the Presillas Park. Generous in terms of its surface area, here you'll find signposted trails and routes to wander along in the open air, rest areas, children's playgrounds and plentiful local flora. You'll find it hard to believe that you're just a stone's throw from the centre of Madrid.