Hotels in Rivas-Vaciamadrid
Search your hotel or destination
Rivas Vaciamadrid: pure nature just a stone's throw from Madrid
Few people know it, but barely 20 kilometres separate Madrid's Puerta del Sol from one of the most praised natural sites in the whole of the Madrid Region: the Southeast Regional Park.  
This is a protected area where the banks of four different rivers -Henares, Tajuña, Manzanares and Jarama- meet and is the ideal spot for you to enjoy a unique experience in contact with nature. The best thing? A large part of it, 74% to be exact, is in the municipality of Rivas Vaciamadrid, which is connected to the capital by metro. 
So, whether you're more into hiking boots or mountain bikes, you'll have plenty of trails to explore while you learn all sorts of details about the plant species and birdlife that inhabit them. Sounds fun, right? 
If you decided to stay at our hotel in Rivas Vaciamadrid because you want to find out more about its attractions -which are, although many do not know it, numerous and very interesting-, keep reading: you're going to like what is coming next. 
Go back in time
It will be much more pleasant, no doubt about it, to travel around this dormitory city that allows you to live and discover the Madrid region without having to stay in the capital itself, stopping off at the monuments of its urban fabric.  
For example? The Church of San Marcos, the town hall building, the palace-convent of Cristo de Rivas and the 19th century Negralejo Palace. The metal bridge over which the old train used to pass, and which linked Rivas Vaciamadrid with Arganda, also has its own special charm: don't miss it.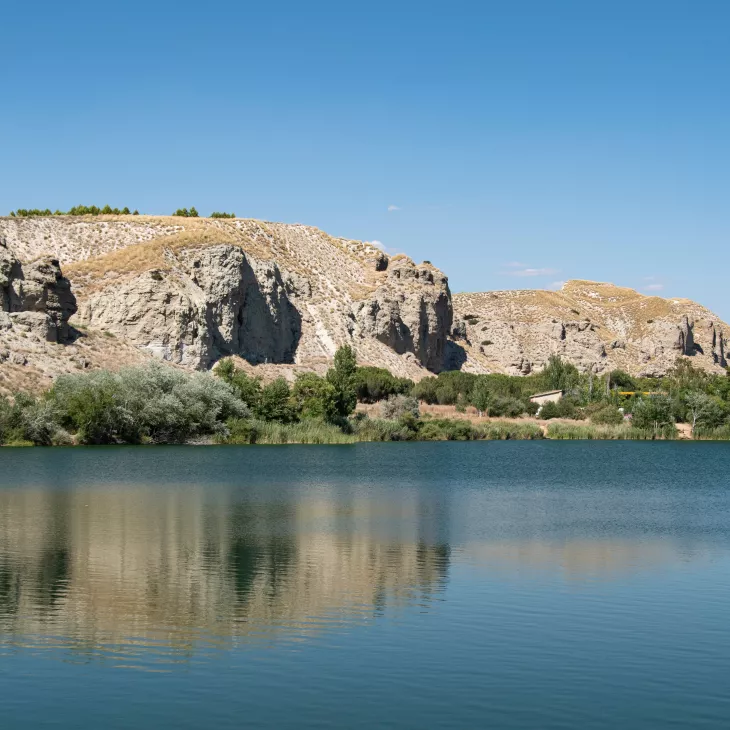 Our hotel in Rivas Vaciamadrid is perfect for a family getaway
First things first: we're recommending a trip back in time with several stages. The first one will be short and will have a stop in 1945. This way we can explain the origin of the municipality. It was when Rivas del Jarama joined Vaciamadrid that this new enclave on the banks, of course, of the Jarama River came into being.  
But the journey continues. This time to the 2nd Iron Age: the remains of an ancient settlement dating from this period can be seen at the Carpetan site of Miralrío, right in the centre of Rivas Vaciamadrid. To give you an idea, we're talking about between the 4th and 2nd centuries BC. Best of all, it has been possible to visit it for 22 years. 
As a fun fact, you should know that Rivas Vaciamadrid forms part of the popular Camino de Uclés, one of the most important pilgrimage routes in Spain, which connects the church of Santiago, in Madrid, with the small town of Uclés in Cuenca.  
Furthermore, in February 1937, the Battle of Jarama, considered one of the harshest episodes of the Civil War, also took place in this territory. There are still traces of that event that you can visit, such as Los Migueles - the Republican defence line - or a machine gun nest. 
You only have to say one word, Faunia, for the little ones in the family to go crazy with joy: we reveal the perfect excursion from your hotel in Rivas Vaciamadrid, especially if you take into account what children are interested in.  
This extensive 14-hectare botanical garden and zoological park is just 11 minutes from your accommodation. It is a space where some 700 animal species and more than a thousand plant species live together in 15 ecosystems from all over the world, which have been reproduced with great fidelity. Among penguins, sea lions, lemurs and monkeys, you'll have an unforgettable experience, mark our words.