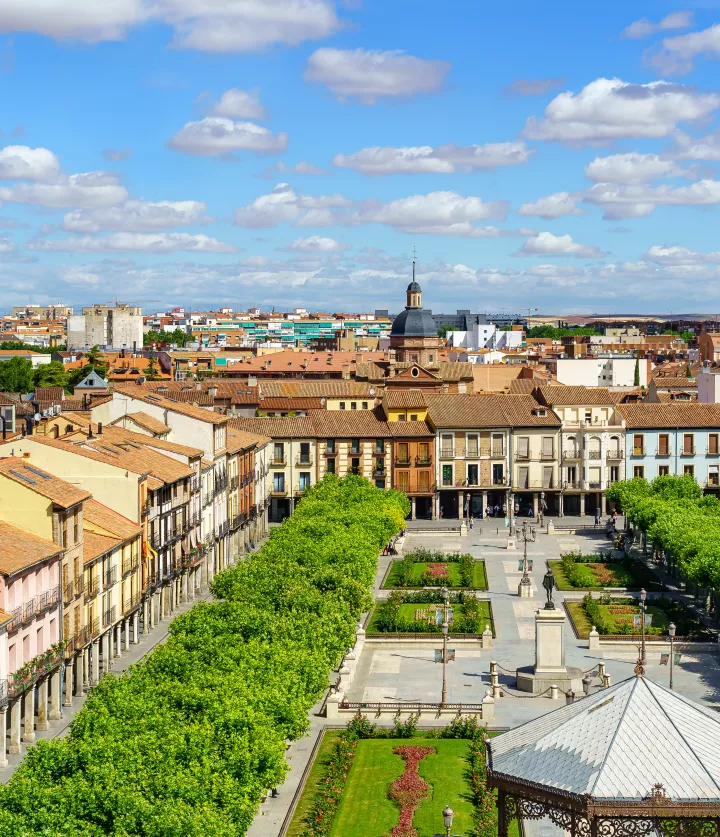 Hotels in Alcalá de Henares
Search your hotel or destination
Alcalá de Henares, where life revolves around the university
Just 35 minutes from Madrid lies Alcalá de Henares, a historic city as beautiful as it is well preserved. However, it is not its exceptional state that makes Alcalá a UNESCO World Heritage Site, but something much more extraordinary: it's an example of the first planned university city in the Modern Age.  
It was around 1499 when Cardinal Cisneros began to buy buildings and plots of land to set up the university buildings. The project changed the life of the city, making knowledge its focal point in a way that still lasts today. And when you walk through the streets, you will see that many of these buildings are still providing services to students.  
Up to 52 domes, a splendid wall with several towers, several parishes, the Colegio Mayor de San Ildefonso of the University of Alcalá, the seven Colegios Menores Cisnerianos, several hospitals and eight convents of nuns are some of the attractions that make Alcalá de Henares a unique place in the world. Will you stay over? One day is not enough.
A city like this deserves a night in our charming hotel in Alcalá de Henares
Given all the monuments in the city's historic centre, the best way to make the most of it is to stay in our hotel in Alcalá de Henares.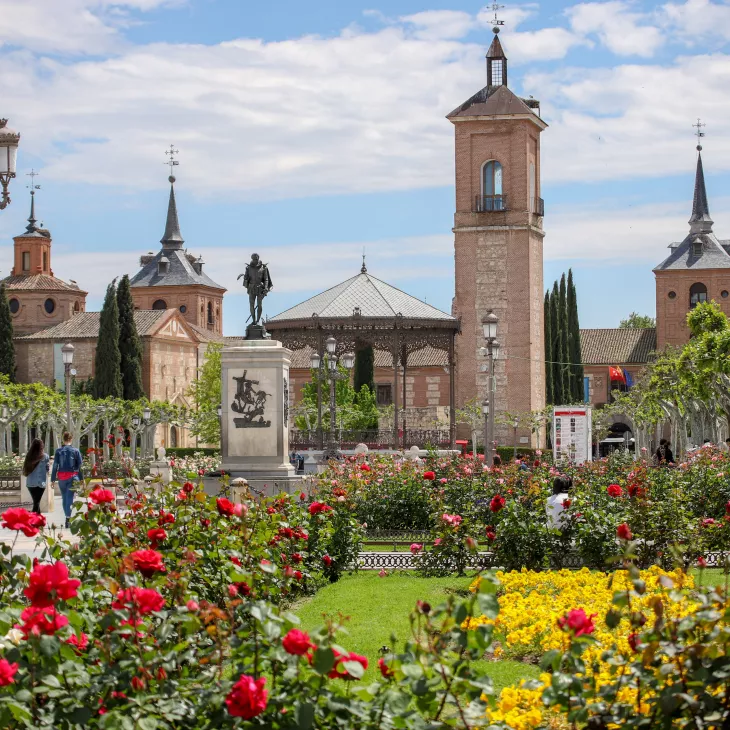 Stay at our hotel in Alcalá de Henares
You can't leave Alcalá without walking along its Calle Mayor, full of shops, restaurants, bars and buildings with centuries of history. Or the striking Palacete de Laredo, a neo-Mudejar delight built by Manuel José Laredo y Ordoño, architect and mayor of Alcalá. Today, it houses the Cisneros International Centre for Historical Studies. 
The Plaza de Miguel de Cervantes square is another must-see in the area, as is, of course, his birthplace, which is a re-creation of a typical Golden Age building. Yes, the greatest representative of Spanish literature, unanimously considered to be the author of one of the best novels ever written, was born here. The Cervantes Theatre, which is home to Europe's oldest theatre, is further proof. 
When you visit Alcalá, you will realise that Cervantes is not the only great name associated with it: Lope de Vega, Quevedo, San Ignacio de Loyola and Calderón de la Barca, among others, were also intellectually linked to this university city, which was a cultural reference point during the 16th and 17th centuries and was known far and wide.  
By now, it is more than clear that Alcalá de Henares is a learned and literary city. So much so that you can get there by immersing yourself in the Cervantes spirit thanks to the Cervantes Train.  
Available in spring and autumn, it departs from Atocha station (Madrid) and arrives at Alcalá after a journey in which a group of actors, dressed in period costume, perform excerpts from some of the works of Miguel de Cervantes. During the tour, you can also try some of the city's typical sweets. 
Finally, if you want to complete a first-class cultural visit, you can head for the nearby archaeological site of the Roman city of Complutum. Its more than 50 hectares show the remains of the ancient monumental forum, with buildings, streets, hydraulic infrastructure, basilicas, markets, thermal baths...  
Near the ruins, there's another interesting find: the House of Hippolytus, a school attended by the children of the wealthy classes in the 3rd and 4th centuries, which has preserved its magnificent mosaics. Culture and knowledge go back a long way in Alcalá.  
Además, cerca de las ruinas, encontrarás otro interesante hallazgo: la Casa de Hippolytus, un colegio al que acudían los hijos de las clases pudientes de los siglos III y IV, que conserva sus magníficos mosaicos. Si es que lo de la cultura y el saber le viene de lejos a Alcalá.