Pontevedra, Spain
Sercotel Bahia De Vigo
Search your hotel or destination
Contemplate the life of the Ría de Vigo
Between the elegant Vigo houses of Casco Vello and the prolific waters of the Ría, the Sercotel Bahía de Vigo stands like the prow of one of the ships that sail to the nearby natural paradise of the Cíes Islands.
From the 91 rooms of our 4-star hotel, you will be able to admire the constant bustle and bustle of the port of Vigo. And, a little further on, the waters of the Ría. Can you imagine watching this spectacle after relaxing in one of our hot tubs?
Yes, in the rooms of the Bahía de Vigo hotel it is not only that we take care of the decoration, based on wood, marble and small details that give them personality; is that we take care, above all, of your well-being.
And it is that whatever the reason for your visit to the city, our Sercotel Bahía de Vigo is the guarantee that you will find what you are looking for on each trip. How do we get it? With a variety in our accommodation offer that goes from one and two-bedroom apartments to fully equipped studios, through comfortable hotel rooms.
In any of them you will feel at home. So much so that, in fact, you can bring your pet with you and, if you need anything, don't hesitate to ask us at reception.
Here there is always someone available. And when we say always, we mean 24 hours a day. Come to us so that we can recommend which places to visit in Vigo. We recommend that you make your foray into the city on foot because Vigo is a city that takes walks.
To do this, you can park in our garage, where you will also find a station for electric cars. It also has spaces for bicycles, in case you have brought your own.
And if the reason for your trip is work, we will not fail to tell you that our Bahía de Vigo hotel has several rooms that are ideal for organizing meetings, presentations, business lunches or informal lunches.
Although to eat, nothing better than trying the full breakfast in our cafeteria and tasting the delicacies of Pura & Concha.
Located in the Sercotel Bahía de Vigo, this restaurant with a terrace pays homage to grandmothers. To those usual broths, made with love and secret recipes. We cannot speak to you about what you will feel when you try them. We prefer that you be the one to live it and then give way to some fresh fish and shellfish from the estuary.
Find your room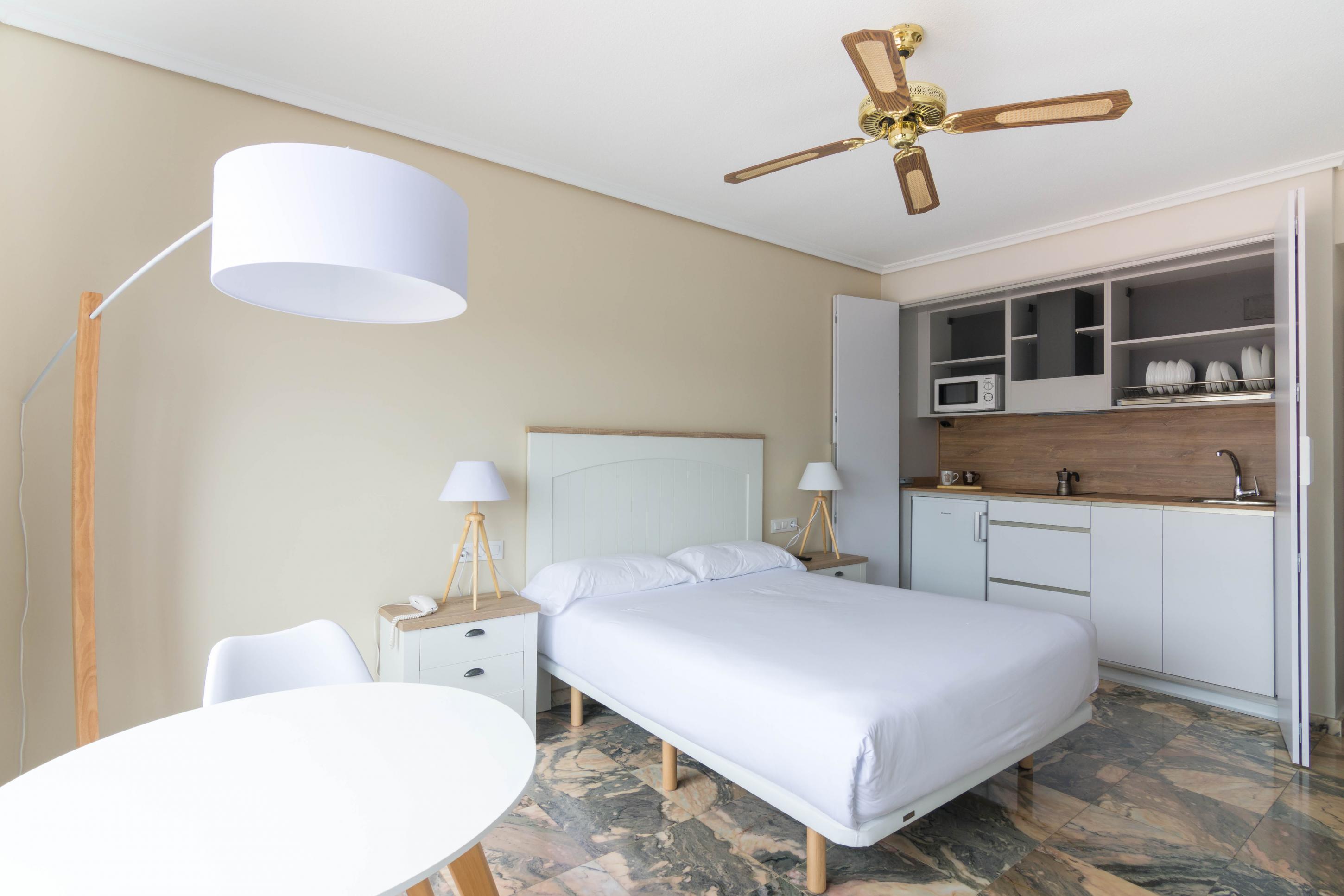 Apartment 2 Doble Sea View
Vigo is a city that can be thoroughly enjoyed when you visit it with friends or family. For this reason, at the Sercotel Bahía de Vigo we offer you a spacious, bright and modern two-bedroom apartment with sea views.
Complies with Local/State/Federal fire laws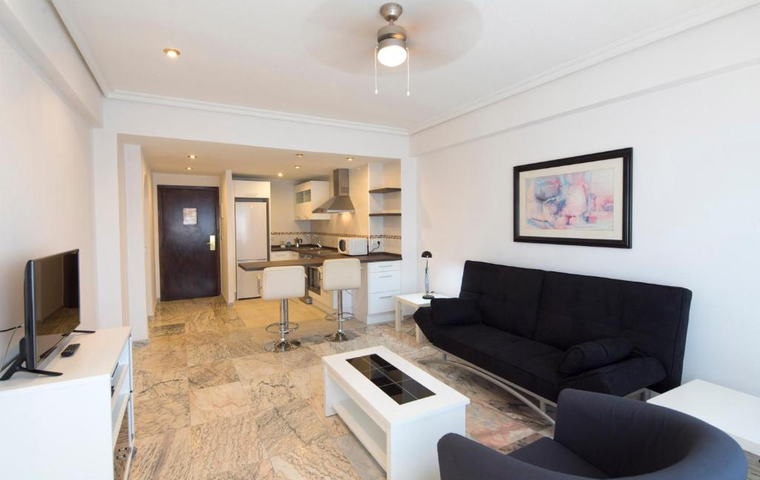 Apartment Classic 1
Modern, minimalist and equipped with everything you need to make you feel at home in Vigo for a few days. This is what our one-bedroom apartments are like. And don't forget to bring your pet's favorite cushion!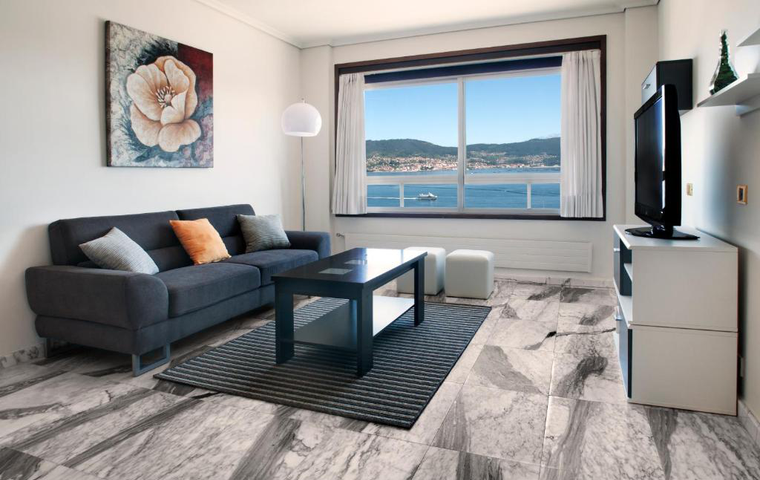 Apartment Classic 1 Sea View
Would you like to wake up enjoying wonderful views of the Cíes Islands? You can do it by staying in our one-bedroom apartment with sea views. With a fully equipped living room and kitchen, you will not lack for anything in Vigo.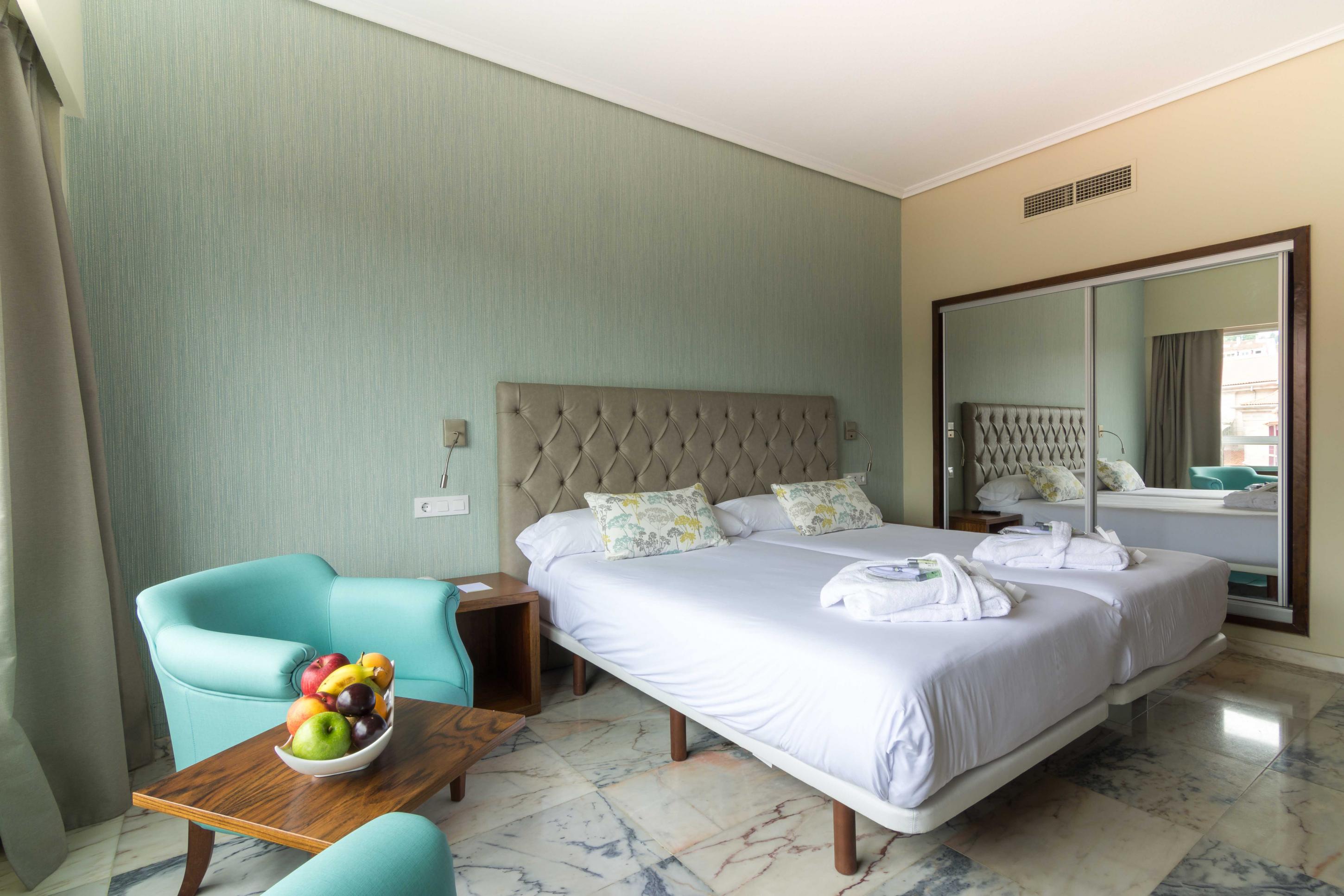 Classic Room
Preparing a couple's getaway to Vigo? At the Sercotel Bahía de Vigo, we offer you our double room. Elegant (with wooden furniture and marble floors), spacious, cozy and with a bed that you will never want to get out of.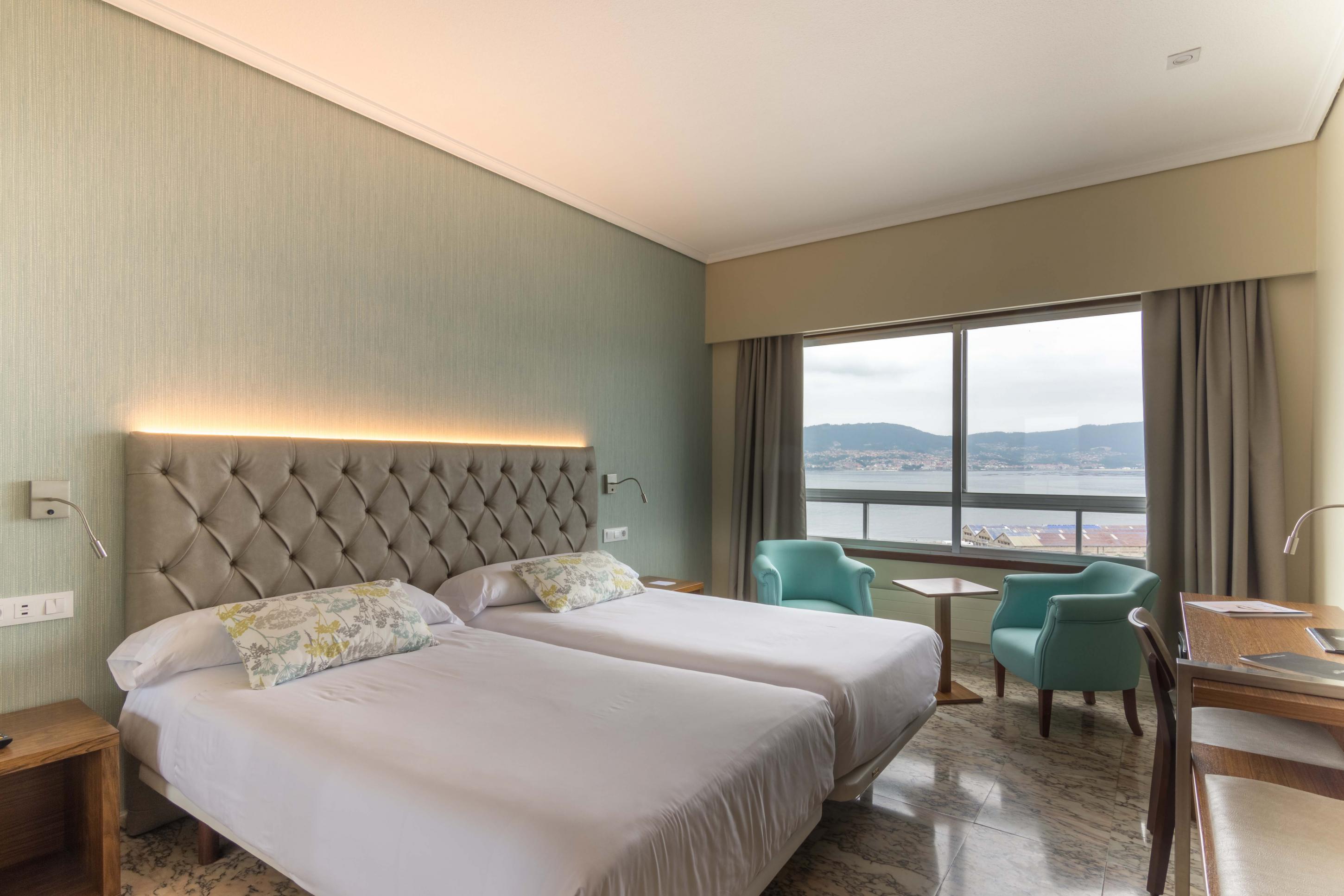 Classic Room Sea View
When sunset over the sea, beyond the waters of the Ría de Vigo, the spectacle that is created will make you thankful for having made the decision to book our exterior double room with sea views. An unforgettable memory.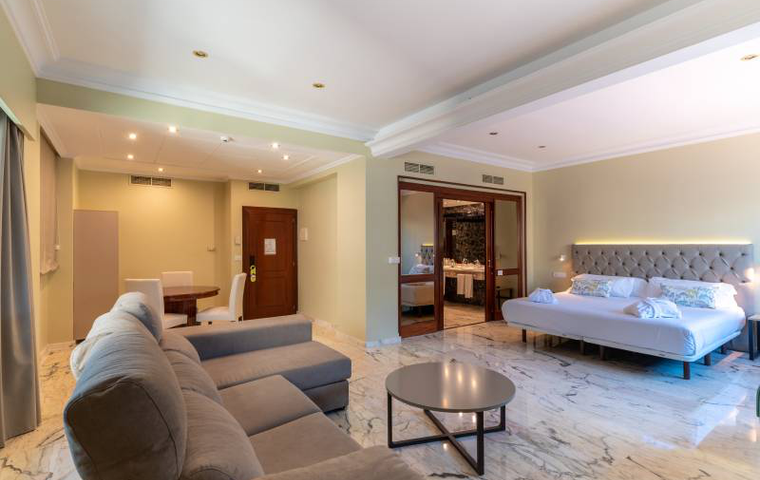 Junior Suite
Live Vigo like a king in any of the eleven Junior Suites that our Sercotel Bahía de Vigo has. An authentic palace to which you will be looking forward to returning after an unforgettable day in a city that will not cease to surprise you.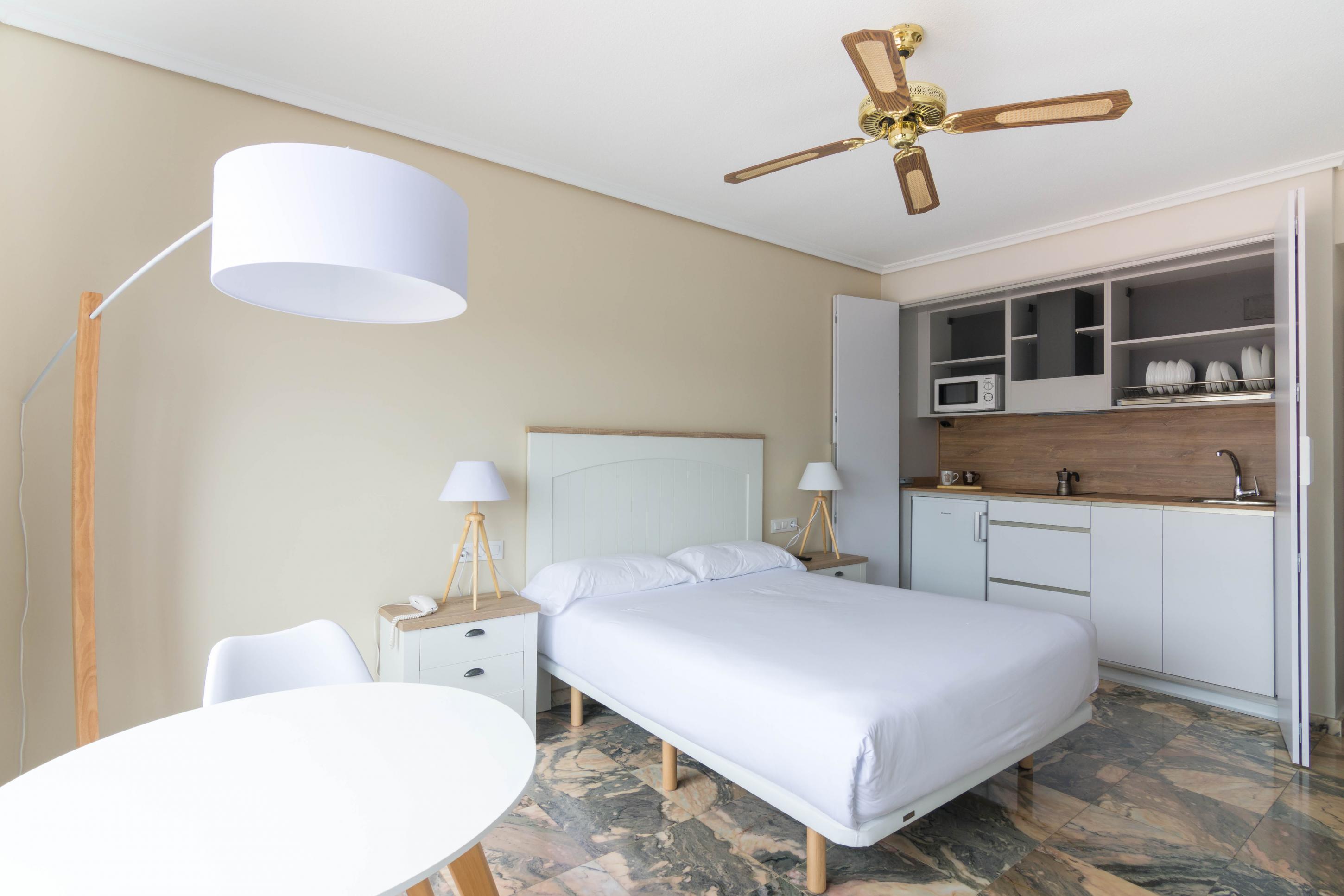 Superior Doble Sea View
Ideal for a trip as a couple or a work stay in Vigo, our studio with sea views is the perfect place to enjoy the dream that the Ría produces and relax after a day of visits or meetings.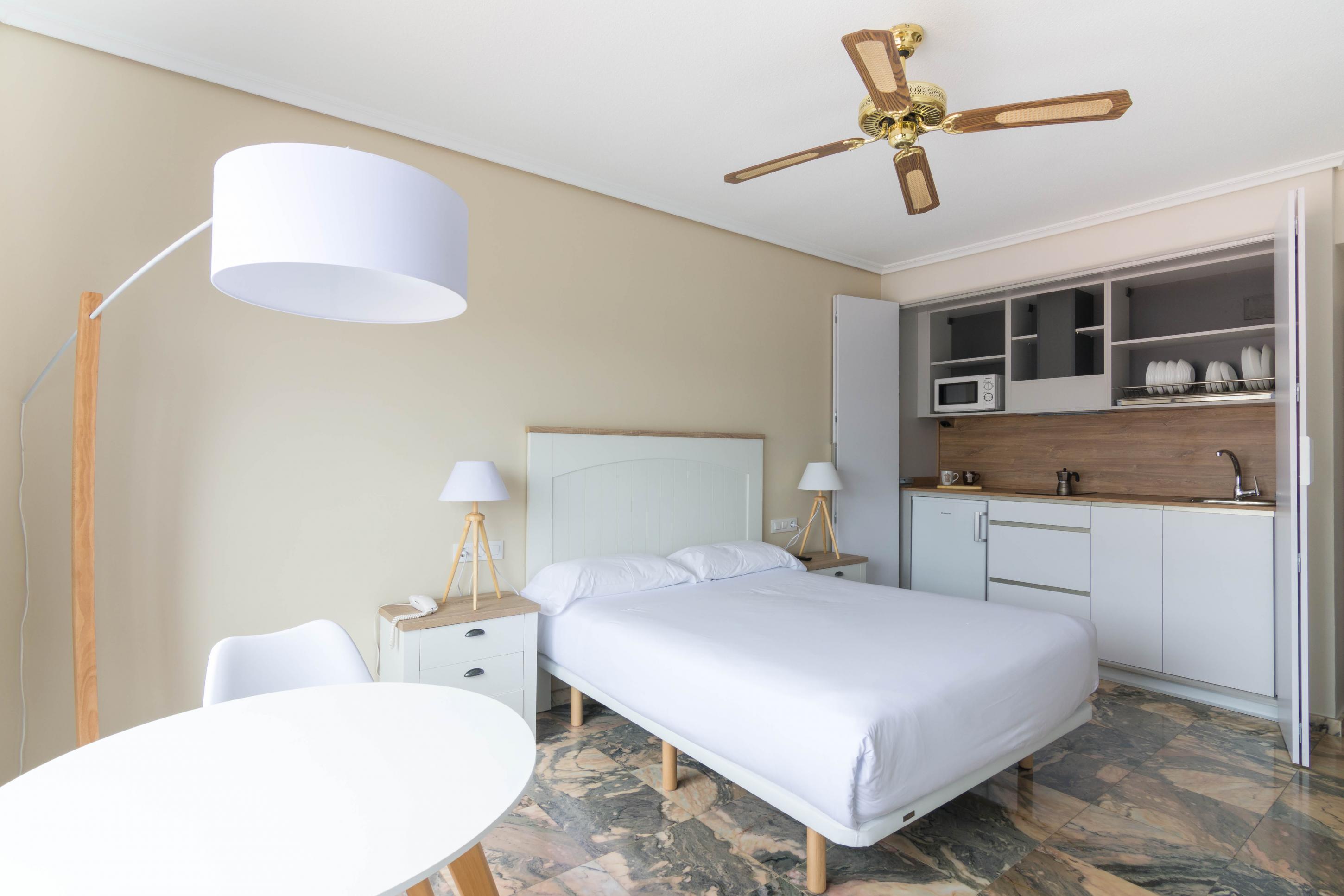 Superior Room
From your studio located on the top floors of our Bahía de Vigo hotel, you will be able to admire the profile of Casco Vello de Vigo, a city that surprises almost as much as the design and style of the accommodation in which you find yourself.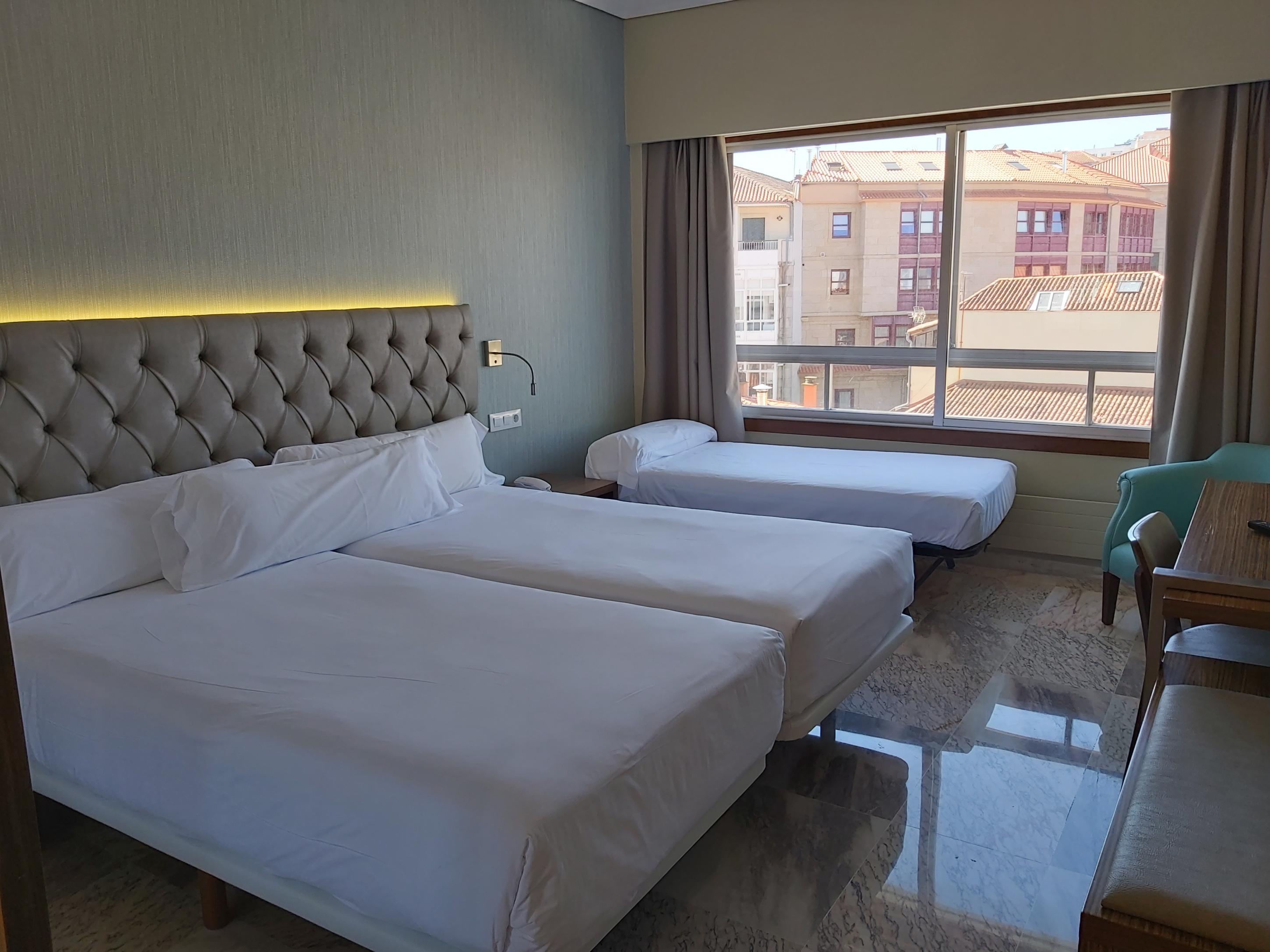 Triple Room
If you are thinking of visiting Vigo with friends or family, our double room with an extra bed will give you the space you need so that you can all rest like kings in the city. Don't be trapped by the comfort of the beds!
Complies with Local/State/Federal fire laws
Milestones, achievements and projects
Tourism quality commitment
Tourist quality in destinations
Galicia
Family destiny
Hotel accredited with the Galicia family destination seal