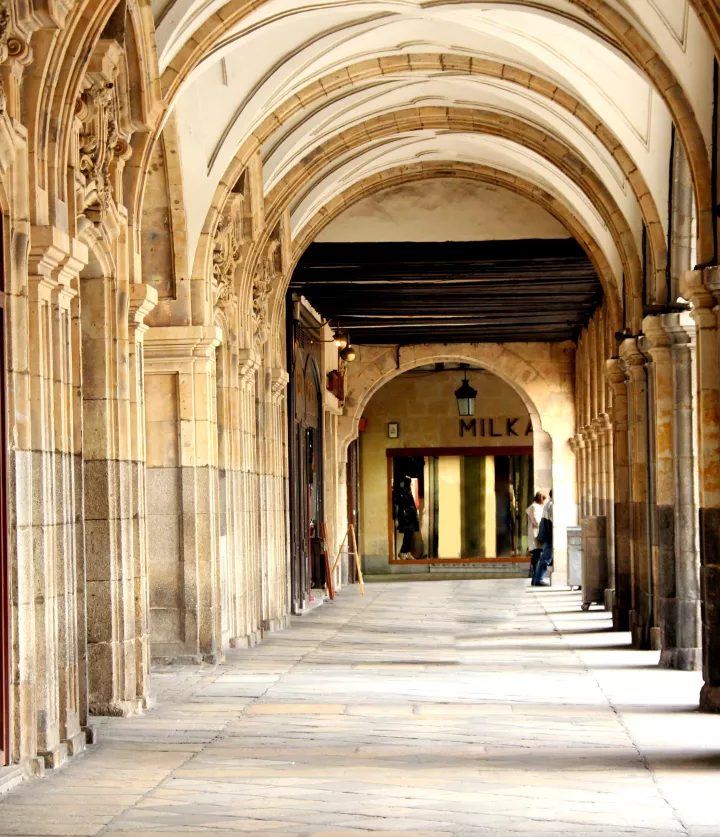 Hotels in Salamanca
Search your hotel or destination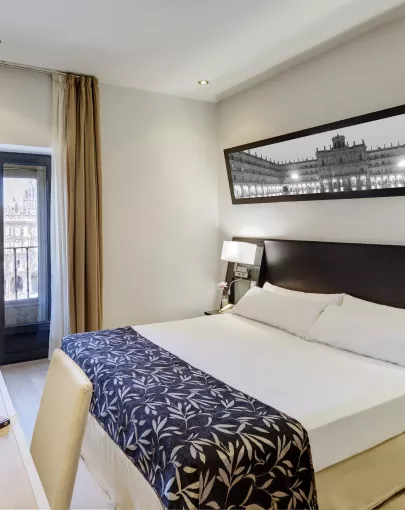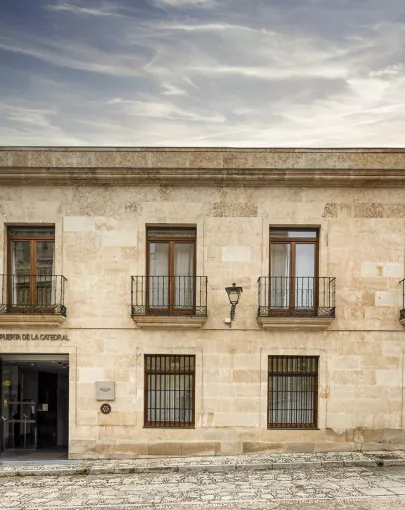 Salamanca: once is not enough
If you visit Salamanca once, you know you will visit it more than once. You have been warned. Maybe it's for its heritage, for how it will feed your curiosity, for its university energy or for that hornazo you won't want to stop eating. This city of Castilla y León conquers, and you are about to fall at its feet.  
The same thing will happen to you with her that happened to Calixto and Melibea, the main characters of La Celestina. The plot of this classic of Spanish literature takes place in Salamanca, and today you can visit the orchard where the characters fall in love.  
Any romantic getaway will score points with this stop along the way and, as there is no shortage of paths to get lost on, if you come with children, they will be able to run around here to their heart's content.  
This city has been a World Heritage Site since 1988. This is enough to give you an idea of what you will find. Monumentality, history, beauty and charm. We will go into detail as soon as you have settled in one of our hotels in Salamanca city.  
There is a lot to get through. To begin with, two cathedrals: one Old and one New. The reason? The old one became too small for all the growth in the city's population.  
The two are connected, their buildings are a mixture of Romanesque, Gothic, Renaissance and Baroque elements and, as if that were not enough, their towers are over 100 metres high. Can you imagine the views? Go up and see them from their terraces.  
On the façade of the new one, you can look for the astronaut carved in stone. For the frog, the famous frog, you will have to go all the way to the University to find it. It is the oldest in Spain and its Historic Building is a spectacle of Spanish Plateresque style. Among all these filigrees in stone, the challenge is there for the little ones to find the animal. Give them a hint: it is placed on a skull.  
The writer Miguel de Unamuno taught at this university, although we can tell you that what he really liked were the table talks at the Café Novelty. Go, sit down, order a coffee and contemplate the Plaza Mayor. You are in the jewel in the city's crown.  
Hotels in Salamanca near the Plaza Mayor
If there is one place in this city that attracts all eyes, it is the Plaza Mayor. It was built in the 18th century and its architects played with details that are responsible for the charm it exudes today. You'll have to spend time to take in everything that fits on its three floors.  
These include 88 arches, medallions with the faces of people who have marked the history of Spain, charming little balconies that open onto the square, a belfry over the Town Hall that makes it look superb and elegant, and lighting that makes the night work its magic at dusk.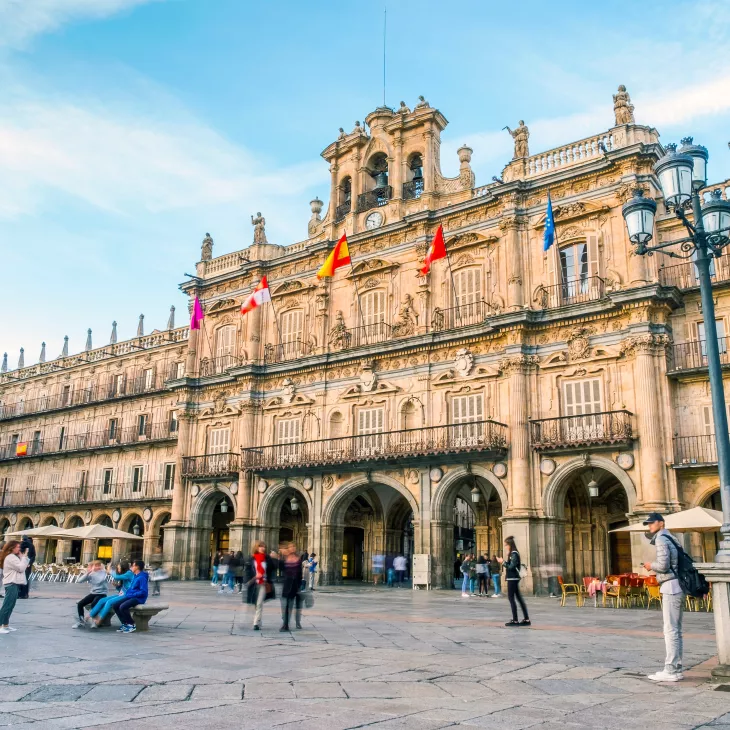 The key to enjoying the trip even more? Staying in hotels in the centre of Salamanca
There are few historic city centres like this one. It even has a House of Shells, with a façade covered with scallops carved in stone. As if it were a game of clues, you will have to follow the signs. On foot, of course. That's why our hotels in Salamanca with parking are the best option to forget about your car when you arrive.  
Besides, you've probably heard of the Noche Charra and its charms. So, you know, better not to drive. And it is even better to be proactive. That's why you'll be thankful to be one of those who start the morning in our hotels in Salamanca with breakfast the day after. Coffee, buffet and more travel, please.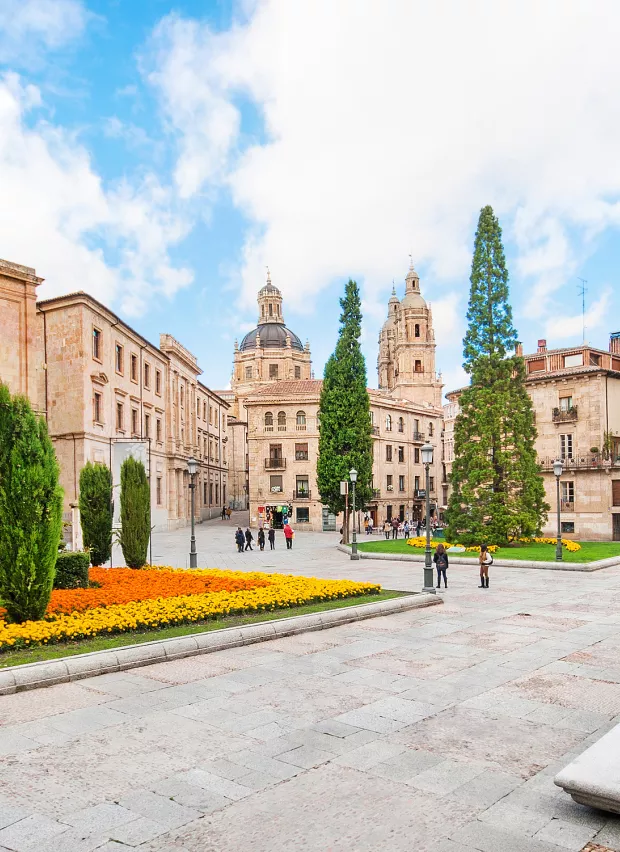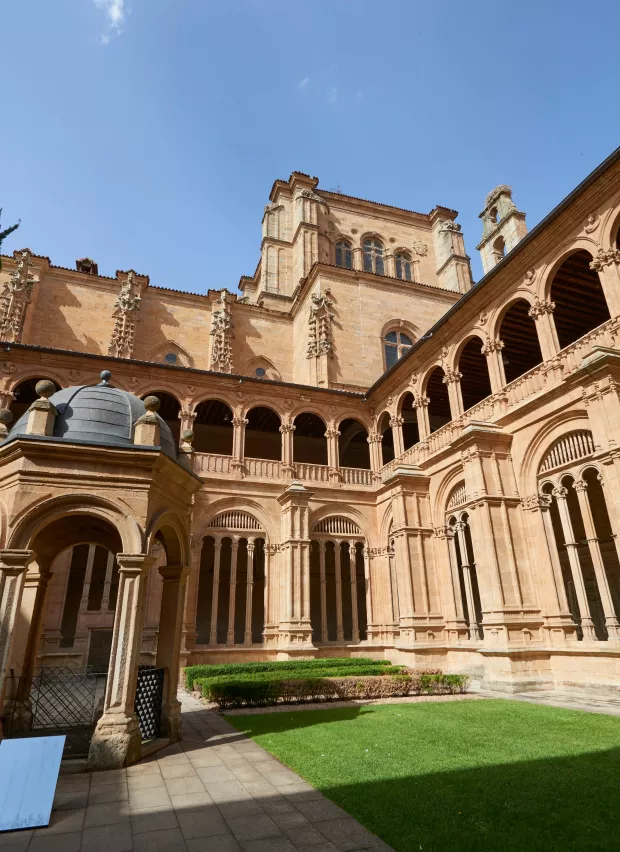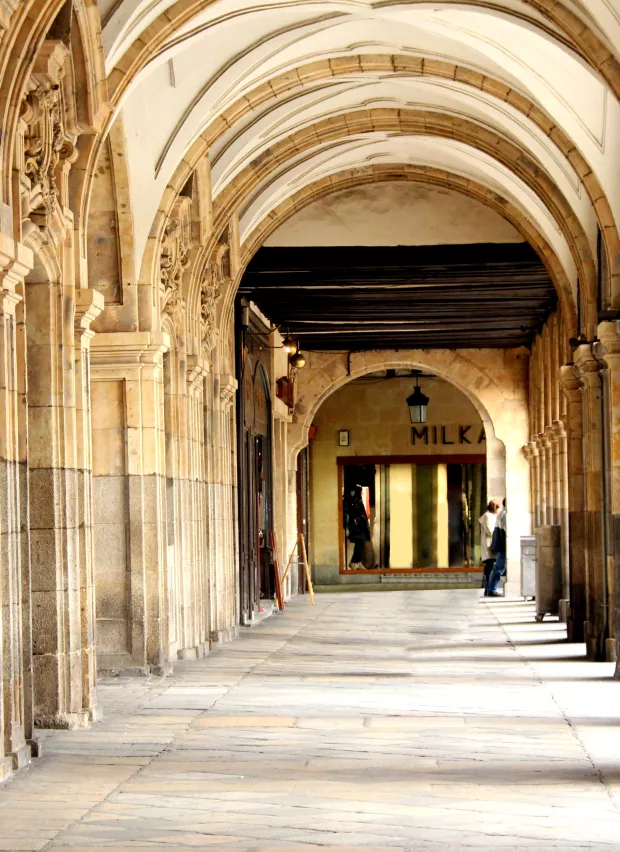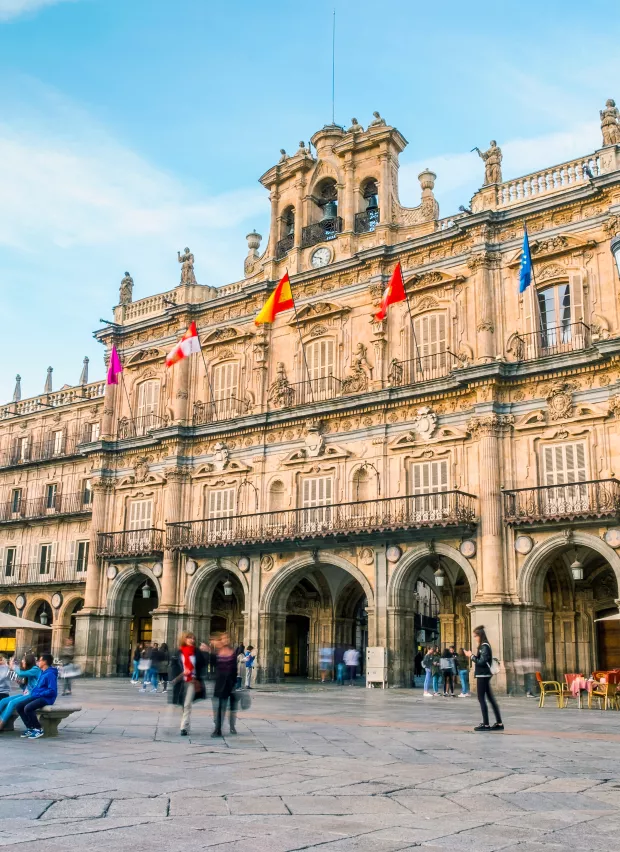 Frequently asked questions about hotels in Salamanca
How much does it cost to stay in a hotel in Salamanca?
In Salamanca, the standard rate for a hotel room is around 85€ per night. However, if you are looking for a more exclusive experience with a superior room in the prime location, the average cost can reach €130 per night.
How much is a hotel in Salamanca for this weekend?

The average price for a hotel room in Salamanca this weekend is 110€ per night. For those looking for a more sophisticated level, suite rooms are available at 160€ per night.
How much is a hotel in Salamanca for tonight?
The average price per night for a hotel reservation in Salamanca is 110€ per night. Opting for a higher category room for more comfort raises the price to 180€ per night.
Which hotels in Salamanca are recommended for families?
Which hotels in Salamanca accept pets?
Which hotels in Salamanca are recommended for couples?