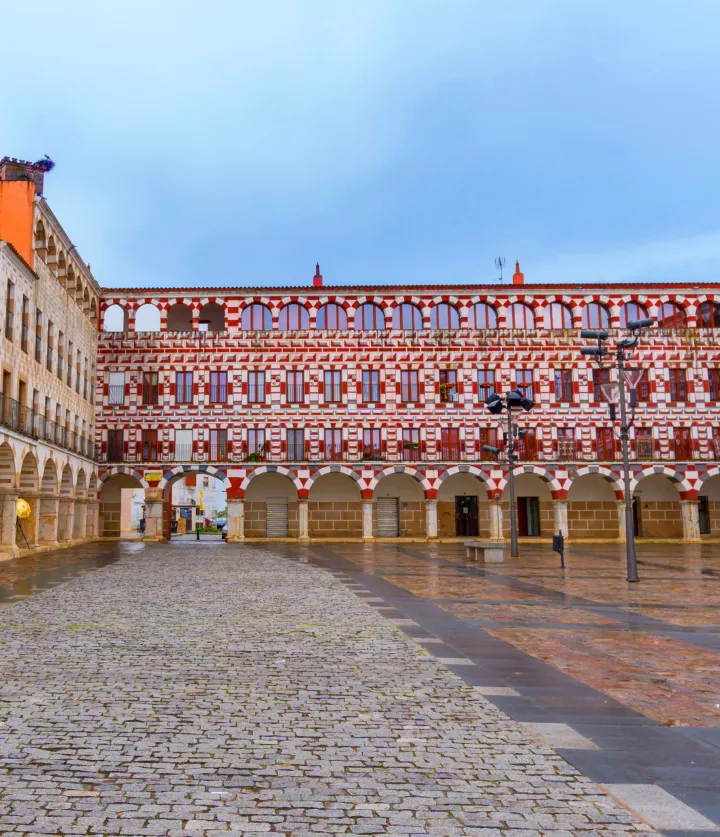 Hotels in Badajoz
Search your hotel or destination
Badajoz: surprises at the gates of Portugal
On the edge of Extremadura, where you can start to sense the border with Portugal nearby, the graceful, independent and proud city of Badajoz proves that driving to this little corner of the map is well worth it. Because this city with the Guadiana River as its focal point lends itself to being walked, explored, admired and tasted in a thousand and one ways.  
You'll fall in love with it when you discover its many attractions: this city founded by Ibn Marwan in 875 is always full of pleasant surprises, especially when the sun begins to set. The sunsets by the river - we hope you're taking notes - are enthralling. 
First, however, you'll have to lose yourself in the Alcazaba, which clings tightly to its Almohad past and allows your mind to wander: it won't be difficult to imagine what life was like on in its narrow streets and gardens several centuries ago.  
Built on the Cerro de la Muela hill, its eight hectares make it the largest in Spain, a strategic enclave that offered unequalled views of all the surrounding territory.  
You can access it through any of its four gates, although if you go through the Capitel and Alpéndiz gates, you will have the 16th century Palace of the Counts of Roca, home to the Provincial Archaeological Museum, just a stone's throw away and a great first stop. After that... much more to come. 
Discover the heritage of Badajoz
What better attraction can there be than the ability to explore a city on foot? This is precisely what you will be able to do if you stay in our hotel in Badajoz centre, since its monuments will be at your fingertips.  
For example? The Plaza Alta, one of those spots that will make you open your eyes wide as soon as you set foot in it: this Renaissance porticoed marvel is a spectacular explosion of colours and shapes.  
When the sky bursts into colour: enjoy the sunset near our hotel in Badajoz centre
No wonder it is one of the great attractions of Badajoz: with its arcades and Mudejar details, you won't want to leave. And you know what? Don't leave! Find your place in any of its nooks and crannies and just enjoy watching life go by.  
When you feel you've savoured the experience enough, continue the walk. Go to Calle Moreno Zancudo and indulge yourself with churros con chocolate. Continue on to the Plaza de la Soledad and be amazed by its La Giralda building and its small-scale reproduction of the monument in Seville.
Take a detour to the Convento de las Carmelitas Descalzas and yes, allow yourself to sin again by enjoying its famous and exquisite pan de ángel. The MUBA (Museo de Bellas Artes de Badajoz), which occupies two old palatial houses from the 19th century and houses more than two thousand works of art, is also just a stone's throw away. Reach the Cathedral and the Town Hall building and, if you feel like it, treat yourself to a bit of shopping on Calle Juan Carlos I.  
As we said at the beginning: the best is yet to come. So when the sun threatens to reach the horizon, go to the Guadiana River. A good place to watch the sunset is the 15th century pedestrianised Puente de Palmas. If not, just take a leisurely stroll along the riverbank like the locals themselves, the true experts on the best things to do in the city.  
When the sky looks like it is going to explode in pinks, oranges and reds, you can truly say that you have enjoyed Badajoz in all its versions. But bear in mind that the nightlife in its bars and clubs is not bad either. The best thing? After a drink, you can walk back to your hotel in the centre of Badajoz. Not a bad plan, is it?