Álava, Spain
Sercotel Jardines de Uleta Suites
Search your hotel or destination
Comfort in the heart of nature
In the heart of nature, a few metres from the Mendizorroza stadium and a stone's throw from the city centre. We know: the location of our Sercotel Jardines de Uleta could not be better to enjoy the many charms of Vitoria in a serene environment.
The reason? Our 4-star hotel is located in the Green Belt, the natural space that surrounds the capital of the Basque Country and which has brought it such worldwide fame in terms of respect for the environment.
To honour the sustainable spirit of this privileged location, so close to the best mountain bike routes, our hotel Jardines Uleta is a bike-friendly space. This means that we have a bicycle workshop area with specific tools, washing area, bike storage and even electric charging space.
Yes, our love for bicycles is such that they couldn't be missing in our gym either. It is complete. Very much so. In addition to a spinning session, you can also run on a treadmill, do some elliptical training or work on your strength with dumbbells.
And after a workout or a day of adventures on wheels around the city, you'll find it a real pleasure to plop down on the comfortable beds of the Jardines de Uleta, whose 99 rooms guarantee the ideal rest for every type of traveller.
Whether you're here for work, a globetrotter who wants to explore the globe on your own, a couple who loves to wake up together in a king-size bed or a family who needs a home away from home, with a kitchen, living room, dining room and a couple of bathrooms, to make it all feel like home. In our Jardines Uleta hotel, we have the perfect accommodation for every type of getaway.
Groups of friends are also welcome. We offer you fully equipped apartments of 55 and 80 square metres.
But if you just want to forget about cooking for a few days, no problem: our restaurant has a wide range of classic Basque gastronomic dishes, prepared with top quality local products. Rich and varied breakfasts with all kinds of sweet and savoury treats, tasty lunches and tempting dinners await you there.
We haven't forgotten you either, if you are visiting our Sercotel Jardines de Uleta on business or to celebrate an important moment in your life with those you love the most. In this case, you can also enjoy a delicious variety of pintxos, as well as other more elaborate dishes.
Our exclusive events organisation department and catering service are always available to listen to your requests and tailor the different rooms of our hotel to the type of celebration or meeting you have in mind. In fact, several of our rooms have access to our garden and the large covered car park. What we were saying: all the comforts in the heart of nature.
Find your room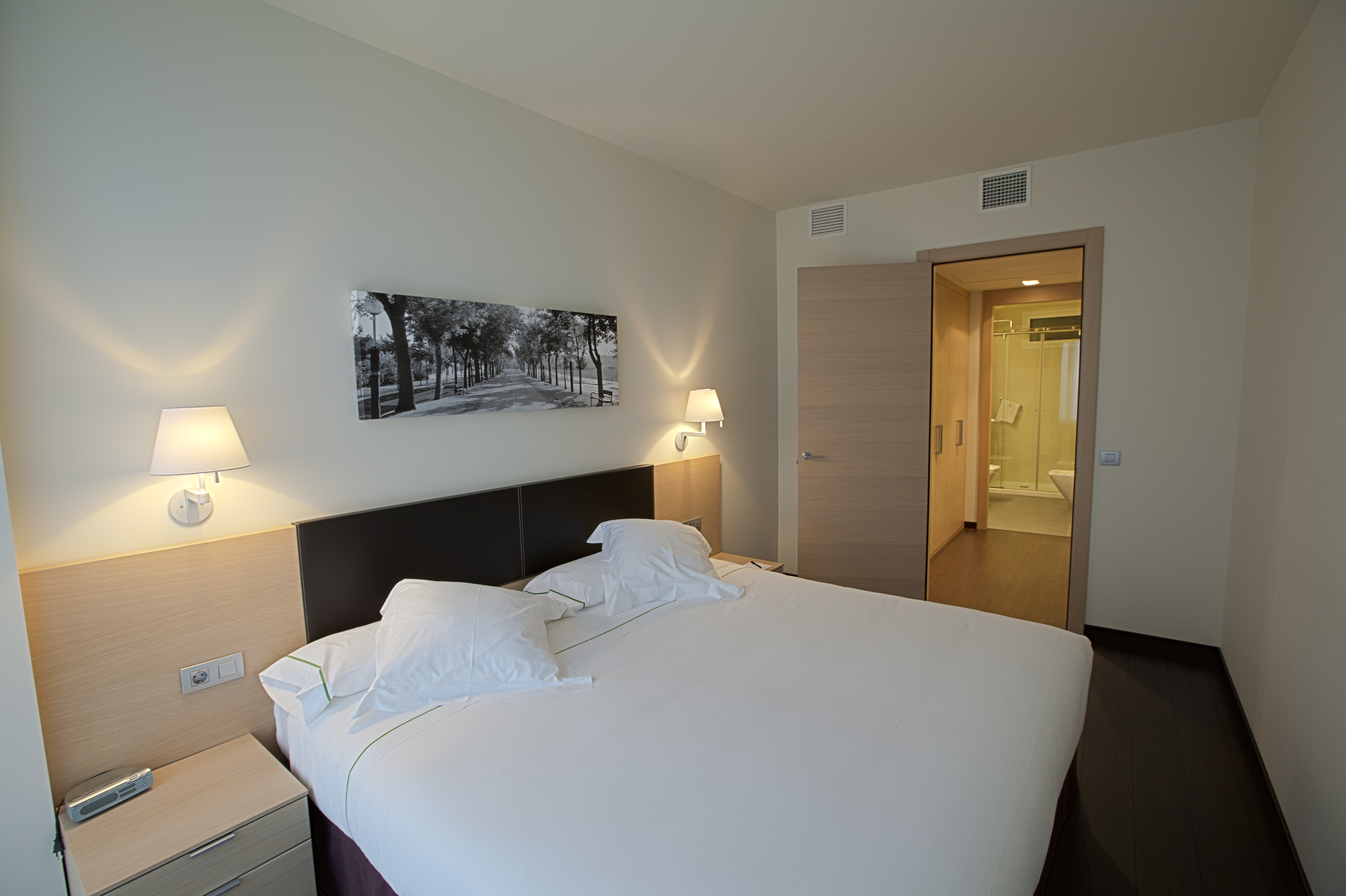 Classic Apartment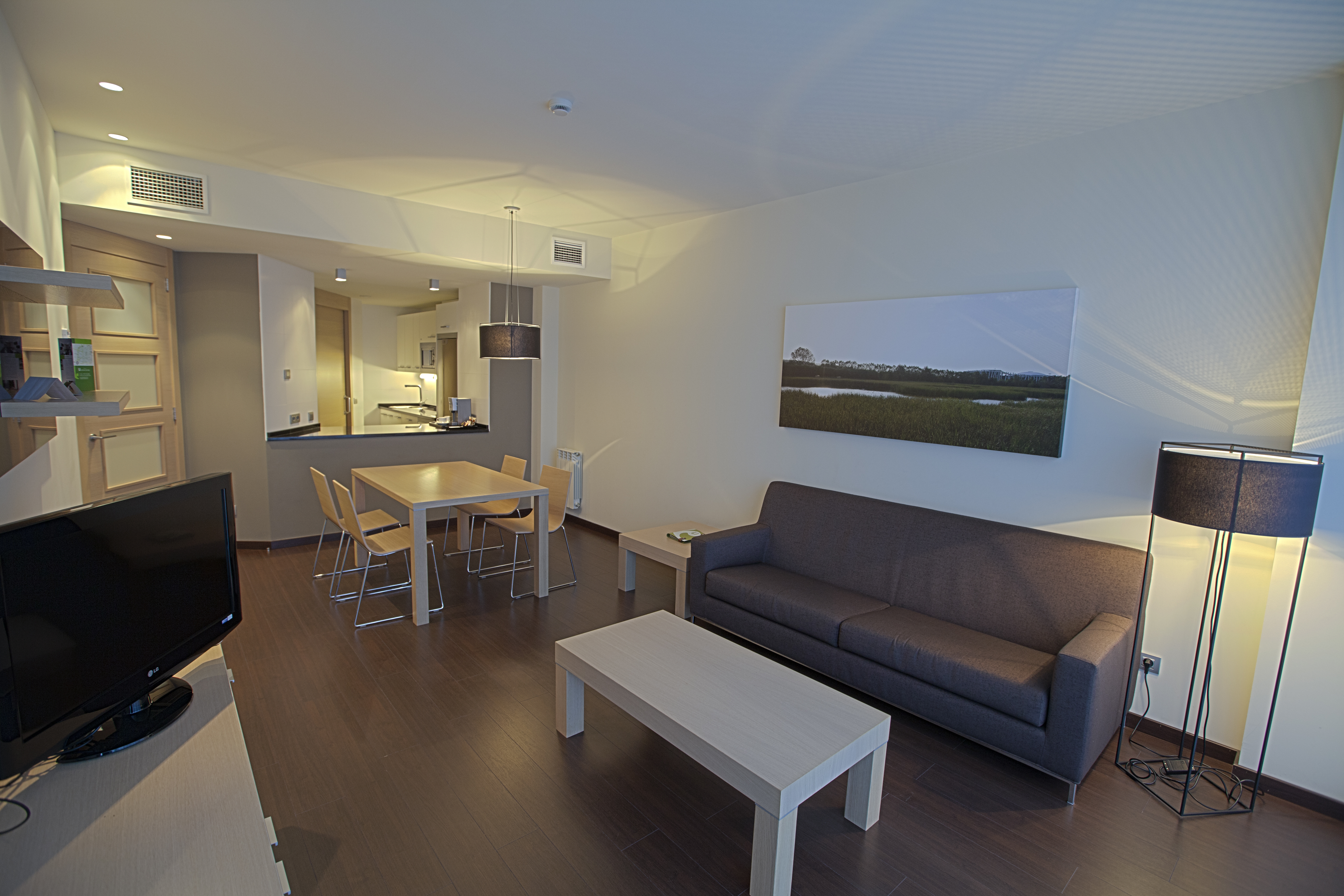 Classic Apartment
Classic Room
Do you prefer views of the city, the residential area or the inner garden? They are all good options when it comes to the Suites of the Jardines de Uleta, where you and whoever you want can enjoy 55 m2 of comfort. 
Family Room
With family or friends. In short, with those you love the most. Our Family Suite is perfect for those travelling in a group as it can accommodate up to four people in its 80 m2. It has a living-dining room and two full bathrooms. 
Complies with Local/State/Federal fire laws
Triple Room
Choose your two favourite people in the world and sign up to spend a few unforgettable days in the Triple Suite of our Jardines de Uleta hotel. In it you will be together, but not lacking elbow room, thanks to its 55 m2 divided into a living-dining room, bedroom and bathroom. 
Coffee shop
Come to our cafeteria and have a beer, a soft drink or a coffee
Gym
Do not lose your physical shape using our fully equipped gym.
Key features
An incomparable stay wrapped in the best attention. The hotel services at the Sercotel Jardines de Uleta Suites are designed to offer you complete well-being during your stay in Vitoria. We want your experience with us to exceed your expectations.
Meeting rooms
FACILITIES
Flexible spaces in the best locations.
PEOPLE
Tailor each space to the needs of your event.
SQUARE METRES
Rooms for holding your social event, convention or meeting in.