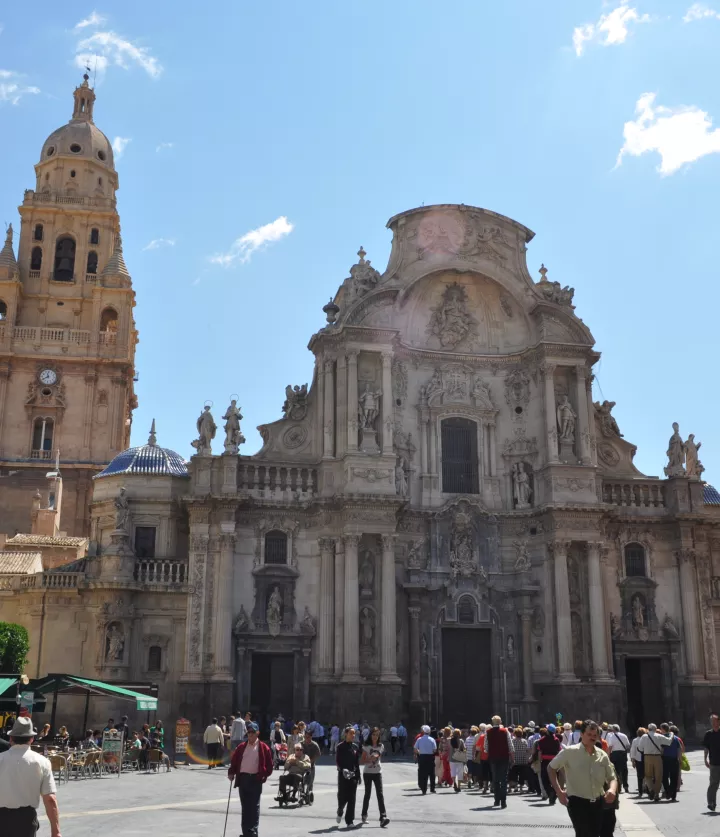 Hotels in Murcia
Search your hotel or destination
Murcia, much to discover
Under an incomparable light, always resplendent against a blue sky, this city is full of secrets to be discovered. And the best way to get to know them all is to stay in our hotels in the city of Murcia. Shall we get started? 
Your ideal route through the city begins in the old town, which is a charming blend of monumentality and modernity. Of course, a visit to the Cathedral of Santa María, the city's greatest symbol with the second highest tower in Spain, is a must.  
Relax in its beautiful square, where you will find other emblematic buildings, such as the Episcopal Palace and the Town Hall.  
It is also a pleasure to walk along pedestrian streets such as the Trapería and Platería, old and stately, and take a look at the architecture: you will be surprised, for example, by the Real Casino de Murcia, inaugurated in 1847.  
This cultural heart of the city is home to a host of surprises, such as its Moorish courtyard, inspired by the Alhambra! Don't miss its beautiful library, like something out of a fairy tale, and its spectacular ballroom, with a Versaillesque air. 
Choose hotels in Murcia to enjoy the city's fine weather 
With more than 2,800 hours of sunshine a year, mild winters and very warm summers, Murcia is one of those cities where you can enjoy life in the open air, letting yourself be carried away by the charm and atmosphere of its streets.  
A couple of must-do's on your route map: enjoy a vermouth in the beautiful Plaza de las Flores or in the Plaza de Santo Domingo, adorned by a spectacular hundred-year-old ficus tree. You will be served a drink accompanied by delicious tapas with vegetables from the Murcian market garden, gourmet meats or canned fish from the nearby fishing grounds.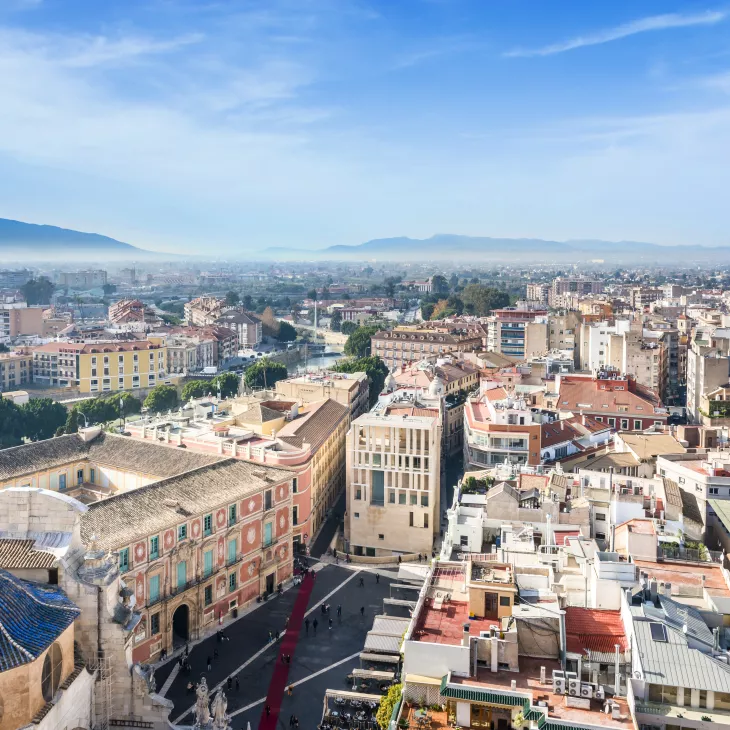 Hotels in Murcia (Spain) perfect for discovering urban art with children
And the tapas will be good, very good! Because in this city, which has been awarded the title of Gastronomic Capital of Spain, you can eat deliciously.  
In fact, you can't leave without trying a good Calasparra rice dish; a 'marinera', a kind of toast with salad and anchovies; its 'zarangollo', scrambled eggs with courgette, onion, potatoes and egg; the 'michirones', a comforting broad bean stew; the 'olla gitana'; the traditional vegetable stew with vegetables and pear; or the 'caldo con pelotas', a very special chicken soup. 
And for dessert, how about ordering a 'pan de calatrava'? This is an exquisite sponge cake that you can accompany with a potent 'Asian coffee', which, in addition to caffeine, is also flavoured with... alcohol! 
Did you know that Murcia has a Municipal Graffiti Office? It was the first in Spain to open in 2015. It makes sense: urban art has been flooding the streets of this city for years, giving it an artistic dimension that is worth a visit in itself.  
Nationally and internationally renowned artists such as Kobra, Dale Grimshaw, Feoflip, Draw, Lula Goce and Lily Brick have signed many of the fascinating murals in the capital. These include the Plaza de la Academia General del Aire, the exterior of the Federación Regional de Empresarios del Metal de Murcia, and the Pabellón de Santa María de Gracia, true open-air museums. 
You can visit this urban heritage site without an appointment at any time of the day, which makes it a wonderful place to discover with the little ones. What's more, we are in a perfect city for them, especially if you choose one of our hotels in Murcia for children.  
Hotels in Murcia city are also the ideal spot to explore the many nearby treasures that the little ones at home will love, such as its almost thirty blue flag beaches and its amazing natural spaces.